Read Time:
18 Minute, 15 Second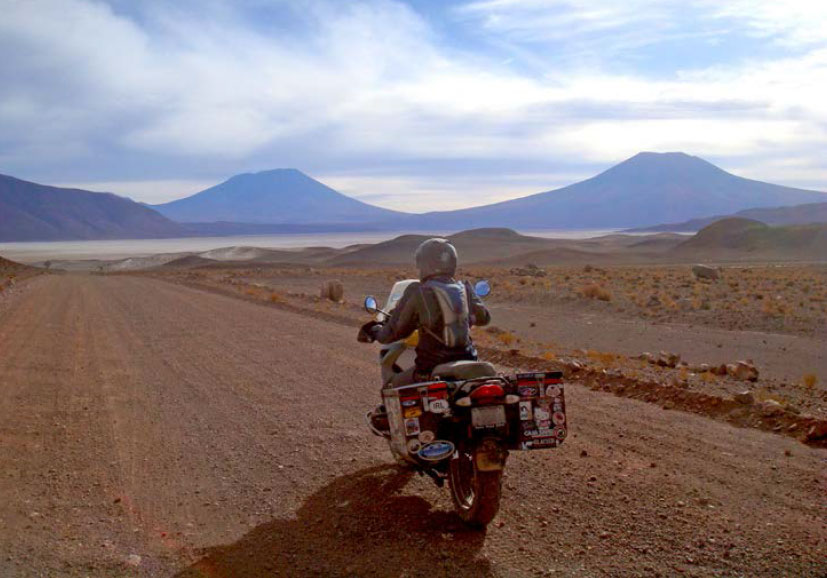 The border crossing from Bolivia to Chile is simple, efficient and ever so civilised. The staff seem to be under little or no pressure and as soon as they realise where we're from they all seem only too happy to speak English to us. The import papers for the bikes are processed and we get our tourist stamps in our passports. All without any fuss.
Best of all, once we cross under the barrier from Bolivia to Chile the road is paved,well paved with no potholes. We can see it runs along the front of the border administration buildings for several hundred metres before it turns left out of the town and into the desert. We have, for the time being at least, had enough of the desert sand and we're both glad to be back on a road with a decent surface.
After this welcome, we ride past the rest of the town on what we presume will be a short stretch of dirt road. Alas the first vehicle we meet is our old buddy from the Haul road in Alaska, the calcium chloride spreader, accompanied by the ever-present grader. We ride through a six-inch deep, wet and muddy mess and overtake them slowly to find ourselves in even deeper sand than the desert in Bolivia – and It stays that way for the next two days.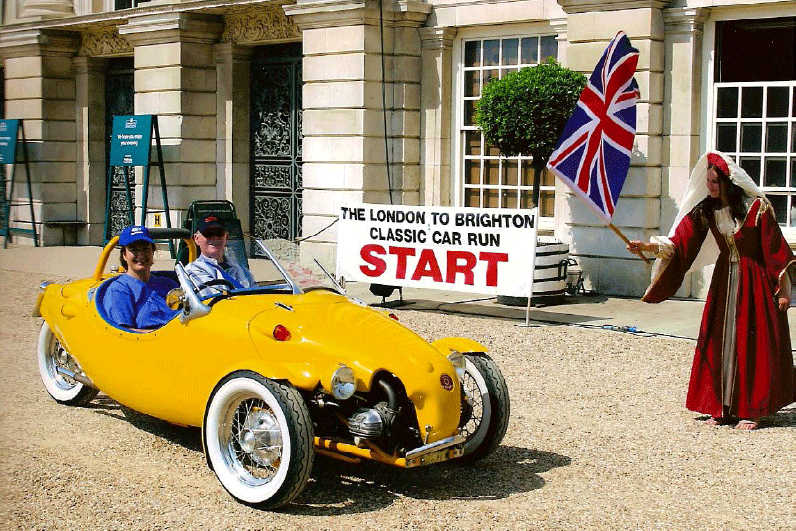 We are now in the Atacama Desert proper. I find it difficult to describe the beauty of the landscape that surrounds us as the sun begins to set over the desert hills and mountains. The whole place seems to burn with a copper glow. As night is closing in we make the decision to stop and pitch our tent on the side of the road since we can't see anything that even resembles a man made building out here in this vast emptiness.
We park up the bikes and as we unpack our kit the wind picks up. Twice the tent is lifted off the ground. Once before we have it pegged down and once when it is. The wind just catches it, pulls the pegs out of the stoney ground and launches it down the hill. Eventually we retrieve it and Maeve climbs into it to hold it in place while I quickly line the edges of it with a selection of large rocks. We're both hungry and exhausted, but because of the wind we can't get a fire going. We look through our gear for anything ready to eat. I eventually find a long discarded mars bar in the pocket of my camel pac. I break it in half, we eat it and fall into a deep sleep.
I wake as the sun comes over the mountain the following morning. The previous evenings strong winds are gone and as I climb out of the tent I am rewarded with one of the most beautiful sights I have seen yet on the trip. A flock of pink flamingos are feeding on the microscopic algae on one of the smaller salt flats at the bottom of the hill about a mile away.
We break camp and head back out onto the road, which, after a few kilometres turns to perfectly paved black top. This is short lived however, and as soon as we pass what looks like an old disused military supply depot the road reverts back to sand and gravel, although it is improving because the sand is getting shallower. We then come to more blacktop, which once again disappears as we crest the next small hill. For ninety-eight kilometres we ride this blacktop back to dirt road, back to black top, back to dirt road. Before we eventually come to a main road 100 kilometres from the town of Calama.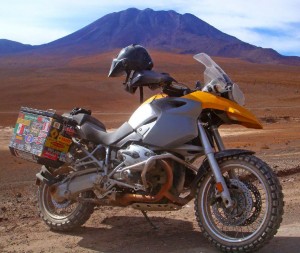 All along the coastal Pan-American Highway in Peru the road is lined with rubbish. The immediate landscape takes on the appearance of a tip around any of the small towns, with the dried riverbeds being used as dumps by the local people. Here in Chile there is nothing of the sort, the countryside is pristine. We pass buses, which stop in the middle of the desert and watch as people disembark and simply walk off into the desert. It makes me wonder what people do in this inhospitable but beautiful landscape.
Sure enough when we turned inland and climbed into the Andes there were large herds of llama and the tourist machines of Nazca and Machu Picchu, which keep whole provinces going, but my overwhelming feeling as we headed down the highway was one of leaving all of our comforts behind. Back in Peru the general driving style dictates that might is right and oncoming traffic forced both of us onto the hard shoulder time and time again as we avoided oncoming buses which simply pulled out to overtake slower vehicles, flashed their lights and charging at us. I began to think of riding a motorcycle in this part of the world as a daily battle and to look into the desert on either side of the road as an escape route if things got out of hand.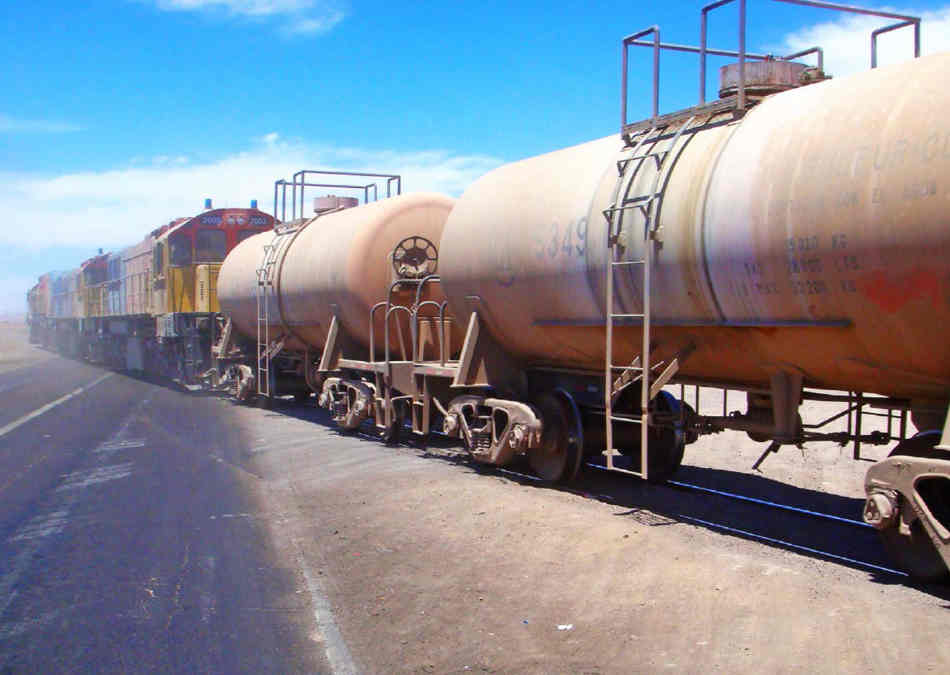 When we travelled into Bolivia we were 10,000 feet above sea level and riding the bike up three steps into the hotel was as much as I could do without falling over for lack of oxygen. The further south we travelled the more remote it got. Poor roads, followed by bad roads, followed by no roads at all were the order of the day.
This made Chile all the more surprising. We had spent days riding off road and the Atacama Desert was, ironically, the toughest part of the ride. When we finally got back on a paved road a huge stretch of it was closed for resurfacing and it was back off road and into the deepest sand we'd ridden in for another twenty kilometres.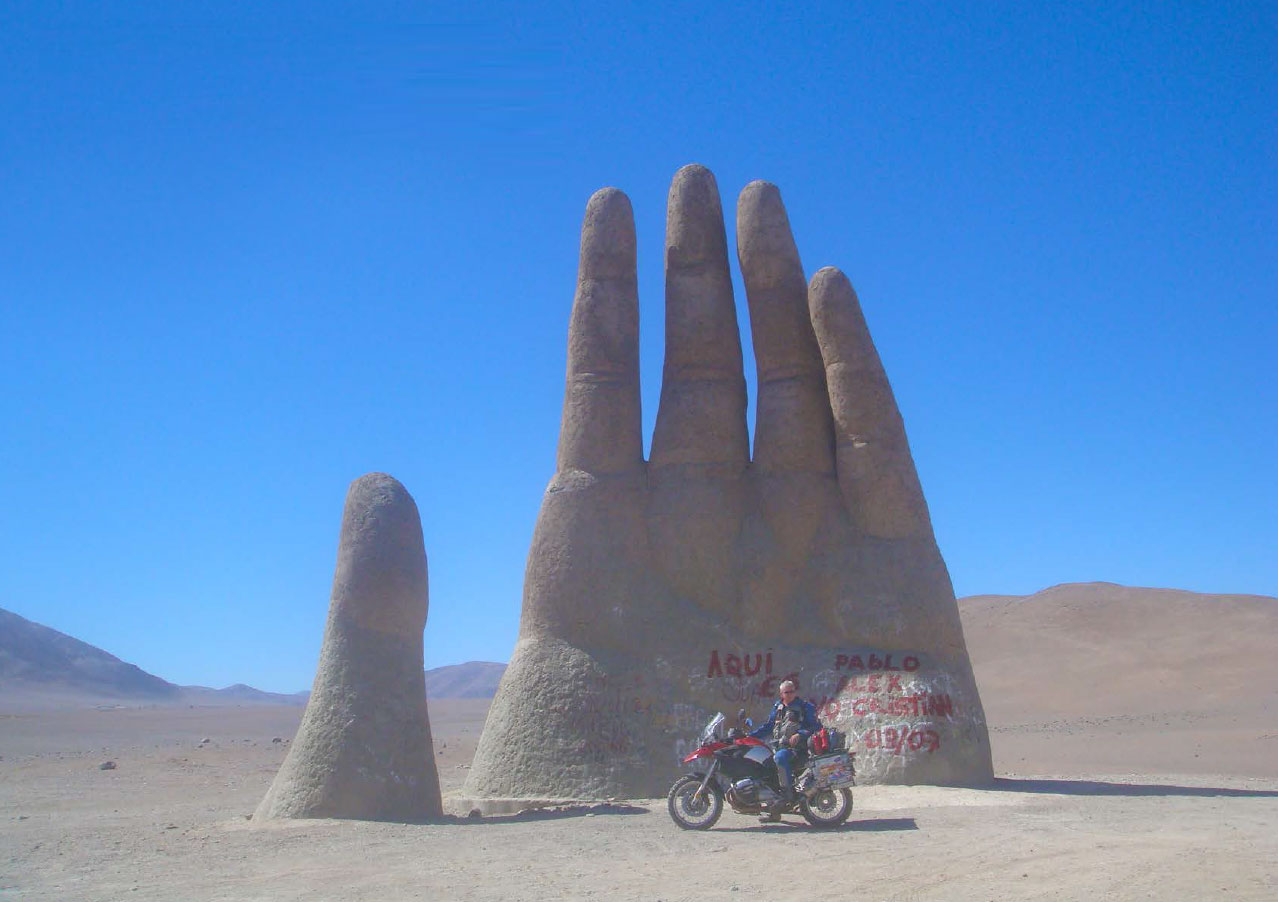 Now one of the first things we saw on the outskirts of Calama was a shopping centre. Multi-screen cinemas and coffee shop chain stores were the last thing we expected and they came as quite a shock.
The town is the site of one of the world's largest copper mines. While we were here we learned that Chile earns well over 50% of its GDP from copper sales. Most of it to a hungry Chinese market.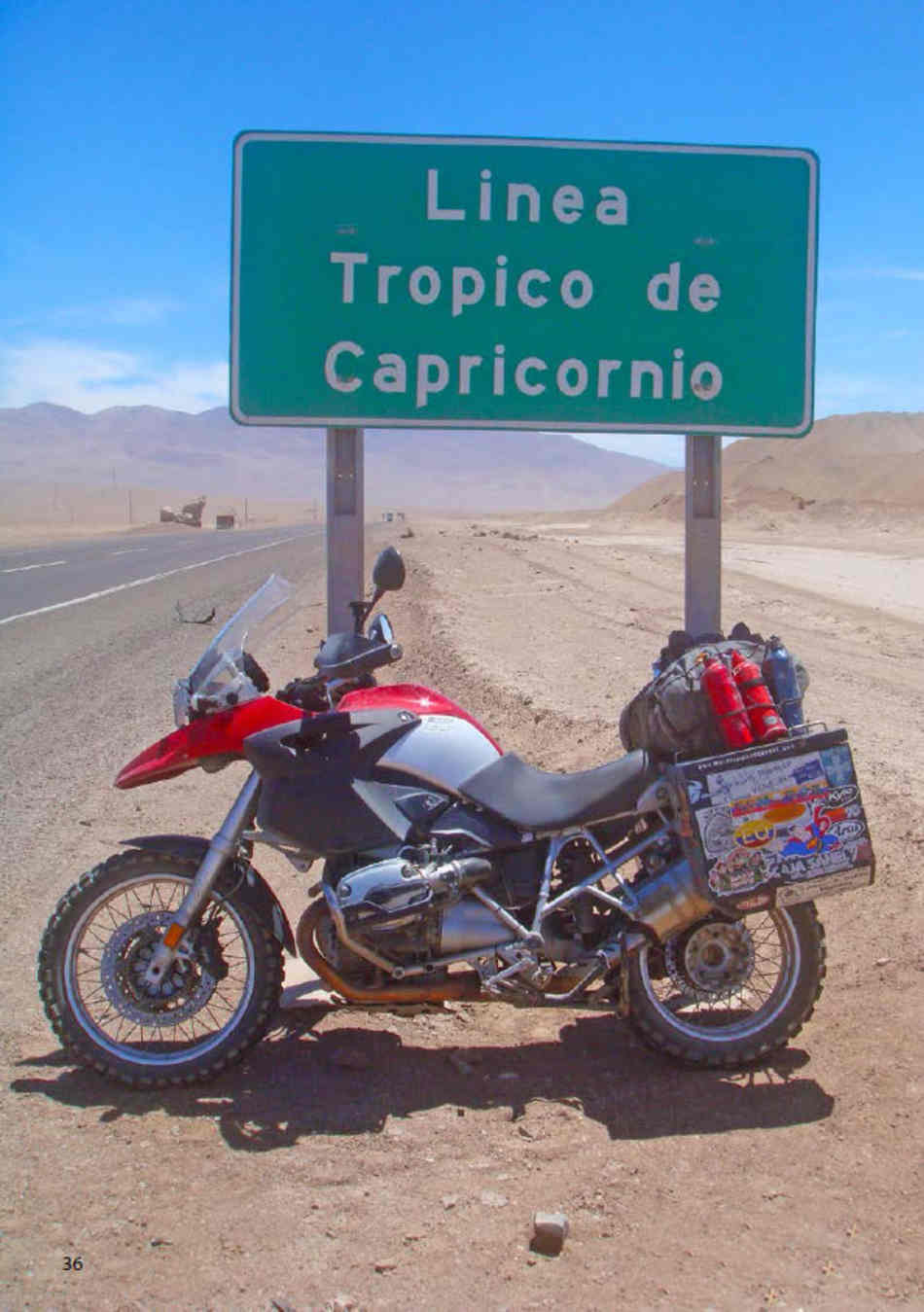 When Che Guevara visited here as part of his motorcycle diaries tour around South America he found the mine run by a north American company, The Montana Mining Corporation. The conditions that the locals laboured under were so bad and they did so for so little that it's largely credited with politicising the young man.
After a short stop in Calama where we do little more than eat a decent meal we proceed to Antofagasta on the Pacific Ocean.When we arrive we find a modern bustling commercial hub for the north of Chile. We have a huge choice of places to stay and end up going for an anonymous motel simply because the bikes could be parked securely.
No matter how many times we ride back to the ocean its vastness always strikes me as something particularly beautiful. The following morning we got some more supplies and when we left the city and got back on the Pan-American Highway once more we could tell that it was the same road, through the same desert as we had ridden in Peru.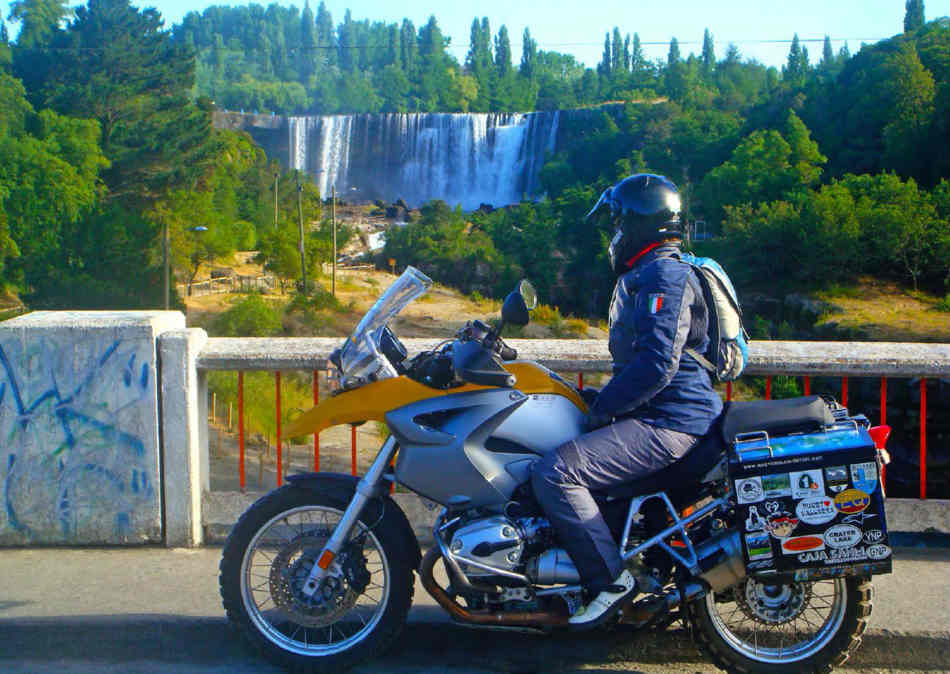 Except that is, that this was a well-maintained road with no litter to spoil the exceptional beauty of the landscape and no corrupt cops to take our money! We followed this road south to Vallennar. The name is a mispronunciation of Ballina, which is a town in the west of Ireland.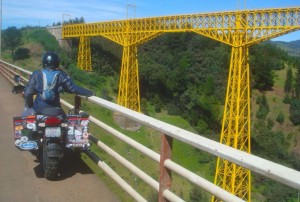 The story goes that Irish immigrants fleeing the Great Famine ended up in the Atacama in the late 1800s and finding an oasis they settled there and named the town that they built after their home place. It was strange to be here, knowing Ballina, now a wealthy market town, reasonably well and knowing the history of what drove so many people from Ireland at that time, I can't help but be moved at the strength that it must have taken for these people to get here.
The following morning we followed the dual carriageway into Santiago. Where we had struggled to do two hundred kilometres in a day in Bolivia we could have easily put away a thousand here in Chile.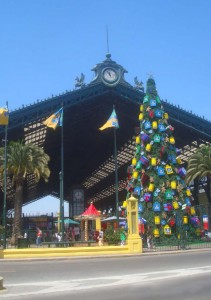 A few days before we'd got to La Paz in Bolivia, Maeve had noticed some spots of oil on her left trouser leg. Closer inspection indicated some kind of pinhole leak or maybe damaged seal around the spark plug on the left cylinder head. This was the same side that was badly damaged and replaced after the impact with the young gentleman and his motorcycle in Colombia. Our days travelling at a slow pace to Uyuni and onwards didn't seem to make the problem any worse, just the odd drop or trail of a drop along the cylinder head when moving and nothing when the motorcycle was at a standstill. When sitting over night there wasn't any evidence the following morning of any oil under the bike. Although it did worry us a bit, the nearest BMW dealer in Bolivia was about 2,500 kilometres away on the east of the country and nowhere near where we were heading.
Once back on the Pan Americana, our pace picked up and things did get worse. Before long, the bottom of her left trouser leg was totally covered in engine oil and we started to fear the worst. We were now carrying spare engine oil and stopping every couple of hundred kilometres, checking the oil levels and topping it up if required.
Santiago is a large modern city that could easily be mistaken for Valencia in Spain. Wide streets, clean buses, global hotel chains and cops on BMW R1150RT's all made this seem remarkably modern, clean and safe. When we ride onto Avenida Los Condes in Santiago and found our way to the BMW dealer there, they seemed to be having some kind of Wednesday "few" beers for stray customers evening. Maeve's arrival on a 1200GS seemed to cause some kind of upset to the dozen or so rowdy Brazilian tourists partaking in those "few" beers. They proceeded to shout loudly in Portuguese at her, three at a time and seemed oblivious to the fact that she was tired, cranky and not really in the mood for conversing.
The service manager, Alexandro, was really helpful. We pointed out the leaking cylinder head and a few other minor issues we had on both bikes. He said he would have our bikes back in a few days and kindly arranged a Toyota Hilux for us while they did the work.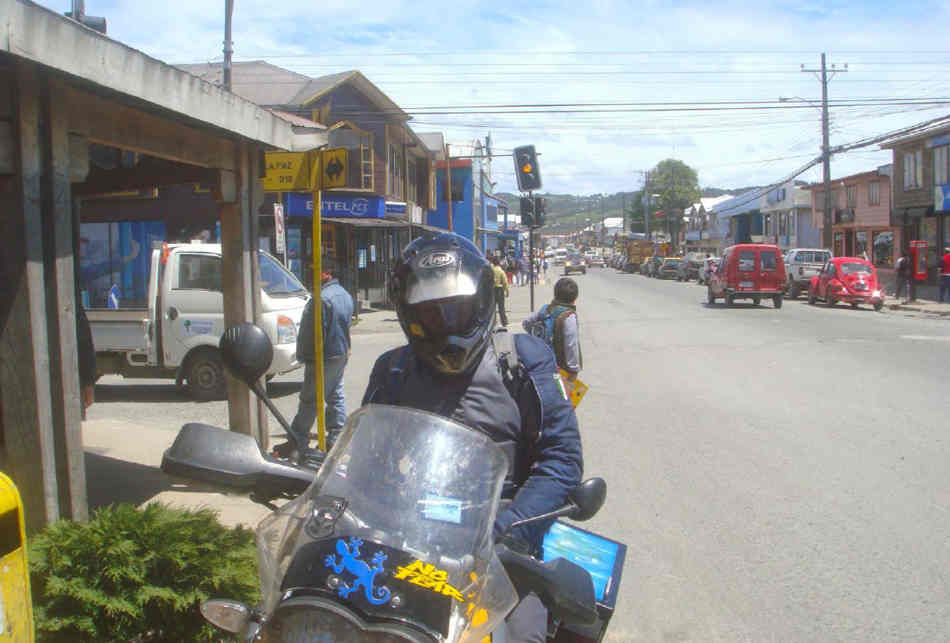 We got the bikes booked in and noticed as we left that all our fellow intrepid travellers were too drunk to ride their own motorcycles, or even attempt to move then, so the staff in the workshop were parking them all up on their behalf.
While our bikes were being serviced in the local BMW dealer we took the rented SUV and headed out to the coast. In the town of Val de Mar we stayed at the 'Hotel O'Higgins'. The son of an Irish immigrant, Sr. Bernardo O'Higgins is largely credited with liberating Chile from the Spaniards and his name is remembered on most main streets and public buildings. In both Valparaiso and Val de Mar we found museums, fantastic restaurants and evidence of a hugely successful wine industry. We spent three days in theair-conditioned Hilux with full leather interior and both felt extremely disconnected from our surroundings. Cars suck.
A few days later when we returned to collect our bikes we found them washed and polished and waiting for us in the service bay complete with replaced cylinder head on Maeve's. As both bikes were approaching 40,000 kilometres we had opted to have the main 40k service done. Valve clearances where checked, plugs were replaced as were the air filters and beautiful new, golden oil poured into the engines. It wasn't cheap, but it seems to have been thorough.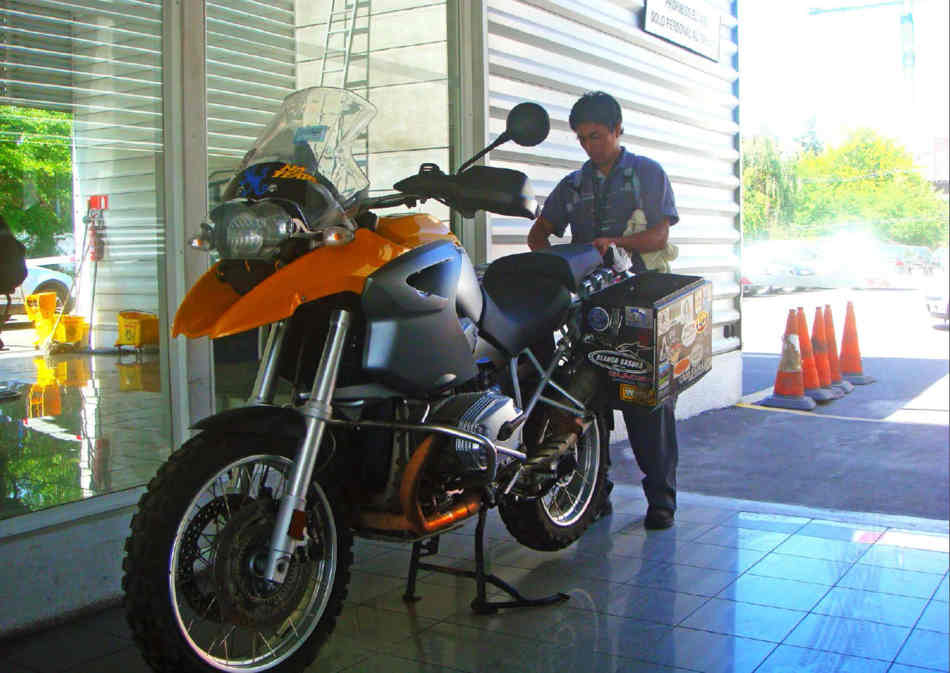 After our few days off while the bikes were being serviced in Santiago, we found ourselves back on the Pan Americana and heading towards the Lake District. We stop for a night at Salto Del Laja. At the bridge in the centre of town there is a fantastic view of a beautiful waterfall. Parking on the bridge to take some pictures and enjoy the view, we are immediately surrounded by teenagers who furiously clicked away at us with their camera phones. We retreat to the nearby riverside campground where we made our base for the evening and cook pasta in chicken soup for dinner. The following morning we sleep late and it's noon before we've packed up our gear. We stop at the next fuel station, which has a cafe next door and don't get any further for several hours.
After lunch we headed back onto the dual carriageway, the Pan Americana, which at this stage was becoming quite monotonous, and rode south to the town of Puerto Montt where we refuelled and turned west to catch the ferry to Chiloe. Chiloe is a small island less than 200 kilometreslong and it very much reminded me of the west of Ireland. There is certainly no dual carriageway here and the Pan Americana rises, falls, twists and turns its way to the town of Quellon where the ferry will take us back to the mainland.
However, while we were on the way to Castro I am briefly detained by the local constabulary.The nice Chilean policeman informs me that I was speeding. I was doing 140 kilometres in a 100 kilometre zone. I was only doing this because Maeve said I had to. I normally don't speed, but she said it was important as we had a ferry to catch.
I tell him I don't speak Spanish. He asks to see my licence. I tell him I don't speak Spanish. He tells me that there is a fine. I tell him I don't speak Spanish. He asks me where I am from. I tell him I don't speak Spanish. He asks me if I know what the speed limit is. I tell him I don't speak Spanish. He gives up. We ride on. I'm going to learn Spanish and the next time I get pulled for speeding in Dublin I'm going to tell the cop that I don't speak English.
We opt to stop in Castro where we are led to believe there are some campsites, which was true, if you count a campsite as being a field with no water and no toilets. We decide instead to stay instead in a cabana, which is slightly better than staying in a field with no toilets but not a lot.
The following morning we go to the tourist office to arrange tickets for the ferry back to the mainland. Unfortunately it is closed so we head directly to Quellón, the southernmost town on the island and ferry port, where we miss the only ferry that week by five minutes. We sit on the docks and watch as the ferry moves out through the waves into the harbour. Technically speaking Quellón is literally the end of the Pan Americana, Highway 5, the same Highway we started out on in Fairbanks, which lead us through Vancouver, Los Angeles, Panama City and Santiago. Locals however, seem blissfully unaware of this marvelous fact, and continue their lives oblivious to our elation at our achievement. So we're both slightly miffed that we missed our ferry, but still, we've ridden the length of the end of the Pan Americana. We rock!
With no ferry until early next week there is nothing for it but to turn around and head back the way we've come to Entre Lagos and cross the border into Argentina through the Andes.
Along with Patagonia the Lake District in Chile has a reputation for being one of the most beautiful places in the Americas. We ride off the main road to the small town of Entre Lagos where we pick up supplies before we head out to camp on the shores of Lagos Puyehue. The following day we pack up and ride east to treat ourselves to a morning in the hot springs at Thermas Payne. The springs are centred in a very posh resort, and while maids and gardeners and waiters busied themselves caring for their guests, we rode in on our dirty bikes,in our grubby motorcycle gear and paid a modest fee for a day pass including lunch. We then pool hop from the cooler to the warmer, the hottest of which was a toasty 42 degrees. If you've never soaked in a thermal springs you don't know what you're missing!
We've been getting back to this camping thing after a few months of staying in hostels and hotels – there aren't a lot of options in Central America or in the north of South America for camping – you can do the free style thing if you want, as long as you don't disturb anyone's property or generally annoy anyone. Southern Chile has ample camping options, with some really great places just off the highway. It's a nice change to get back to sleeping in a tent, waking up usually in some very picturesque spot and, as its early Spring here, in an empty campsite.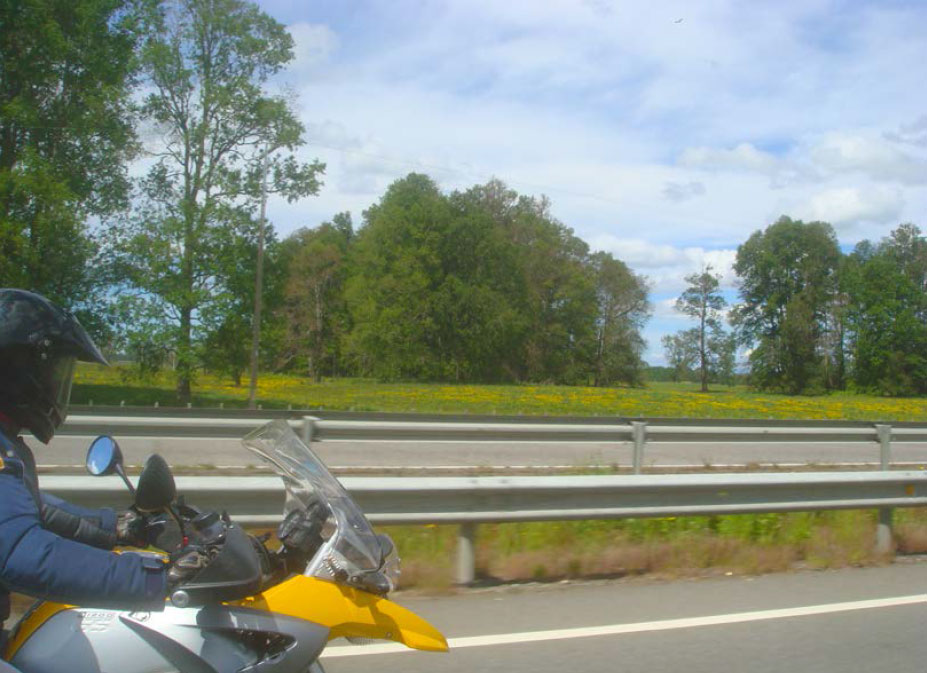 Tonight we'll stay in a Chilean state park campsite, ParqueNacionalPayehue, before crossing the border into Argentina tomorrow. We usually take one task each – Maeve gets the fire going and I put up the tent up or vice versa. On this occasion Maeve opts to have a go at lighting the fire before cooking dinner. This is straightforward enough, or should be. There is a large stack of firewood near the entrance to the campsite and after we take a few small pieces back to our camp she begins to light some kindling. This is no problem, and off it all went, a few small flames and we're in business. That is until she came back from a second visit to the woodpile. Her blazing torch has reduced itself to a few red embers and a lot of nasty blue smoke from what appears to be wet wood.
She sets about adding some more dry kindling and reigniting the flame, but the same thing keeps happening, the kindling catches and burns but the larger logs just will not take.Getting 'slightly' frustrated with this, she has a little rant and swears like a sailor quite loudly for a few minutes.
I then come to her rescue having decided that some petrol from one of our fuel cans would be in order to help things along. And sure enough, for a few minutes we have an awesome blaze, and then nothing. At this stage she is starting to get really annoyed. "I just want some hot food and to go to bed! How difficult is it going to be?" she declares rather than asks.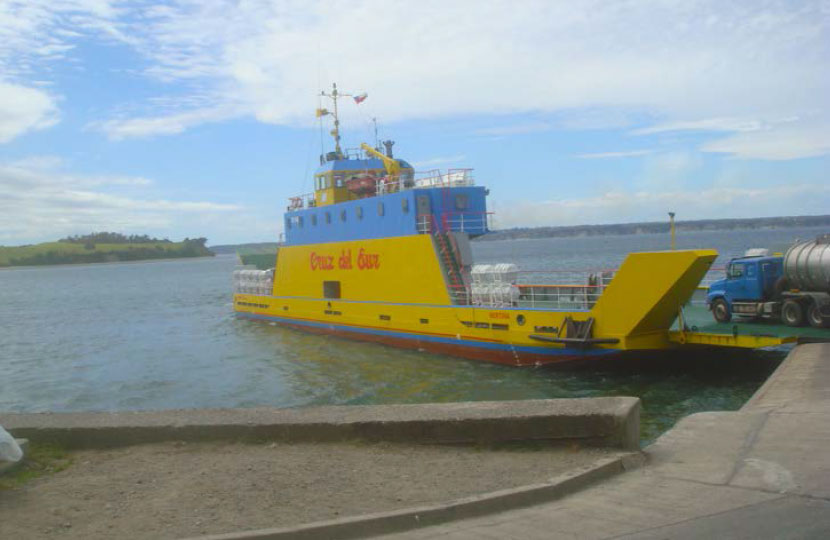 I meekly suggest that we try the nearby cafe for some food. I should have known better than to try and introduce an obvious solution to such a simple problem. Instead she asks me with a forced calm to light our petrol stove, the one we haven't used since neither of us can remember when, but probably somewhere in Canada, maybe once, possibly twice. And so I did, while she continued vainly with her attempts to relight a pile of mossy logs.
At this juncture it should be pointed out that the canister for feeding the petrol to the stove has been in use constantly since we left North America as a container for spare fuel. Twice in a single day somewhere in Guatemala while riding through traffic, it launched itself rather successfully off my bike. After this we decided to fix it a bit better to my luggage to prevent any disasters. However, in the process of bouncing itself along the road from the back of my bike it had received a few bumps and dents, but it did appear to withstand the knocks quite well.
Or so we thought, no sooner have I set the thing up, primed it and lit the pilot than it starts to spray pressurised fuel out of one of its seams and ignites. I now have a flamethrower at my feet. Not being too sure what to do I kick it as hard as I can at the non-lightingfire. I believe the footballing term is a slice. Whatever it is I send it off in the wrong direction and it hits Maeve's bike. It's still spaying liquid flame along the side of her bike when I kick it again, all the time waiting for it to explode. This time it lands in a clearing where it continues to burn.
We spend the next twenty minutes sheltering behind a tree about fifty meters away swapping various mild rebuttals and pointers the otheron possible ways theymight improve their personality. Miraculously, it doesn't explode; rather it just burns itself out.
The moral of the story, and I'm not so sure there is one really, is if at first you don't succeed, give up and go to the nearby restaurant where they have cooking facilities and can make hot food without attempting to burn down a national park.
Tomorrow we are going to Argentina.
Paul Browne