Read Time:
10 Minute, 50 Second
On a whim I call my fellow conspirator Andy and ask him if he fancies doing the Elefant Rally. Typically, he replies that he can't see any reason not to and our fate is sealed.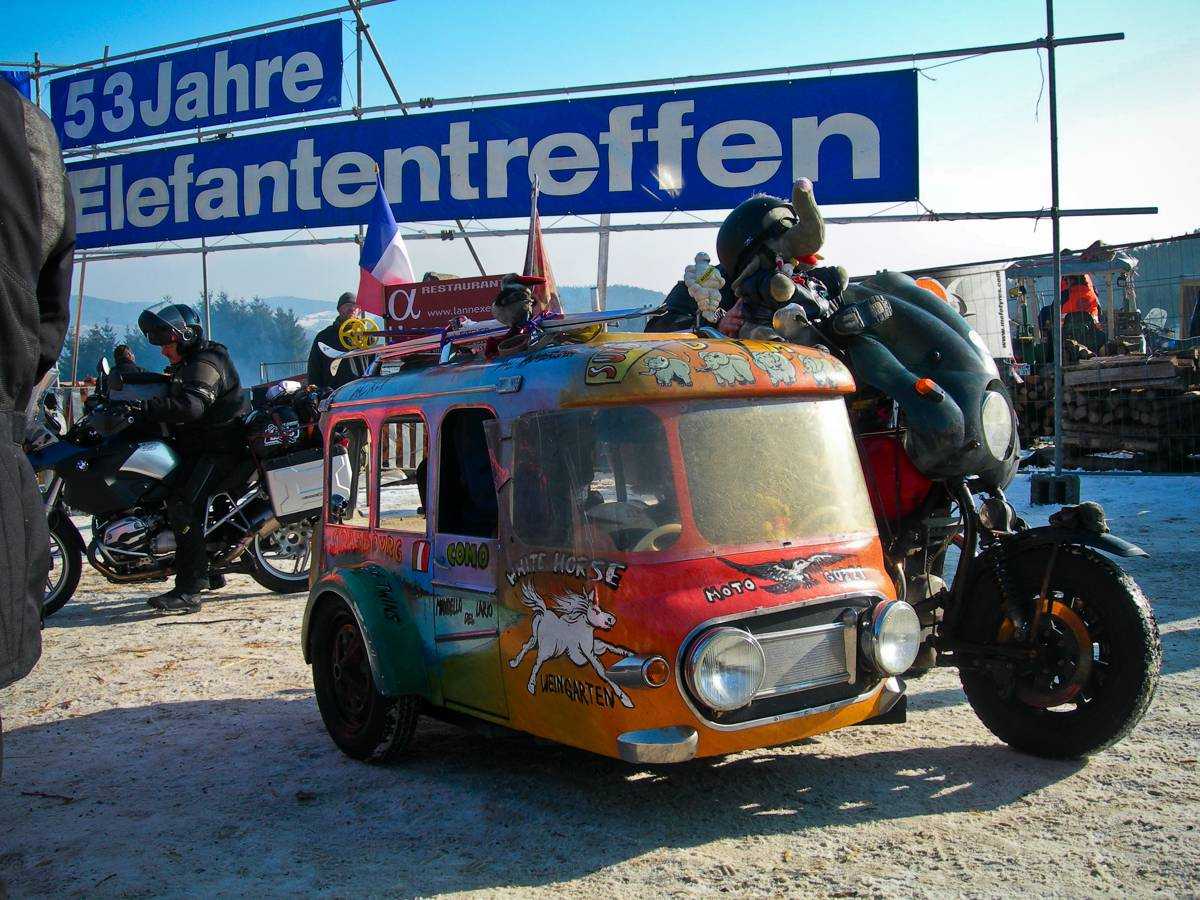 With no real idea of what we are getting into, since information regarding the rally is pretty hard to come by and more often than not, highly inaccurate, we coerce another friend into joining us. Our preparation involves synchronised trips to M&S to buy thermal underwear and a brief discussion about the unsuitability of heavy, powerful or Italian motorcycles for the trip. I decide to take my 1500cc Yamaha XJR and Raff, the third man, his 90's Ducati Monster. Andy, in a random act of rationality, chooses his CB500. Rumours abound on the net of -24°C and various deaths due to exposure. We respond to this hypothermal threat by cleverly bodging hand guards or bar muffs to our machines. What can possibly go wrong?
Our ferry leaves at stupid 'o'clock in the morning, snow is forecast and we're in the pub the night before without a shred of willpower between us. Miraculously we leave on time, it's already bloody cold and we haven't even left London. The road down to Dover is the foulest mix of snow, ice, salt and spray; and truckers warn us of impassable roads in France. It's all part of the karmic travel experience. Loading up on the ferry we meet a bike journo who is off to the rally, but no one else, as the ferry is completely devoid of holidaymakers. Odd that. Later, we see the journo searching for the "Premier Lounge" or some such nonsense. We decide he has a 5 star hotel booked in Calais, where he will use the complimentary broadband access to pull down some library photos of last years rally for his article.
Our highly elaborate schedule for getting to the rally site, which is near Passau in what used to be East Germany near the Austrian / Czech borders, involves riding to Koblenz, about 350 miles, staying somewhere, then riding the remaining 350 miles to the site the following day. Genius. The French roads are clear and in no time we have crossed three borders and are on the Autobahn to Koblenz without incident. By the time we find a hotel and Andy has washed his hair (he has already been nominated the token girl of the trip), it's late, so we go out to sample the delights of German nightlife. The streets are deserted and Koblenz appears to be closed but we find a bar, which aside from the slightly bizarre Christmas decorations keeps us entertained until far too late.

We miss breakfast by a country mile and set off again. The temperature drops like a rock in a bathysphere and we find that we have to stop more frequently as we near the site. At the last stop Raff asks if I have checked that the rally is being held at the same site this year, as it's notorious for moving around. I haven't of course so various threats are issued. I'm slightly concerned, since we've not seen a solitary fellow biker since we left Calais and we are only 100 miles from the site. I try to fill up with fuel and my fuel cap lock is frozen solid. The Ducati suffers a puncture and the tyre plugs are also frozen (for future reference, don't use a lighter to thaw out tyre plugs whilst standing next to a bike that's been freshly filled with fuel!).
We leave the Autobahn for the final leg and the roads become tricky, with heavy snow and ice; then suddenly we are at the entrance to the site and it becomes clear why we haven't seen any other bikes. They are all here. The track into the site is chaotic with bikes abandoned all around, drunken people wander blindly into our path, oblivious to our very real fear of dropping the bikes should we even think about touching the brakes. There is no space to park, so we carry on for what seems like miles down the hill through a forest until finally we can stop. The wind has picked up and it's snowing hard by now, so we unload and carry all our gear up the hill to the entrance. We are tired and it all seems quite arduous; everyone else has been on the hard stuff for at least a week and we mistake their drunkenness for unfriendliness. We find a totally unsuitable spot to pitch our tents: imagine the side of a steep hill covered in a foot of snow, under which are a selection of mismatched boulders and permafrost. It's very dark by now and in blizzard conditions we make an extremely poor effort at making camp. Our spirits by now are very low so we head in search of beer.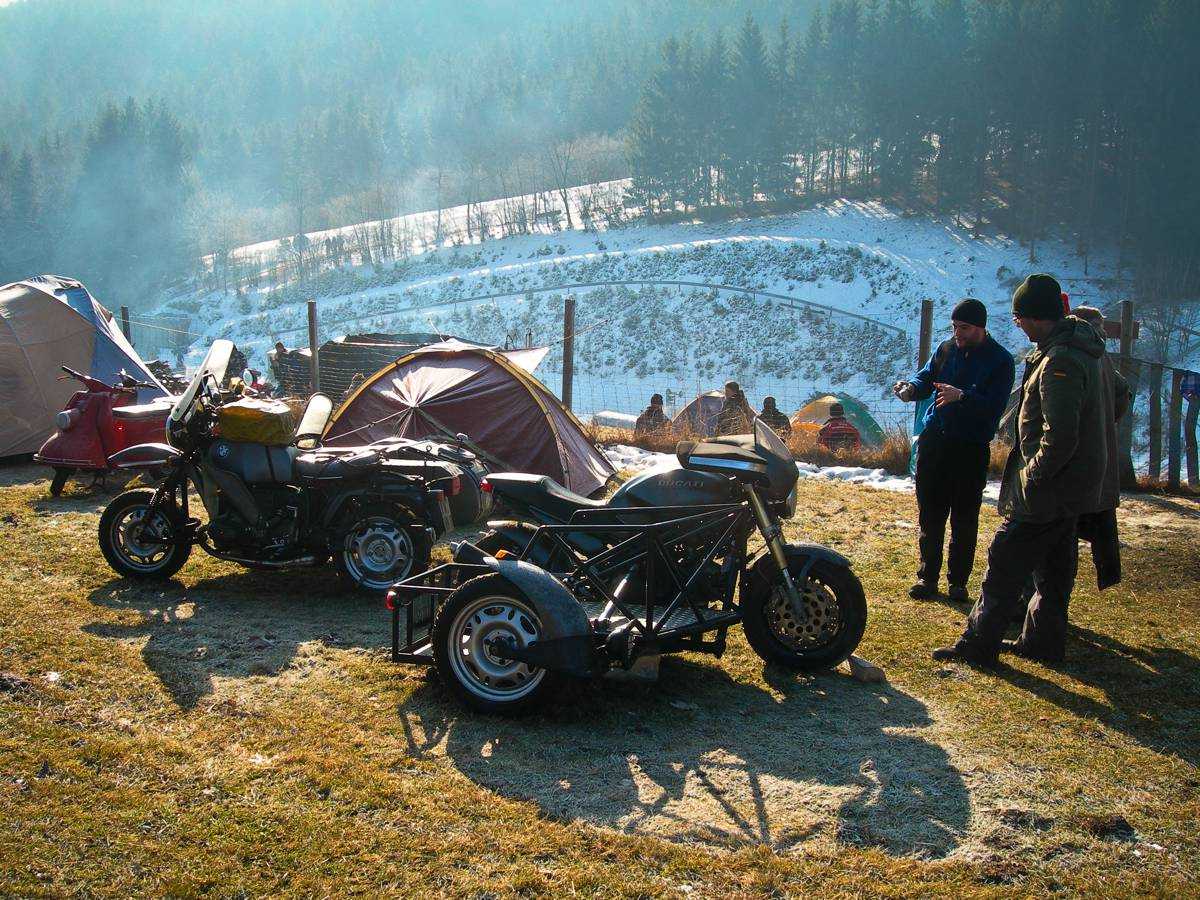 Beer is well known for curing all evils and this is no exception. The beer shed, a barn with a serving hatch, is excellent. It's rammed full of the most random collection of lunatics you've ever clapped eyes on. This is rallying German style. Within minutes we've met some incredible characters and have forgotten our traumatic arrival. Time bends like a pair of 1970's forks and after a brief attempt at sleep, which would appear to the casual onlooker like an attempt to win the 'World Downhill Sleeping Bag in Tents Grand Prix', it's morning.
I regard our tent with embarrassment; it's barely standing and resembles a small snowdrift, which, as we embark on a stroll around the site, is a pretty common theme for anything that hasn't moved for the past few hours – including our fellow rally goers. We were promised snow at the Elefant and we were not to be disappointed.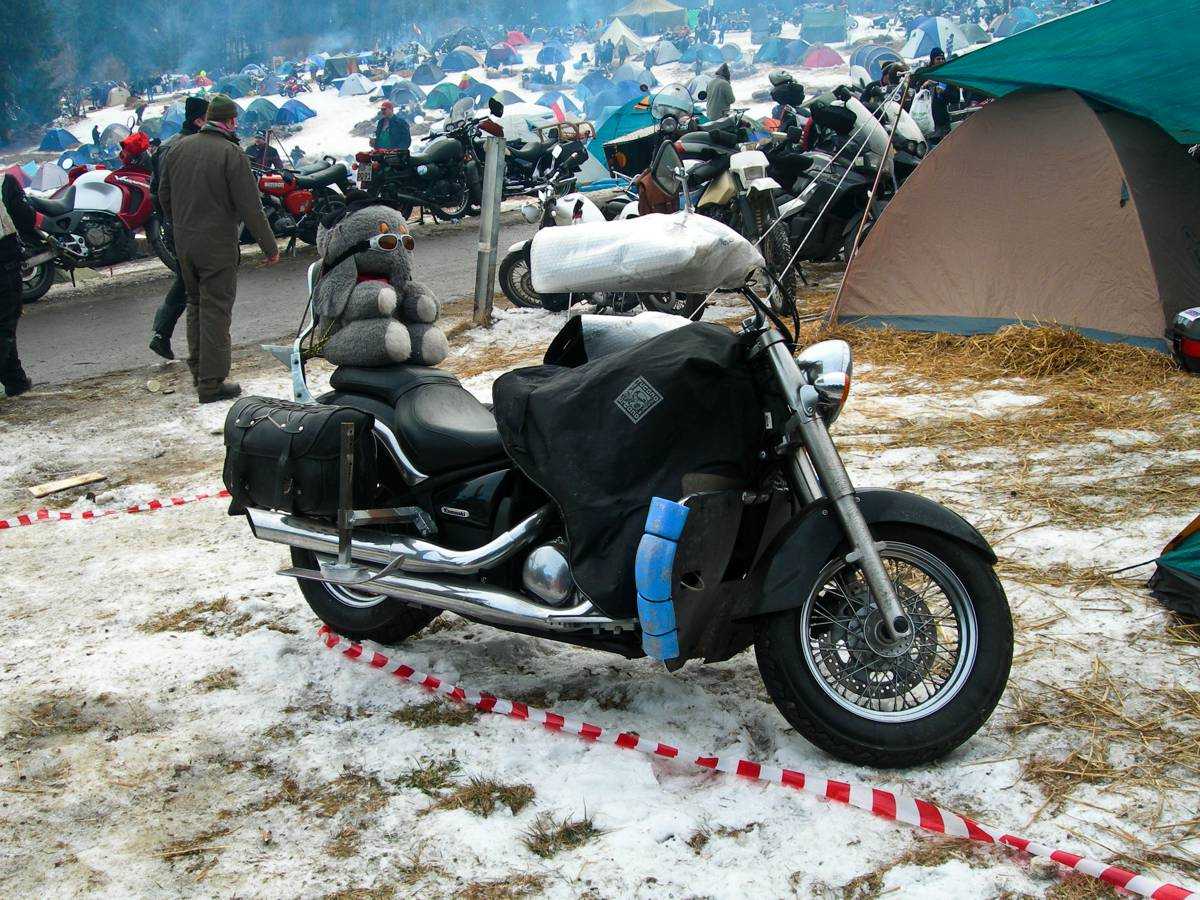 It's remarkably entertaining in many ways watching people attempting to ride up the slope towards the entrance; and if bathing in the beauty that is human endeavour is not enough for you, you can admire the machinery. An MZ motor in a home made trike frame with room for eight or more people might be unusual, but an RD350LC outfit is really something I don't expect to see again. If fashion is your thing, then pin your eyelids back for a visual treat. I felt as out of place in my Goretex gear amongst this lot, as I would have done wearing a DJ in a soup kitchen.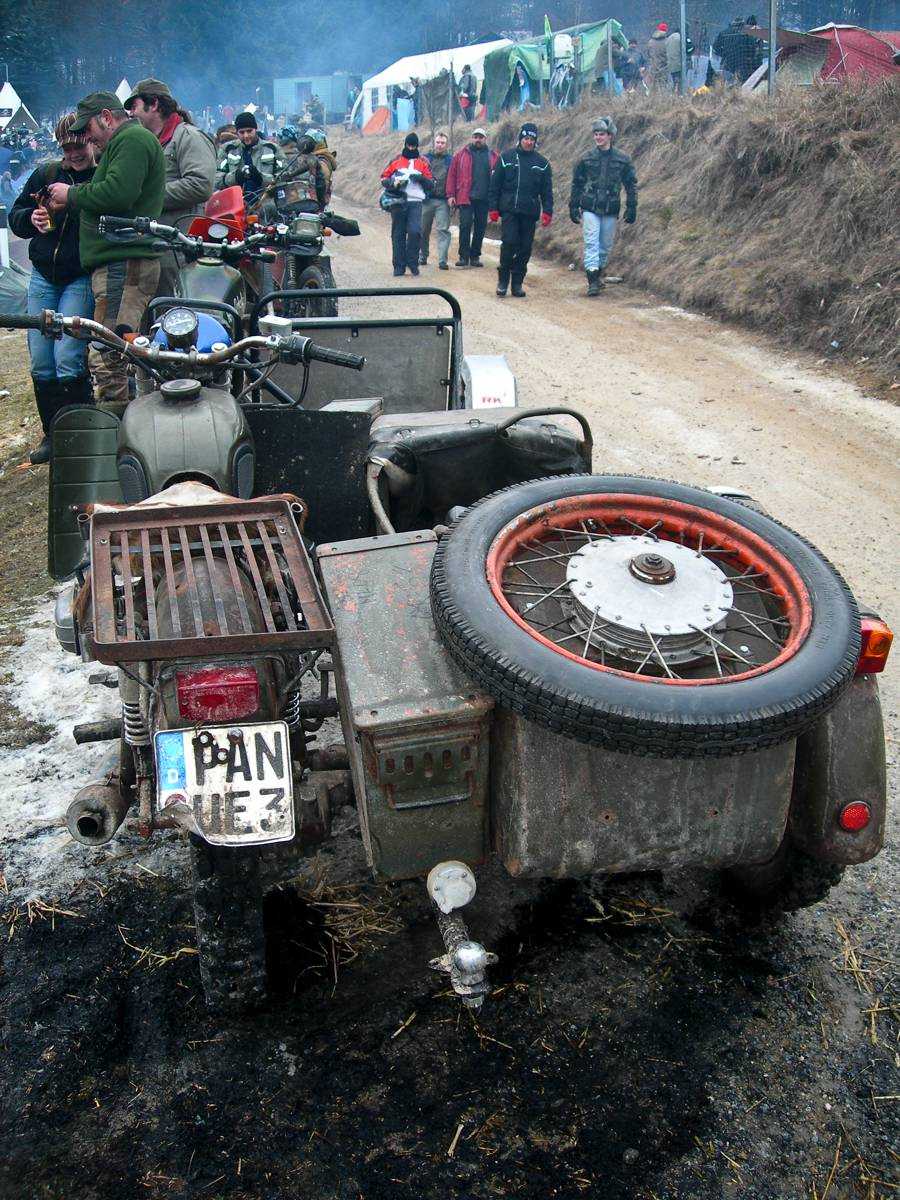 Getting back to the machinery, this may be a bike rally but three wheels were the order of the day. If it was German, Russian or Chinese, had a sidecar and was loosely based on the flat twin concept, it was here. All of them. If it could be triked, which ruled out nothing, it had been and it was here. If it was any kind of insanity cooked up in a drug fuelled spell of insanity by madmen who happened to find a welding rig in their gas powered fridge whilst looking for the horse tranquiliser, it was also here. At a rally back home, you might happen across the occasional oddity and remark "I've not seen one of those for a while". At the Elefant, you're more likely to exclaim "Oh my God! It's a CBR600!" Sportsbike riders need not apply.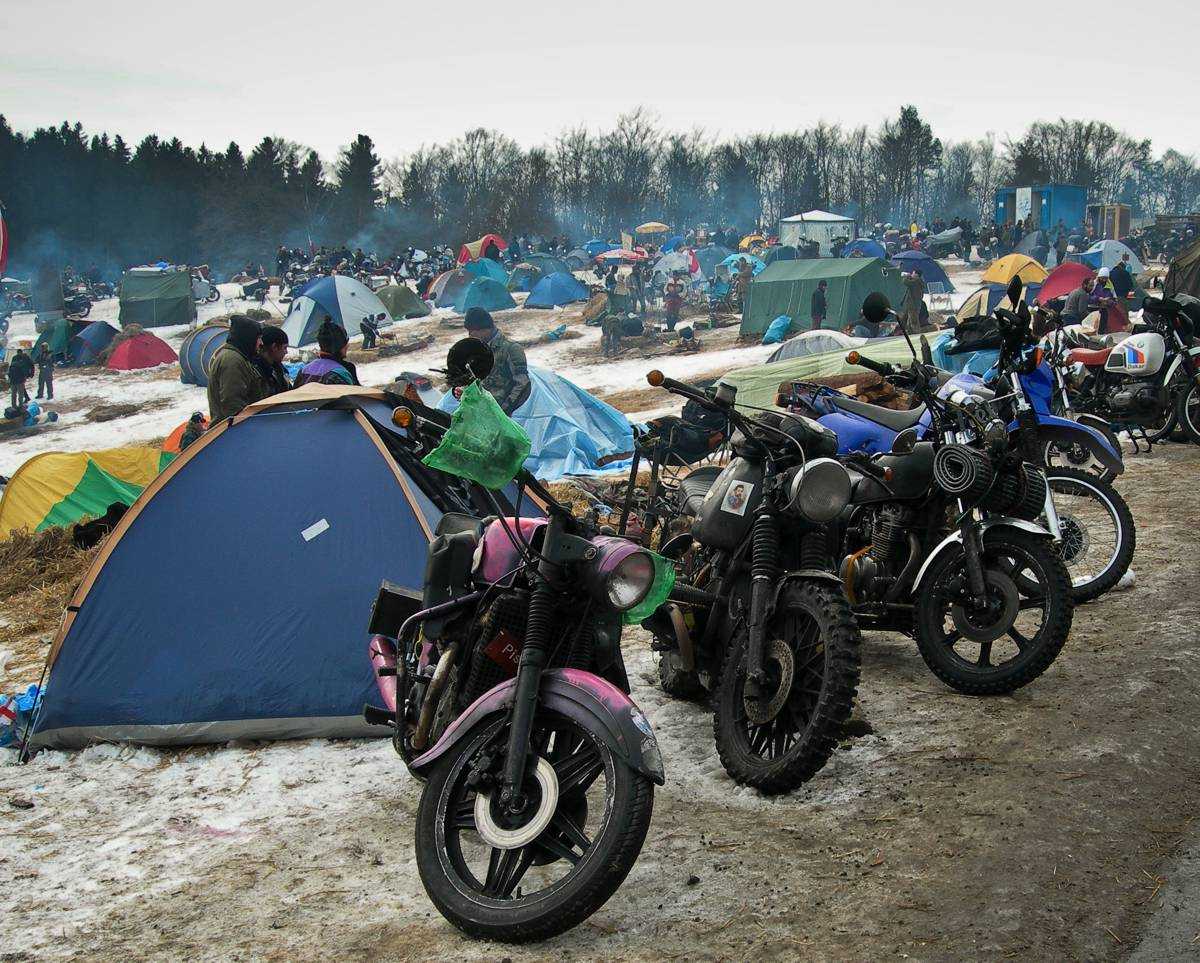 It's a rally of contradictions.
At the Farmyard Party, you might leave your beer outside your tent overnight to keep it cool. At the Elefant, you keep it inside your sleeping bag with you to stop it from freezing. Or, if you are a veteran Elefant, you will construct an elaborate tripod concoction with a tray to hold the beer and a fire kept lit by a 24-hour vigil. You might even have a row of optics. These folks don't do things by small measure, planning for the Elefant, must almost be a full time occupation for them.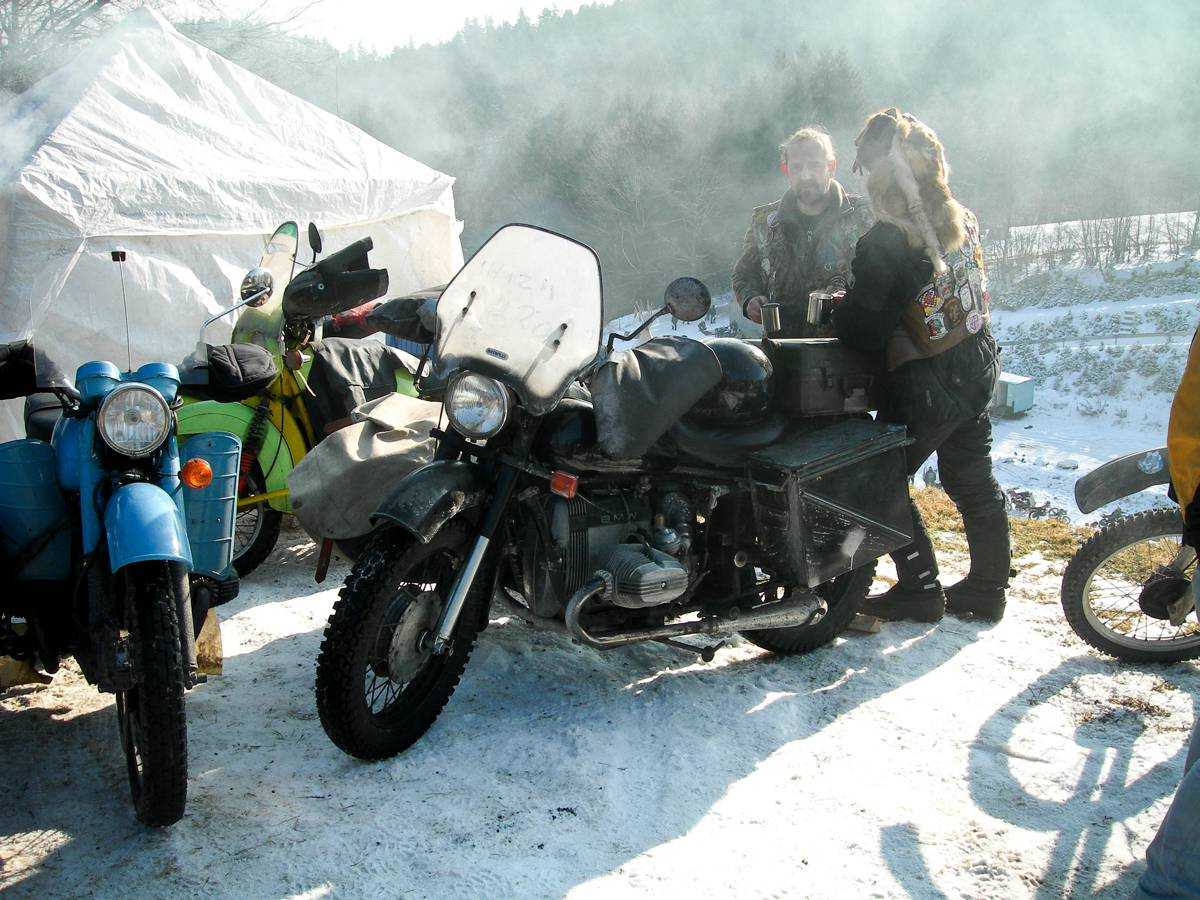 We watched in awe, as the most drunken man I've ever seen, wearing a long dead squirrel on his head tried to pilot the aforementioned MZ affair with six of his friends on board, up an icy slope that many others, including ourselves, had recently proven to be impossible to walk down without serious injury. After the first attempt almost ended in disaster – the front end slewing around half way up, whilst oblivious pedestrians continued to prove the impassable nature of the slope – he retired to the bottom and drew further back for a longer run up. This coincided with a flock of people, more determined than ever to injure themselves by hurling themselves down the slope as he came thrashing around the corner with the engine screaming. I swear I saw one of the passengers attempting to light a cigar as they ploughed onwards. Remarkably, despite further suicidal and abortive attempts, to my knowledge, not one person was killed. I would really love to know the story behind the bike trailer that was lodged halfway up a tree next to this slope. I can only assume that our pilot was there last year on a previous design.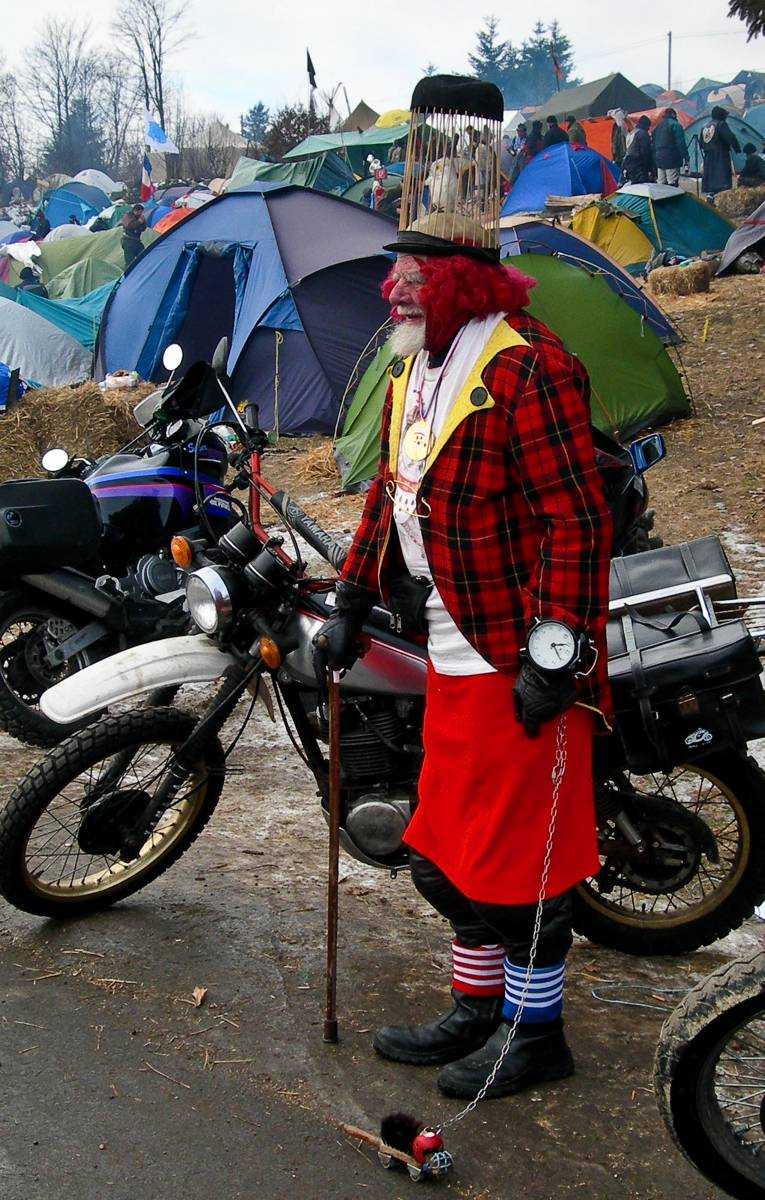 The British Government banned smoking in public places in June, as it's bad for your health. It's all about perspective. If the politicians would care to consider for just one moment, the inherent risk involved in riding a motorcycle, in January, in the snow, through four countries, to an icy field that is teaming with all manner of highly intoxicated revelers – most of whom have the keys to a home-made contraption on wheels with an engine – perhaps they might just begin to understand that personal risk is part of life and therefore not something that can or should be removed by legislation.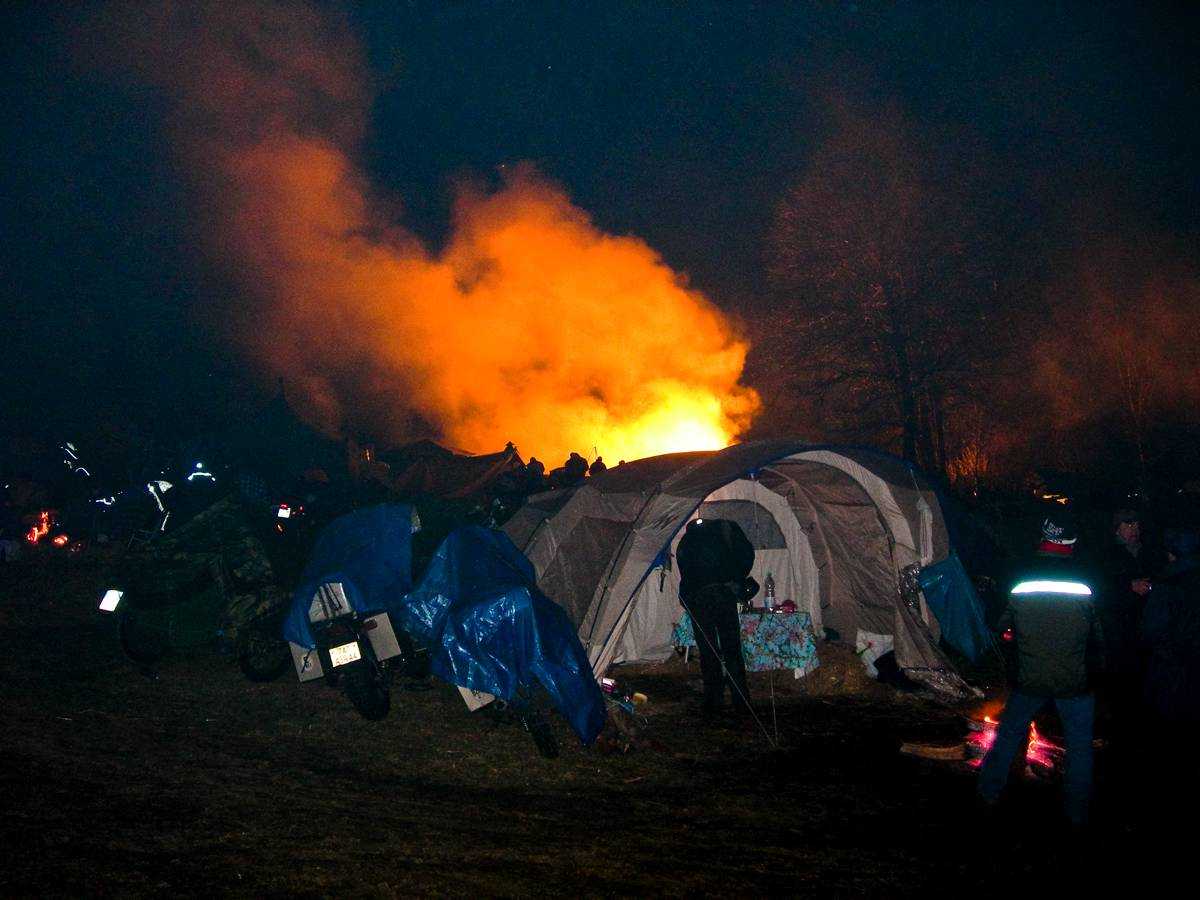 Leaving the rally proved difficult – or impossible as it turned out. Despite the best efforts of various teams of assorted nationalities, who tried to assist us on our way up the hill out of the site, we got as far as the road and could go no further. The roads no longer existed. This didn't stop a man with an FJ1200 who had ingeniously fitted a pair of retractable skis to the front of his bike. I kid you not. He sailed past us with a huge grin on his face that said it all.
We retired to a beer cellar to assess our situation. It was late afternoon, snowing heavily and getting dark. All our kit was packed up on the bikes, and we had just abandoned them on a roundabout, despite having been told not to by a very boisterous policeman. He probably had a point, they could have been wiped out by any of the cars that were sliding around that evening; but equally, there was nowhere else to go. All the local hotels (both of them) were fully booked and had people sleeping on the reception floors.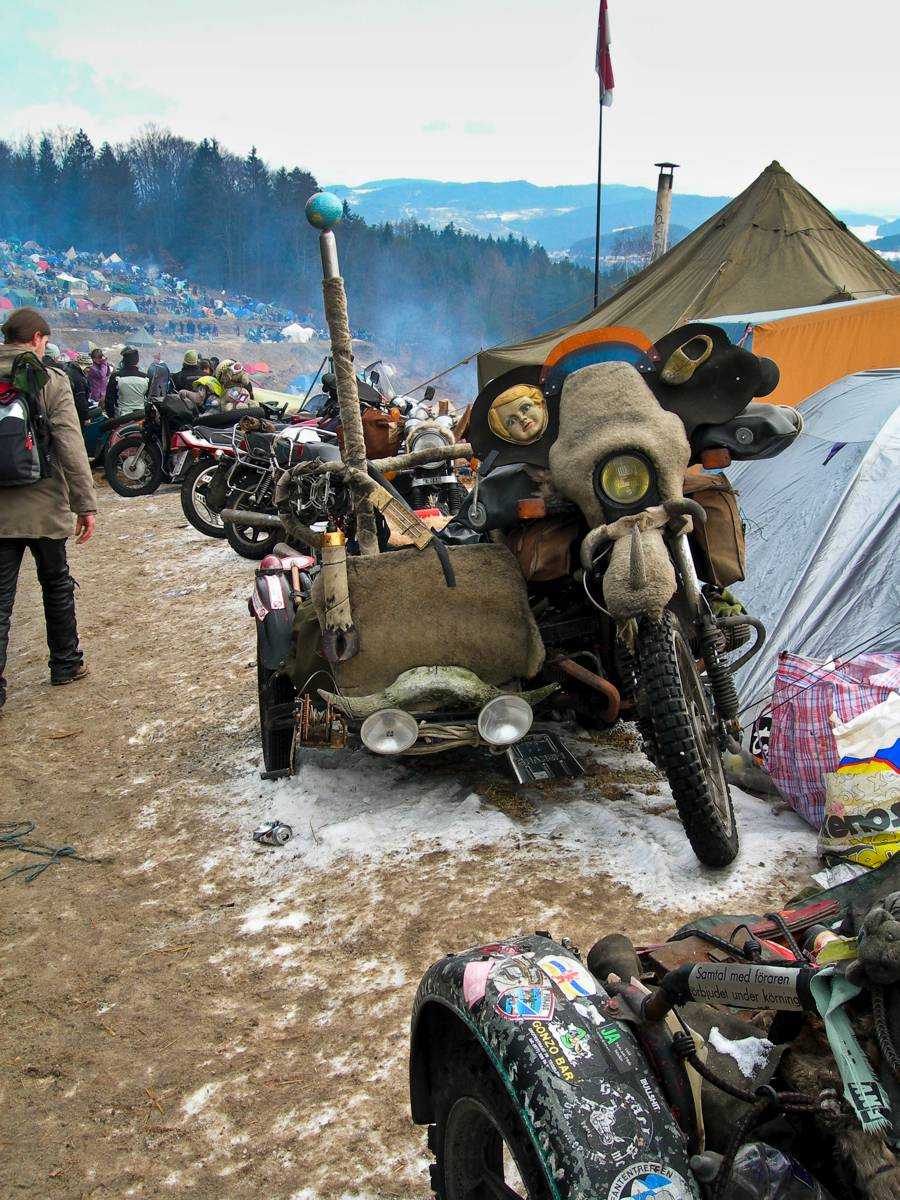 Sitting drinking coffee and staring at the walls trying to think what to do, we were visited by the chicken of despair. Raff wandered outside saying that he "may be sometime" while I dripped quietly on the floor as parts of me briefly thawed out. Then I had an idea! I switched on the gps and looked up hotels that were roughly 5km from the site, far enough that nobody would have managed to walk to them. I called the first one I found and they had vacancies. The barman ordered a cab and we smiled for the first time in four hours.
Then it hit me, how the hell was a cab going to get through those roads? While we were pondering this, the cab pulled up outside, piloted by a female German version of Colin McCray who drove to the hotel along impassable roads as if she were nipping down the North Circular to Tesco. Soon we were sat at a table eating one of the finest meals I've ever had. We were treated like Kings, which set us in good stead for the trip home. That karmic travel experience had happened again.
Aside from some minor misdemeanours back at the hotel in Koblenz, the most notable point regarding the trip back was that one of the bikes became somewhat unreliable, misfiring at the first sign of damp. Ironically it was that paragon of Japanese reliability, the Honda CB500 – the ageing Ducati and modified Yamaha both behaved impeccably!
Going to the Elefant Rally is a bit like giving birth. You'd never want to do it twice. But after a while, you begin to forget the painful bits and only remember the joy. Then around about Christmas time, your Elefant friends start calling you and you inexplicably find yourself in the shed constructing a device that stops beer freezing at -24°.
Rod Young