Read Time:
7 Minute, 57 Second
When I hear the word Goldwing, I immediately think of two things: one being that it sounds like the name of some exotic bird (of the feathered variety!) that only rarely appears on our shores on its annual migration south; the other is an enormous two wheeled cars with a plethora of gadgets, lights, and quite possibly a trailer, which are definitely not rare and are often seen in groups. So, in my mind, the collective noun for Goldwings just has to be a flock!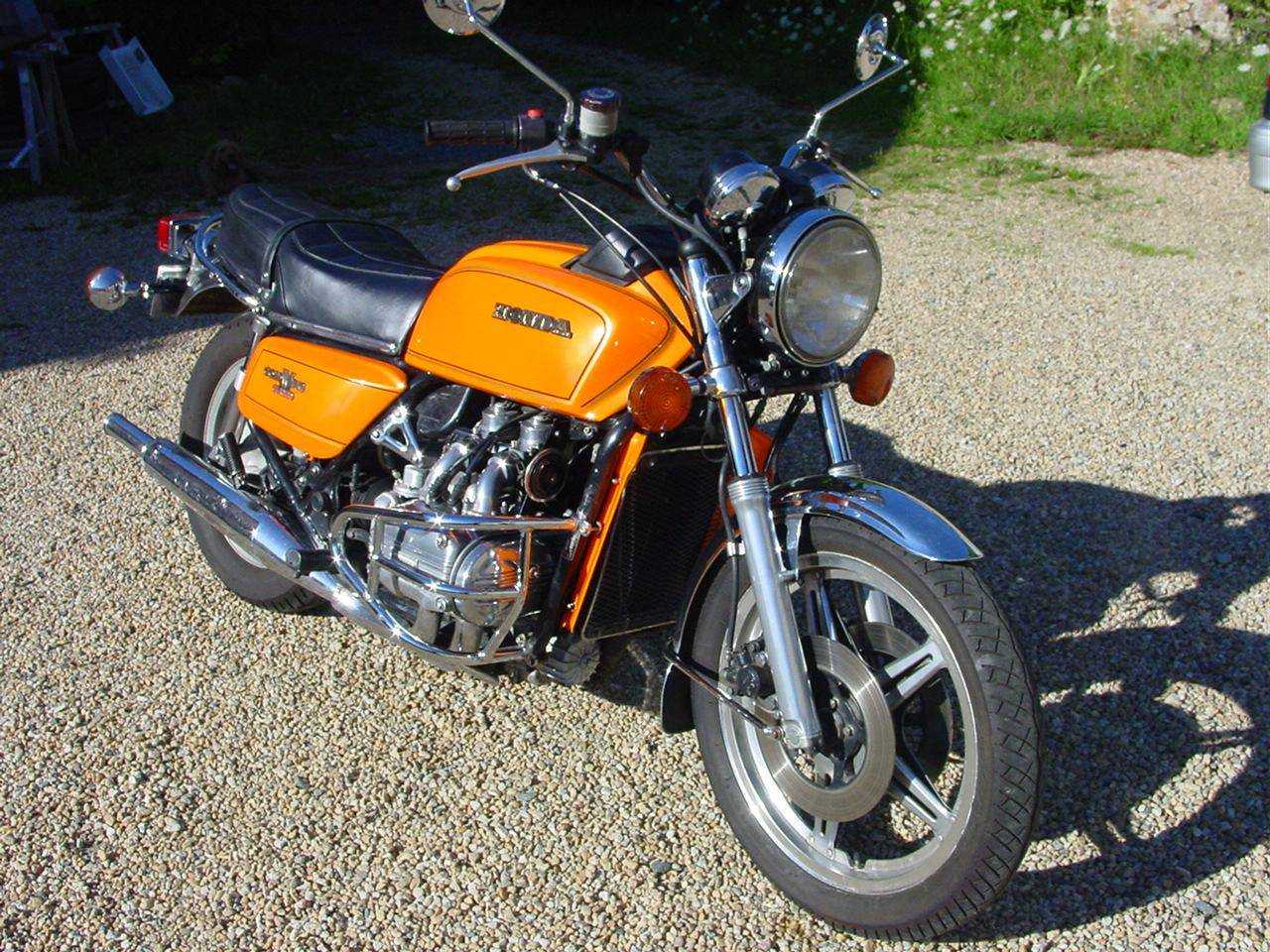 But Goldwings haven't always been the plastic covered behemoths of the biking world. When they first appeared on the scene in 1975 as the naked GL1000 the public wasn't too sure what to make of them. Honda didn't offer the option of panniers or fairings, so they weren't tourers, and they were too heavy to be out and out sports bikes, but importantly they were pretty reliable and oil tight, more so than their direct competition.
Although at the time the 'Wing was suffering from an identity crisis, they were really the forerunners of the naked muscle bikes, like a very early V-Max. The aftermarket industry, however, was quick to identify the bike's true identity, and not wanting to look a gift horse in the mouth, produced a range of fairings and panniers that transformed the bike into a competent tourer. It wasn't until 1979 that Honda picked up on this marketing failure on their part; by the following year they offered both panniers and a fairing as options on the GL1100 Interstate.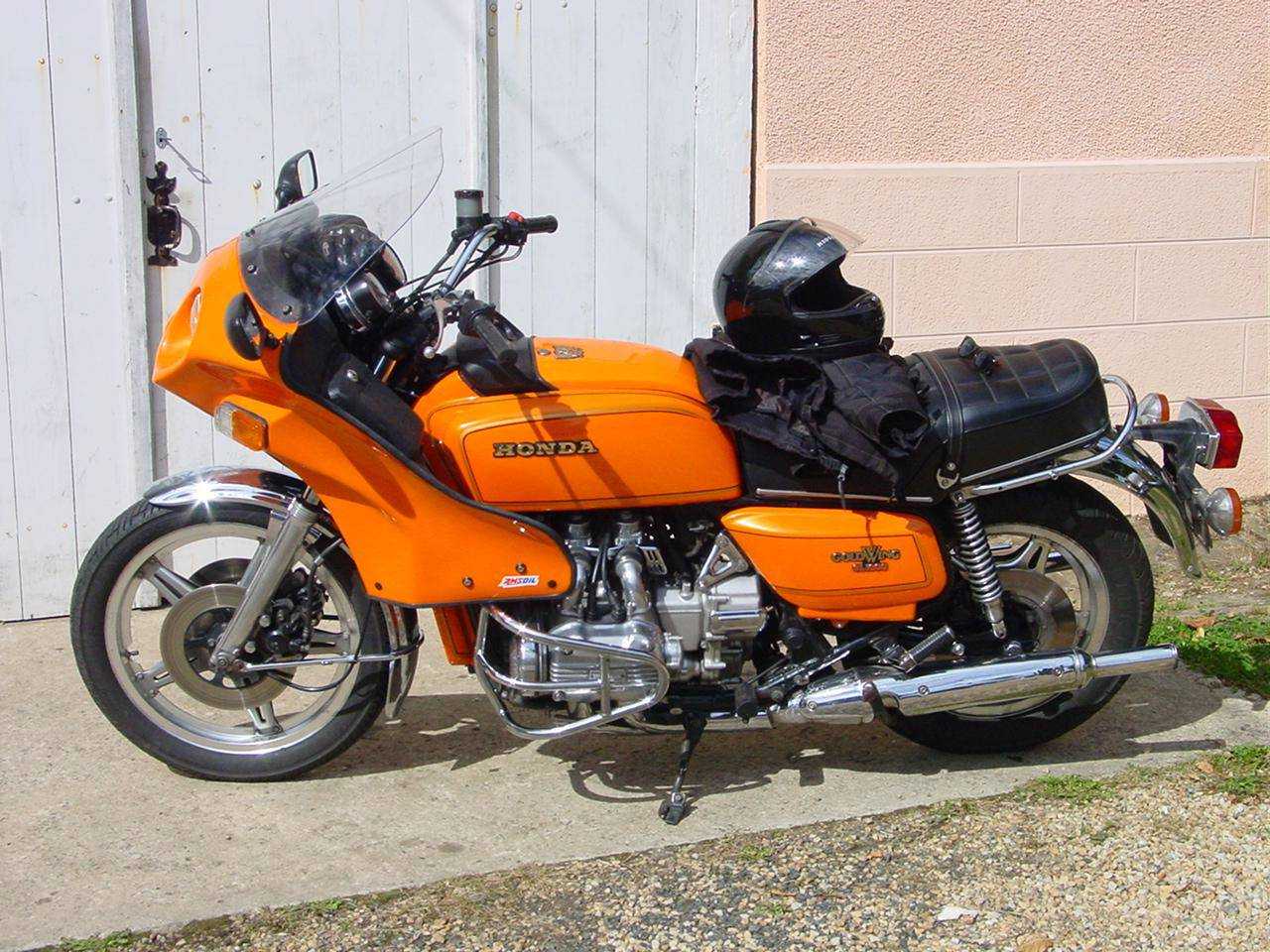 Those first models are now nearly forty years old, so you would think I might struggle to find any to photograph and research within my region in rural France, but in this case, I didn't have a problem. It just so happens that a friend of mine who lives in the next village, which is barely far enough away to warm my Harley's cylinders, has a barn full of interesting goodies of the two, three and four wheeled variety and his collection of rarities happens to include three early Goldwings – one of which has been built as a custom sidecar outfit (I happen to know another of the 'Wings quite intimately, as I had the pleasure of stripping it down to its component parts one sunny afternoon).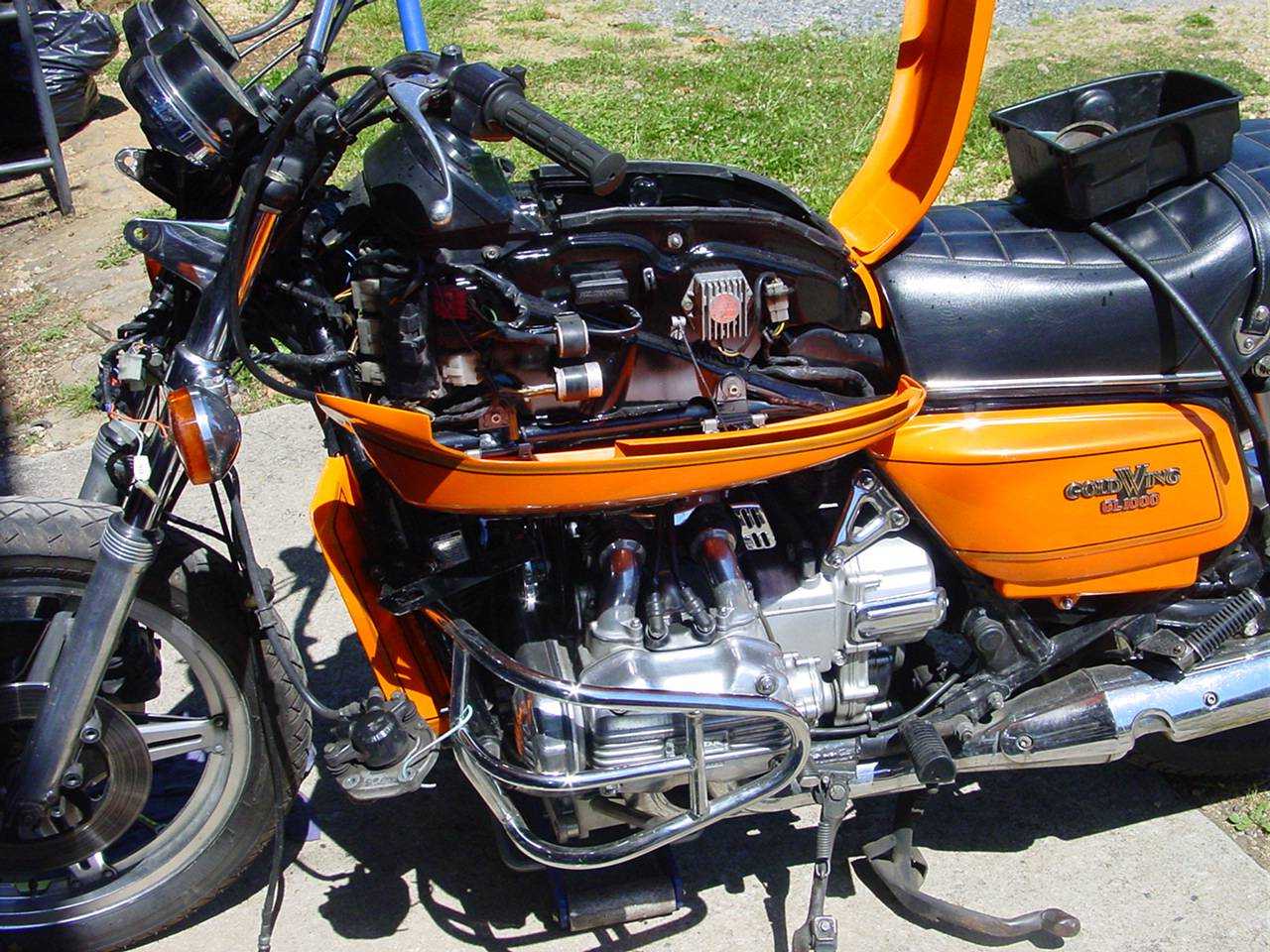 Starting with the orange 1978 GL1000 (the first year the 'Wing came as standard with Comstar wheels) which was bought as a great runner but had been painted in black with gold pinstripes, and for some reason the clear coat had reacted with the paint to produce a finish similar to alligator skin. So it had to be stripped back to basics and after a rare twin optic Mach fairing and US spec short rear mudguard were fitted, it was all painted Ford Electric Orange. That sounds like a simple paint job, but it was actually a four stage process involving a white matt base, then orange matt, clear with gold pearl, and finally lots of clear coats, producing a stunning looking bike.
Moving on to the 1976 GL1000 that came with a neat paint job in non-original Inferno Red pearl, as a barely running project. It was fitted with period correct Shoei panniers and a very non-standard steel front wheel. The list of bits which were replaced includes: that front wheel (with the correct Deep Pan Borrani like DID rim), new forks, water pump, brakes, a self moulded and coloured US spec short rear mudguard with repro Lucas light, Honda 400 four handlebar controls, and the unreliable 7 volt regulator for the fuel and temperature gauges was switched for an electronic unit.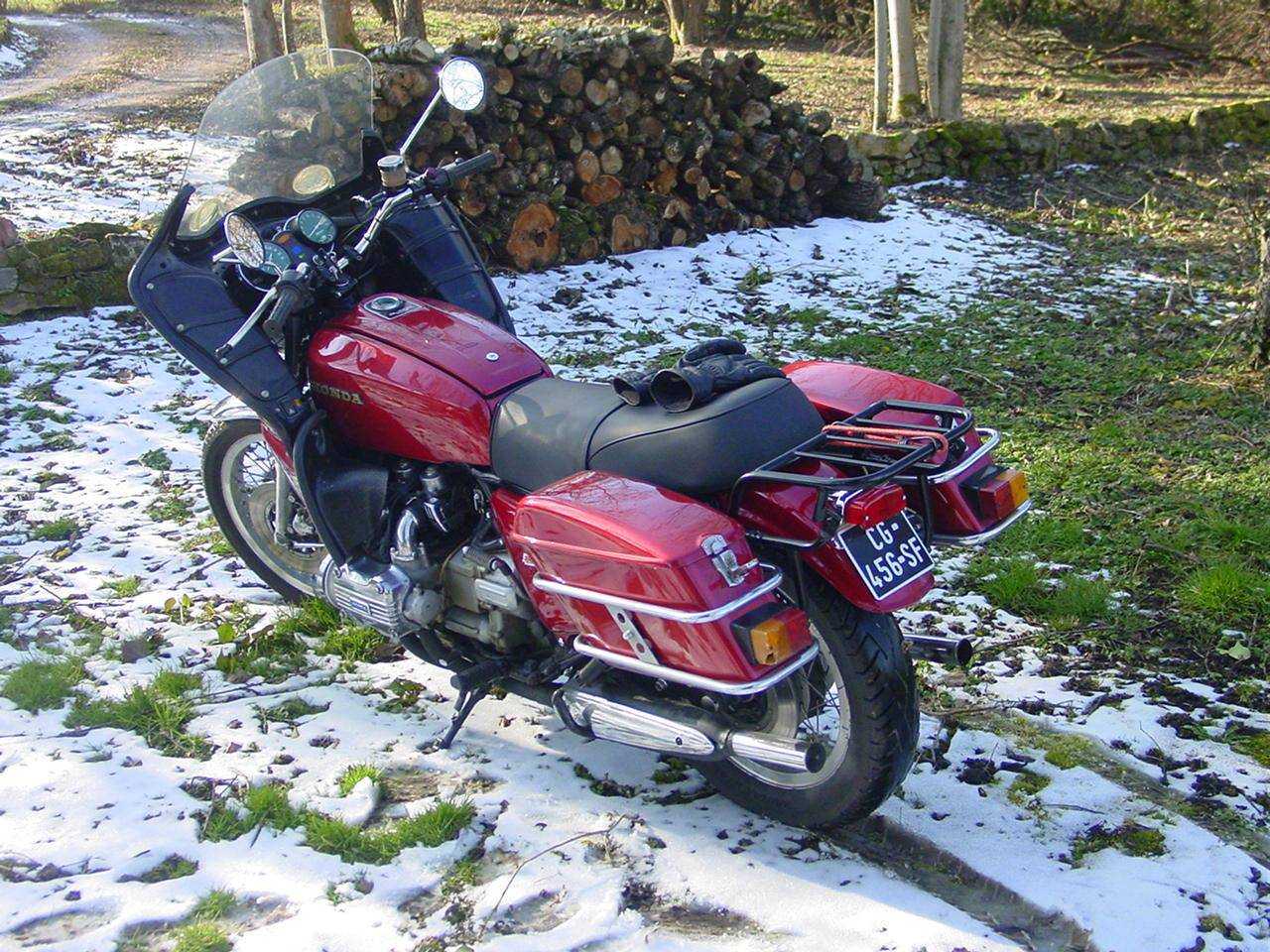 Even the original Goldwings were heavy old tools (265 kg) and with their slender forks the handling left plenty of room for improvement, so a SuperBrace was fitted, which provided noticeable benefits. A period correct Vetter fairing was tracked down, which by some bizarre co-incidence was painted in the same non-standard colour. That's not the first time I've heard of this happening – I wonder if the fairing had at some time in the past been fitted to this same bike. A set of period Rickman Race alloy wheels were also sourced, but have not yet been fitted.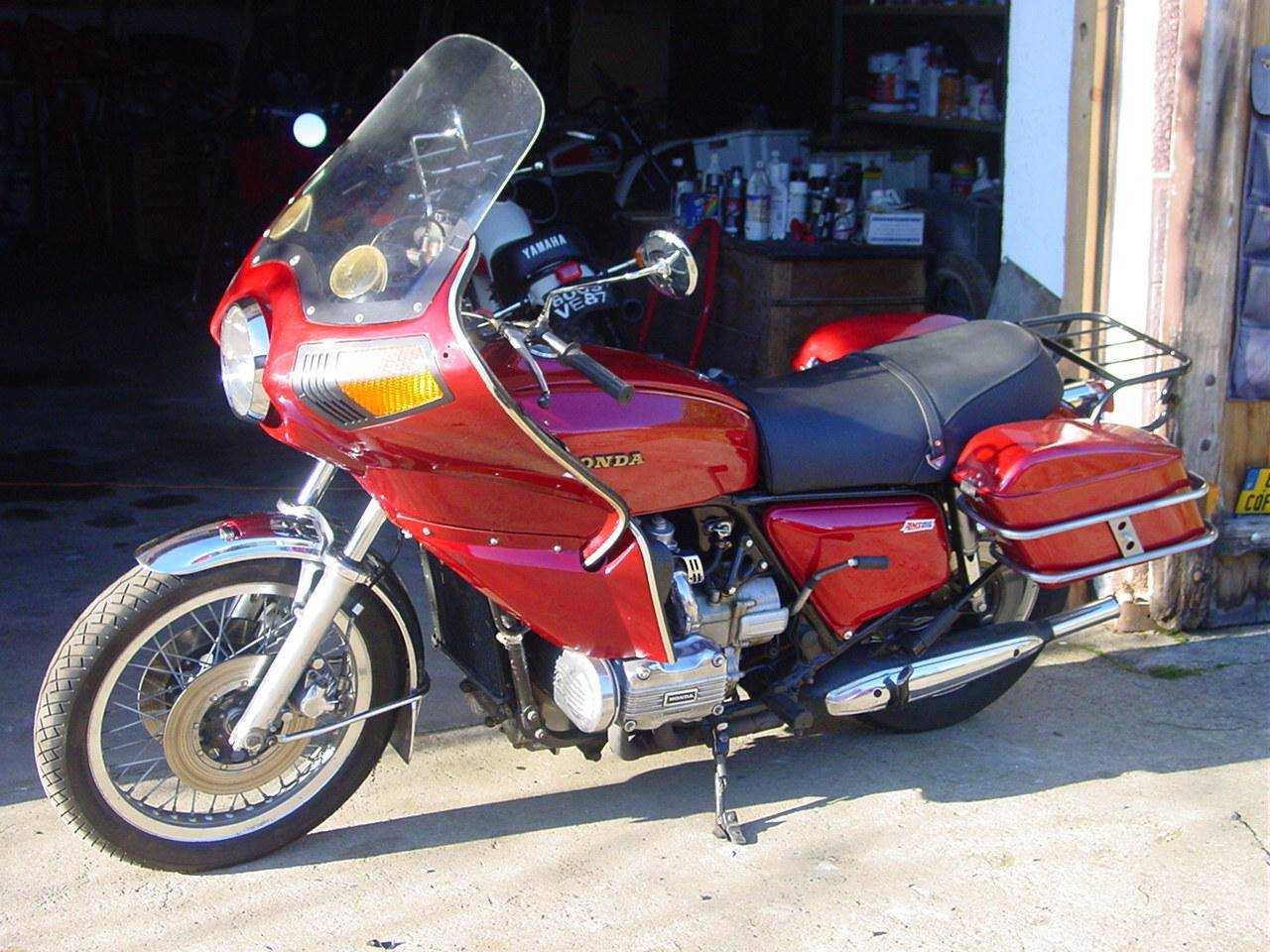 The story of the black 1977 black GL1000 is short and sweet. Bought for spares, it may just end up as a future project. You never know with these things!
And now for the "piece de resistance" of this flock of Goldwings, the yellow 1976 GL1000 and Héchard STD 'Couvert' sidecar, christened "Mitzi 2".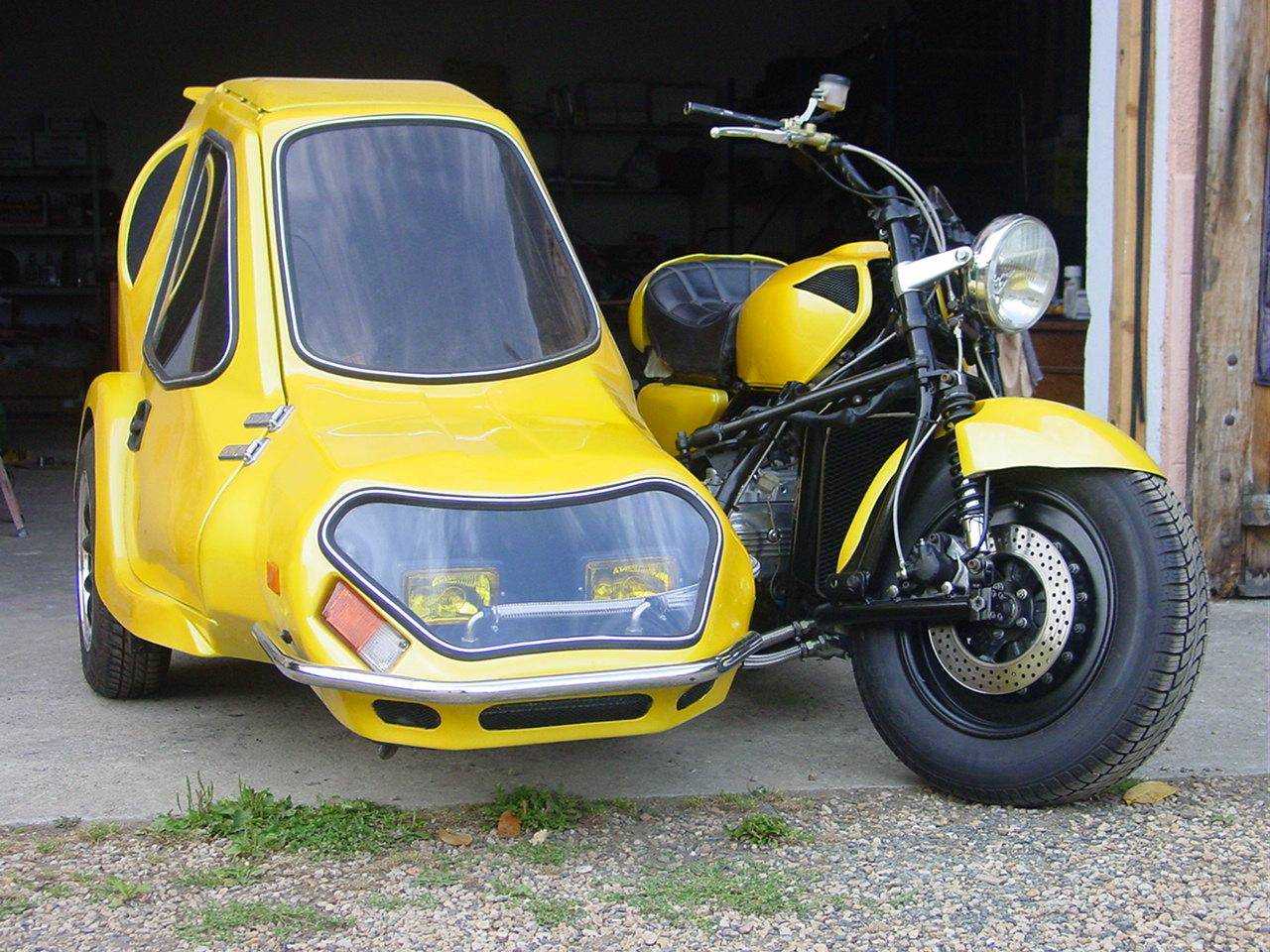 Originally in 1976 engine spec, it was bought as bit of a dangerous dog. The forks were 5″ too long, giving it an odd stance and offering the handling of a greased pig on ice. As a consequence the headstock had already cracked on both sides – it was a lethal accident just waiting to happen. Hechard may well have not fitted these forks though; it's just conceivable that the responsibility lies with a previous owner, although they do look suspiciously like the Earles type forks Héchard used at the time.
Sorting out the handling and forks was obviously a priority. The fitting of GL1200 yokes and new tapered roller head bearings allowed the forks to be dropped by 5", and Fournales gas suspension (no springs) was added to the rear.  Three adjustable Konis were then fitted to the front end of the bike and the sidecar.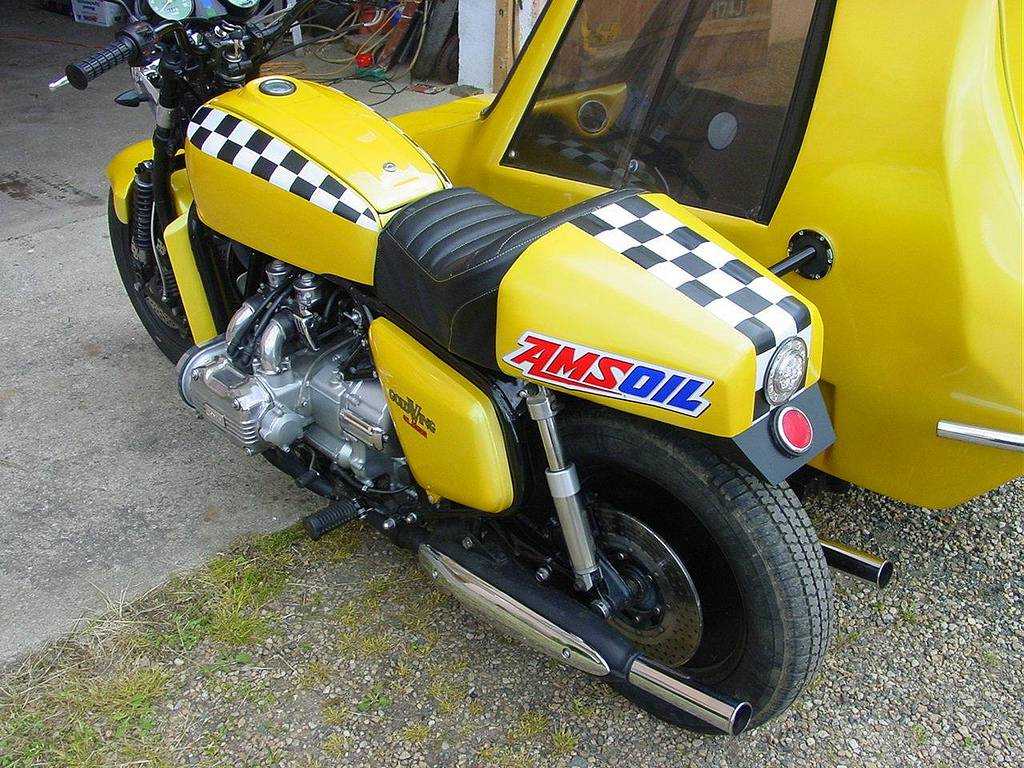 As the proud owner reeled off the extensive series of modifications he'd carried out, I got a bit lost, so here is the list he supplied me with:
New Héchard front mudguard modified for use with 15″ wheels.
Alloy bolt-up split rim front wheel and alloy 'plated' steel rear wheel.
Dual air feed via 'insect eyes' in faux-tank sides… originally for the Magna-Charger supercharger kit, which had been planned from the outset, but not fitted.
Period correct Fiat 126 disc brake on sidecar, linked to the bike's front brake circuit and fitted with a foot operated balancer valve, with a Brembo Gold front brake master cylinder.
Spin-on oil filter conversion with thermostatic adapter for a large oil-cooler mounted in the nose of the sidecar. This allows warm air to vent into the interior for cold weather use, or under the sidecar in the summer and is controlled from inside by a one-off alloy lever. A Frantz bypass oil filtration system in the boot ensures oil is filtered to under 1 micron, and increases oil capacity so helps cooling.
Three 'insect eyes' type air scoops with diamond grill covers in the nose of the sidecar provide air for the oil radiator and cold air to the dash outlets.
One off moulded GRP dash with two Fiat Barchetta air vents.
New handlebar switch units from CB400SS.
Electronic 7 volt regulator.
Car battery located in the sidecar boot allowing an airhorn compressor to be fitted in the place of the bike battery. The airhorns are under floor of the sidecar.
Heavy-duty rollbar in the boot of the sidecar, allowing 5th arm attachment.
Sidecar interior widened by 4″ offering much wider seat and easier entry.
Lotus Elise aluminium foot rest.
Interior upholstered in black leather.
Triple powerpoint for GPS and MP3 player.
LED interior light comes on when the door opens or manually from the inside via a second switch, which can be operated from the bike as well.
LED rear lights, number plate lights, and front and rear indicators.
Period Honda Wing badges.
The sidecar has been extensively restored and strengthened, with new rubbers on all body Perspex and new chrome trims. Its been fitted with an ingenious fourth wheel device at the front to push it back up if the nose goes down when taking left handers a bit too enthusiastically…
Brakes fully rebuilt, with new pistons and pads.
New handlebars, grips, cables and filters.
Mercedes 190 steering damper.
One off cafe racer style solo seat upholstered in leather to match sidecar seat.
Painted in Renaultsport Iris Yellow Pearl, with black & white checker graphics.
Engine wise, it was upgraded to 1978 spec, which has the advantage of increased torque delivering its peak at 5500 rather than 6500rpm and involved fitting '78 cams and carbs, with the matching ATU ignition advancer.
A period Vetter fairing awaits painting for future fitting.
So, how does it run after all these extensive modifications? I had the dubious privilege of following the outfit on its maiden run as it weaved from one side of the road to the other. I honestly feared for the life of my friend as the ditches in this part of France are very deep, however after making various adjustments to the settings it now handles very well and stops perfectly in a straight line.
As the accompanying photos show, this is one very distinctive outfit, with many unusual mods that make it totally unique. And why the name Mitzi? Any fans of the Ogri cartoon strip will know the answer to that one!
Wizzard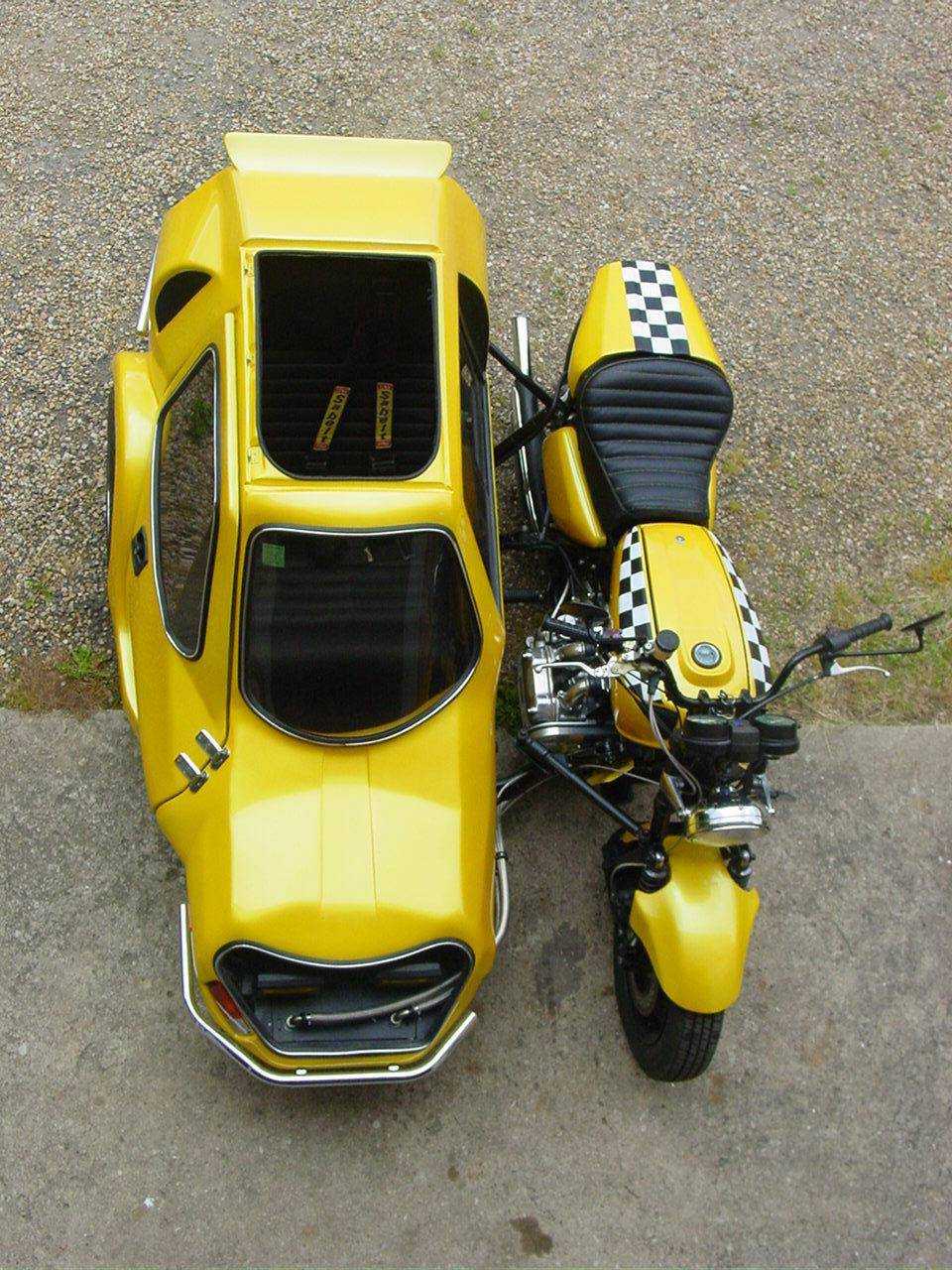 Due to a change in project direction, this collection of bikes is currently for sale (the orange one has gone already). If you have a BMW R25 in good running condition which you no longer want there could be the possibility of a deal. Interested parties should contact me via The Rider's Digest, but please bear in mind they are French registered and are located in South West France.