Read Time:
21 Minute, 59 Second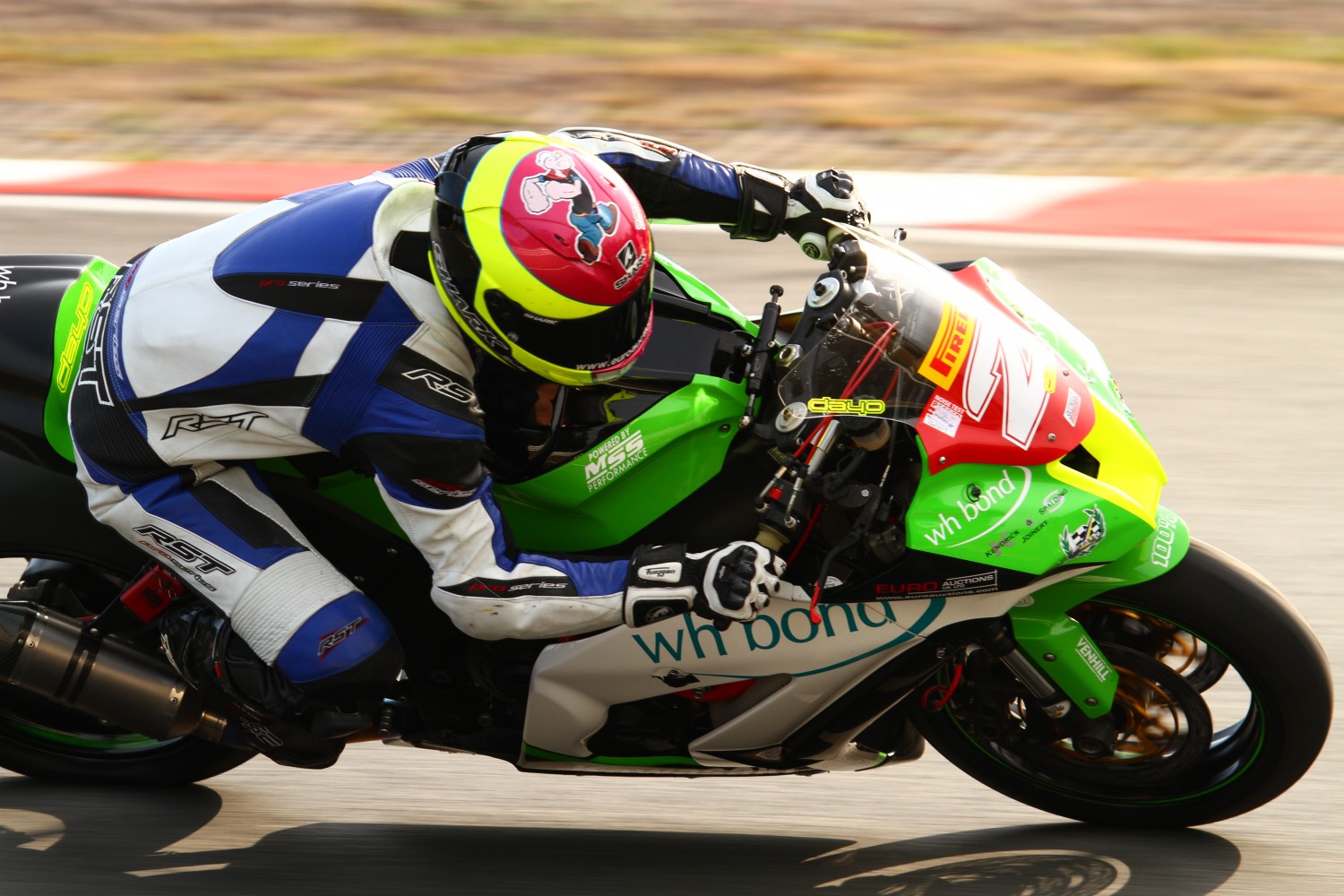 Club-level motorcycle racing has an odd relationship with the media. You'll see race reports and lists of results, but not much else. Some of it has a regular slot on satellite channel Motors TV, but what you don't ever see is the kind of feature that sets an example; that sends the message out about what a club meeting is actually like from that grass roots, participant level – not from the organisation's perspective, but from that of the racers themselves. The kind of feature that might make you want to go and do it yourself.
You won't have seen that kind of feature before, until now.
If I was going to do this, I needed a subject, and this is where the interwebz came in useful. I contacted Dave Mackay – a regular commenter on my own blog who campaigns a KTM RC8R in the North Gloucestershire Road Racing Club's "Sound of Thunder" championship – and asked if he was up for having an embedded reporter along for the weekend when NG visited my local circuit at Oulton Park in Cheshire, in late July.
The plan was simple: I would show up, do my thing while Dave did his, help out with some stuff, and write about it later. This is how it panned out:
Friday, 26th July 2013
"…bike racing is cool, because it's an extreme world full of extreme people, within a world of mediocrity and normality." – Mat Oxley
I showed up on the Friday afternoon's test day. Dave and his 'team' – Open 600-class racer Luke Smith with his R6, and 'crew chiefs' Mark and Tom – had already set up.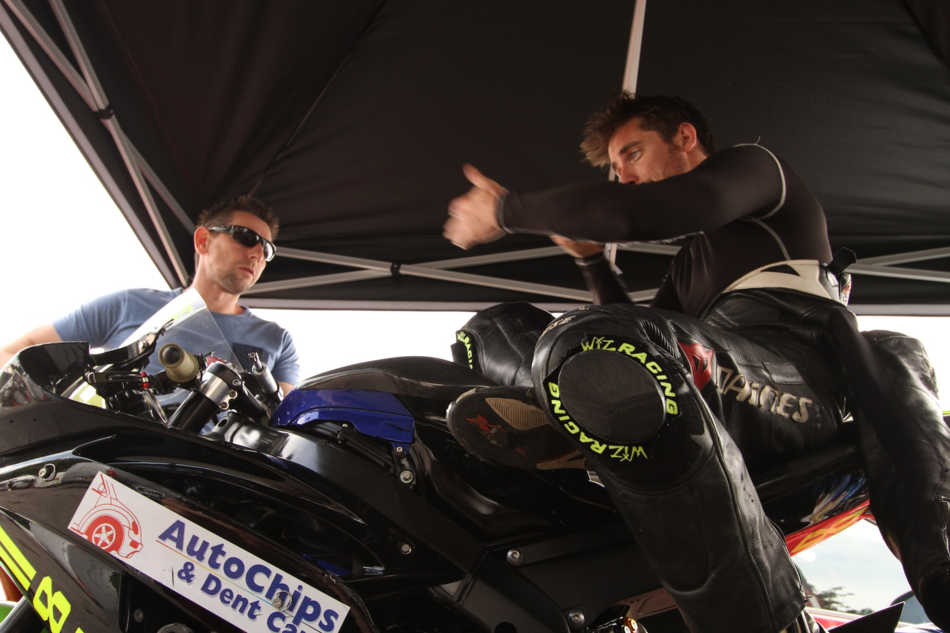 The paddock was only half-full. This being Friday, most of tomorrow's racers were probably still at work, paying bills and doing normal life, not able to fully commit to heading up the M6 to Cheshire just yet. They would all be present in the morning. For now, I got an idea what tomorrow would be like. These national club championships are like a travelling golf club, where everybody knows each other but the venue changes. Next door to Dave's setup is Andy "Payner" Payne and his £1500 Aprilia RSV1000R, along with Layne Wilson, who's riding an ancient YZF-750 and turns out to be a pro, having worked with the Honda TT Legends team and the World Endurance Championship-winning Phase One team. The floor in their tent is ex-Honda TT Legends. This is serious shit. Layne is not the only pro here either: Luke has a side-gig as a tech with QBSD Motorsport in BSB and will be back at Oulton in two week's time with the BSB circus. A lot of this cross-pollination with the professional sport goes on behind the scenes, because ultimately it's all part of the same community with the same obsession.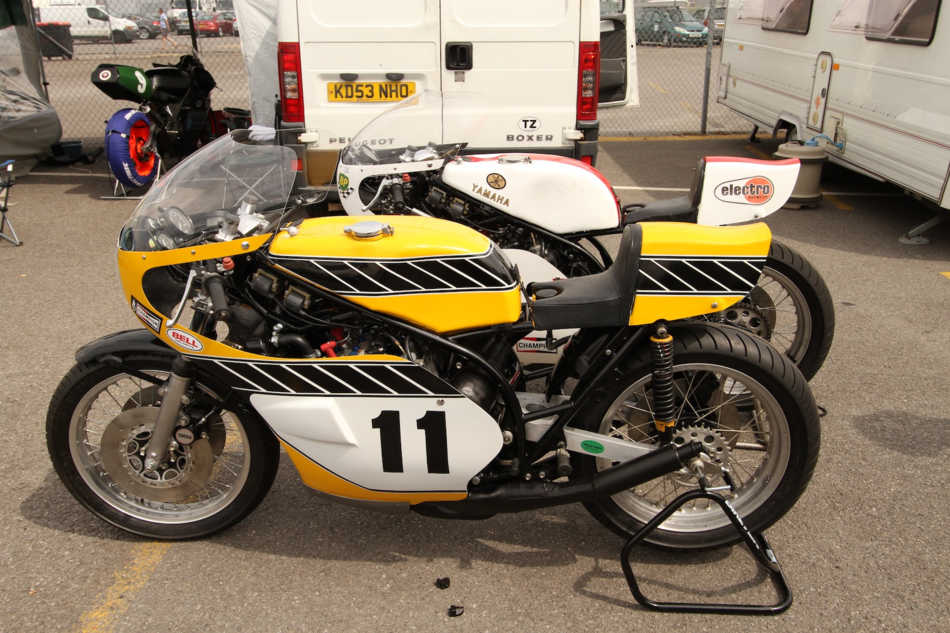 Various other characters appear throughout the afternoon, and it's always cordial, but you know that there's this undercurrent of hyper-competitiveness that you can tune into if you turn your dial slightly to one side – you'll see one eye always looks over there. What's he using? What tyres has he got? Are they new? What size sprocket is that?
People call in and compare setups and injuries – See your sprained ankle? I'll raise you my pierced forearm where my footpeg went through it. Lap times are compared along with time spent unconscious in the medical centre. Dave is riding with cracked ribs and a sprained ankle, Luke is riding with essentially a broken wrist. It's the same as when Kevin Schwantz rode for most of 1994 with a broken scaphoid – rumour had it that mechanics stuck a paper clip to his ear to take his mind off the pain while riding. Never mind Jorge Lorenzo smashing his collarbone in Assen, getting it plated up and returning to the track 36 hours later and finishing fifth; never mind Mick Doohan getting his smashed legs sewn together to avoid amputation; this is just as legit, and nobody's getting any recognition for it, but just like in The Show, it has its roots in out-psyching your opponents and showing them what a double-hard bastard you are. This is how it is: if you can race, then you race. End-of.
This is a righteous church of speed-freaks, tech-heads, tyre-gurus and suspension magicians who all worship at the altar of speed. The service is tomorrow. It'll be an absolute minter…

Saturday, 27th July 2013
"…the sensation that you get on a motorcycle is very special. It's one where body language and all the rest of it have so much influence. It becomes extremely personal." – John Surtees
08:00: early doors. I'm at the circuit and the paddock is full. It's like that scene at the start of Steve McQueen's Le Mans where everything is waking up, and there's a '60s cinematic groove playing in my head as I ride into the paddock and park at Dave's tent-garage, 'cos hey, I'm with the team. The weather is warm, the sun is up and it's serious. There's even a celeb in the paddock, if her from Performance Bikes magazine counts.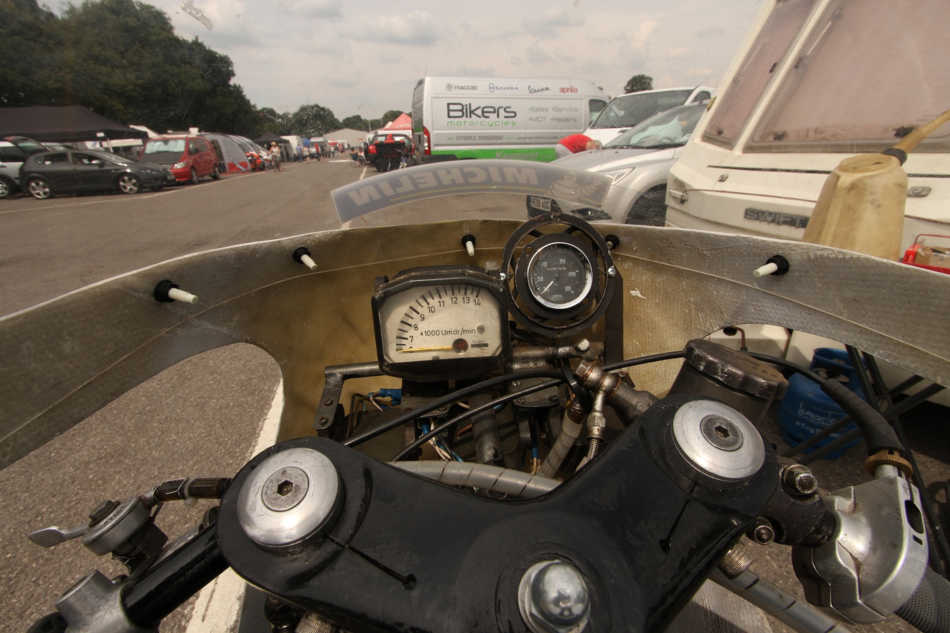 The actual soundtrack is of generators powering tyre warmers and boiling kettles. There's not much conversation right now, and it's hectic as the riders have all had to sign on at the circuit office, warm their bikes up and get ready for the short, sharp 10-minute-long practice sessions that are run to a precise schedule, because the organisers have got to fit in these practice sessions and 20 races all before 6:30 pm, when Oulton Park's noise curfew takes effect and when, if it gets broken, the Tory voters in Little Budworth village up the road will all go ape shit and write letters.
08:30: Dave takes his second RC8 out in the practice just because he can (it's nominally his "wet setup", but it isn't going to rain today so it would otherwise go unused) and because a lot of the time this first session is actually about dialling the rider into the circuit rather than the motorcycle – feeling the conditions out, brushing off cobwebs, shaking off the effects of last night's session in the bar. He comes back with nothing to report, which is a good thing because the last thing anybody wants at this stage is to have to fix or rebuild anything. The kettle goes on next, then Payner from next-door, who's been out in the same session, comes over for some banter, and he's wearing different leathers from yesterday because it turns out he's big on superstitions and these leathers are more successful. I wonder whether there's more to it than that: a mate of mine had an RSV like Payner's and it was so unreliable he used to sacrifice a live goat before it…
After this, there's still no time to chill out yet as Dave has three races and a qualifying session to prepare for: the two Sound of Thunder races, the qualifying session for the Phoenix Open race for all comers – anything and everything is in that one, including Luke on his R6 – and the Phoenix Open race itself. All the organising clubs do these extra races as they allow more track time for everyone. The size of the entry validates the idea: with 45 entries, it's the largest grid of the day.
09:00: the paddock is massively busy, and I take a walk 'round just to see what else is going on. You have to keep one eye ahead and one eye behind you as you're liable to get run over by bikes scuttling around between sessions. The talk is of settings, and arm gestures are everywhere. At club level, each pit garage has eight different teams in it and you can walk in and out as you wish; no-one will tell you to leave and no-one will refuse a question because everyone in this paddock has the same thing in common. Nobody cares what your job is in here, and nobody will ask. The only arbiter of anything is your lap time.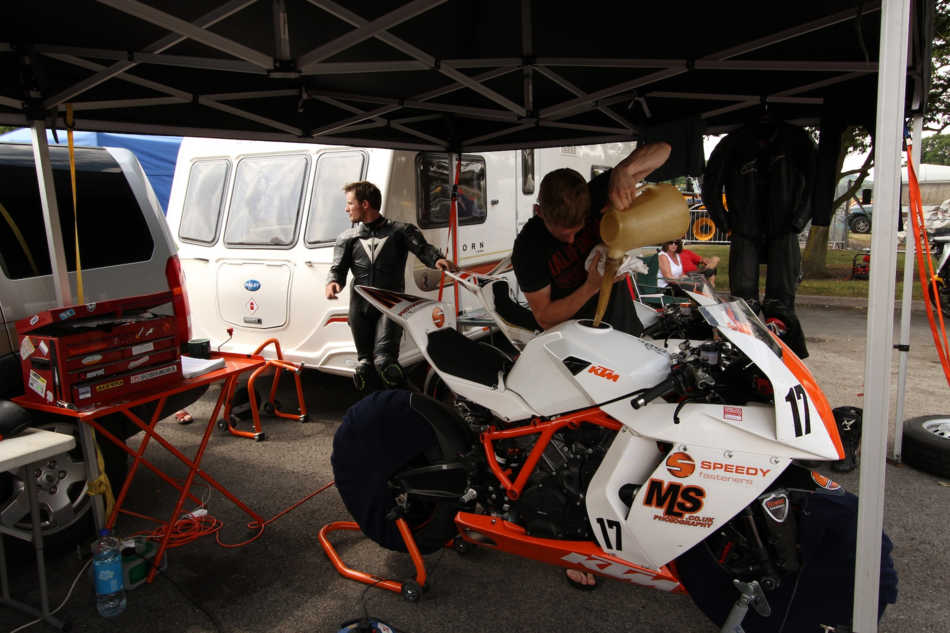 09:20 Luke comes back from his 10-minute Open 600 practice with no problems other than being visibly in pain from his wrist. At no point does anyone suggest taking it easy, even though he's out again in a minute for the Phoenix Open qualifying session. This lot just get on with it and don't bother with no painkillers…
"Speed is something dangerous, but very exciting." – Valentino Rossi
09:35: the paddock is still busy but it's settling down into a routine. Dave is warming up the big KTM for the Phoenix Open qualifying session. This is the dry set-up – it's a RC8R, one of only six in the country as it's a purpose-built race bike, not a converted road bike like his other one. The big V-twin is audible from a hundred feet away, even in this paddock, where it provides a bass line to the 2-stroke song being played everywhere else. Luke has already gone out as Dave suits up, and the tyre warmers come off at the last possible second. As he heads out, there's a ritual of encouragement/backslapping as just for a second, the underlying seriousness of what Dave and Luke are both doing becomes apparent, because it's an undeniable fact that they might not come back.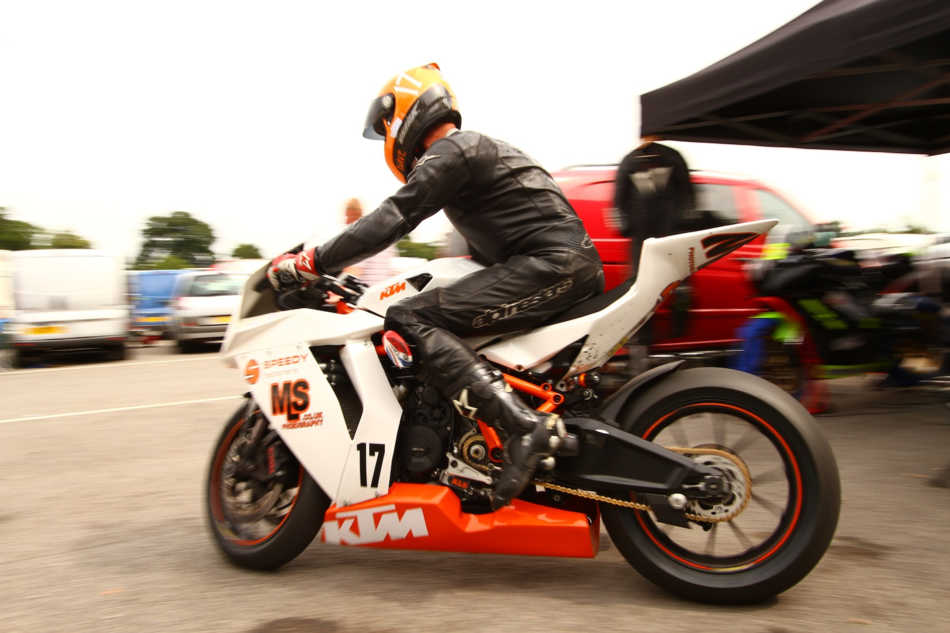 Tom, Mark and I head over to another part of the circuit to watch this session. There's a new target in the form of National Superstock rider Josh Day, who's entered this meeting as a form of preparation for the upcoming BSB round in two weeks time. At the end of the session it becomes all about "What's Josh Day doing?" – he's set a time for everybody else to compare themselves against. He's quickest with a fastest lap of 1:40.4. Dave has done a 1:50.3 and is 28th.
Only the fastest 40 riders qualify for the afternoon's race. In theory, the non-qualifiers are sidelined from the race, but NGRRC are fair, and considerate of the bigger picture: in the interests of track time for everyone, the non-qualifiers are entered into other classes as reserves.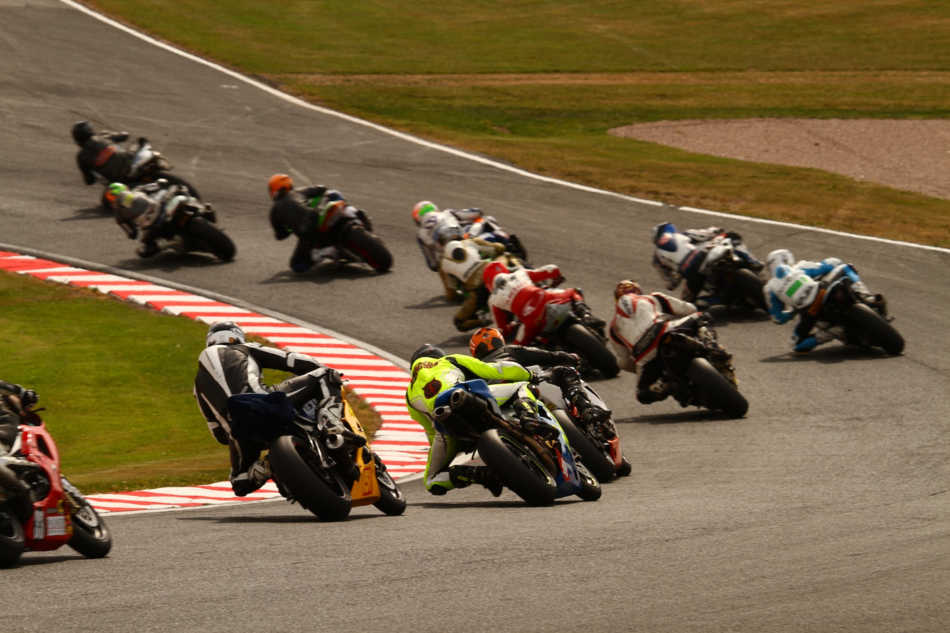 Both Dave and Luke return from the session safe, completely drenched in sweat, and absolutely jacked up on adrenaline. This is the kernel of it all, right here, and it's what keeps them all coming back:
Dave: "You get so into it you orientate your entire life around racing. You become completely obsessed with it. Every decision you make is referenced to it. You'll be sat watching the telly at night and your mind will wander and you'll start thinking about racing. Then you'll get up and go in the garage and think of something to do in there. Anything."
This is why you see so many pro racers who stay in it for a couple of seasons too long and end up ruining their own reputations; this is why you see so many ex-pro racers that have been forced out through injury before they were ready to walk away, forever haunting the paddock with the look of unfinished business about them. This demon bites you hard and never ever lets you go.
11:00: by now the paddock has more of an air of efficiency about it as everyone knows where they stand, knows when they're out next and knows whether their bike works or not. The kettle goes on again and the talk is 100% shop. Right about now the rest of the outside world ceases to have any meaning as I'm fully immersed in this whole theatre. There's that famous Steve McQueen quote about "racing" and "waiting" that has been turned into a million t-shirts and recycled so often it's become a cliché, but like all clichés, they're right: now the paddock has settled down, it's become about waiting for the massive bursts of activity that follow the tannoy's announcement of a rider's next race.
What happens then is that the rituals start: Dave doesn't seem to have one except to wait until the last possible second, then he suits up and starts up and goes. Luke puts his leathers and lid on early and sits down and goes dead quiet and appears to be contemplating something really serious, which is exactly what he is doing. There's no fettling of bikes going on either: the R6 and the big RC8 seem so reliable that no settings are changed and the oil isn't even checked. A set of tyres will last all day.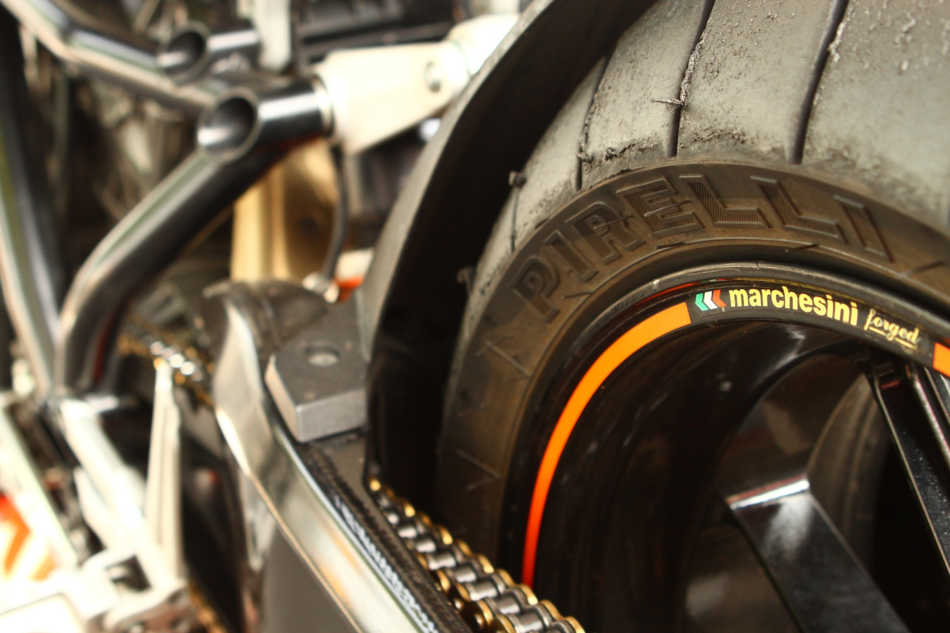 "I just couldn't accept second." – Wayne Rainey
12:00: Dave goes out for his first Sound of Thunder race. It's six laps, so it will only take about ten minutes. The short format means there's no need to bother about conserving tyres or anything else, so it's flat out everywhere. He starts well and runs in the top five for most of the race, and from our position on the pit wall ('cos hey, I'm with the team), the "Sound of Thunder" from a field full of V-twins and triples sounds like a fleet of WWII bombers. It's serious quality, this.
Dave finishes 8th, just behind Matt "Billo" Billington on a Triumph Daytona, and there's a scramble for the timing results from the circuit office, because to qualify for this afternoon's race, a rider has to finish within 110% of the winner's time. Dave has qualified easily, and done four 1:49s and a 1:48.53. More importantly, he's finished ahead of Payner next-door.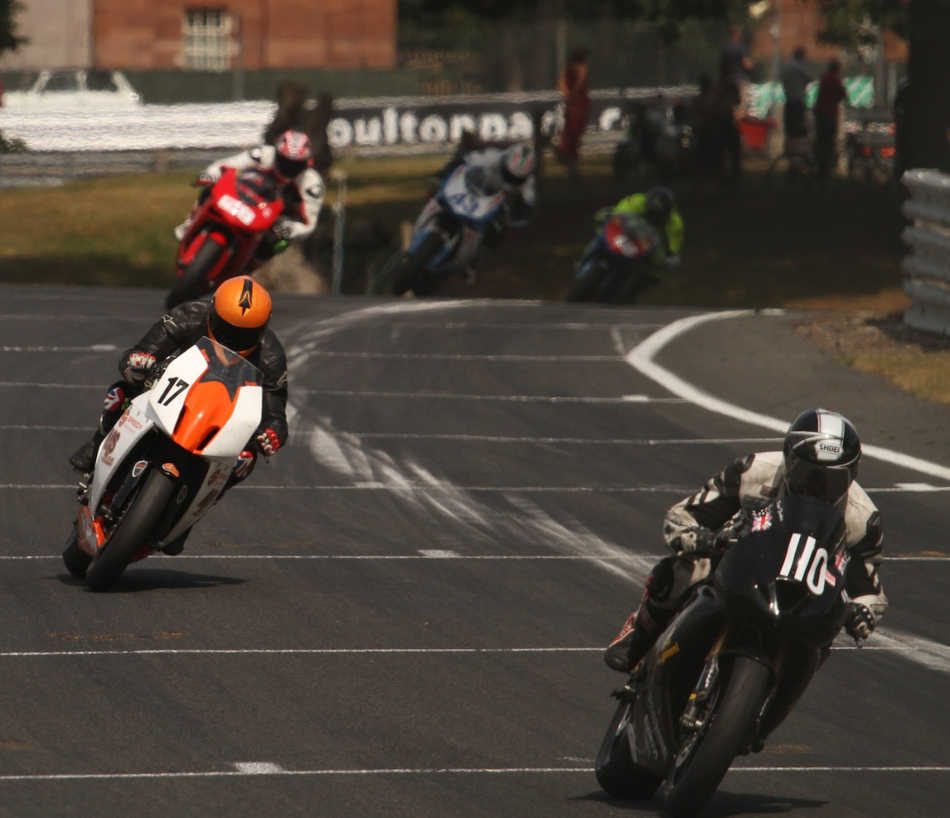 Back at the tent-garage and it's already wall-to-wall piss-taking fuelled by pure adrenaline:
Dave: "Up at the top chicane [Britten's] I thought: there's loads of people watching so I'm gonna get my elbow down, but it started to tip in! I was like that [wild gesticulation] and I pushed it back up on my knee! [Demonic laughter] It was emotional. Where were you stood watching that?"
Us: "The pit wall."
Dave: "Did you see the first corner? It was mental. That Payner comes barrelling through round the outside, on the grass, riding into people…"
Mark: "This fucking idiot?" [Payner walks over from next door]
Dave: "You are fucking mental!"
Payner: "Gearbox is fucked mate. Got no fucking gears. I went neeeeeeer then niiiiiiir and niiiiiiiiiiir then it goes dddddddddddd and I look down and I try and put in another one and it's two too high! I think it's the quickshifter."
Mark: [to Dave]: "You're trying to tell him how mad he is and he's not even having it is he?"
Payner: "It was running fine until I went ddddddddddddd – no gears! Nothing!"
Mark: "Is that where you went on the grass?"
Payner: "Did I?"
Dave: "You came straight through on the grass!"
Payner: "Straight in front of [Darren] Rumley too. Even 'e went [gesticulation] fucking get out – who do you think you are you fucking idiot from Devon! Get that tractor out of here…!"
It's forensic analysis next because in this game, no result is ever quite good enough:
Dave: "Gary Hamilton – this is his local track. He's from Scotland, but this is his local track if you know what I mean. I was catching him in places but – I was catching him at Shell Oils [hairpin], and at the chicane, but then they were outdragging me out of there, and outdragging me down the start and finish straight, but if I could have latched onto the back of 'em I probably could have run with 'em…"
How Dave has complete recall like this is beyond me. It's the racing junkie fix again. Maximum overdrive, maximum overload. I'm feeling it myself, and all I did was watch. This is the sermon in the church of speed. Buzzing doesn't even begin to describe it. It's like they've been going so fast, they're all thirty seconds ahead of us in time. It's Point Break on bikes.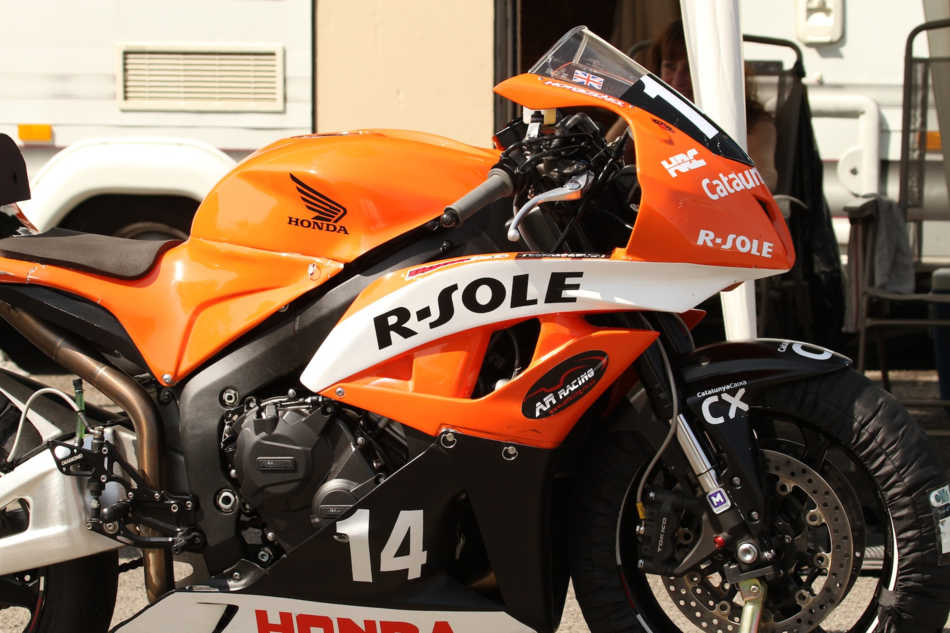 Now it's lunchtime, although the concept is nebulous in the paddock. The formal lunch break isn't for a while yet, but that's mostly for the benefit of the marshals out on track. In here, the gaps of several hours between the riders' own races means the pace slows down and it becomes more like a golf club again. The kettle is on. The banana cake comes out.
"I don't want to leave racing in the back of an ambulance." – Mick Doohan
14:30: Luke has had to wait ages for his first qualifying race, but now the time is upon him. He does his thing again, then the tyre warmers come off and he's off to the grid. He's starting from the third row. The 600s sound like scooters compared to the Sounds of Thunder, and Luke's R6 is the one with the bloodvessel-bursting 16.5k-redline, which is the reason why I've always liked them…
There's no green light anymore in racing, so it's red lights out and the huge field that The Show could only dream about, heads off as we watch from the pit wall again. After just a few laps, the race is "red-flagged" by big red LED squares at each corner that light up like a form of hypnotic device. It can only have been stopped by a fallen rider. There's a sliding scale: if all the riders complete the lap and return to the pits, then it's not so bad. If the riders are held out on track somewhere, then it's usually considerably more serious. Nobody returns. All the medical cars rush out. All we can do is wait.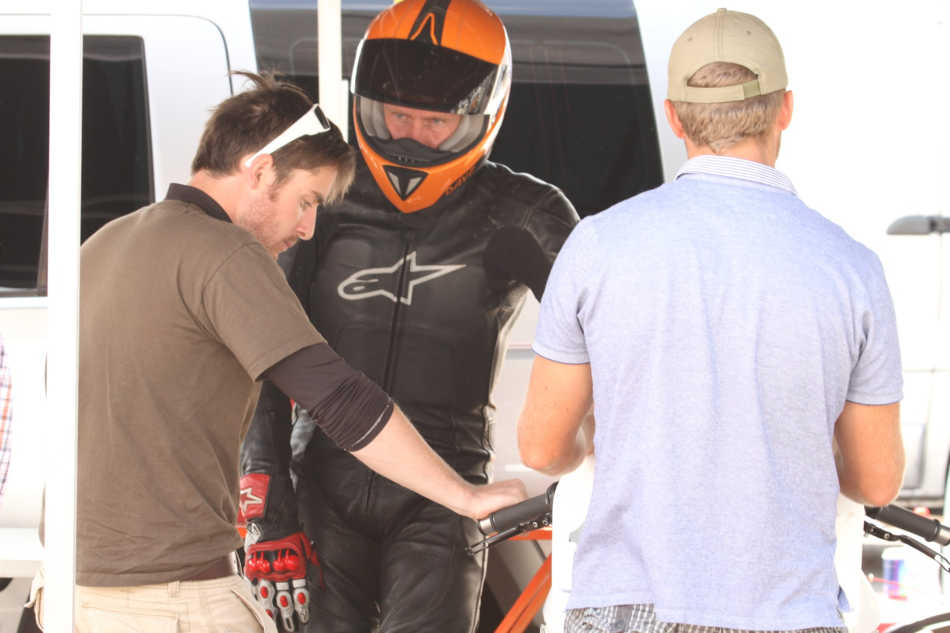 Eventually all the remaining bikes return and Luke is among them. The paddock is quiet because this is A Big One. The race result is declared and all track activity is suspended. We're back at the tent-garage:
Luke: "It was Billo. He came off right in front of me just after Clay Hill. It was unbelievable. Then after we stopped all everyone was saying was how well they were doing beforehand. Couldn't believe it!"
Me: "Is that why I've heard the 600s being called "Axe-Murderer Class?""
Luke: "Yeah. Somebody said to me once "you're all idiots". Should call it "You're All Idiots Class". That's how it is though, 'cos it's so incredibly competitive."
We all get into a deep discussion on the nature of a crash that only one of us had seen. It was a dispassionate analysis but with the subtext of great concern; an emotional distancing as a form of protection mechanism – discussing it as a form of ensuring it won't happen to us. Mark summed it up best: "You don't want to think about that shit until the end of the day."
Here was a fascinating insight into the racer's mindset. These blokes will all give you their last tenner, but will take you down on track in a heartbeat; they'll show concern for a fallen rider's life, then show concern for the effect of the incident on their own race. To the outsider it sounds like mind-blowing hypocrisy, but don't think I'm about to get my judge on about it, 'cos I'm not. The key to it seems to be the ability to straddle the line between compassion and competition – to compartmentalise – and it's the reason why I would probably be a really shit racer if I tried it. I'd care too much in the wrong way and I haven't got a competitive bone in my body…
To me, it's a more evolved form of the motivation to ride in the first place – that balance of risk against intrinsic reward – and of the rationalisation that we all find in ourselves to go out and ride in the face of all those dickheads who call us "mad" and ask us why we would want to "kill ourselves". I think that at the end of the day, you either get it or you don't, and if you're not a biker yourself, you probably won't.
Eventually, the Air Ambulance shows up and takes Billo away to hospital. The meeting will not be suspended, and there's a revised timetable coming out because nearly an hour has been lost.
Back to normal business…
"There's moments on a bike where everything just comes together…when it's on, it's on. It's the greatest feeling." – John Hopkins
15:25: the Phoenix Open race, the one with Josh Day in it, the one with everyone in it, is the best of the day. All the races have been shortened by one lap because of the time delay. Dave has a humdinger of a battle with "Steve Hislop" on a R6 (Dave Manley in a Hizzy-rep Arai) in the early laps. He comes back having only finished 26th, but you would think he'd won given the machine gun debrief and the banter that starts up when Payner from next door – who's finished 29th – comes over again in a repeat of this morning's piss-take.
16:40: Dave goes out for his final race of the day, the second Sound of Thunder. This is the warmest day of the year so far, and the humidity is tropical. This race is not very close, as the field is strung out quickly and the winner, Leon Morris, clears off and wins by eleven seconds on his Ducati 848. Dave finishes 9th, beats two of his championship rivals, and after Oulton Park currently sits in 4th place in the Sound of Thunder with five rounds to go.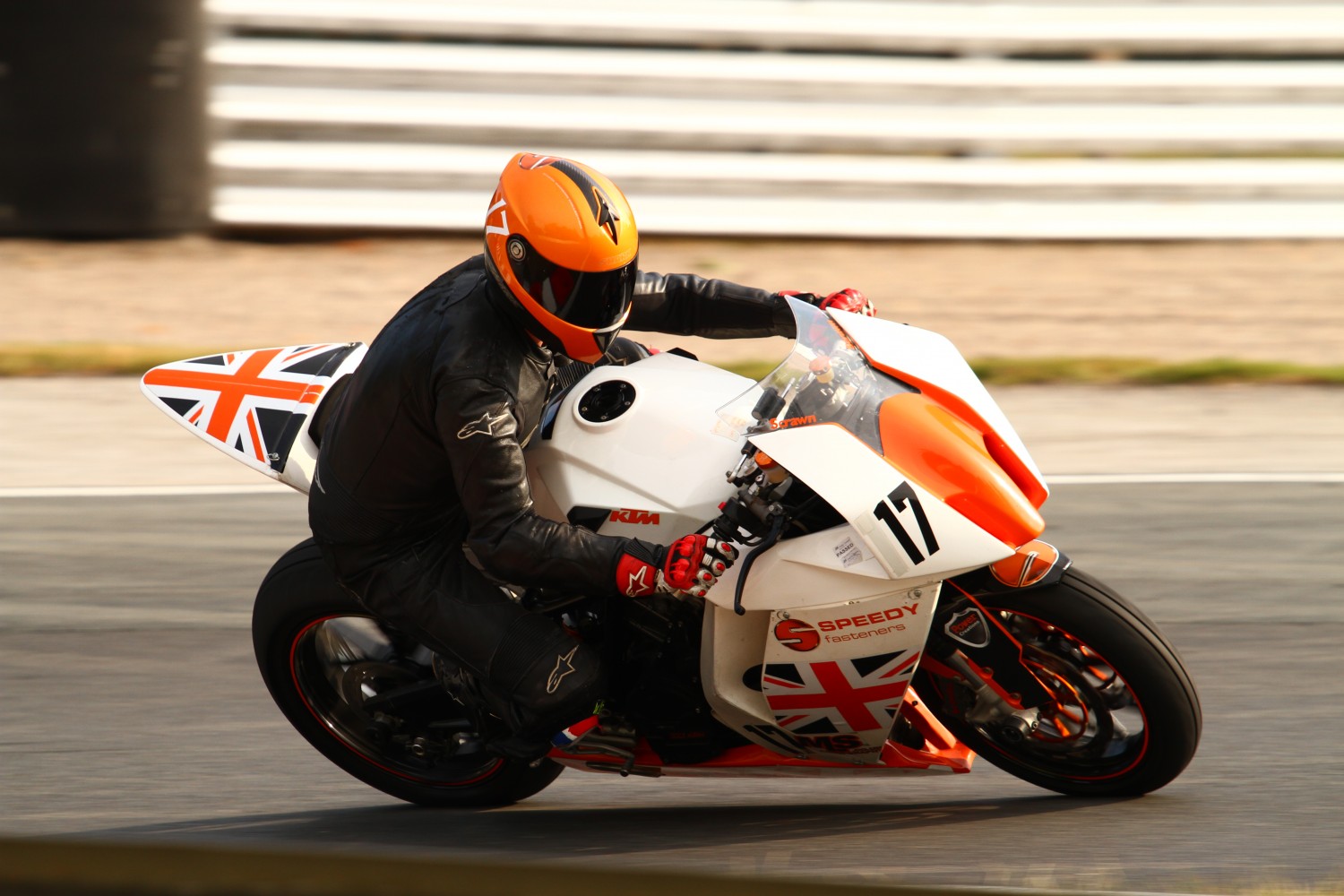 While these last few races of the day are on, the paddock is starting to empty as those riders who have finished racing are packing up and heading home, so the vibe is like being the last few people to leave a nightclub. I privately lament that the club doesn't get together in Chequers bar en masse and have a massive piss-up after the meeting, but of course outside the gates is that other world, where everybody has the jobs to go to on Monday morning that finance this second life. Some of the riders have travelled from the far corners of the country and won't be getting home until midnight. No doubt Billo's crash will be weighing on their collective minds too.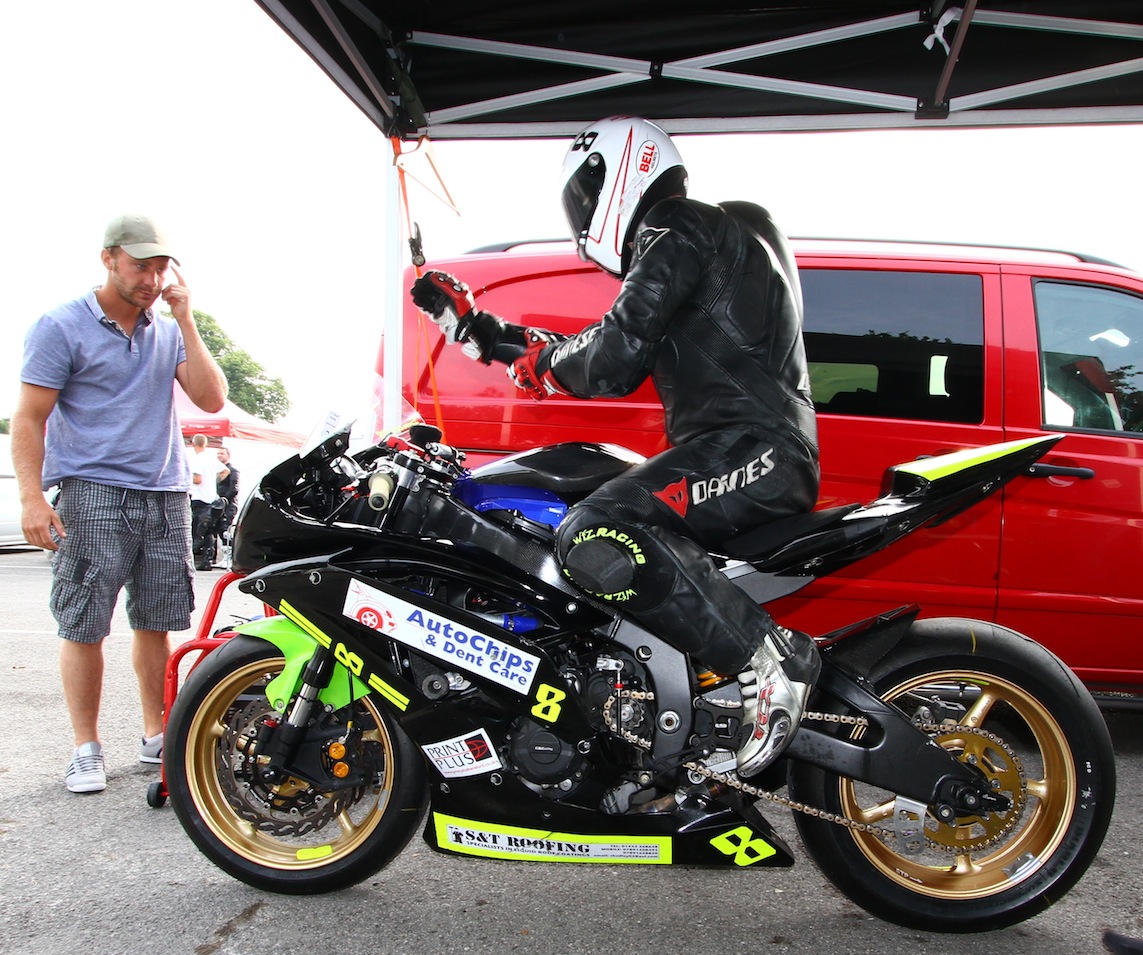 17:20: back at the tent-garage, Luke is getting ready for his final outing while Dave and I start packing the setup away around him. By now, Luke is visibly weary and in pain from his wrist, but the commitment is total and unwavering, so the tyre warmers come off one more time and after more backslapping he's off to the grid, from where he goes on to finish 28th after seven exhausting laps.
That's it. Game over. There is no press conference, no podium (even if you win); there is no champagne, no interview, no television. No freebies, no autographs, no grid girls and no $3m contract. If there is to be any mention at all then it will be via NG's own website, and maybe a word-or-two on Bike Sport News. For everyone else, if you quantify reward in the above terms, there is no reward at all for any of this. But that is to miss the true motivation that drives all racers, from novice amateurs to the top professionals:
It's about being part of a community; it's about testing your riding skill and being the best possible rider you can be; it's about competing against others and against yourself; its about getting out of your head and doing some real living, and most of all, it's about having a load of life-affirming fun on a motorcycle. As for the danger, it can't be any more dangerous than doing nothing with your life.
While the professional side of it keeps turning in on itself and taking ever-greater steps to control, limit and even exclude the paying spectator, the club paddock is eternally welcoming. Purists bemoan the corporatisation of motor racing, and lament the loss of informality that was the defining characteristic of an earlier era. The club paddock is where they will find it again. I like to think that it is still like this right at the top of the sport, in its deep core: the racers, the techs, the crew chiefs – the doers, not the talkers; but up there in The Show, it's become so contaminated by the middle-men with their corporate vested interests of marketing, brands and money, that the seam of hardcore racing purity is invisible, and to find it at all you need a VIP pass, which you can't get.
Meanwhile, down here in the club paddock, exists the beating heart of motorcycle racing. This is the way it should be, and this is the way it always has been:
"It'd be nice sometimes, just to completely be a nobody, and to be able to race on weekends. This is what I love, the racing. The more competition, the better." – Casey Stoner
Stuart Jewkes
A big thanks to Dave and Luke for allowing me to be a part of their weekend.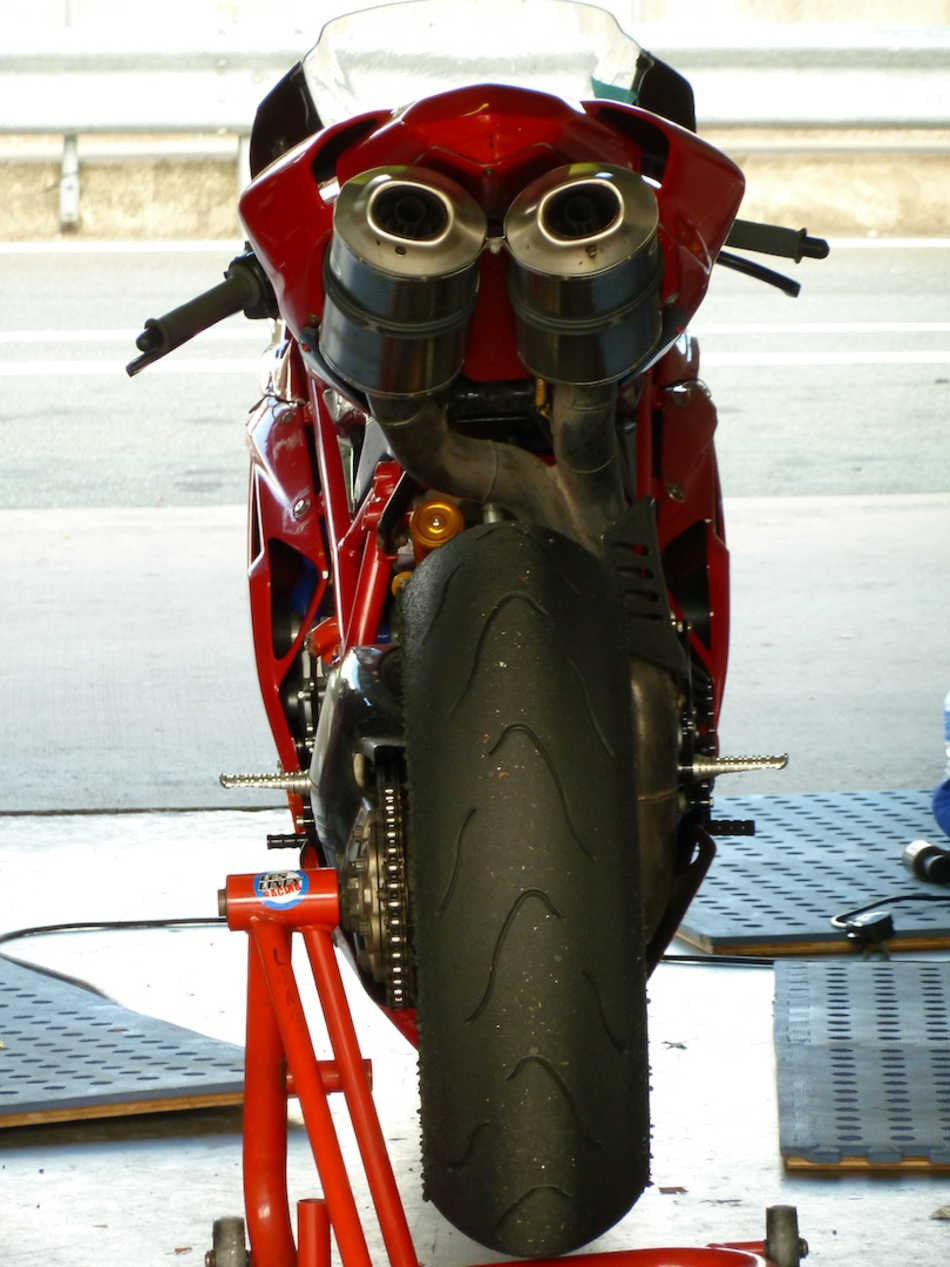 Footnote: after his serious crash, Matt "Billo" Billington is on the road to a full recovery, thanks to the superb work of the volunteer Marshals.