Read Time:
12 Minute, 38 Second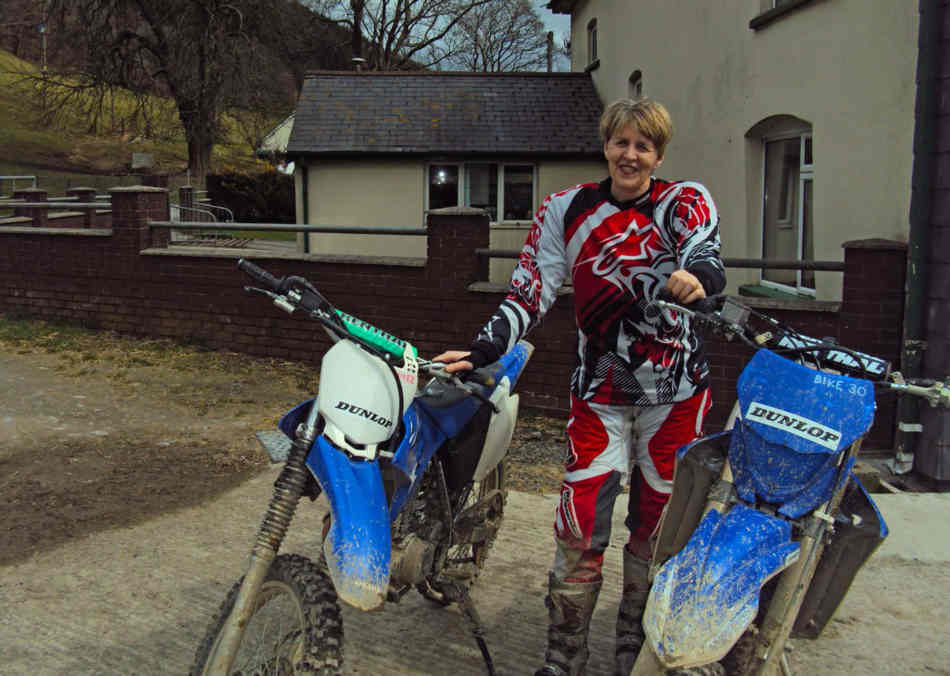 In April 2012 I finished work to set up DragonMotoTours with my husband, Geraint, and I received a voucher for the Yamaha Off-Road Experience, (Y.O.R.E), as a leaving present from my colleagues.
I was both thrilled and terrified at the same time! One of my pet hates when road riding is coming across gravel or entering an uneven car park and Geraint has often said that doing some off-roading would not only help with this but with slow control generally.
I was so busy setting up the company and running motorcycle tours that I left it a full year before booking my date with the guys at Y.O.R.E., but once I'd marked the 17th of April 2013 on the calendar there was no going back.
We stayed in a B&B in Llanidloes the night before, as it's about 5 miles away and we needed to be at Y.O.R.E. for registration at 9.30am to allow time to be kitted out in all the gear. I don't mind admitting that I was anxious on the short drive there. My three main worries were:
Falling off!
Hurting myself
Making a fool of myself
I figured it was best to let my instructors, Dylan and John, know how I was feeling and they made me feel a little easier straight away by telling me to forget number 3 as that was not going to happen; that no. 1 was inevitable but it would not be as bad as I was thinking; and as for no. 2 – the plan was not to!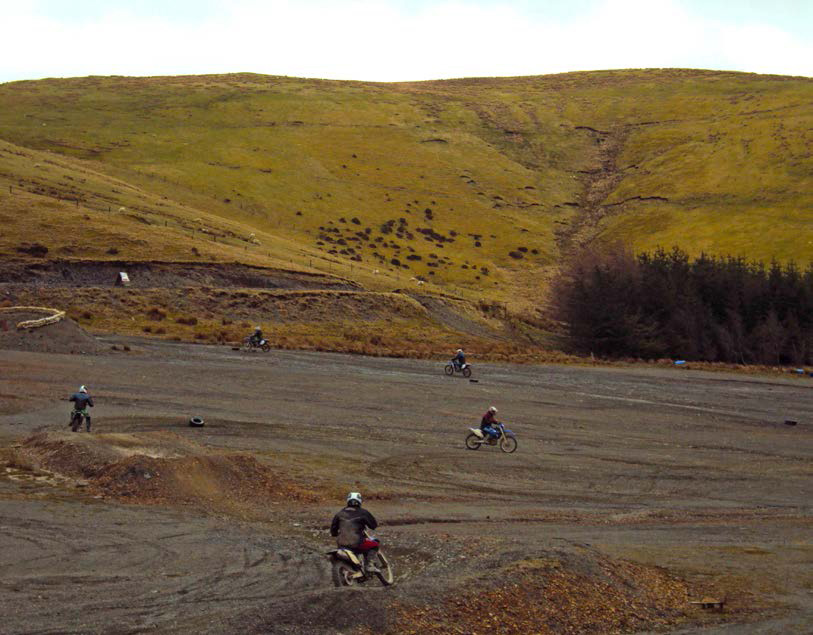 So it was with a less anxious mind that I registered along with Geraint and 9 others, (incidentally all men…). From there we went to the kit room where everything was provided – the only things I had of my own were a couple of under garments and socks. There was plenty of gear to go through to make sure everything fitted properly and before I knew it we were in for the safety brief.
This was given by John and was very clear and concise. The next task was to choose a bike. There were several options, TT-R230, normal or lowered, WR250F, again with an option of being lowered and quite a few WR450F's. I went for the TT-R230 in the end, it was normal height but I was able to place my feet firmly on the ground and that gave me a bit of extra confidence 'just in case'!
After a short time getting used to the bikes, we set off as a group and immediately climbed a very steep gradient over a loose stone covered track, up onto the high ridges. We rode across a couple of fields to get used to the different surfaces we would be encountering during the day before heading into the forest. It was on the ascent into the forest that I had my first 'off' – the guy in front of me had a wobble, I hesitated as to which way he was going to go, slowed down too much and quite literally laid the bike down! John came along and helped me pick the bike up and that was it, my first experience of falling off and the only thing to do was to get back on and carry on riding.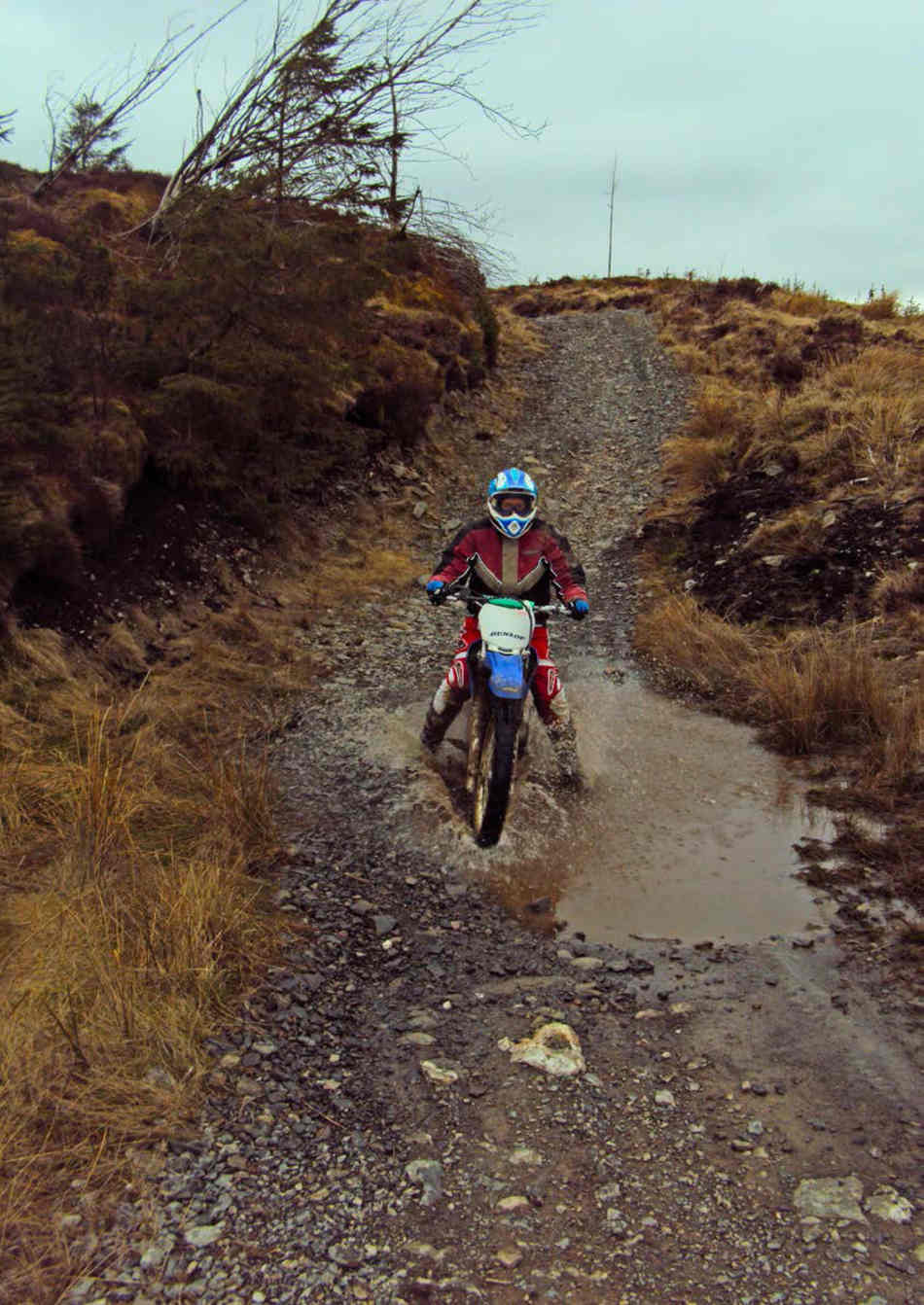 It was only a couple of hundred metres further on before we encountered thick mud and you've guessed it, off I came again! A softer landing than last time and every bit as innocuous, I even managed to pick the bike up myself this time around. John gave me a demonstration on how to ride through the mud, which at times involves putting your feet down and out to help you almost paddle your way along – it was completely different to road riding, but it did give me more balance and helped to negotiate the ridges and deep mud puddles that we encountered for approximately half a mile.
Before I knew it we were back on solid ground, albeit a gravel track, but it seemed a bit less daunting now. We were heading over to a moto cross circuit and it was decided that the rest of the group would take a slightly longer route with Dylan and I would stay with John and go a less challenging way… Although it certainly proved challenging enough for me! I knew it would be hard work, but it's so very different to the type of riding I am used to on my Triumph Tiger 1050. It is not only physically tiring but also mentally. I was so pleased to see the circuit in the distance because I knew that we'd be having a breather there!
John and Dylan gave us a further briefing at the moto cross section, described the layout of the circuit and gave us some of the 'do's and don'ts'. After a drink which they supplied, we got out onto the circuit, which involved lots of cornering, jumps, climbs and descents – I have to admit to only managing a "potter around", but loved it. Some of the other riders put me to shame by whizzing past and almost flying over some of the jumps! One thing I had not been able to achieve was standing up on the bike which most of the others were doing. I discussed this with John and Dylan and they explained that this was the drawback I had with the 230cc bike. My height, which is just short of 6ft, meant that due to the size of the bike, it was going to be practically impossible for me to stand up and keep balance, I could swap for one of the 250cc bikes but then I would not have the comfort of being able to have my feet solidly planted on terra firma. So I opted to stick with the bike I had, standing up would just have to remain a 'pipe dream' for the time being…
After a few laps of the circuit our next challenge was to do 'figures of 8' using the techniques that Dylan had expertly demonstrated for us. He illustrated how to shift our weight on the seat and to put our leg out in front to help us ease around the corners, he showed us how it should be done and more importantly how it would look if we did it wrong! A bit like the old piano routines that the comedian Les Dawson used to do when he played a tune so badly and yet you knew what it was… You can only pull that off if you are extremely good at something and Dylan proved that with his demo.
Five years ago in the lesson I had before my motorbike test, I'd come off on practicing a U-turn turning to my right and ever since if I need to do one anywhere (and it is safe to do so), I will execute it turning to my left. Here, with Y.O.R.E., I had no choice and ended up doing so many figures of 8, each progressively tighter, that the right and left turns started to blur into one! At first putting my leg out in front was unnerving but you can certainly understand why it gives Moto Cross and Enduro racers an edge when they are thundering into corners.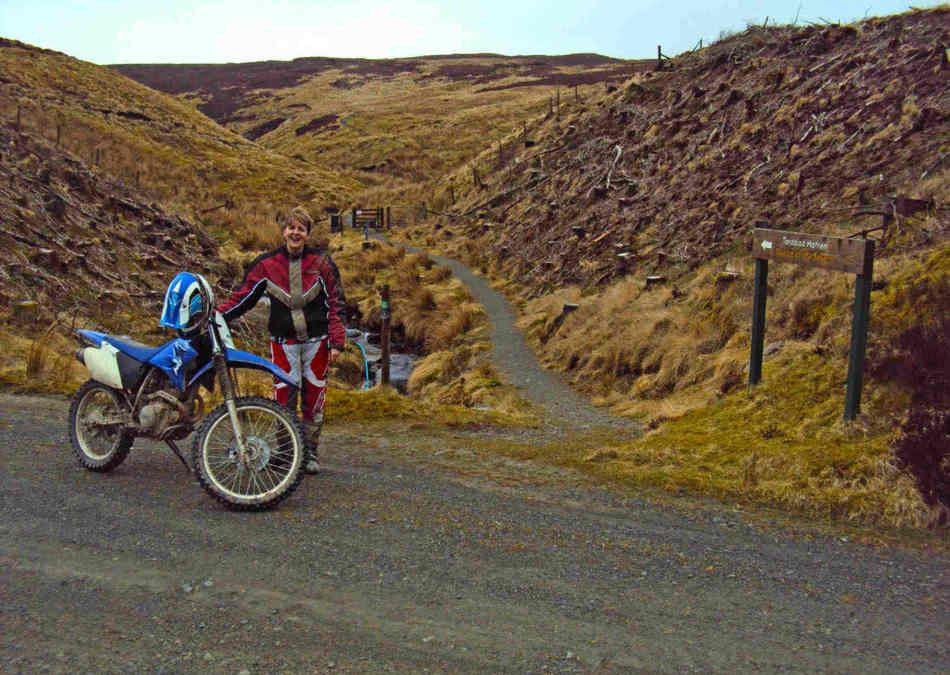 We completed this section and then headed back to base for lunch. Dylan took the other ten a longer way again, while John and I returned the way I'd come, which required us riding through the very muddy section and back down the steep track we'd encountered earlier in the day. One thing I learned was to let the engine braking do its job and not to use the brakes – halfway down I grabbed a bit too much brake and the back end slid out before I knew it. Fortunately I didn't come off and I let first gear help me down the rest of the track. We arrived back just ahead of the main group and everyone rode into the base with
huge grins.
Lunch was provided and we had nearly an hour's break. We had been out for over three hours in the morning and the time had flown by. On the way in I had seriously contemplated sacking it for the day and telling them that I would sit out the afternoon, but before I realised it I was kitting back up and getting back on my trusty bike ready to set off. We had to ride back up the same steep gradient as first thing this morning but this time I kept up with everyone and had a lot more confidence. Even the high winds on the top of the ridges didn't bother me and I was keeping up with everyone right up until we hit that muddy section – yes you've guessed, I had my third "off" of the day. This one was a bit more spectacular that the first two and somehow I ended up with my right foot under the back of the bike and so I had to wait for John to come along and help get the bike off me. No damage done though (aside from my pride!)… Oh! And a slight melting of the trousers where they had caught the exhaust system! By the time we'd got back out on the track the others had gone on ahead so I had 'one-to-one' with John for the rest of the afternoon – what a very patient man he is!
We headed towards a section where we would be doing some more of the technical off-roading as opposed to gravel tracks etc. On the way there I managed to come off again… This time I was going too slow on a climb and did not have enough power to make a tight left turn – this 'off' was a laying down of the bike and I got it upright in no time. We arrived at the section John had chosen for me, which was in effect a loop, it was a stone track with lots of undulations, some deep puddles to get through and a few steep climbs and descents. It soon became apparent that my breathing had increased and a dry mouth started to set in, this was definitely taking me out of my comfort zone. I managed to get around a good half of the circuit before coming down a slope rather too fast into a puddle at the bottom. I'd got the bike in first gear and wasn't using the brakes, but for some bizarre reason I held the clutch in – goodness only knows why – and I was lucky to get to the bottom and keep the bike upright! But it certainly knocked the wind out my sails and between us John and I decided that maybe this sort of technical riding was not for me.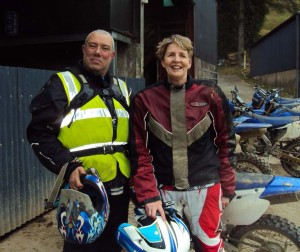 We agreed that the rest of the afternoon would be better spent on the forest roads which are as you see them on car rallies, lots of gravel surfaces, some muddy sections, climbs etc., just no boulders and deep rutted sections.
At one point we rode over a section of the circuit that had recently been on the BBC2 programme "Top Gear" where James May was a passenger in a top of the range Bentley. If you did not get to see that particular show try and view it on YouTube, who knew you could fling that sort of car around like that…
The views through the forest were spectacular and we had a breather close to the source of the River Severn. To reach the actual source would have involved a ½ mile trek inland and I was certainly not up for that, I guess, with a lot more practice, I could have ridden to it! John was an excellent instructor, he was so patient and explained things really well. He also demonstrated how to deal with certain sections we came across and although he must have felt like he was 'Driving Miss Daisy' at times, I was over the moon to realise that here I was riding on gravel tracks with not a jot
of anxiety.
We arrived back just before 5pm about 5 minutes after the main group who had all had a blast. They were all extremely hot and sweaty and there was a lot of laughter. Geraint was relieved to see me arrive back in one piece (and the same could be said for me about him!). He'd had a fantastic afternoon, another instructor had joined them and they had split into two groups, those who wanted to go faster and the others who wished to take a moderate pace through the forest tracks. From the appearance of them all I don't think there was much of a 'moderate pace' taken!
As for me, it was a fantastic day. One I never thought I would do. I'm not saying that I shall be actively looking for gravel tracks whilst out on my Tiger but I can honestly say I will not be as daunted by them in the future.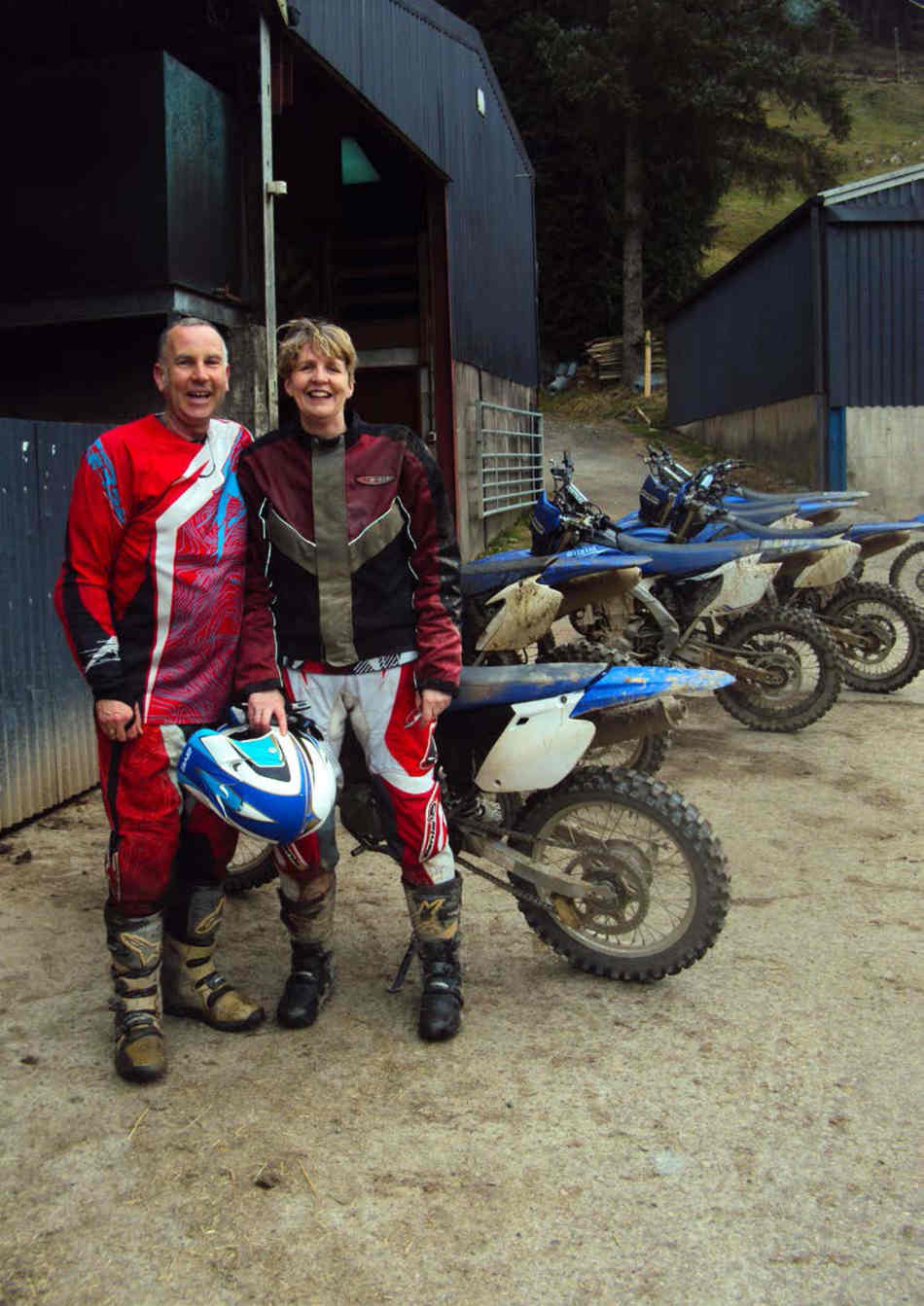 In summary, I would highly recommend the Yamaha Off-Road Experience, the team there were efficient and professional. They had a way of putting you at ease from the get-go. It was not just about explanation, there was a huge element of demonstration throughout the day too. They were so accommodating, particularly as the group had a diverse range of abilities – a couple of the younger lads did not ride road bikes and only had a limited knowledge of off-road bikes, whilst others had been there before and had obviously done a lot of off-roading.
I cannot thank them enough for the patience they showed me; their constant words of encouragement helped me throughout the day. Both Geraint and I were very tired at the end of the day but we'd both had a great deal of fun.
To refer back to the three main worries I had at the beginning of the day:
Falling off… Yes I did, 4 times, but even these were part of the overall experience.
Hurting myself… Thankfully not, in fact no one in the group did.
Making a fool of myself… Probably yes, but in that environment it didn't matter and at the end of it I didn't care anyway!
Would I go again? Yes, I think I would although I would maybe try for a slightly bigger bike and see if I could learn how do ride standing up, I'm sure it would help with some of the undulations I encountered and I would also try and get myself a bit more physically fit before I went! The aches will soon fade but the memories from the day will last forever I am certain of that.
Jan Hughes
DragonMotoTours
www.dragonmototours.co.uk