Read Time:
3 Minute, 14 Second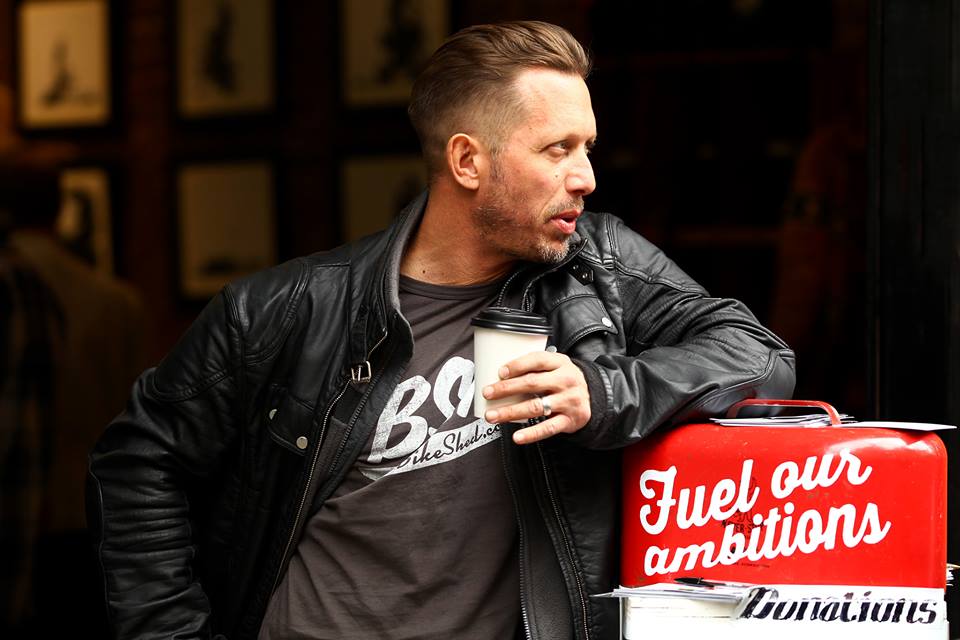 1. What was your first motorcycling experience?
Around the age of 15 my older mates put me on a Suzuki PE250. I opened up the throttle and the bike just flipped me onto my back, quite possibly without moving a single inch forward. I thought they were gonna be pretty angry and I was very worried about the bike, but they just laughed themselves hoarse.
2. What is your current bike?
Having just had my 1983 R100 café racer written-off, with the assistance white-van-man, (angry & gutted) I still have a Ducati Paul Smart 1000LE, and the daily loan of my wife's Ducati Sport Classic 1000 Biposto.
3. What bike would you most like to ride/own?
It would be a custom build, either a Walt Siegel style Ducati café racer, with a Hypermotard 1100DS engine, or I'd get Spirit of the Seventies to build the perfect weather-proof and bulletproof trellis-framed café racer around a KTM V-twin.
4. What was your hairiest moment on a bike?
Riding smack into the back of a reversing-while-lane-changing white van in Feb is near the top of that list, but most memorable was a deep, long 80mph slide which then found traction and threw me out of the seat at Clearways at Brand Hatch on my Superduke R a couple of years ago. I have no idea how I stayed on or why I didn't run into the gravel, but it was more down to the bike than any skill on my part. It did make me laugh out loud though – that survival laugh you get after you do something really stupid and survive.
5. What was your most memorable ride?
The Distinguished Gentleman's ride last September where 70 café racers and brat/street customs were ridden by riders in suits & ties through London, from Camden to the Ship Inn in Wandsworth. It was quite a scene, although being at the front (and without any mirrors) I saw less of it than anyone else.
6. What would be the ideal soundtrack to the above?
London Calling on a loop.
7. What do you think is the best thing about motorcycling?
It's an even split between the feeling of a really smooth transition from curve to curve during the rush of a fast ride, with the feeling of camaraderie between mates when the riding day is done. Both are needed to complete the experience of being a bike rider.
8. What do you think is the worst thing about motorcycling?
Obviously the risk of pain, damage or death is pretty crap, and I'm glad to have slowed down in recent years, migrating to less powerful bikes and smoother riding, but the daily drudgery of the UK weather is also pretty high up on my biking shit-list.
9. Name an improvement you'd like to see for the next generation?
I'd like to see the mainstream UK bike press get away from being so nerdy and talk more about people and the lifestyle. They seem to be split between an obsession with speed through tiny upgrades on irrelevant machines, and gadgets for touring/adventure bikes. The younger generation can't afford them and couldn't give a monkey's. They just want a cool ride – like we did when we were 17 – and they have limited budget. No wonder mainstream biking is losing a whole generation of youth.
10. How would you like to be remembered?
As one of a growing group of riders who want to see biking pulled-back into being about people, lifestyle and fun – something entertaining for everyone to enjoy – not a high-performance automotive niche for deep-pocketed middle-aged men whose kids have left home. Ditch that R1/Panigale/GSXR and buy something with character and a soul.