Read Time:
7 Minute, 18 Second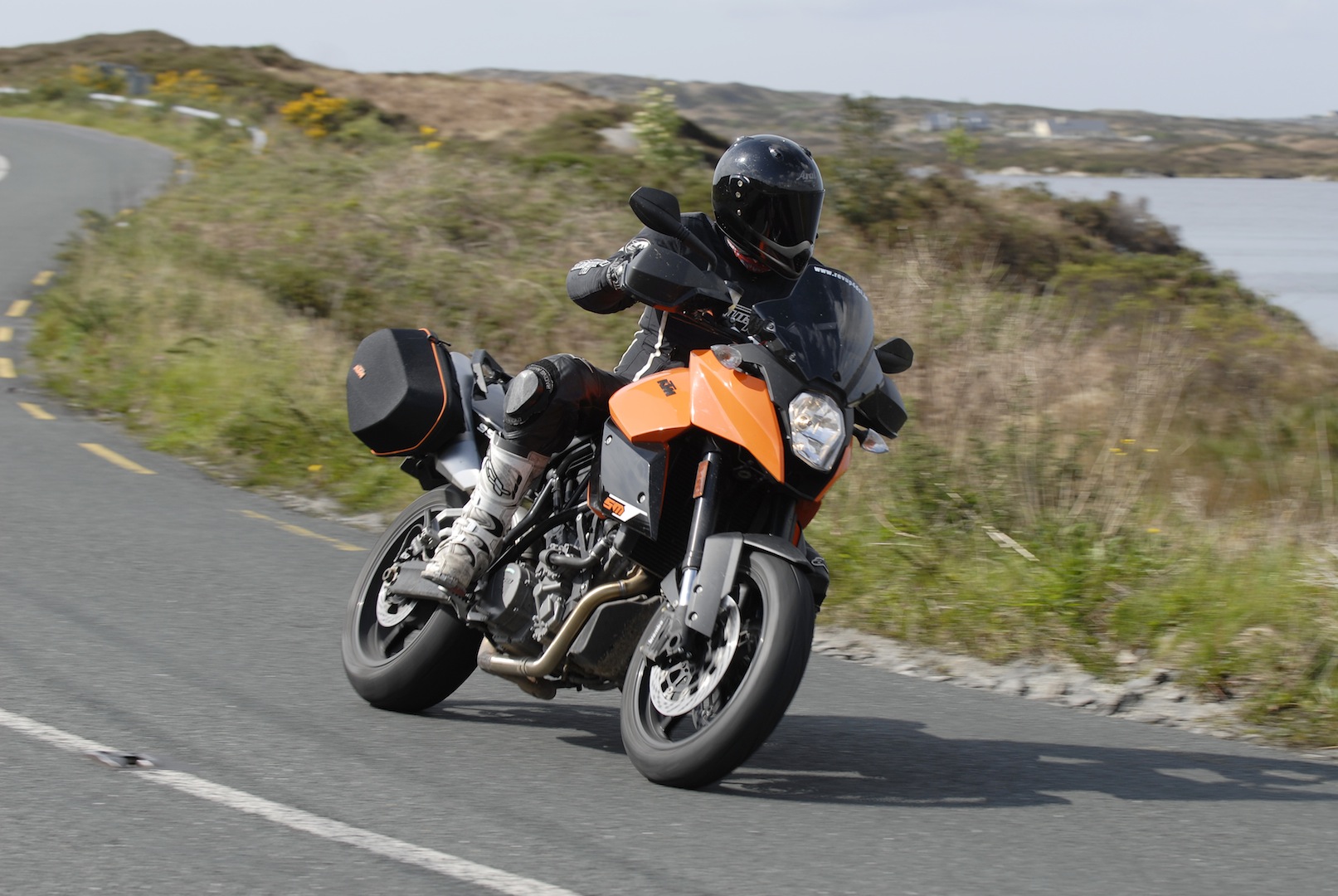 Super Motards are what they are; they're a little bit uncomfortable and have very little fuel range but they're great fun to ride. Think of a Yamaha WR450 with a set of road tyres and a taillight and you pretty much have the picture. So to call a bike an SMT or Super Motard Touring seems like a bit of an oxymoron. Indeed a Super Motard and a touring motorcycle should, and usually do, occupy opposite ends of the motorcycling spectrum. Apparently not any more.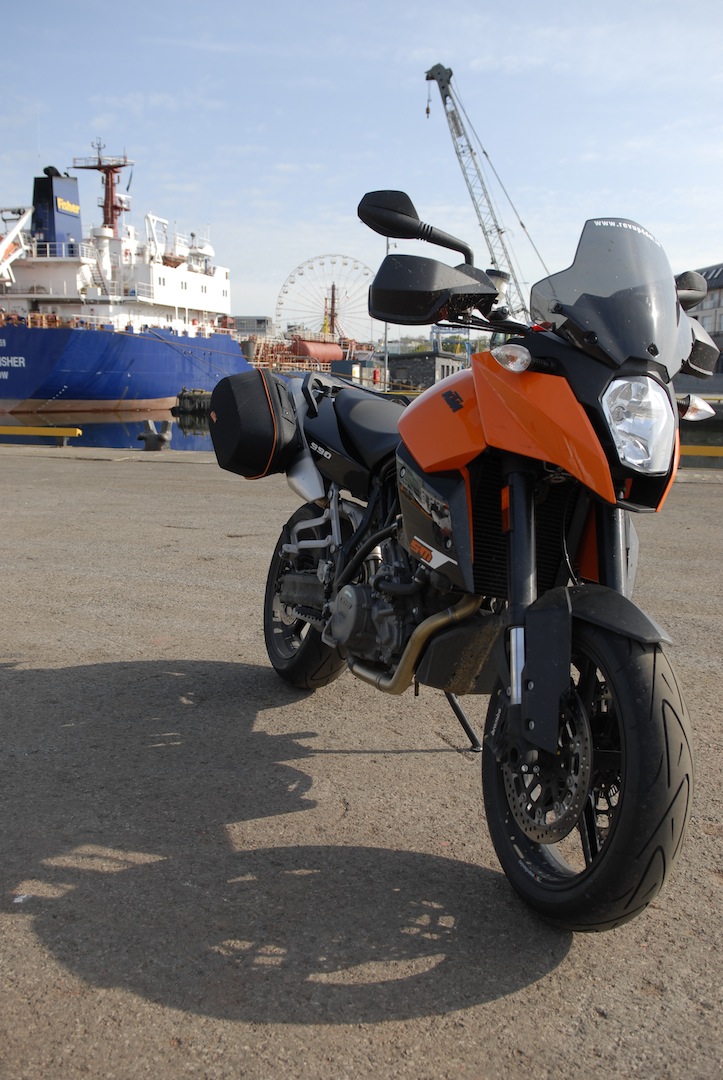 Several years ago KTM introduced us to the concept of putting larger engines into specifically designed and built super motards, which went quite a way to eliminating these compromises. The SM 950 was, and to my mind still is, one of the best road bikes ever made. The SMT was designed to make these bikes even more usable in the real world and they have managed to pull this off quite well. The good news is that the new 2013 version is even better. The power source is the tried and trusted 999cc liquid cooled LC8 engine which is now cleaner and more efficient thanks to fuel injection system rather than the, until recently used, carbs. They are also using the full power version, which puts out a healthy 115bhp.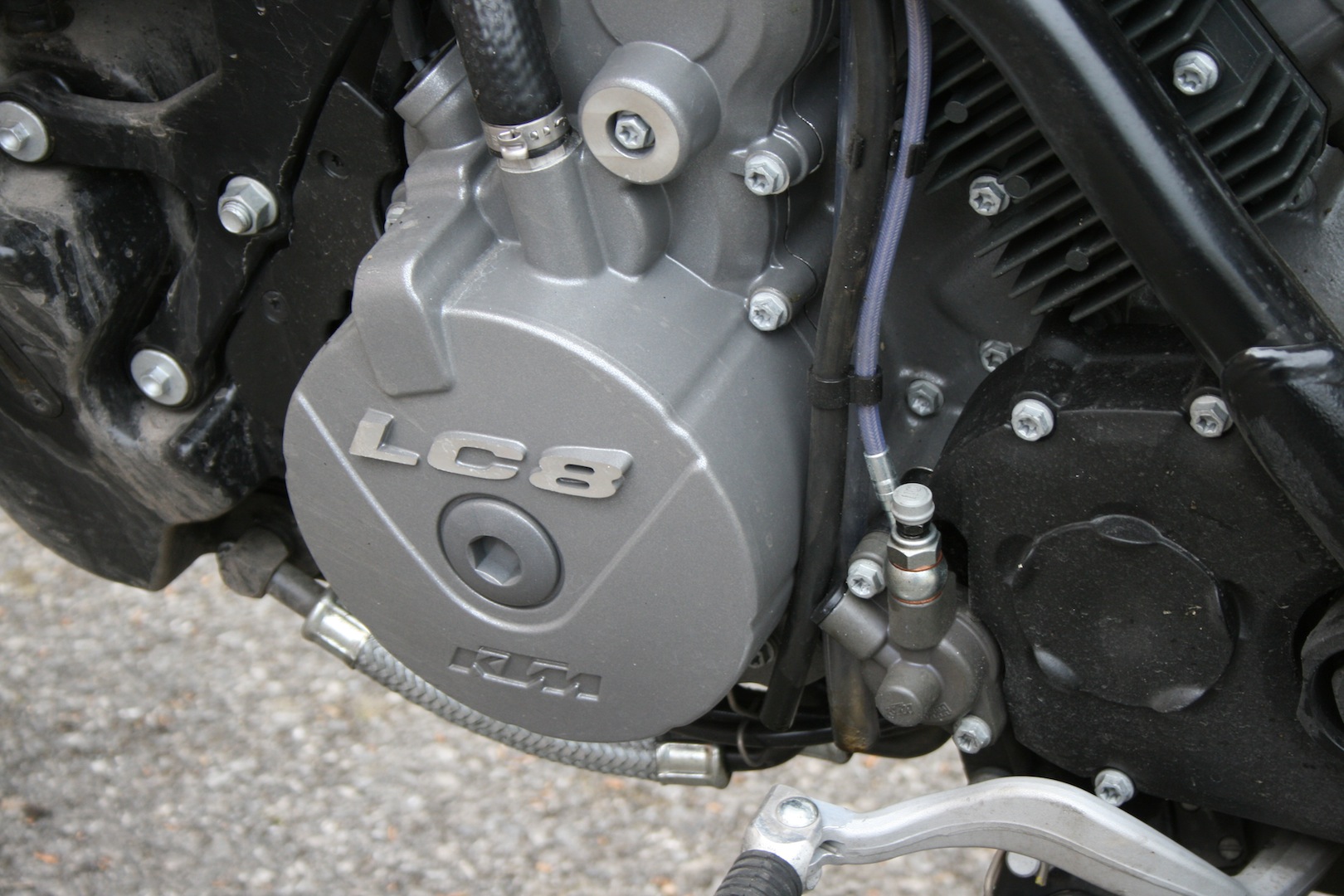 It's a well-dressed motorcycle. The fittings list reads like a who's who of exotic European motorbike manufactures; Neken handlebars, Brembo brakes, WP suspension, Marchesini wheels and a Bosch ABS unit. The black and orange bike is full of intent with its stealth fighter angles and minimal switchgear.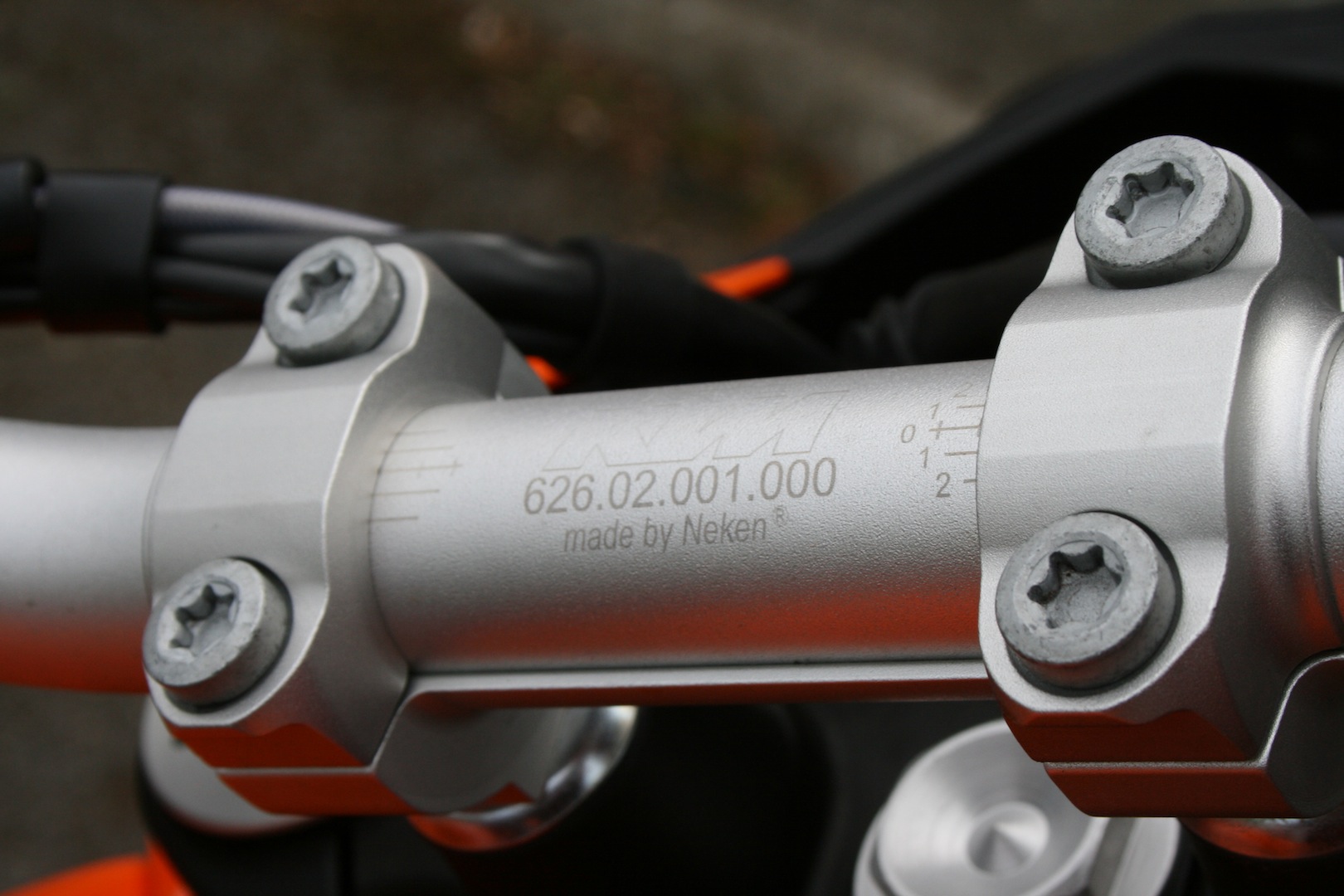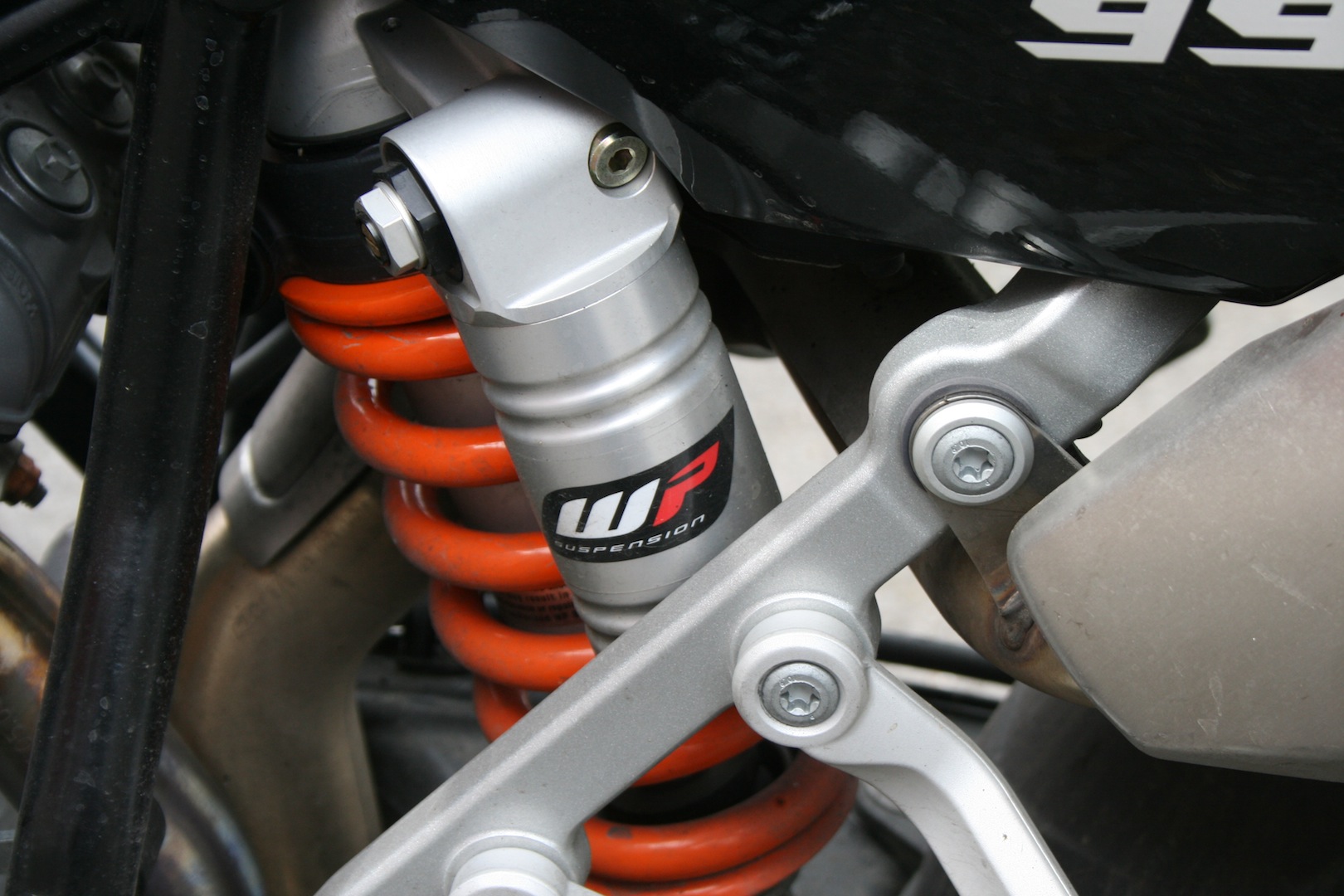 Once on board the first very big surprise is that the seat is comfortable. Gone is the motocross unit and in its place is a proper deep cushioned stepped seat that I found I could sit on all day. (Try that on a BMW 1200GS!) The screen, while it didn't look all that substantial is actually very effective. KTM have cleverly tinted it to make it look smaller than it really is. Combined with the hand guards the effect is to take a six-foot tall rider completely out of the windblast.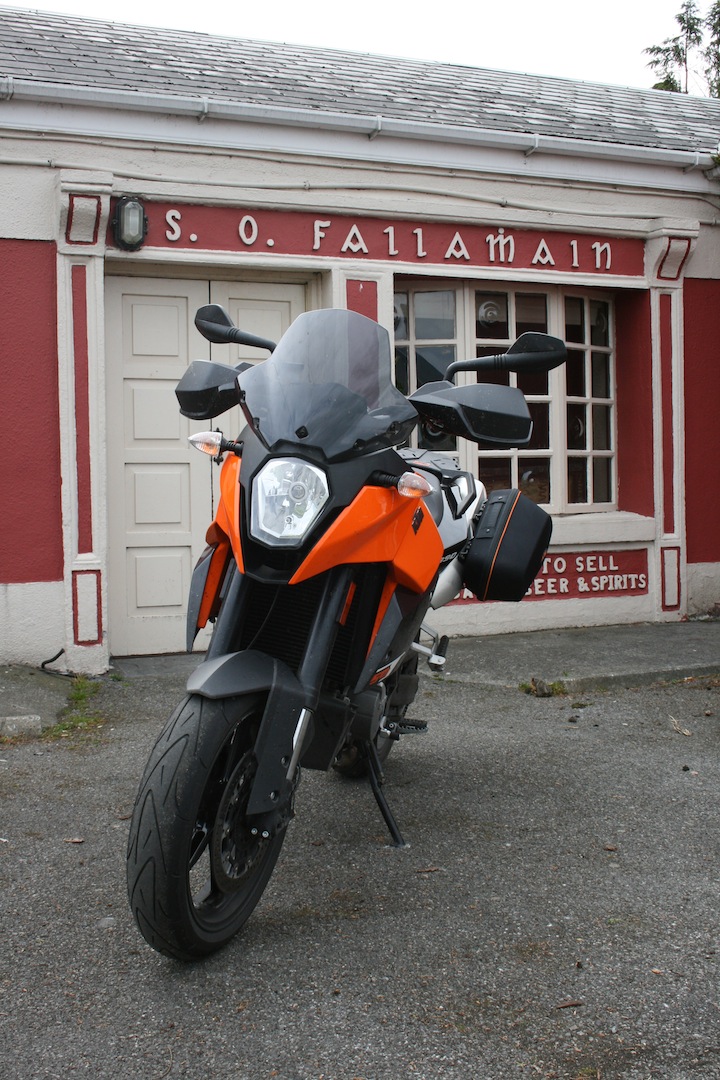 Up front the headlight is a stacked unit and is framed on either side by the neatest little white indicator lenses, giving the bike a minimalist profile. The clocks are easy on the eye. A big round rev counter is complimented by the digital display, which shows the speed as well as time of day. The ABS is switchable and there is a fuel warning light, a neutral light and an ABS warning light. There is nothing else; it's a refreshingly simple view.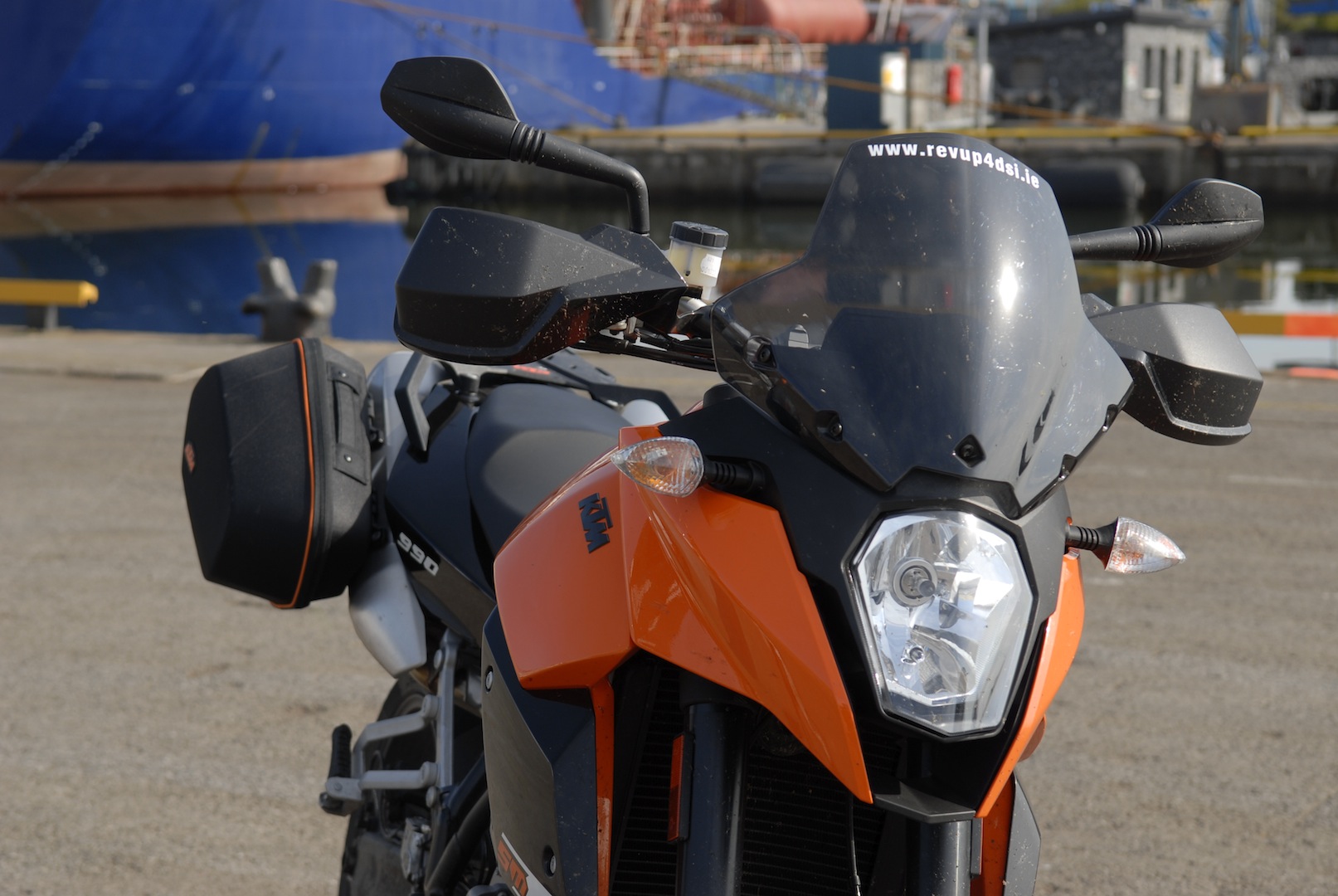 When I collected the bike it was run in and ready to go. I rode away gently at low revs, short shifting it as I took a series of turns picking my way past stationary cars and onto the motorway. On the slip road I got in front of the traffic and wound it on a bit. The growl through the standard exhaust had been somewhat muted until then, but at 7,000 revs the bike gave me my first big reward. The noise was phenomenal, don't think loud brash race exhaust, rather think of a mechanical overture as the Austrian engine bellows from the bottom of its stomach. Sure some V-twins might sound better, who doesn't like the noise of a Ducati in full flight? But this is special, a note all of its own. And it's highly addictive.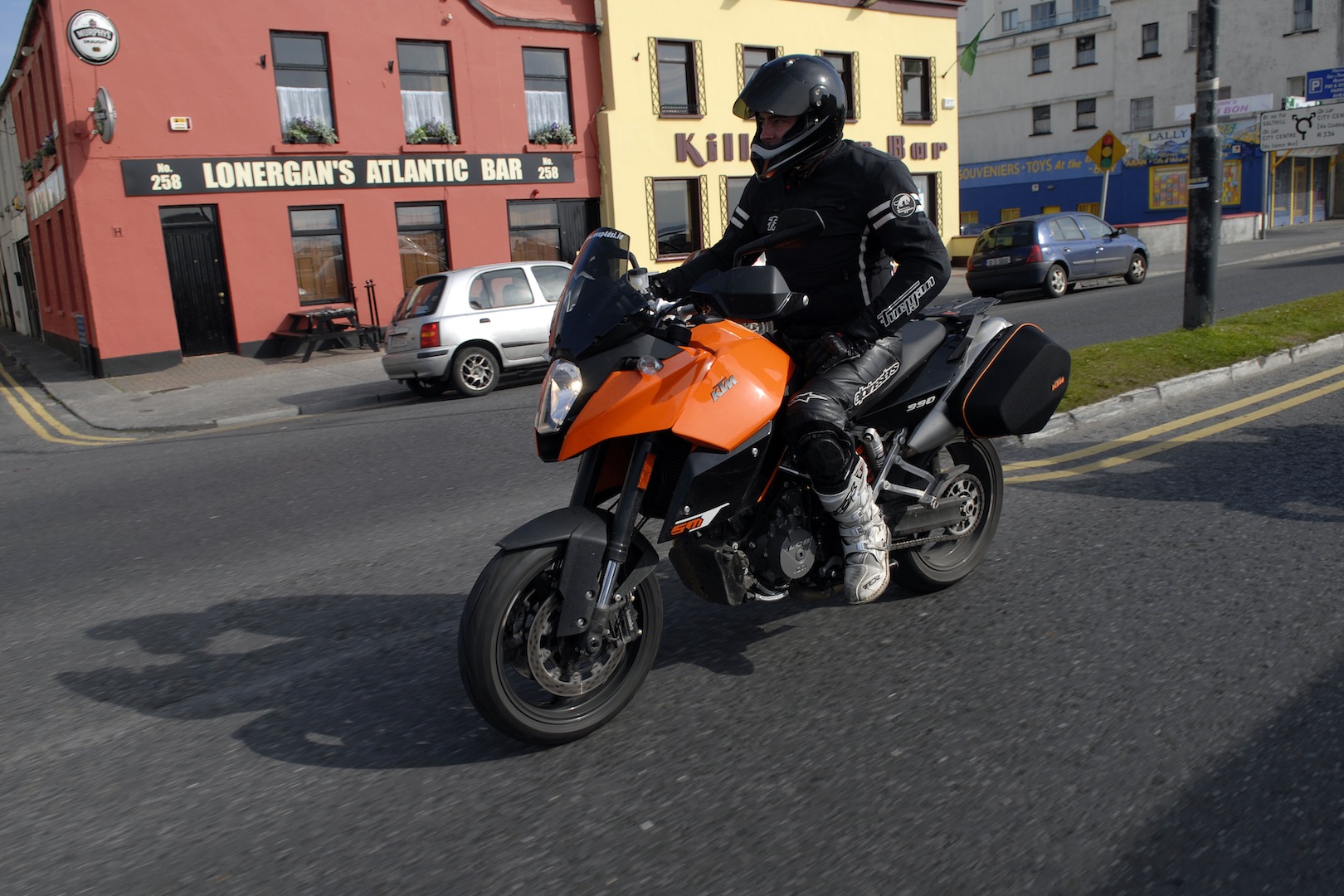 Off the motorway and into the city the SMT is well balanced, filtering is easy and the panniers follow through the gaps without offering any problems. The bike is tall enough to command the streets and the lock is great for the slow control riding. There is a bucket of low down torque in the big V-twin and getting away from the lights is child's play. My fellow motorcycling commuters did seem to expect some insanity from me. Apparently riding a KTM automatically infuses the rider with an ability to do almost vertical wheelies and rolling stoppies, between the lights on the local bypass. I seem to have failed to tick the talent box on the options list, so I settle for keeping both wheels on the ground!
Out in the country the SMT really shines. Over in Connemara in the West of Ireland and on some 'challenging' roads it was a joy to ride. On a group ride out we managed to find several routes that were simply long strings of corners with almost no straight bits in between. An overexcited rider, decreasing radius turns and frightening behavior from the rental car drivers, were all taken in my stride thanks to the KTM's brilliant chassis. Winding the throttle open on the exit to a corner I was rewarded with that wonderful growl from the exhaust; leaning the machine over on its new Bridgestone T30 tyres it felt as sure footed as a bike on rails and then charged towards the next corner to do it all again – and so it went on for 200 kilometres. This was motorcycling heaven.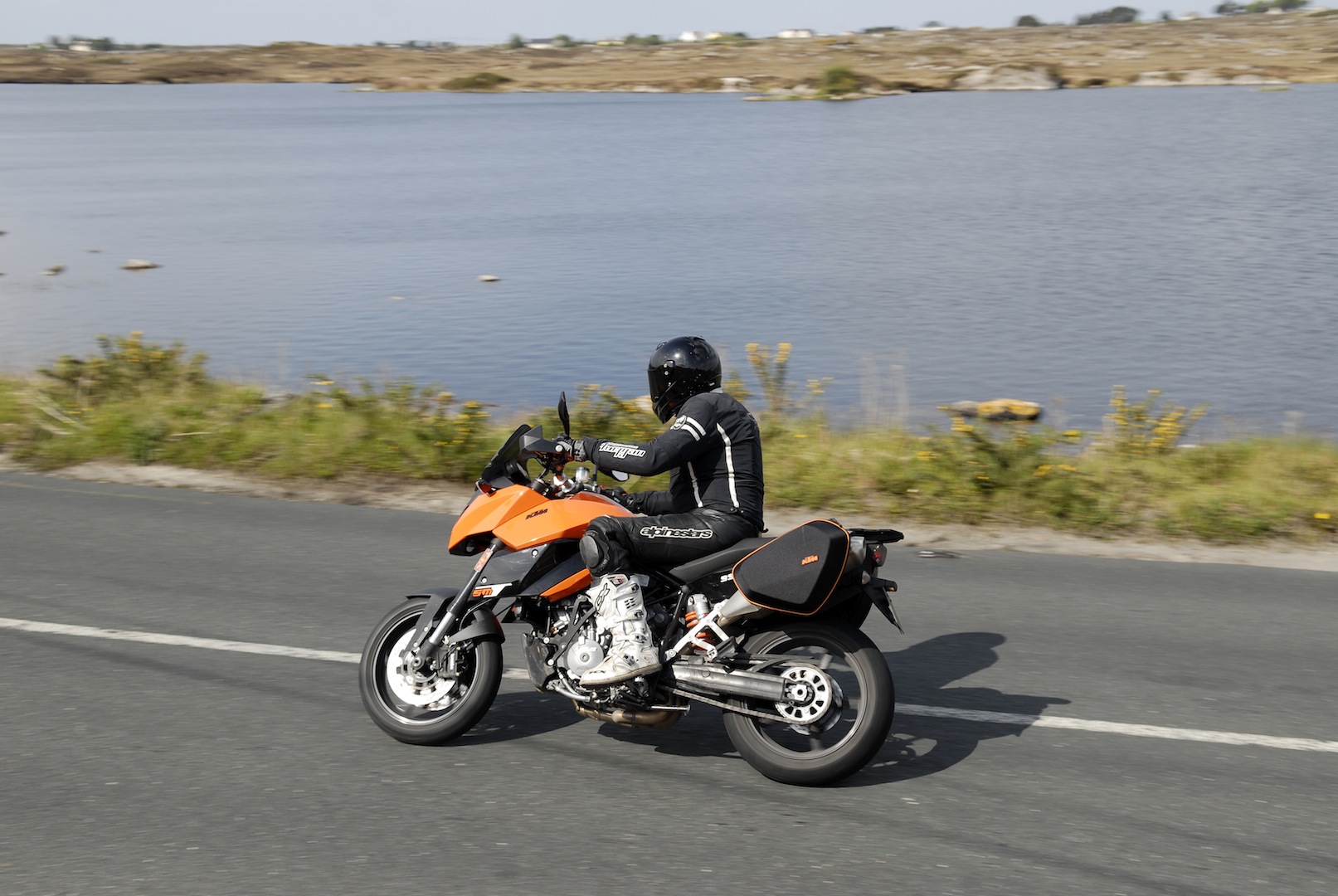 The pillion seat is good enough for comfortable two up touring and has a set of grab bars built into the rear carrier, which can in turn carry a top box. The bike on test came with a set of fabric-covered panniers, which clip onto the heat shields over the end cans of the two into one into two exhaust system. Once the panniers are removed the mounting system is all but invisible. The bags themselves are billed as being 'hydrophobic'. This seems to mean that the fabric will keep the water out, but the zips won't. While each one comes with a liner that is waterproof and works well, the net effect is to reduce the carrying capacity of both quite significantly. The whole event got a little tiring as first the left pannier retainer and then the right one let go. As I was a long way from home this was quite an inconvenience but everything got a lot easier when I managed to find some cable ties.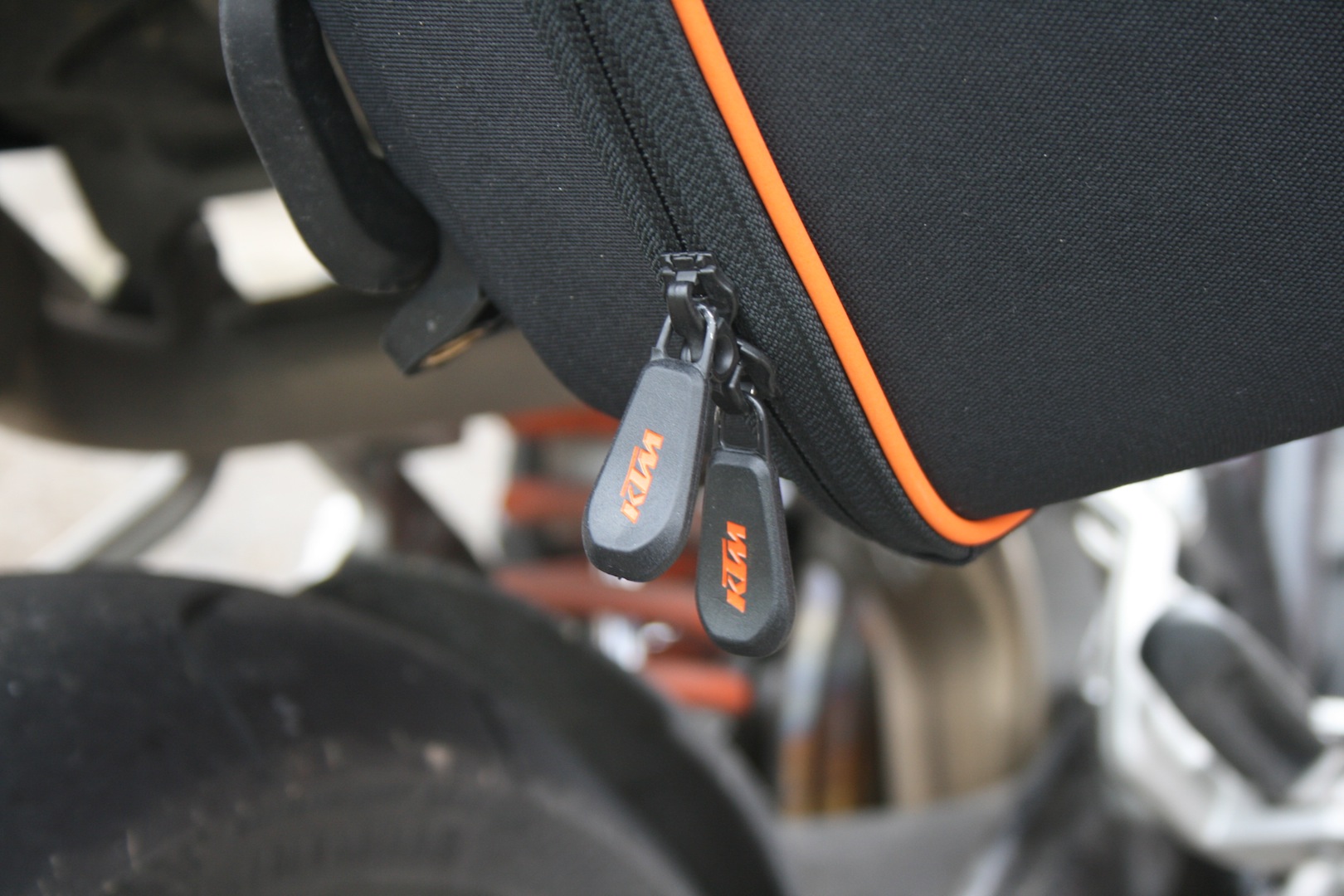 There were some other problems. The rear brake pressure didn't seem up to much and over the three days on test it became clear why. The cap on the reservoir didn't appear to be very well attached and the brake fluid was leaking out. By halfway through day two the unit was completely ineffective and the bike had to be retuned for repair. The build quality does seem to be an issue on some of these bikes. A few casual enquiries as to how the bikes hold up with owners of KTMs reveal several, small but annoying, problems of this sort. The interesting thing is, however, that KTM owners seem prepared to forgive these 'little failings'. I'm reminded of an owner's review of his new Jawa where he positively gushed about how good the bike was, as it had 'made it home without breaking down'!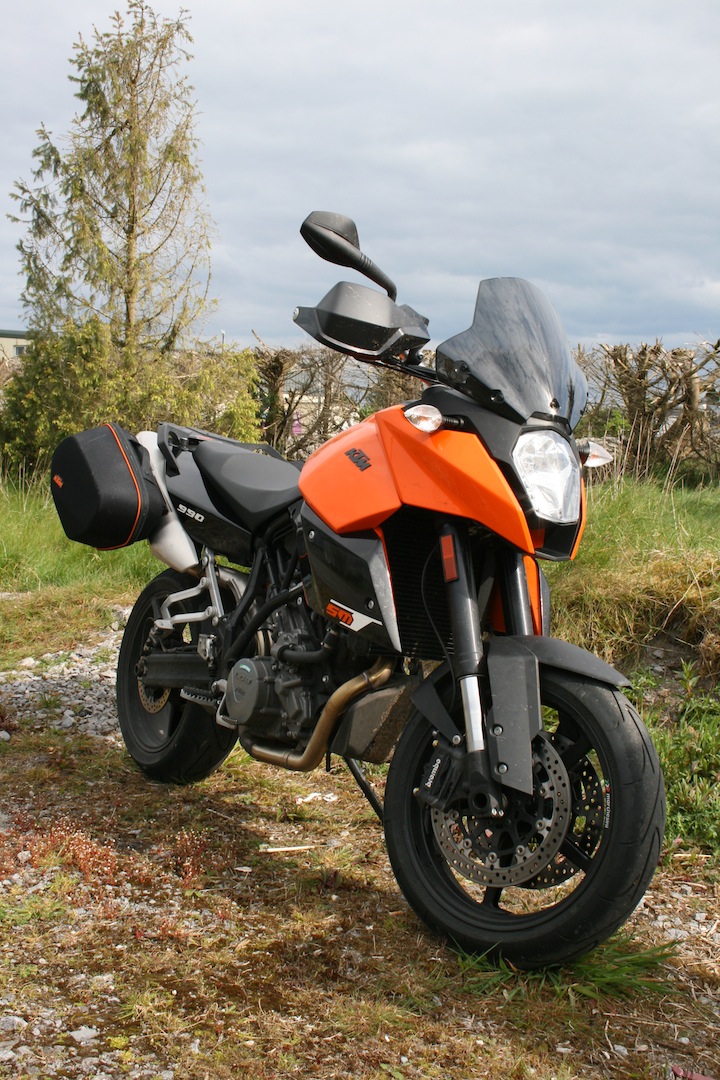 I had thought that if one spent this kind of money on a new bike then it would do what was expected of it, and here's the odd bit. The bike is so much fun to ride and is so refreshingly different to everything else on the market that I, like others, found myself forgiving its failings. I even forgave a failed brake because I enjoyed riding it so much. Had this happened on a Honda I'd be apoplectic. Had it happened on a Ducati I'd be jingoistic and use race to place the blame. Had it happened on a BMW I'd consult a lawyer, but because it happened on a quirky orange bike I let it get away with it. I don't seem to be alone in this outlook when it comes to the Austrian machines.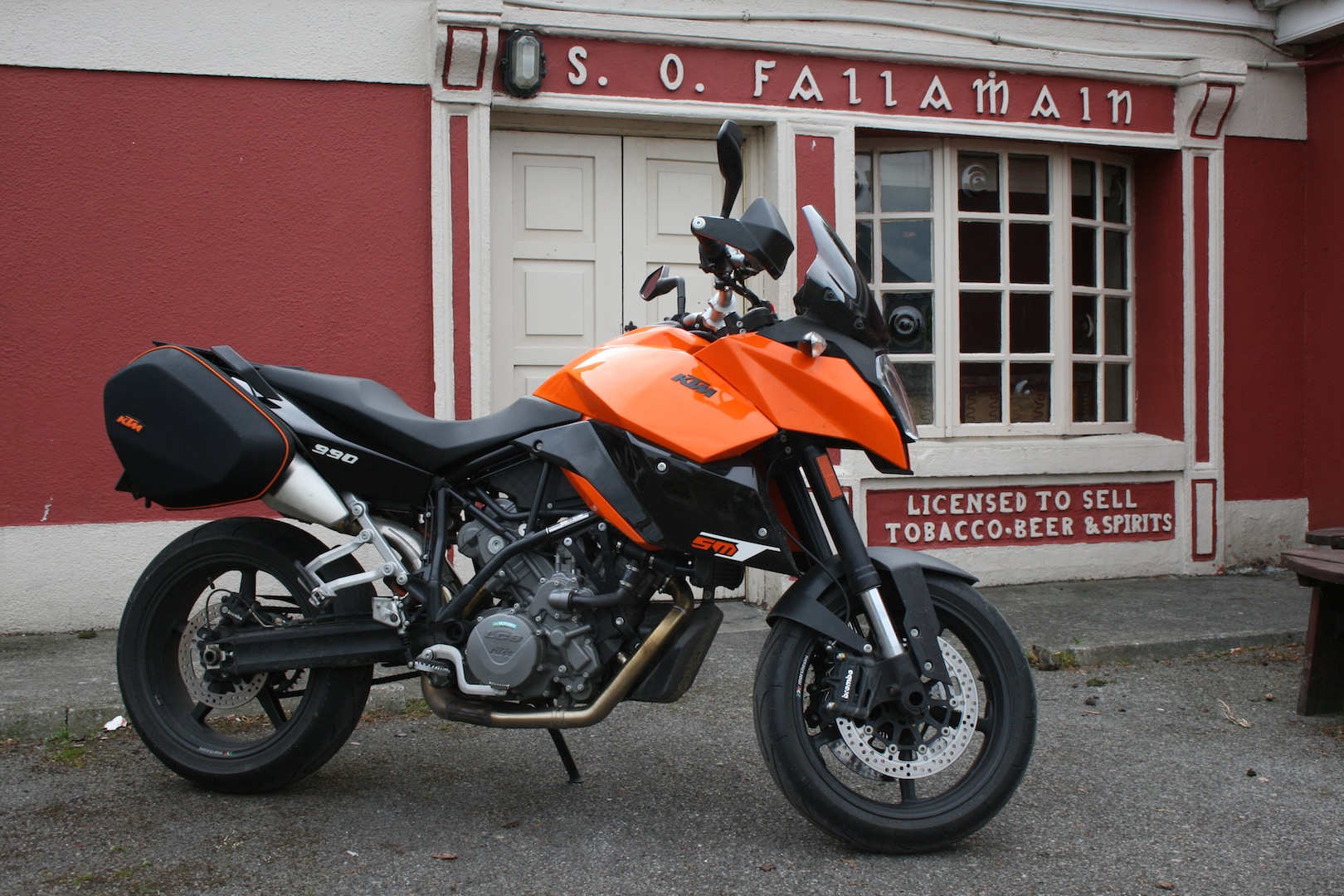 Now that the bike is back here in the city and has its brakes fixed, the best way that I can describe riding the SMT is to compare it to my first bike. At the time I'd been using buses and taxis to get around. For a long time after buying my first bike everything was well in my world. I'd wake in the morning, remember that I had this motorcycle downstairs and practically jump out of bed anxious to go anywhere on it. I'm older now and a lot lazier, but the KTM SMT gave me a similar sense of purpose. Jump on, hit the start button, close your visor and leave the world behind. I'll be in the market for a new bike soon and I'm seriously considering spending my own money on one of these. I might just refresh my toolbox first though.
Paul Browne