Read Time:
6 Minute, 0 Second
Bikers

are

a

generous

lot.

Strangely

so.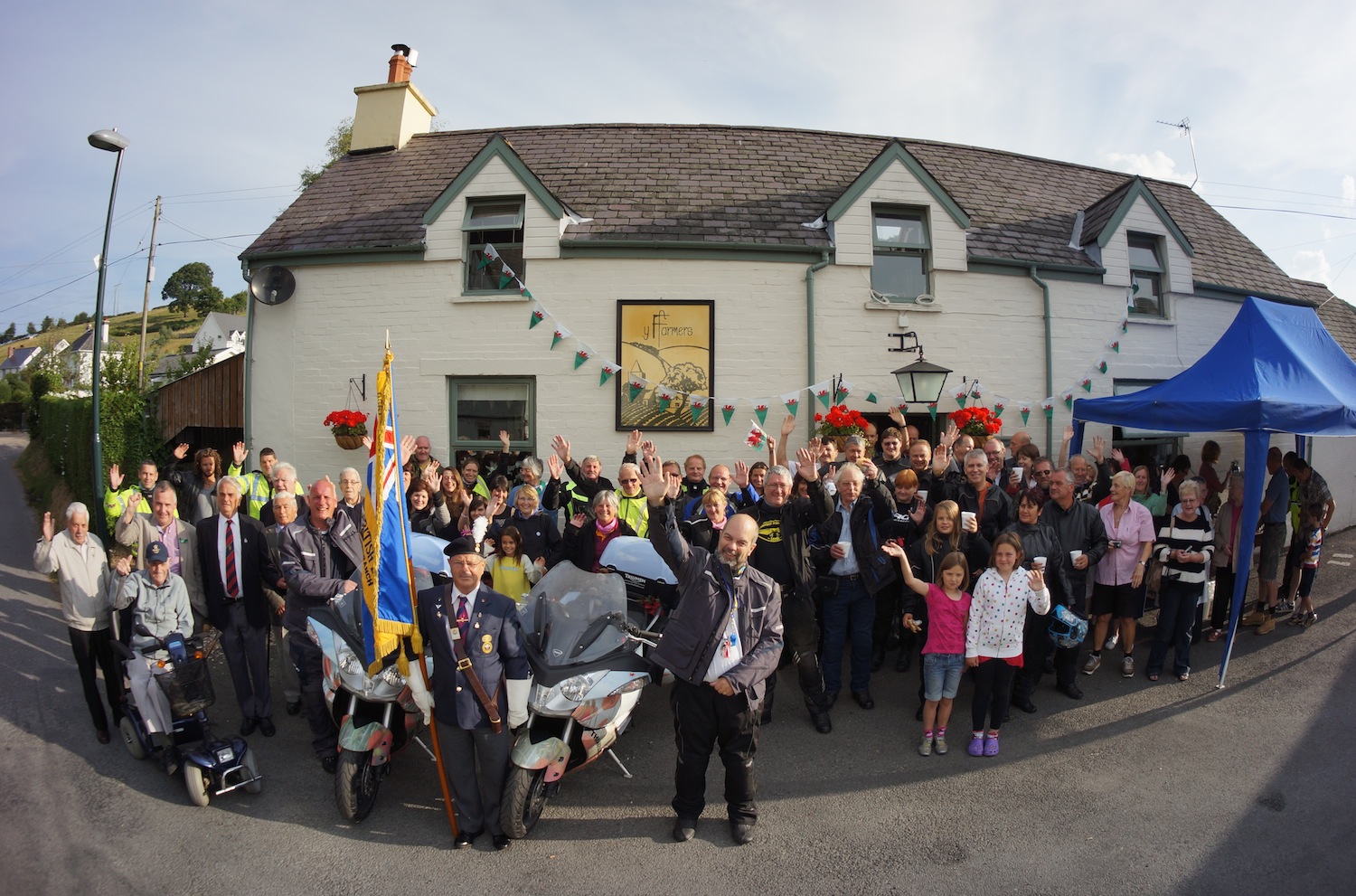 Perhaps there have been many theses written that link the perceived risk of riding to joie de vivré, and a resultant desire to contribute to the greater good, but I've never read any. Instead I've witnessed, year after year, riders who want to help out for the hell of it. Some use charity as a reason to ride, others to assuage an innate desire to help; to raise funds for a good cause, and in so doing they are prepared to carry a huge burden of responsibility – as well as getting wet and cold.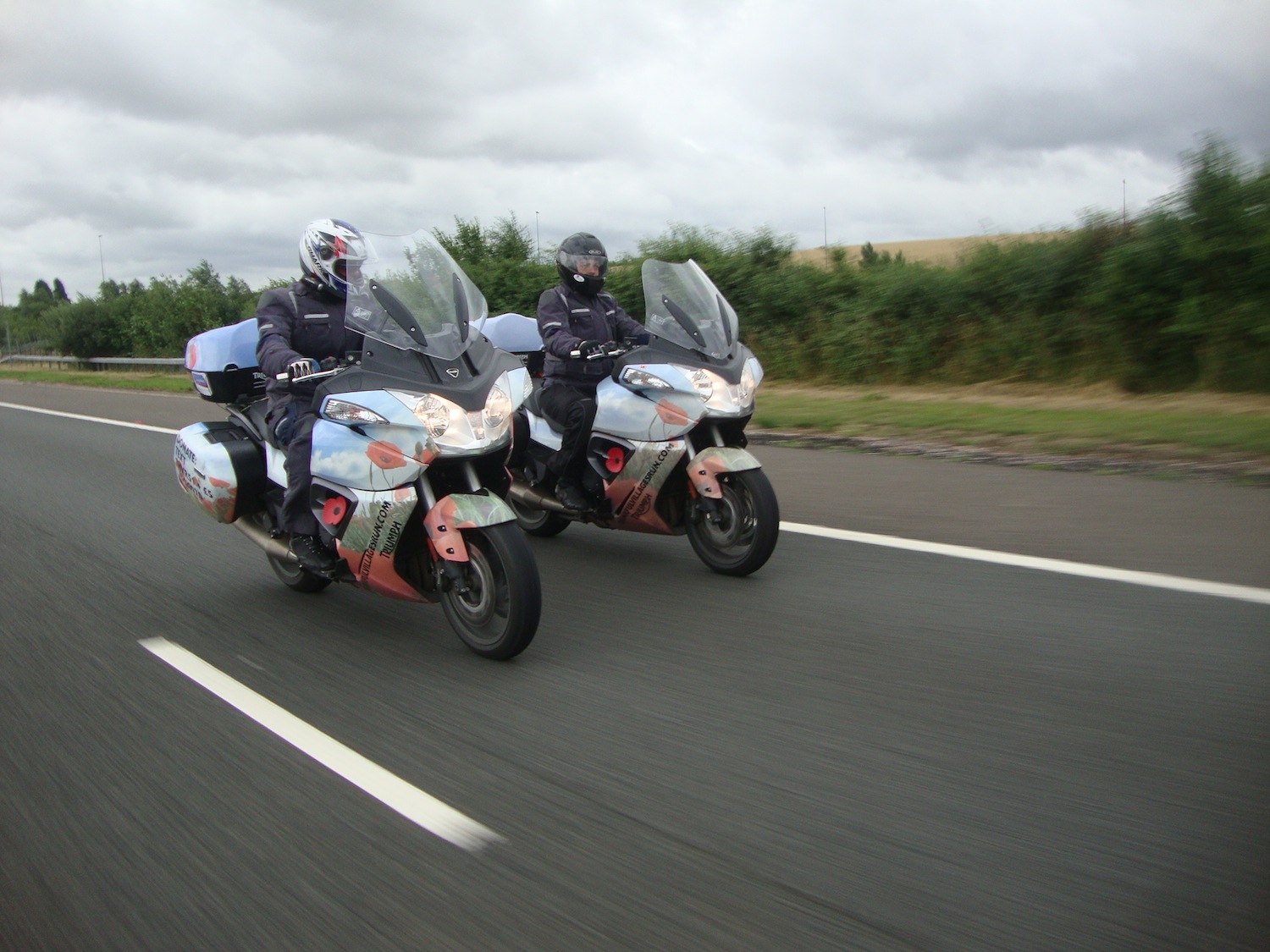 Organising an event like Chinnor Bike Dayz (raising money for the Air Ambulance), or the Thankful Villages Run (for The Royal British Legion) takes a hell of a lot more than just a few hours of your time, or the few seconds it takes to put your hand in your pocket to quieten the collecting tin.
The Thankful what? You may ask. A 10k jog? No, riding all over Britain in nine days. Hardly sounds like an alcohol-fuelled party. It wasn't. There wasn't time. A 2,500 mile ride in August may not seem like a lot, but add in TV and radio interviews, photo shoots, presentations and award ceremonies and a truly unhealthy amount of cake and it becomes a monster endurance event.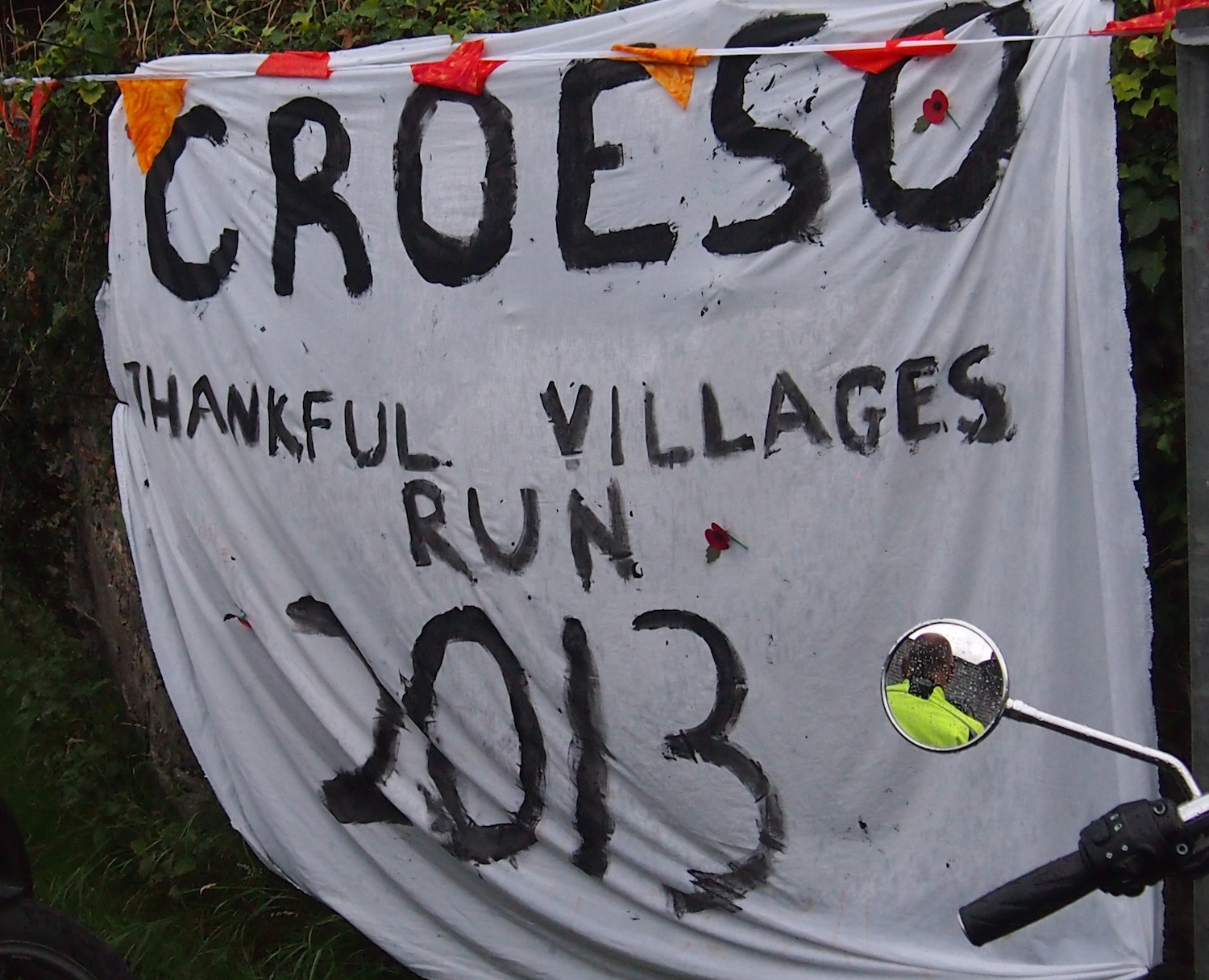 There are fifty-one villages in England and Wales, which are marked as special because all the inhabitants who went to fight in WW1 returned alive. Perhaps not with as many limbs or even a complete mind, but they all came back. When you consider that over 60,000 villages sent men to The Front, it's sobering to realise there are so few Thankful ones. Tragically none of the Scottish or Irish regiments fared well. Next year, 2014, will be the Centenary of the start of that inappropriately named 'War to End All Wars' and services remembering all those who fought will take place at War Memorials in every village in the land.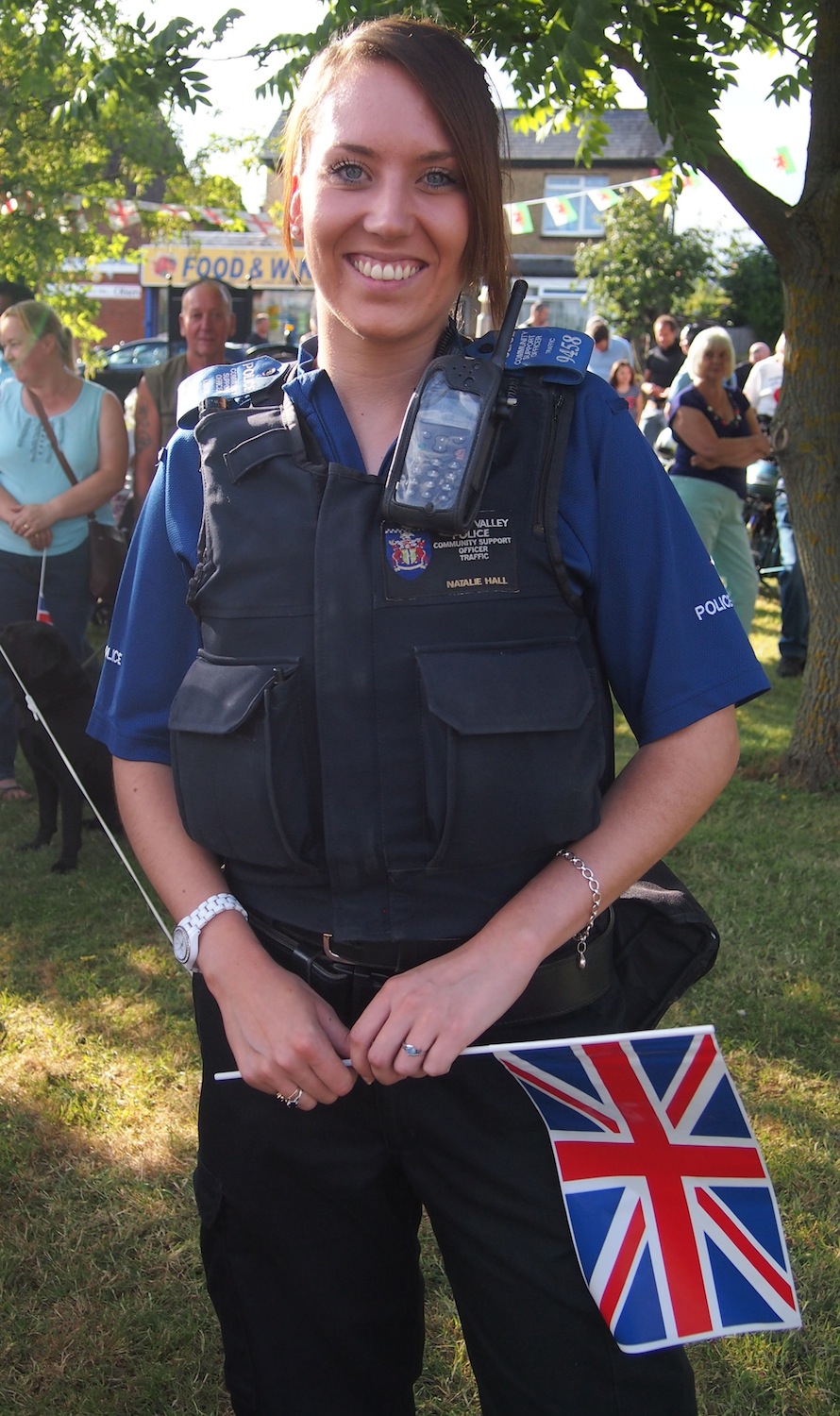 Except of course for the fifty-one villages that have no traditional war memorial. They have nothing to remember the men who fought and returned from that life changing experience.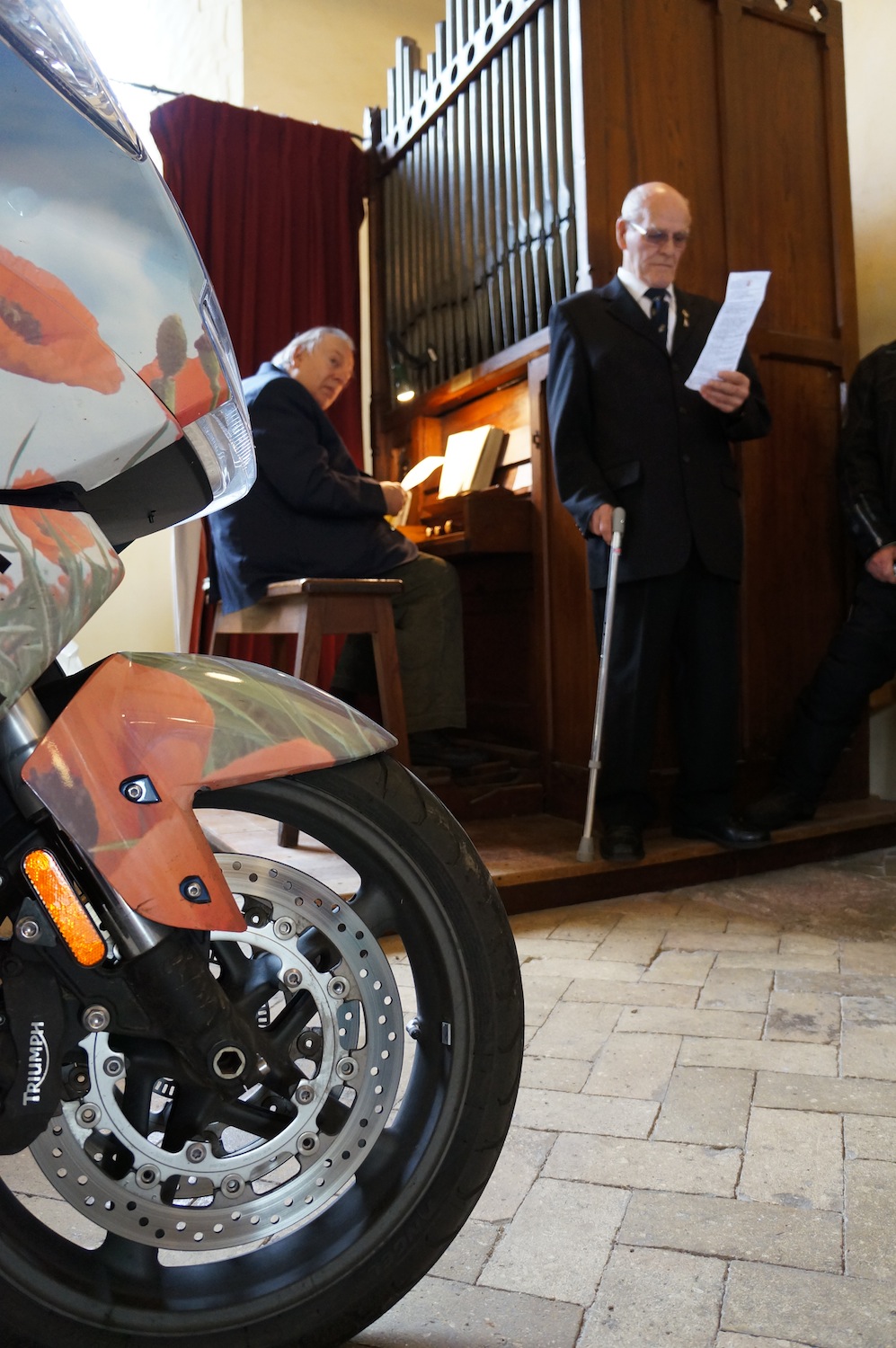 Military historian and Triumph rider Medwyn Parry, and his mate ex-Para Dougie Bancroft, decided to rectify that this summer, so they set to sorting out the logistics necessary to attempt to raise £51K, while delivering a beautifully carved slate plaque to each of the villages.
That's fifty-one points of contact organising fifty-one village welcoming parties. Then there were all the stops in London to co-ordinate; security clearance to park at the Cenotaph and to ride their bikes across Horse Guards Parade. Arrangements had to be made to get the machines onto the Imperial War Museum premises and to park them under the massive 15" Naval guns (that both saw service in the 2nd World War). And then there was the National Arboretum, not to mention RAF Cosford and accommodation…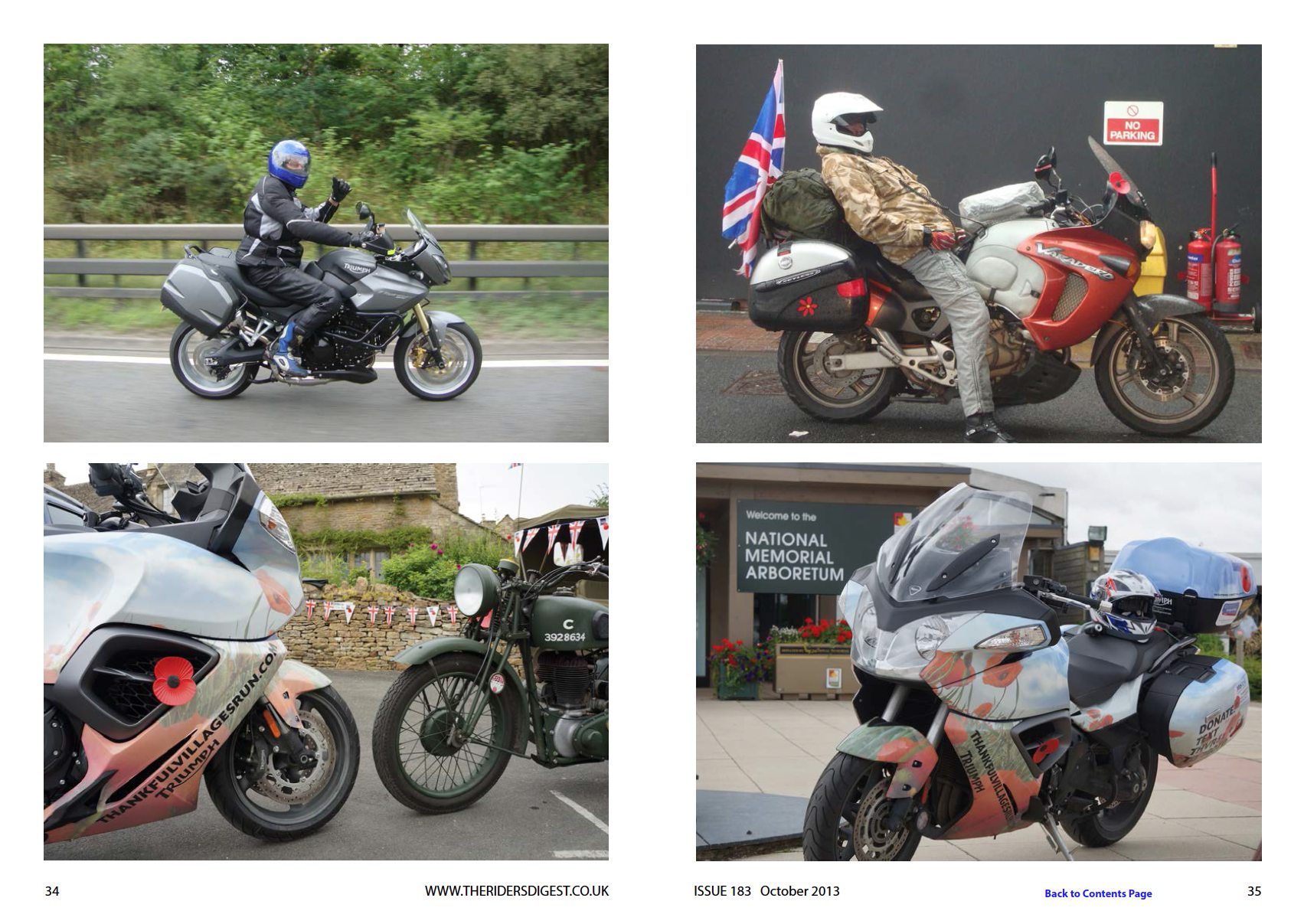 There were police forces to liaise with, because one of the ways to raise that money was to charge everyone who wanted to ride a bit of the route a fiver and if you've ever led a few hundred bikes cross country when you are on a tight schedule, you'll know how fraught with difficulty that can be. As it happens, four riders ended up joining the pair for every single mile; Phil, Gary, Pete and me.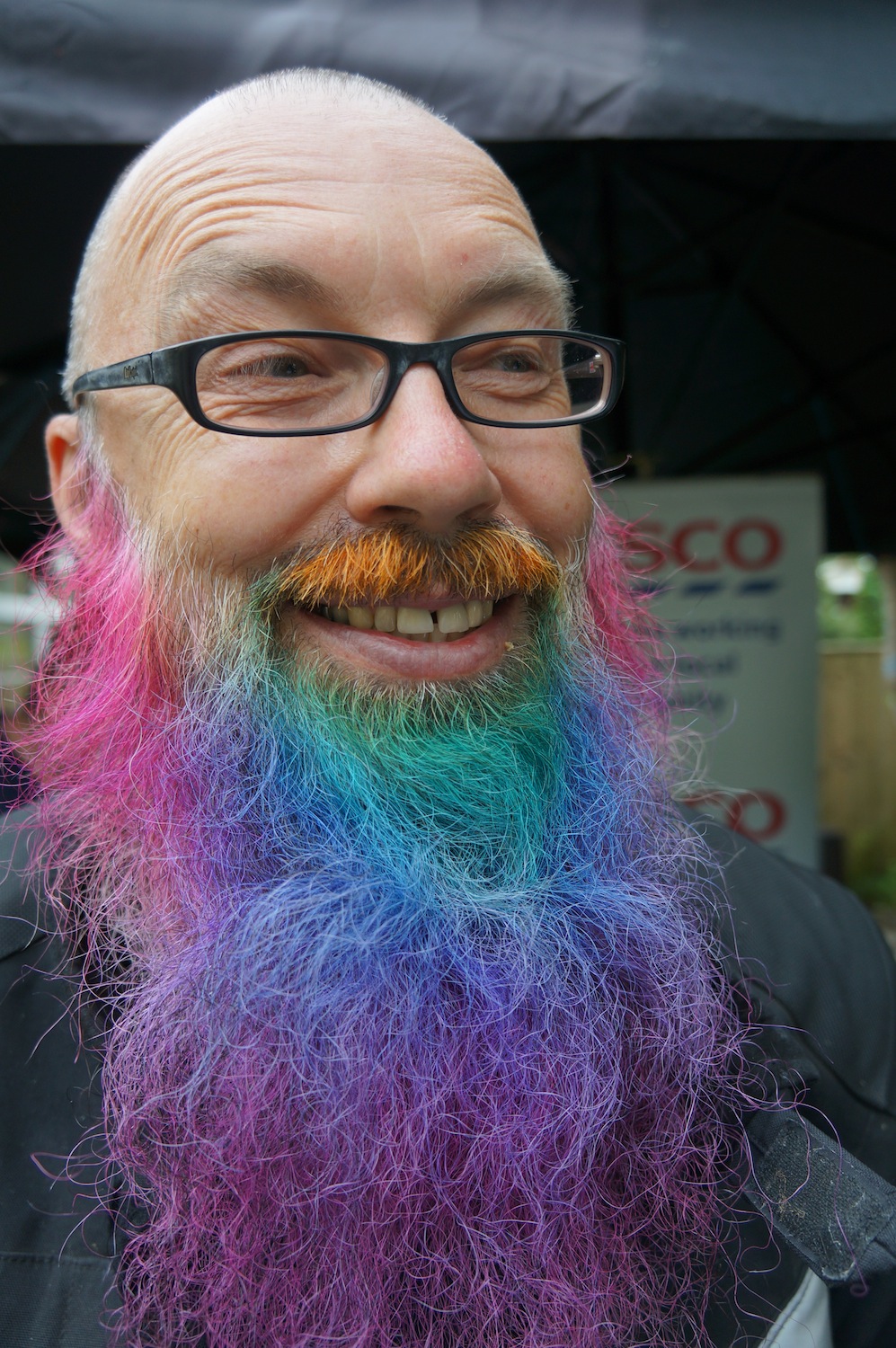 Triumph stepped forward. Having supplied the majority of the dispatch bikes in the War, they thought it fitting, so they provided the team with a couple of 1200 Trophies and a Tiger Explorer. It all seemed to be coming together. BikeTrac even provided a tracker device so that expectant villagers and donators could watch their progress – and so that a concerned citizen could point out that on at least one occasion they'd travelled in excess of the legal limit…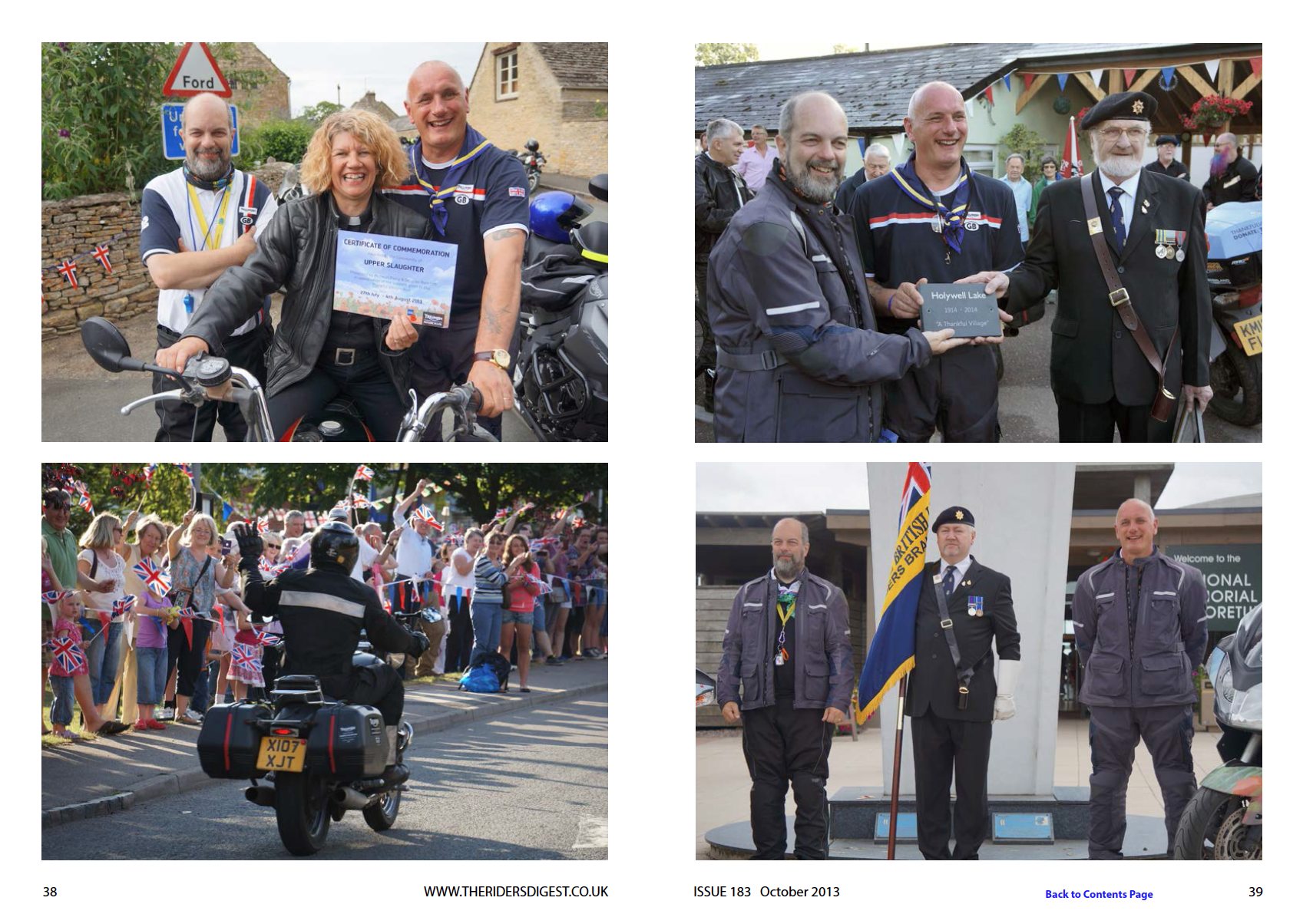 But nobody could control the weather from west Wales to the south coast to Hadrian's Wall. The one day it didn't rain – while we were in Lincolnshire – the temperature hit 32°C!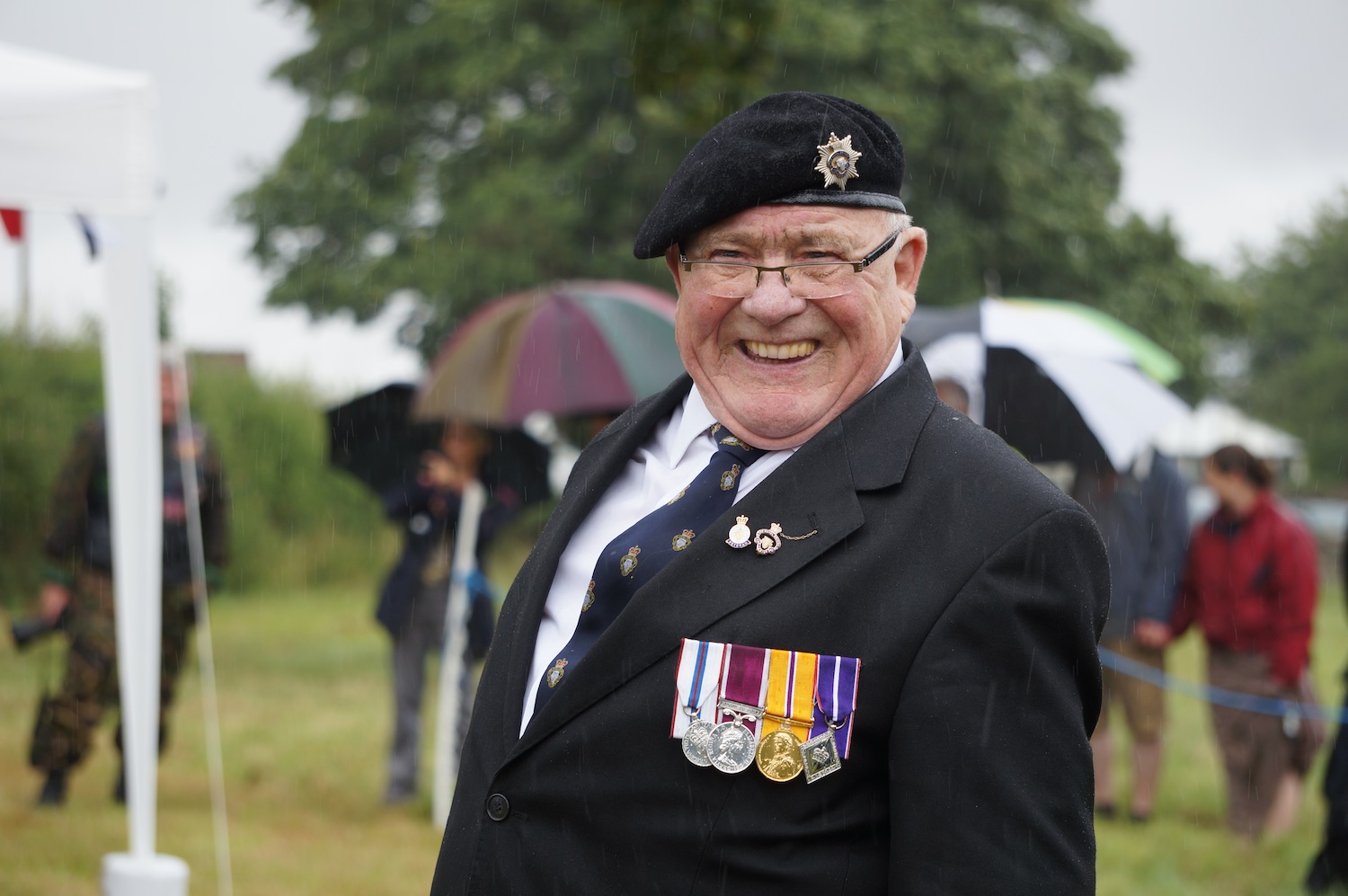 And the days were all long – take day 3: a 6am start as most were. Taunton down into deepest Cornwall, before turning round and heading east, via villages in Dorset and East Sussex before finishing in Kent at 1am. Day 4 was much easier, ending in a Northamptonshire Inn as the kitchens closed for the night and having 'only' got out of bed at 5am.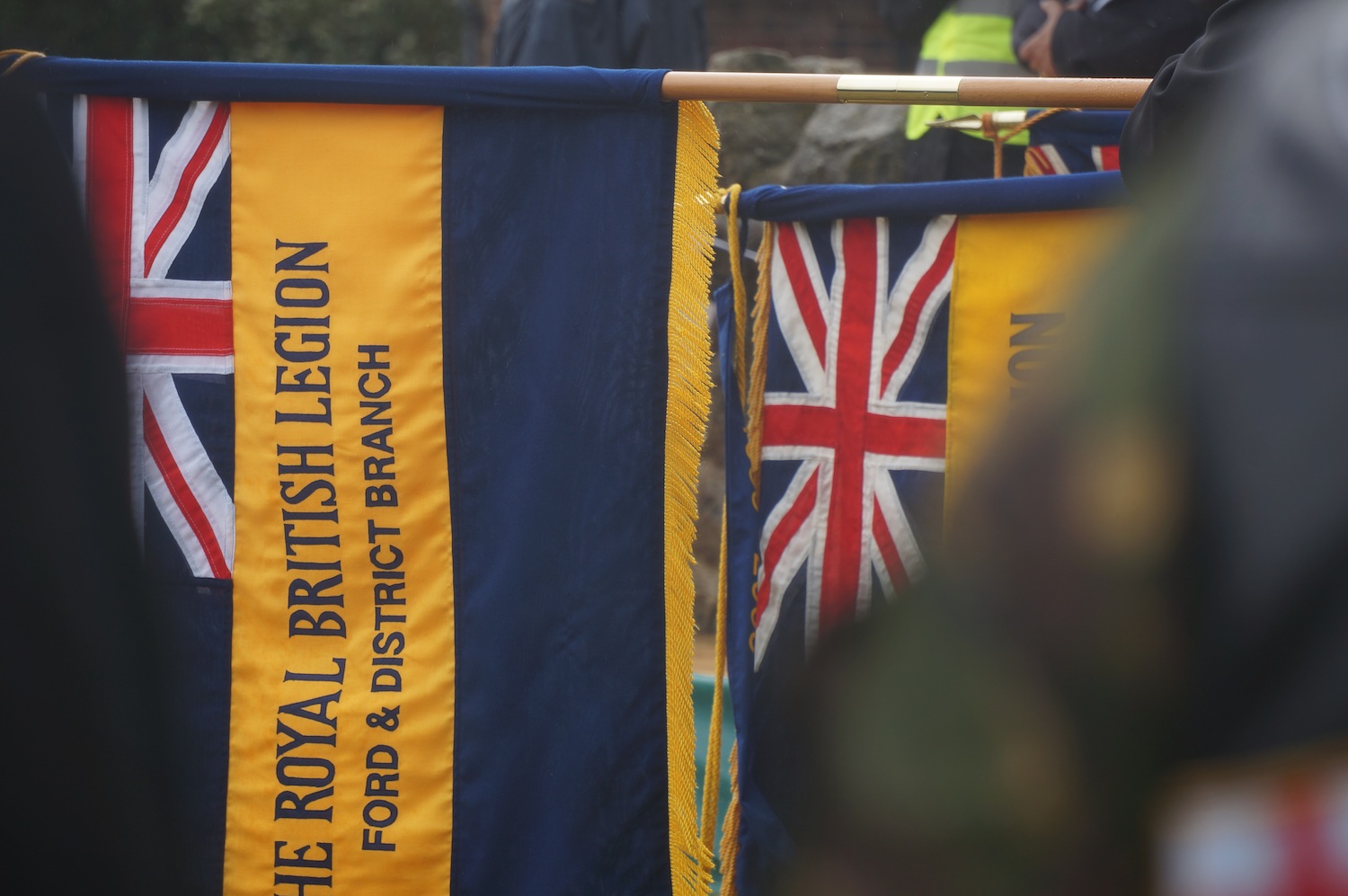 It was relentless and Sat Navs definitely didn't help – but then as an old school courier I would say that. The technology I will bow to was the bike to bike Autocom. The whole project snowballed as the days on the road passed. With more media interest came more media interest. It's a circus. Phone-calls on the move led to arranging live slots on air. Maps were consulted for convenient places to pull over and do an interview, or to rendezvous with a camera crew. Hand signals on the move just don't cut it when the communication gets more complicated than pointing at the fuel tank or making a 'T' symbol, especially when you have to consider that there are fifty bikes strung out in your mirrors.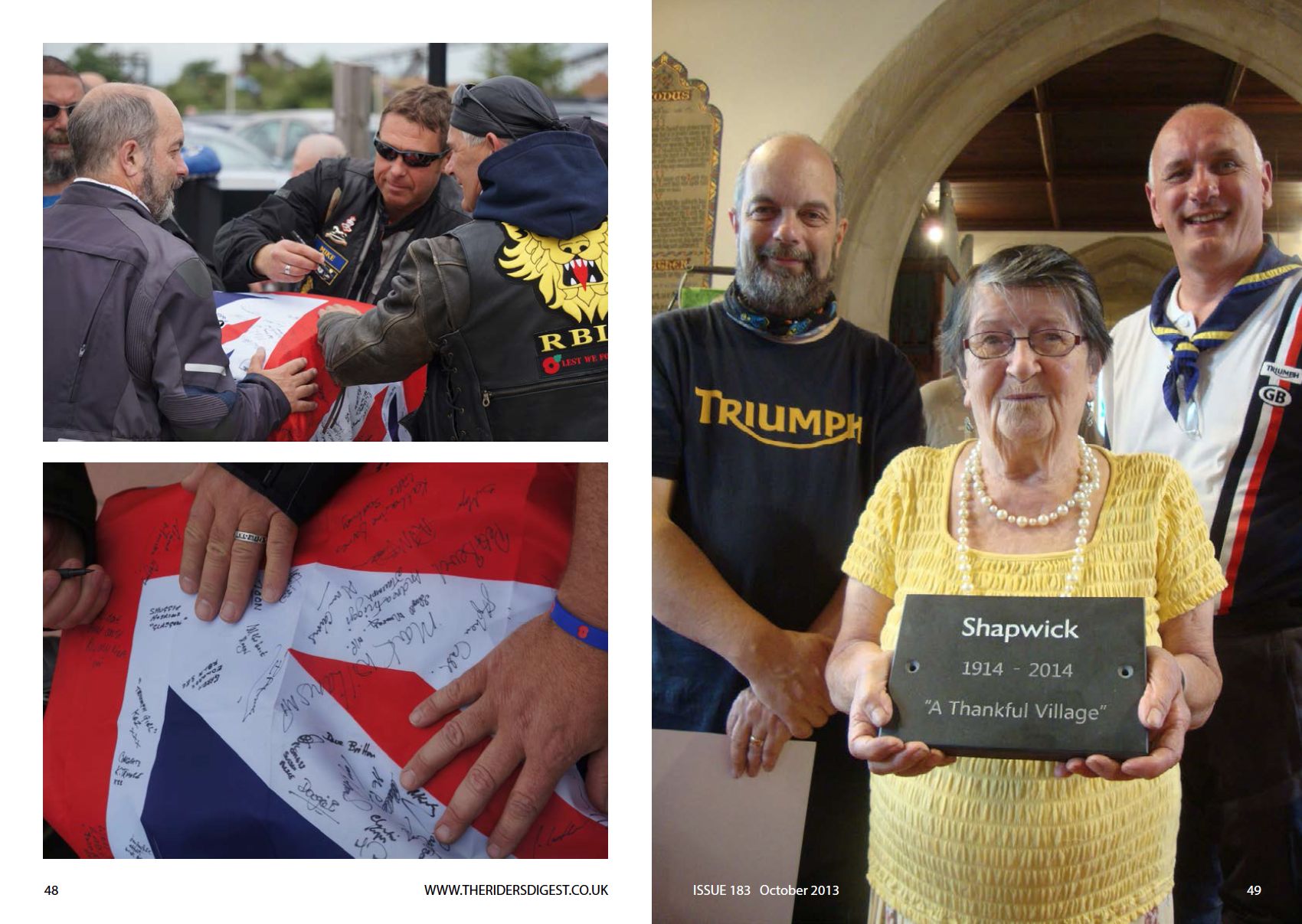 There was no time for relaxed 'T'. Tea happened with cake, even at 7am. Welcoming villagers prepared for weeks, communities pulled together for the event, to greet the lads with their best home-baking and to do their bit for diabetes. Gulps of tea occurred between hand-shakes and speeches, photo shoots and some incredibly moving conversations. The Thankful Villages Run was the catalyst for family members to meet, and generations to learn something of the earlier endeavours of those old guys you'd occasionally ignore in the village. It was the excuse for a party, a village fête and to ride a motorcycle down the steps into the middle of a church service. It was an excuse to smile.
It was a bloody good thing.
It also demonstrated how many parts of the country have no mobile phone signal and just how many parishes now have lady vicars.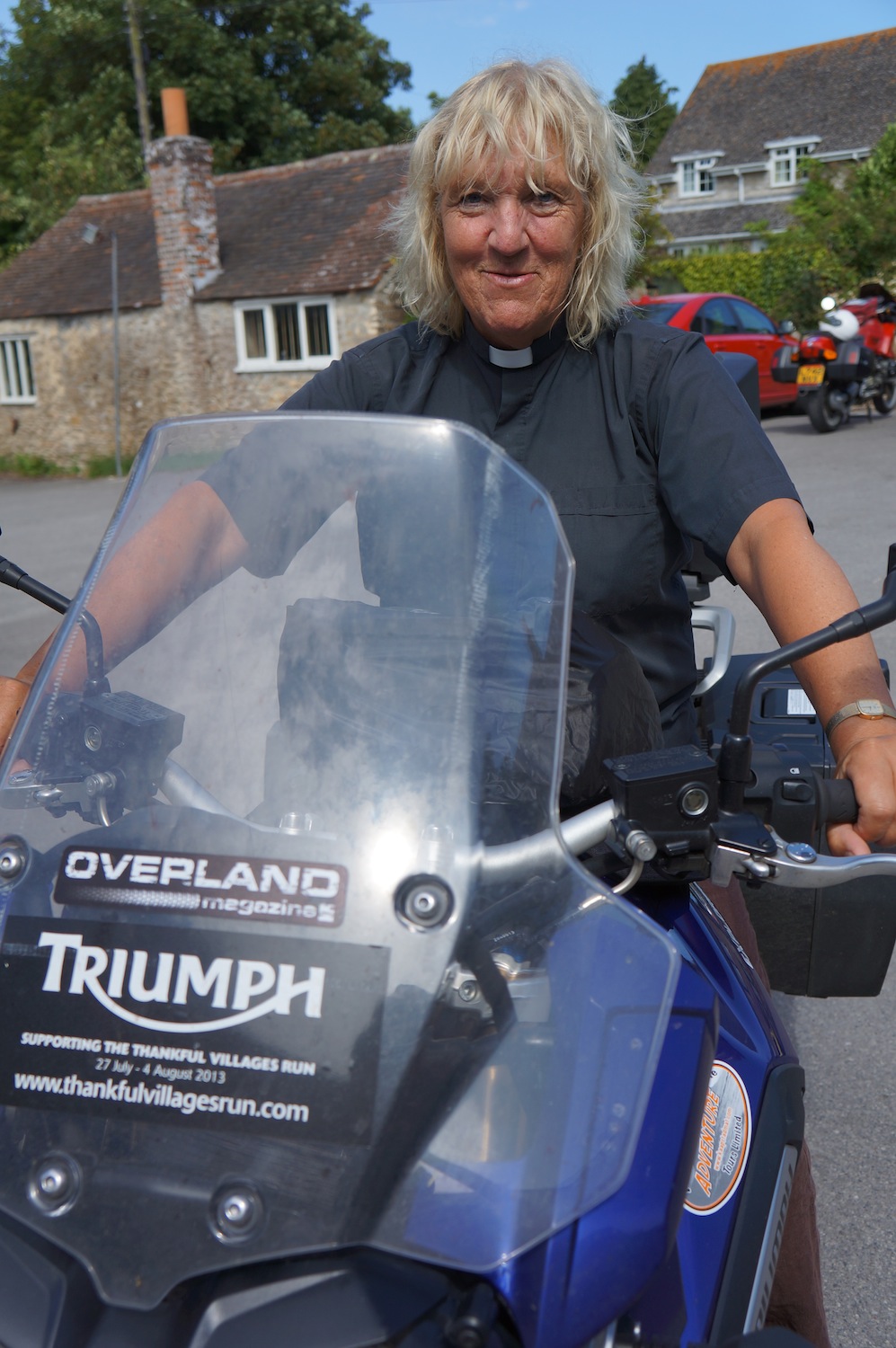 For a few riders there was inconvenience. Paul and Sue from Somerset binned their RF900 breaking the clutch lever among countless other bits, but Tony the RAC man bodged a phenomenal repair and they kept riding. Steve from South Wales dumped his Thunderbird on a grassy lane and Yorkshireman Chris Wallis broke his ankle in one of those weird slow-motion tumbles. So yes there was risk. And giving.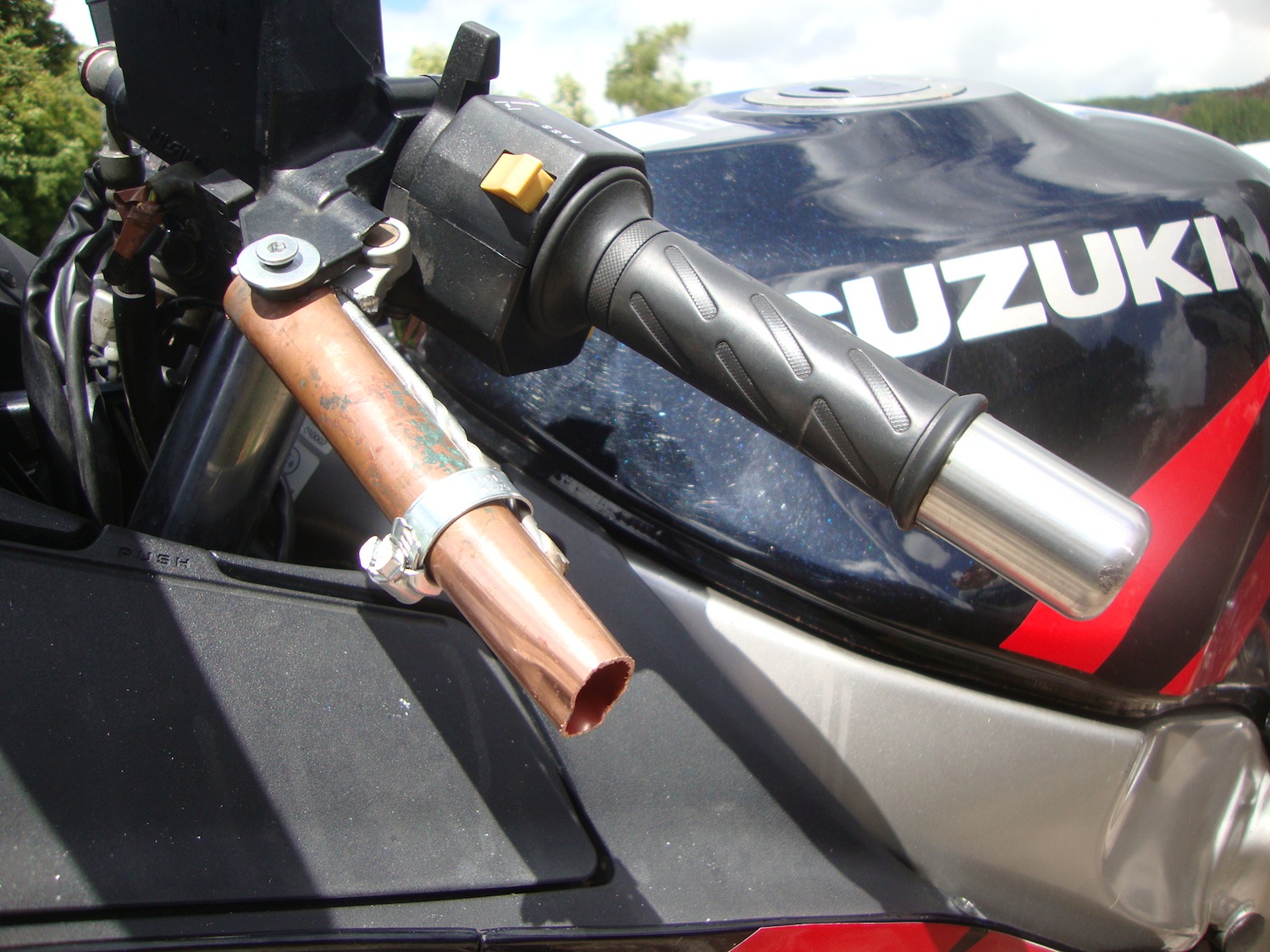 Was it all worth it though? Well you can decide that even now, because Dougie and Medwyn are still accepting donations on the website. You are a rider. You know why you belong to the most altruistic group of road users. The total is still increasing and you can help it to continue to do so; all the soakings, the sleeplessness, the arguments and the laughter should be worth a moment of your time and a few of your pounds.
Paddy Tyson