Read Time:
3 Minute, 56 Second
Millimetres from death
Over the years I've attended a fair number of collisions (there is no such thing as an accident in our game as there is always someone to blame for it, so we deal with collisions) and it's amazing how often life and death is a matter of inches in either direction. For example a security guard who fell asleep driving at night and came off the road: a fence rail punched through the front of the car into the passenger cell, went through his jacket, grazed his side and imbedded itself in the drivers seat! He escaped with no injuries apart from a graze.
On another occasion a motorcyclist brushed down the offside of a car, (almost a head on), causing very serious injuries to his right leg and arm (hospital considered amputation) but a couple of inches to the right and he, and the cars occupants, may have been killed.
Fate obviously has a hand and many things can be out of your control… Many years ago a bus collided with a lamp post, as it was a London bus an unfortunate passenger fell off the rear platform and even more unfortunately the lamp post fell on him, killing him as he laid on the road.
But as motorcyclists we need to think about millimetres, here are some important examples:
BRAKES
New brake pads seem to vary in thickness depending on the manufacture but the average is a little over 4mm.
The UK MOT manual states the following reason to fail:
Brakes Brake linings or pads (other than sintered pads) less than 1.5mm thick at any point (ii) Sintered brake pads less than 1mm thick at any point
TYRES
Most riders realise their bike's sole connection to the tarmac is the thin, pliable hoop of rubber encircling the wheel.
The UK MOT manual states the following reason for motorcycles to fail:
The depth of tread is not at least 1mm throughout a continuous circumferential band measuring at least three quarters of the breadth of the tread.
Where the engine capacity is not greater than 50cc, tread depth may be less than 1 mm, if the tread pattern is clearly visible around the entire circumference and across the whole breadth of the tread.
This means you can ride a motorcycle over 50cc with 1mm of tread. 1mm, which is about the thickness of 12 sheets of 80g printer paper, or of a CD!
When you think that tread on a tyre is for displacing water and read below, it seems crazy to have so little tread.
Water displacement
The first most significant feature is a tread. You can have the stickiest compound in the world, but if you have no tread, wet weather performance will be rubbish. As I'm sure you know, tread patterns break up the layer between the rubber and the tarmac so that aquaplaning is discouraged
Aquaplaning
As a tyre rolls over wet tarmac, a 'wedge' of water forms in front of the tyre. If the tyre rises up on this wedge, contact between the tarmac and rubber is broken, and aquaplaning occurs. By breaking up the surface of the tyre such that there are channels for this water wedge to infiltrate, the tyre is less prone to rising up on it. For a similar reason (like-for-like) narrow tyres perform better in very wet conditions because the tyre is less prone to 'float'.
I was rather hoping for some technical info from more than one manufacturer, comparing the efficiency of water displacement as the tread on a tyre wears, but I have been waiting about seven weeks and it has still not arrived; it would appear that motorcycle tyres are infinitely more complicated than their car equivalents as a consequence of having different compounds in different parts of the tyre, so its not easy to work out… However, needless to say, the more tread you have, the better the water displacement.
When the information is forthcoming I shall pass it on.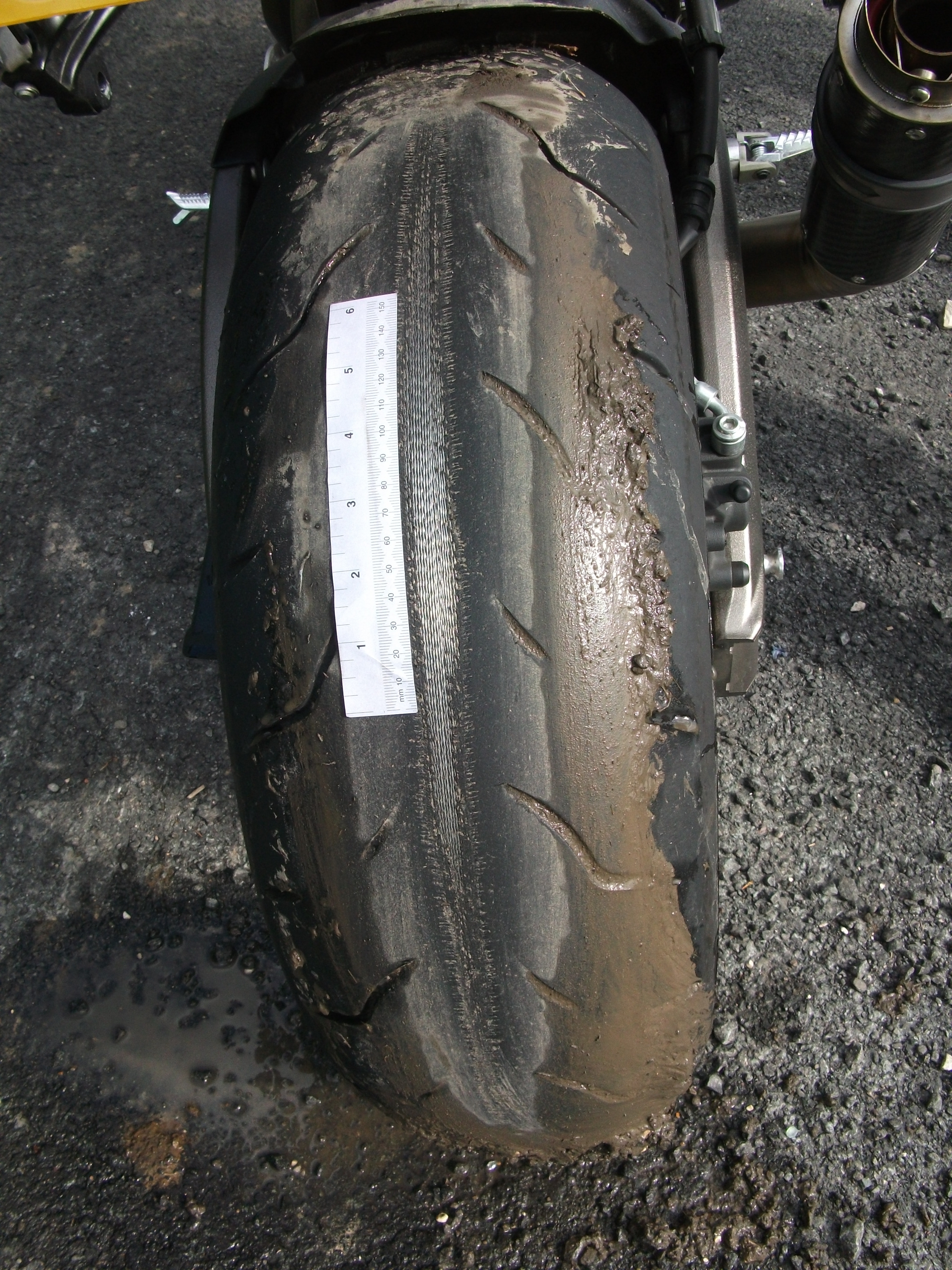 This image was taken a few weeks ago as the bike was ridden through our county (the mud came from the side of a lay by when stopping), not only is there no tread, the tyre is in danger of blowing out as its internal structure is affected.
PC Graham Pierce
If you have a sensible question about the police, traffic law etc., you can email me at askapoliceman@theridersdigest.co.uk or you can ask it via the comment box below (if you are reading this on the new HTML web site) because you can bet your last shekel that if it's been bugging you, someone else wants to know too.