Read Time:
8 Minute, 46 Second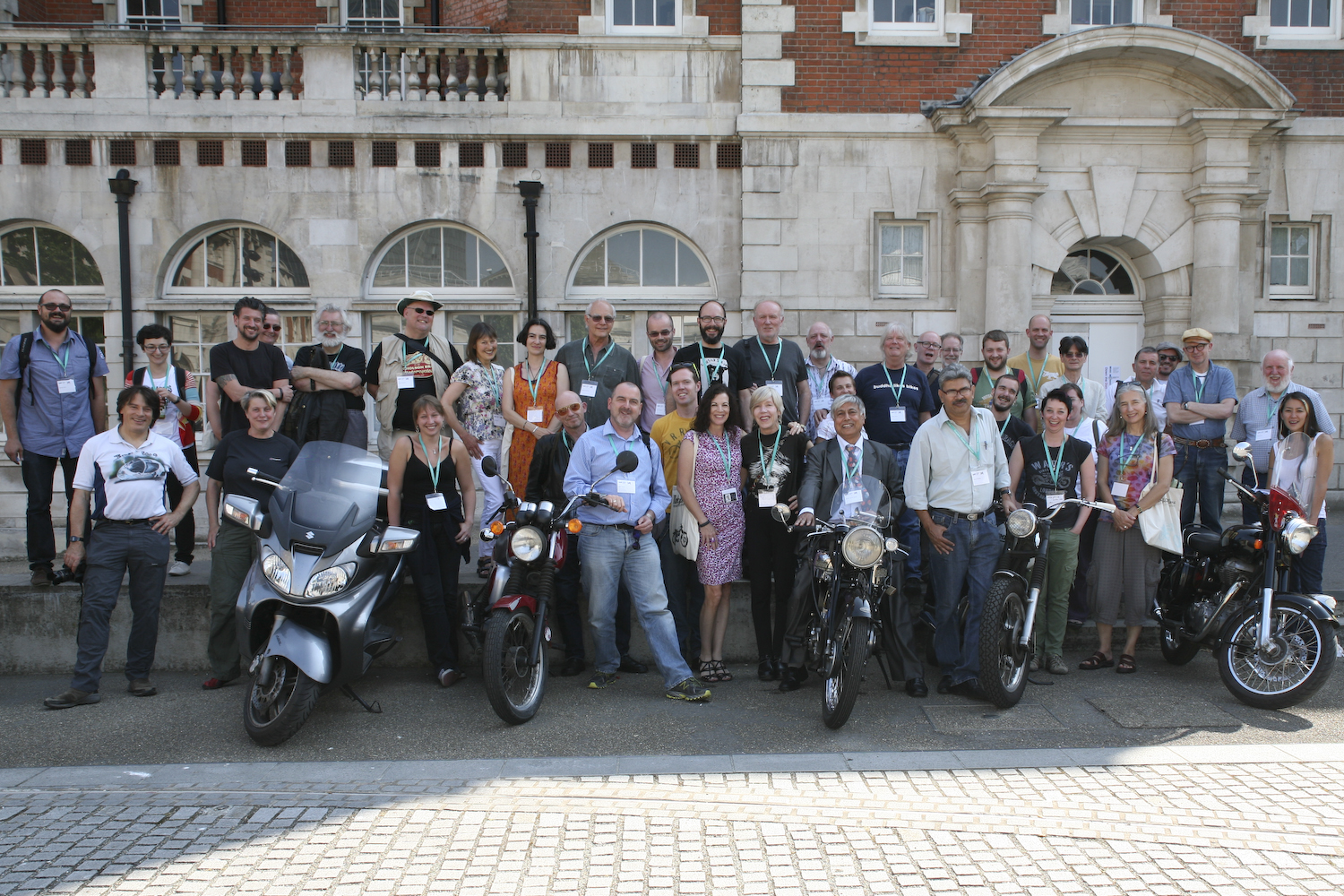 In my report on the Posh Boys' beano in the railway arches (issue 179), I admitted that thirty odd years earlier when I was a courier with a keen sense of social grievance, I might have been less able to enjoy the occasion for what it was. Well any prejudices I might have carried in my youth with regard to the pretensions of the privileged classes, paled into insignificance alongside my antipathy when it came to the rarefied world of academia, an aversion that would have definitely prevented me from attending the Clever Girls and Boys' Club.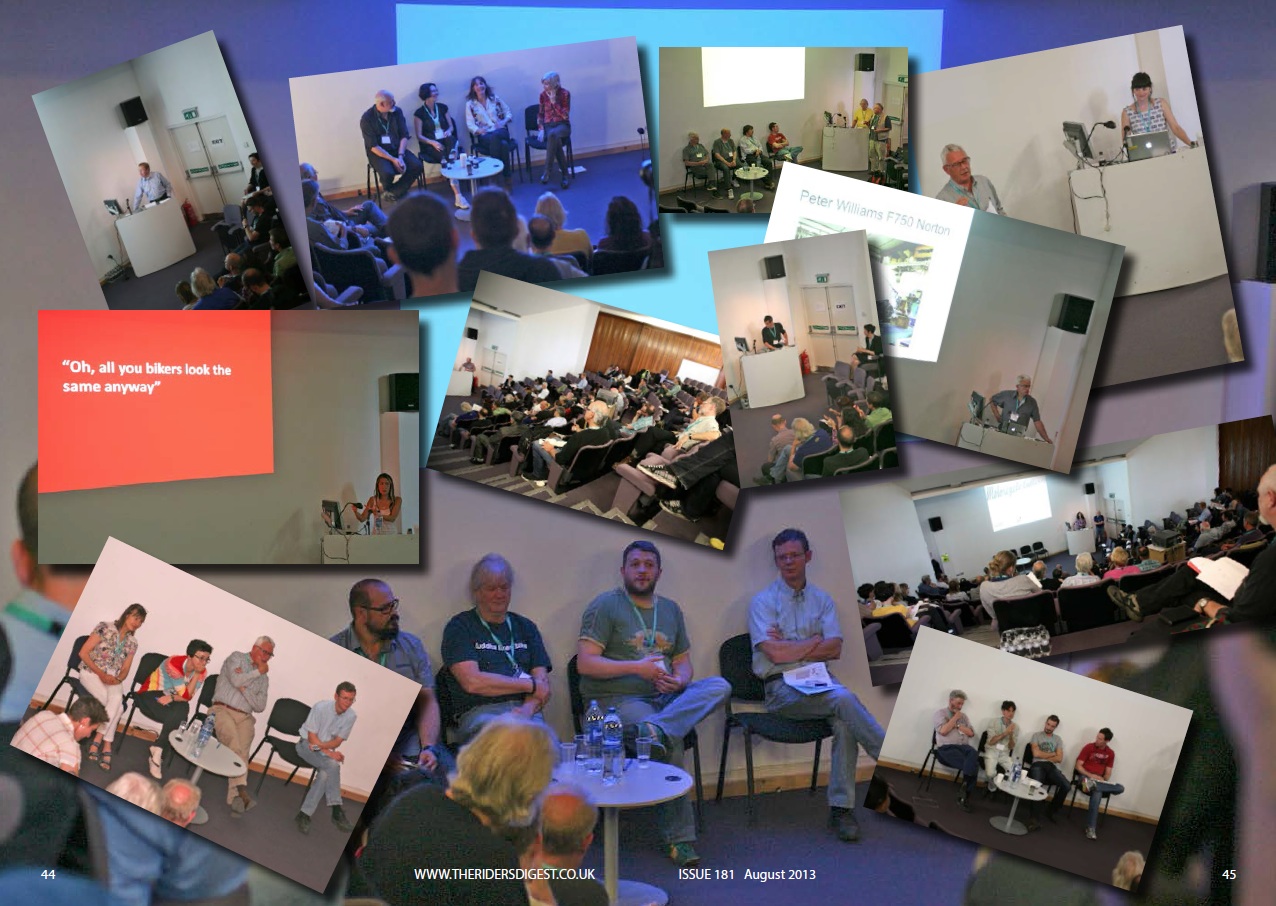 Then again, there wasn't really a lot of danger of my being invited when I was in my twenties. Not that I wasn't a bright boy, but aside from the fact that the International Journal of Motorcycle Studies didn't even exist way back then, I didn't – and still don't – possess a first degree, let alone the Masters that seemed to be the minimum requirement among the other attendees who weren't PhDs or Professors.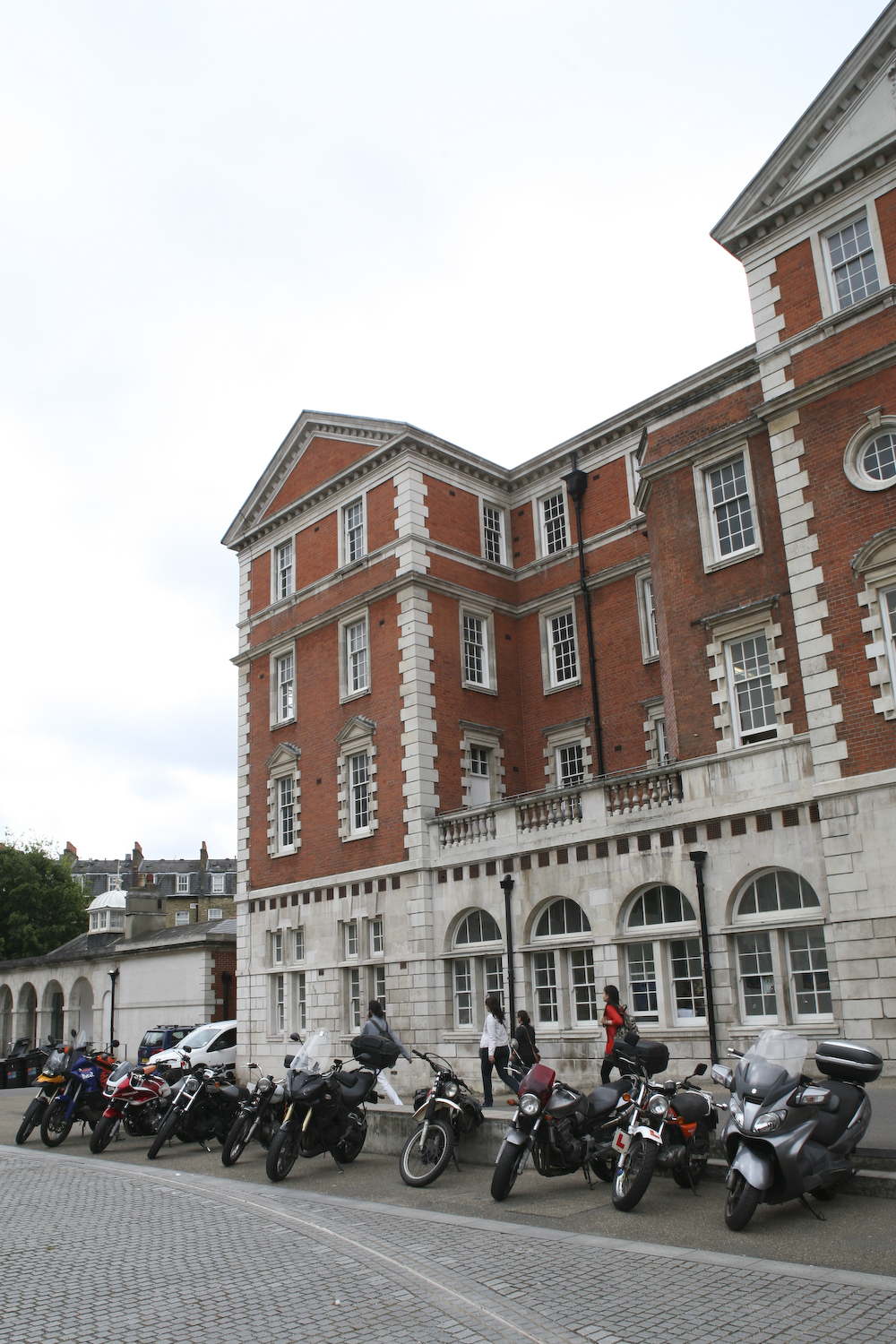 Presumably that's why Jonathan, our New York based cultural attaché and book reviewer, suggested that I should send Blez or one of the Digest's other more scholastic contributors to the 3rd IJMS conference; but there was no way I was going to miss out on gaining a little insight into a world that I'd previously only ever glimpsed from the other side of the educational counter during the three and a half years I spent working as a lab technician at UCL after I left school.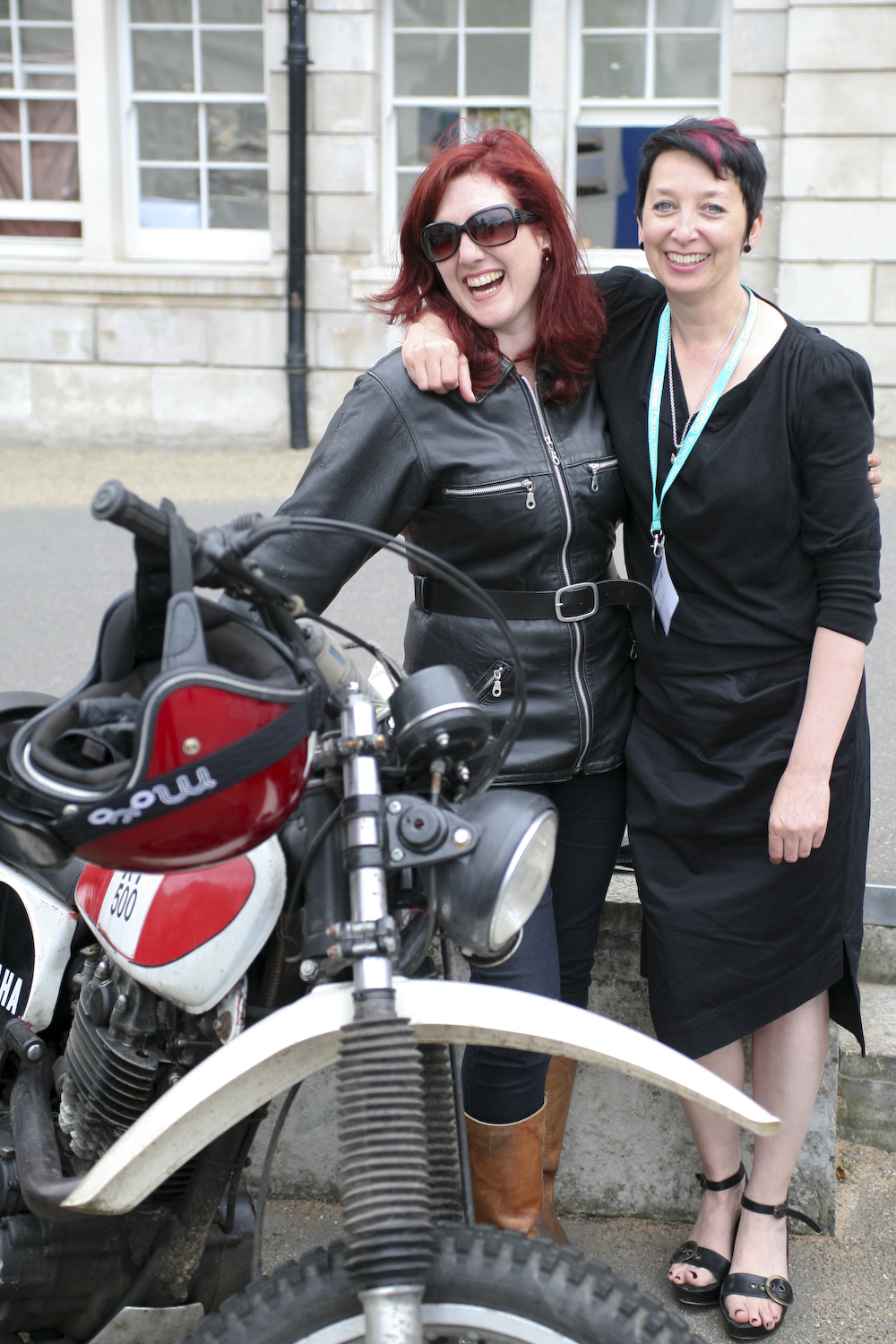 Besides, among the many fascinating topics on the programme (that included such gems as, Immanuel Kant, I Can; Manufacturing Sleaze and Terror: The New English Library Biker Fiction of the 1970s; She's not a fatboy, she's my baby girl: Race, Gender and Motorcycles; and Just Ride: Lana del Rey Authorship and the Language of Biker Culture as Metaphor) I spotted Eryl Price-Davies' presentation entitled, Roger Dodger: Some ideas about Despatch Riding, Cultural Identity, and … Homology? that declared, "The activity of despatch riding, or rather the activities of despatch riders, offers itself/themselves as a curious intersection between a number of discourses. It thus provides fascinating opportunities to explore some of the ways in which a largely leisure-based identity (biker) collide with the world of work, and to examine the detritus of the ensuing collision in homological terms. Now largely supplanted by the rise of information technology, 30 years ago despatch riding was a hugely popular way for bikers to turn their love of motorcycling to their economic advantage. This presentation will explore some of the connections and tensions that arose—with reference to historical accounts, and participant observation."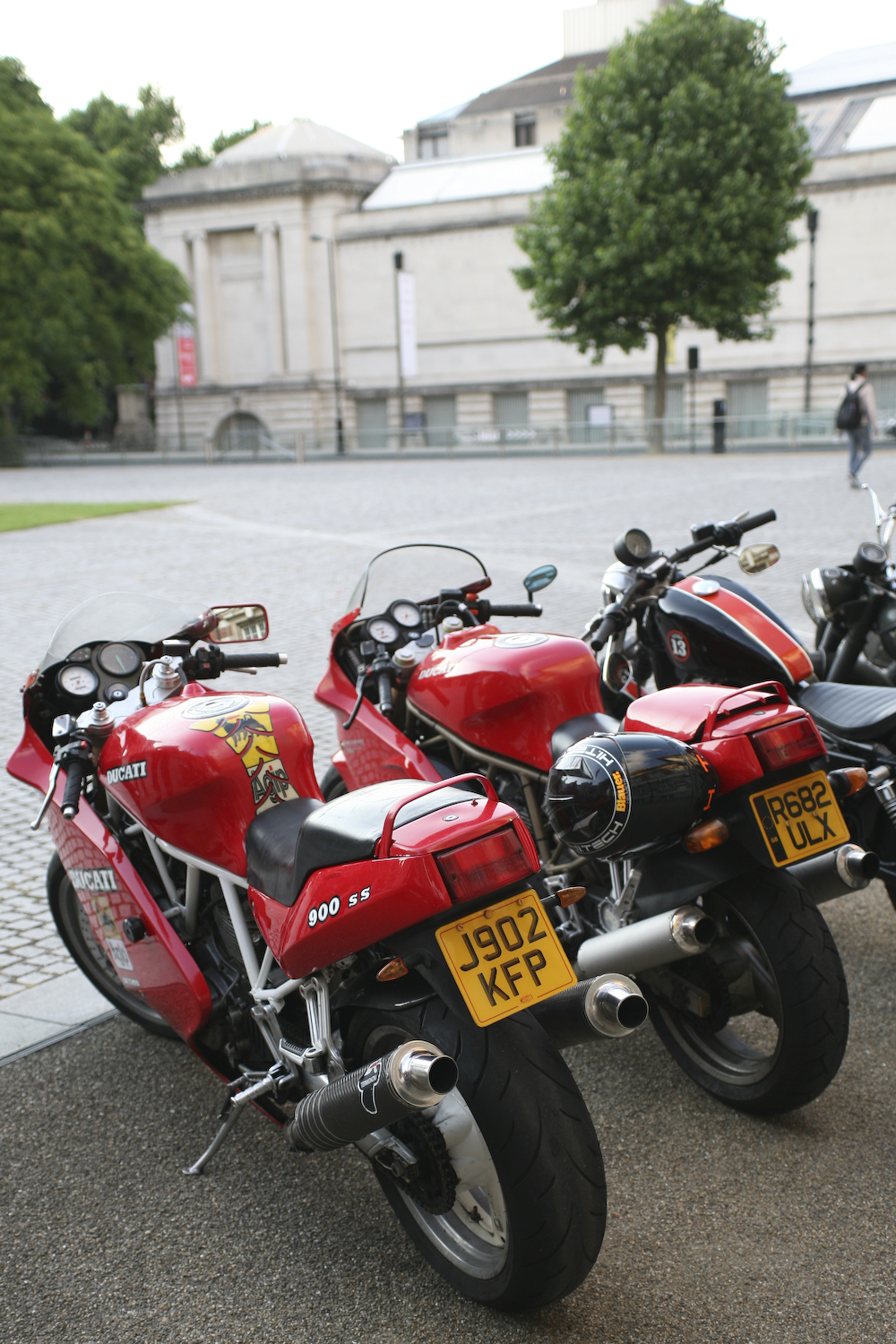 "Historical accounts and participant observation!" if he'd mentioned "hysterically funny" too,  he could have been describing The Carin' Sharin' Chronicles! I grabbed my wife excitedly and outlined my plan to cannibalise my book,  chopping out all the funny bits,  replacing straightforward words like 'example' with more esoteric options like 'paradigm',  bunging in a little discourse analysis,  "The codification of communications between controllers and couriers" should cover it,  provide references,  "Life is like a pubic hair on the side of a toilet bowl… sooner or later you get pissed off." Aussie Pete (1981) and Robert's your mother's live-in – it'll be a piece of piss to pick up a Masters from a fancy shmancy university (rather than one of the crap ones that was a Polytechnic when I left school!). She simply gave me that look.
The Chelsea College of Art is next door to the Tate Old Fashioned in Pimlico and having put issue 180 to bed just a couple of days earlier after over a week of total lockdown, it felt great to be out and about and riding rapidly through heavy traffic in glorious sunshine.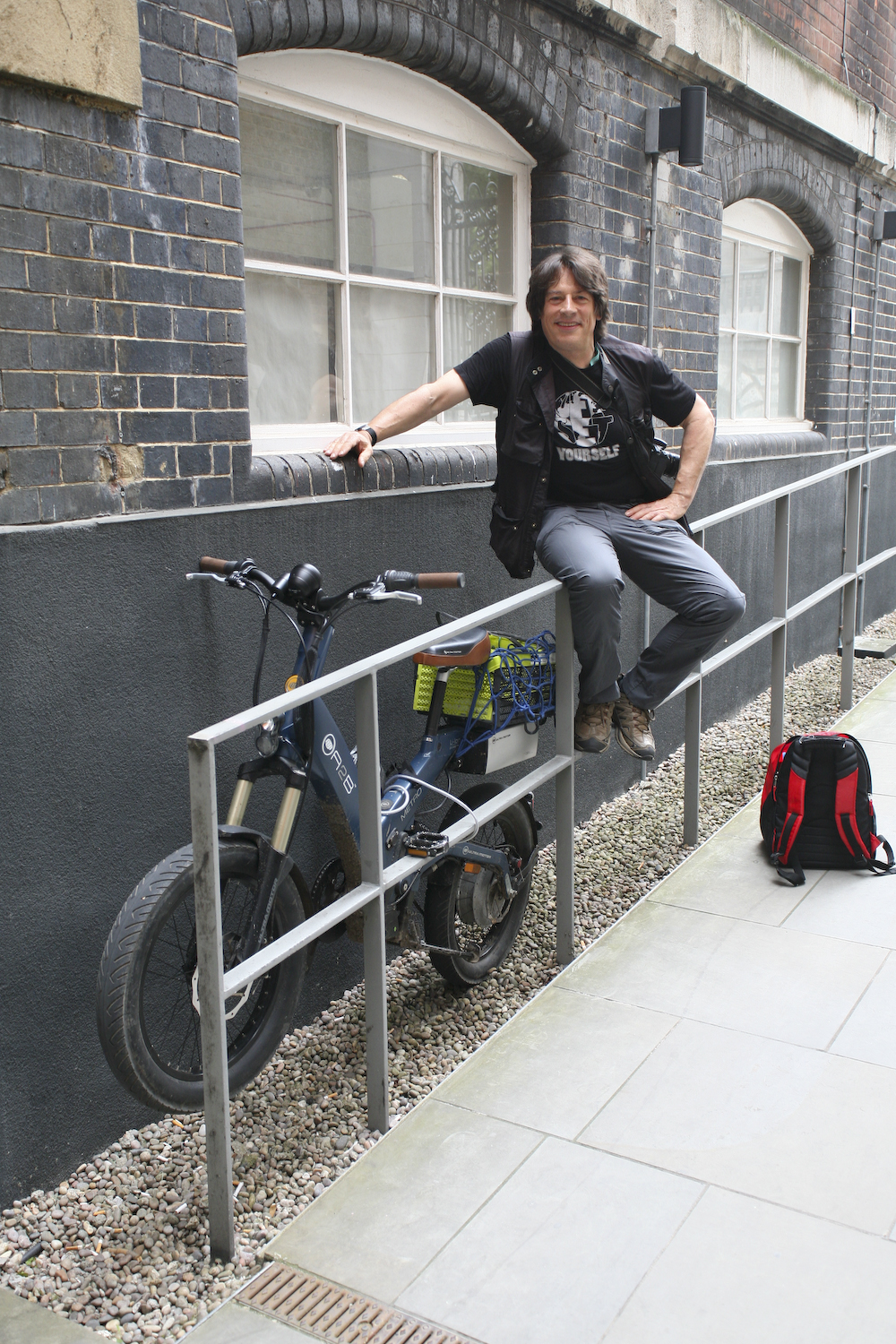 After a welcome from Prof. Chris Wainwright (Pro-Vice Chancellor Chelsea, Camberwell and Wimbledon colleges, UAL) Prof. Suzanne Ferriss & Prof. Steven Alford (both of the Nova Southeastern University and the IJMS) and the conference organiser Caryn Simonson, the lovely Lois Pryce presented a thoroughly entertaining overview of the African adventures she wrote about in her wonderful second book.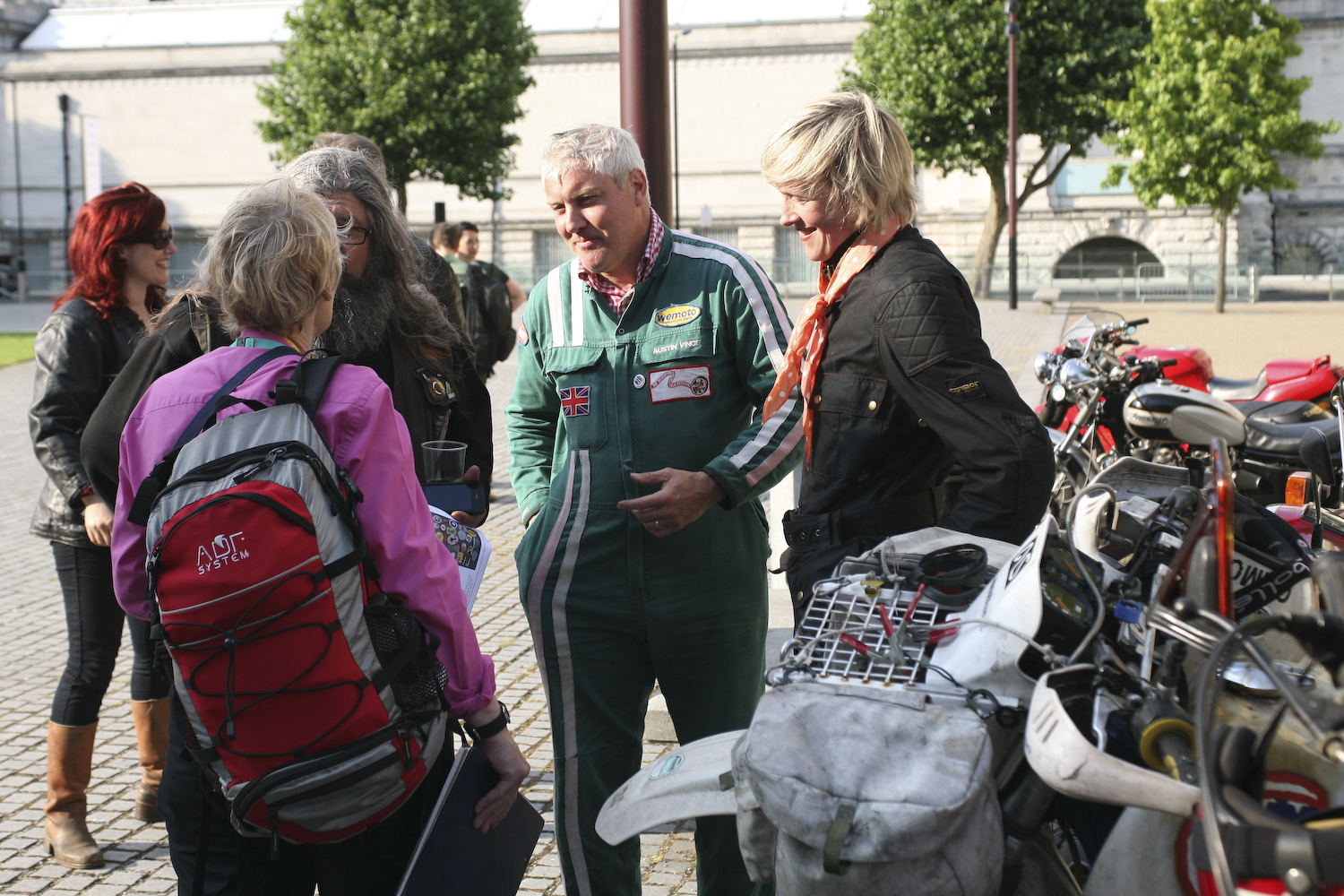 Red Tape & White Knuckles describes some amazing escapades and Ms Pryce is clearly well practised at talking to large audiences because she kept the whole room enthralled with her tales of derring doing, which as Sergio Fava observed when he came to the lectern after her, made her an incredibly tough act to follow. She was indeed and she set a high bar for the rest of the conference.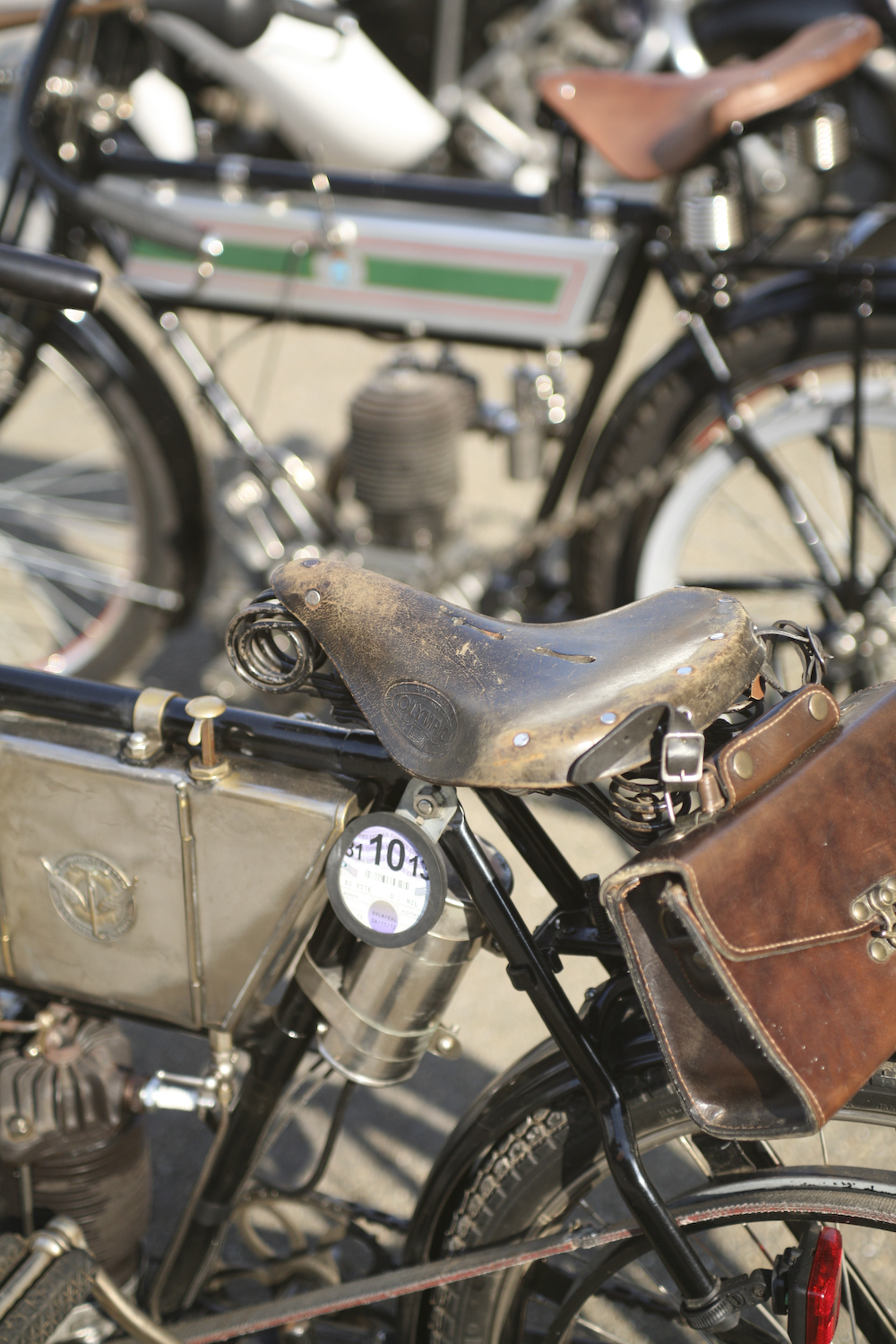 And how did the people who followed her shape up? Aside from the two keynote speakers – Lois and Ellis Pitt of Mac motorcycles (who provided a very interesting 'street view' of motorcycle culture) – and a screening of Miguel Grunstein's fascinating non-verbal short film, "Absolutely Nothing, Next 22 Miles… A Fugue for Motorcycle" last thing on Friday, the rest of the speakers were divided into 'panels' of four whereby they each had a twenty minute slot to present their take on the theme, before coming together for a twenty-five minute Q&A session at the end.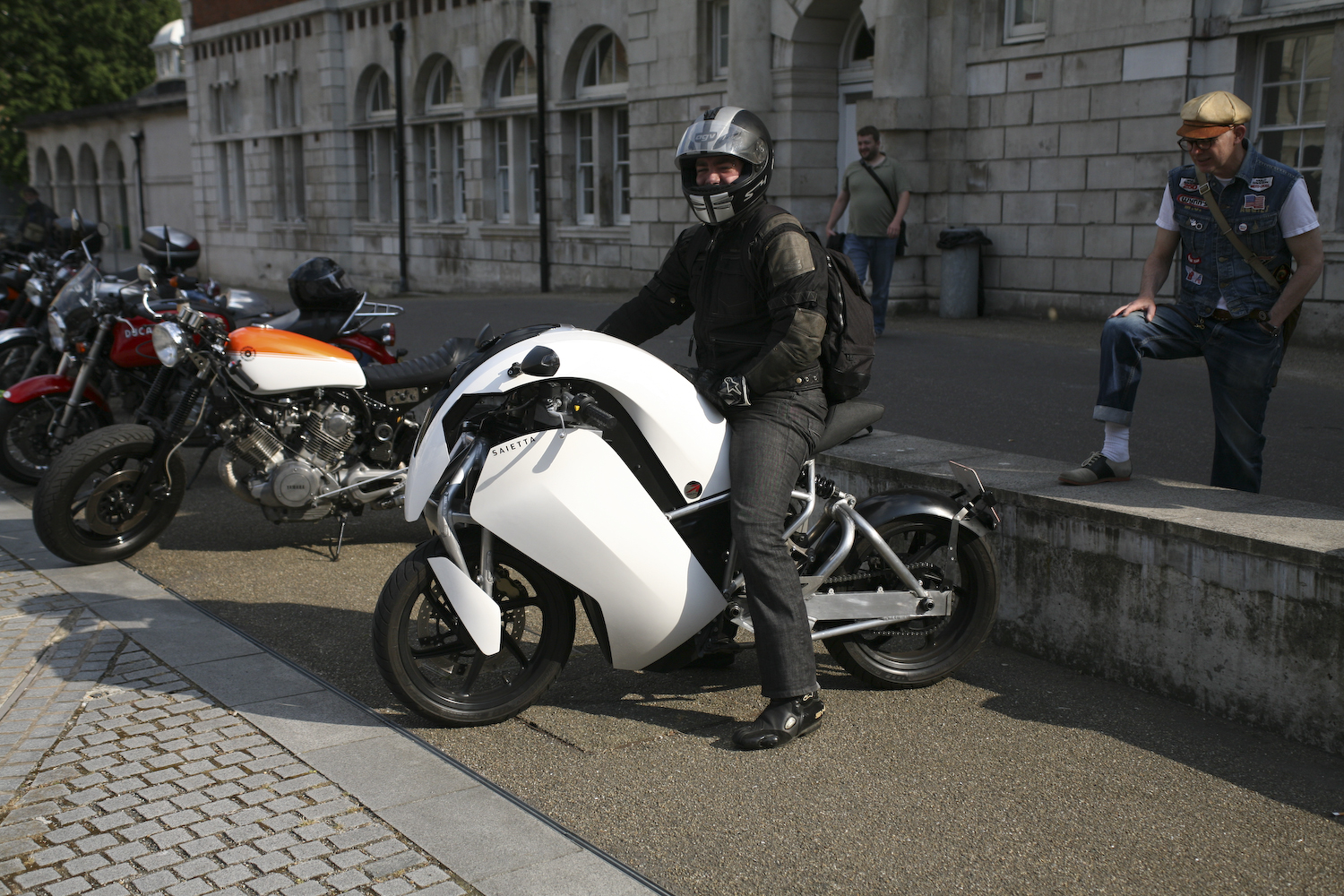 The subjects the panels covered over the three days of the conference were, Journeys, Fashion, Image, Racing, Machines, Health & Safety, Social Politics, Sex/Gender, and Literature/Music; and while the individual members tended to present their own perspectives on the topic, it was generally pretty obvious why they grouped together. The notable exception however, was Eryl's "…ideas about Despatch Riding", which unaccountably turned up on the 'Image' panel. Surely there has never been an area of motorcycling that is less image conscious than the Despatch industry? (Unfortunately I unavoidably missed out on hearing Eryl speak so I'm none the wiser as to how the most utilitarian group of motorcyclists I can imagine made it into a panel alongside a couple of discourses about bikes in the cinema and another on the subject of 'soft marketing'.)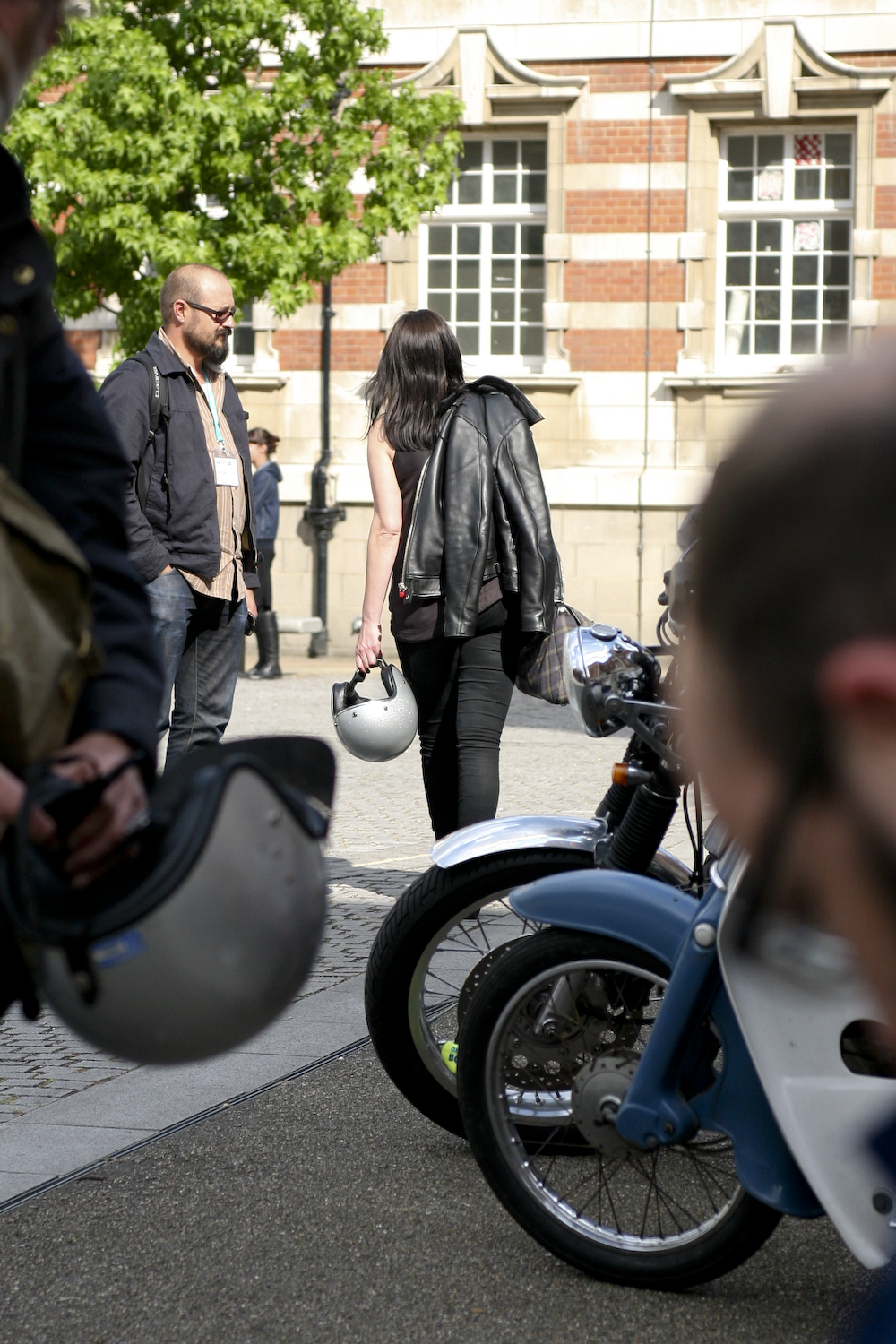 The three days the conference spanned at the beginning of July were the beginning of a heatwave so it was stiflingly hot in the lecture theatre. Consequently each panellist's ability to make an interesting point and deliver it in an engaging manner was put to the test as they fought against the soporific effect the heat was having on their audience. The capacity to do so varied considerably from speaker to speaker and seemed to have nothing whatsoever to do with their relative academic seniority.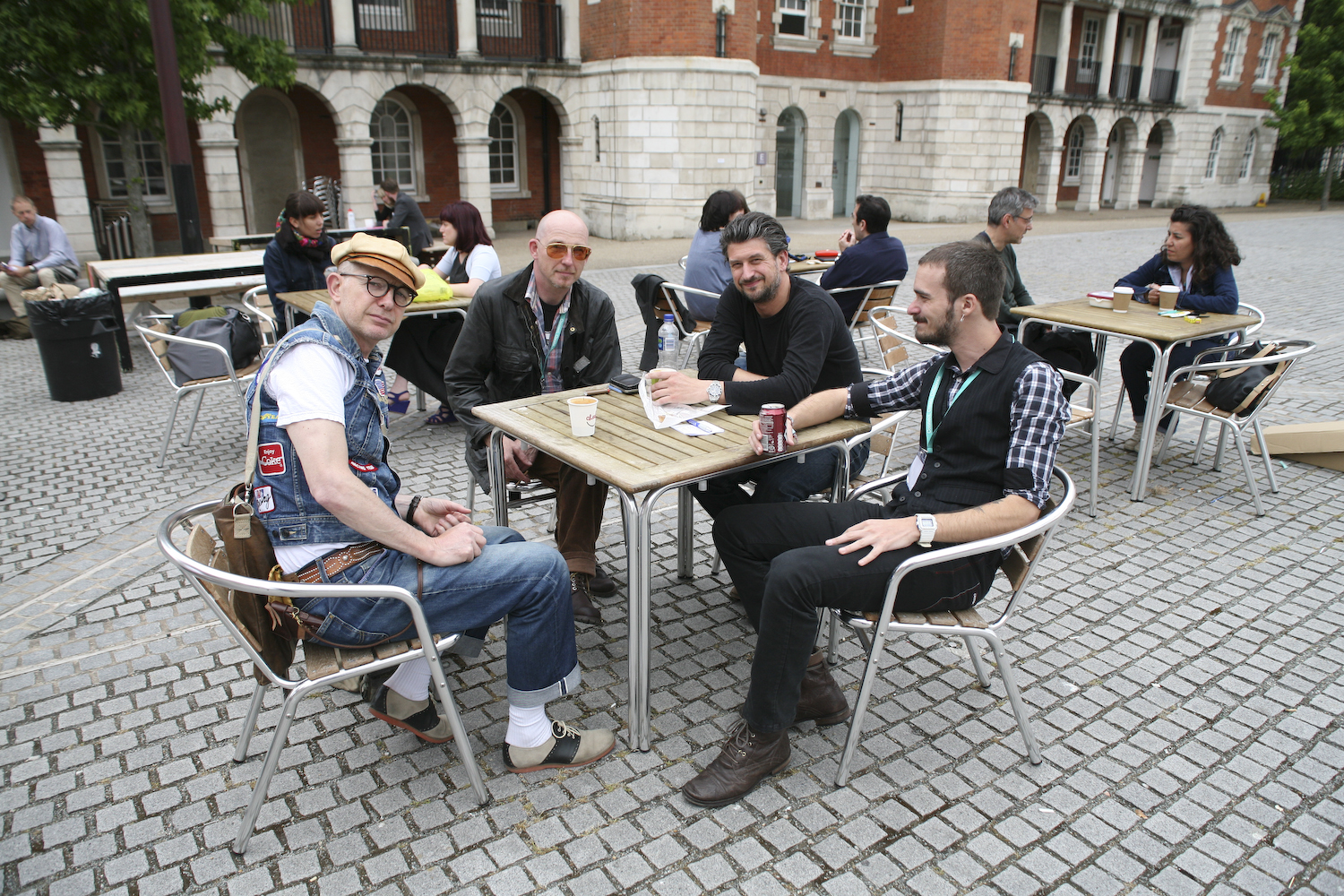 I won't name and shame any of the more somniferous presenters, suffice to say though that a few of them reminded me of the very worst teachers from my schooldays and by the time some of them had finished droning on, I was grateful that they didn't have blackboard erasers to chuck at my head to wake me up!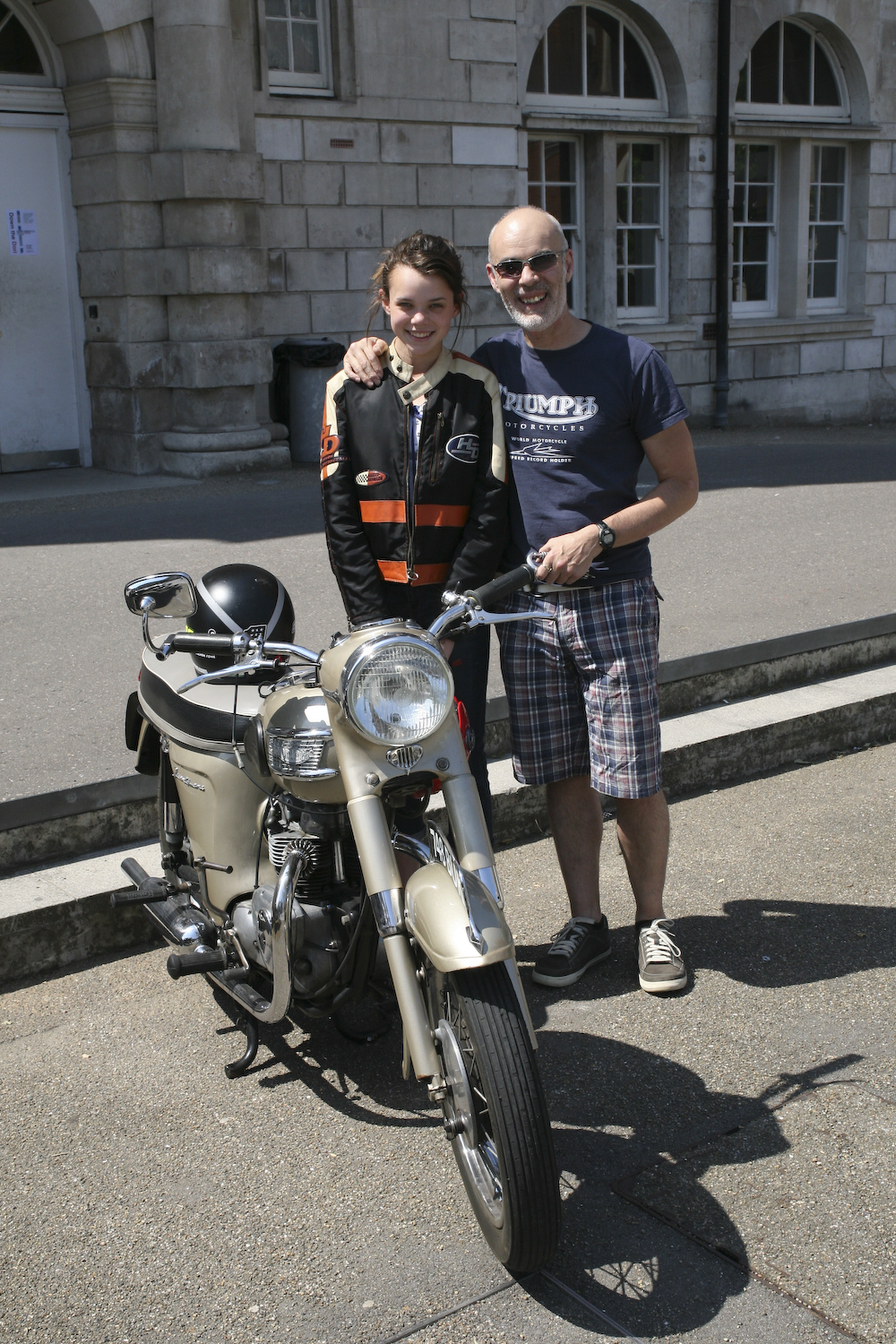 On the other hand there were standouts like Catrin Webster who used her paintings to illustrate a couple of her journeys – one comparatively short and routine, the other to Rome and back; Emmanuelle Dirix, whose witty dissection of Lana Del Ray Ride video proved to be both illuminating and entertaining; Loukas Mexis, a young Greek PhD who served up a great plug for his novel Flat Track (before almost committing academic suicide later by proudly admitting to male chauvinism when a Sex/Gender panellist put the question to the audience); father and daughter Barry & Kim Coleman, who delivered a riveting twenty minutes on Riders for Health; David Kendall whose examination of The New English Library Biker Fiction of the 1970s gave me a real flashback to my teens; and our very own Blez, who attempted – once again – to convince the conference that riding with your feet in front of you, is the only way forward.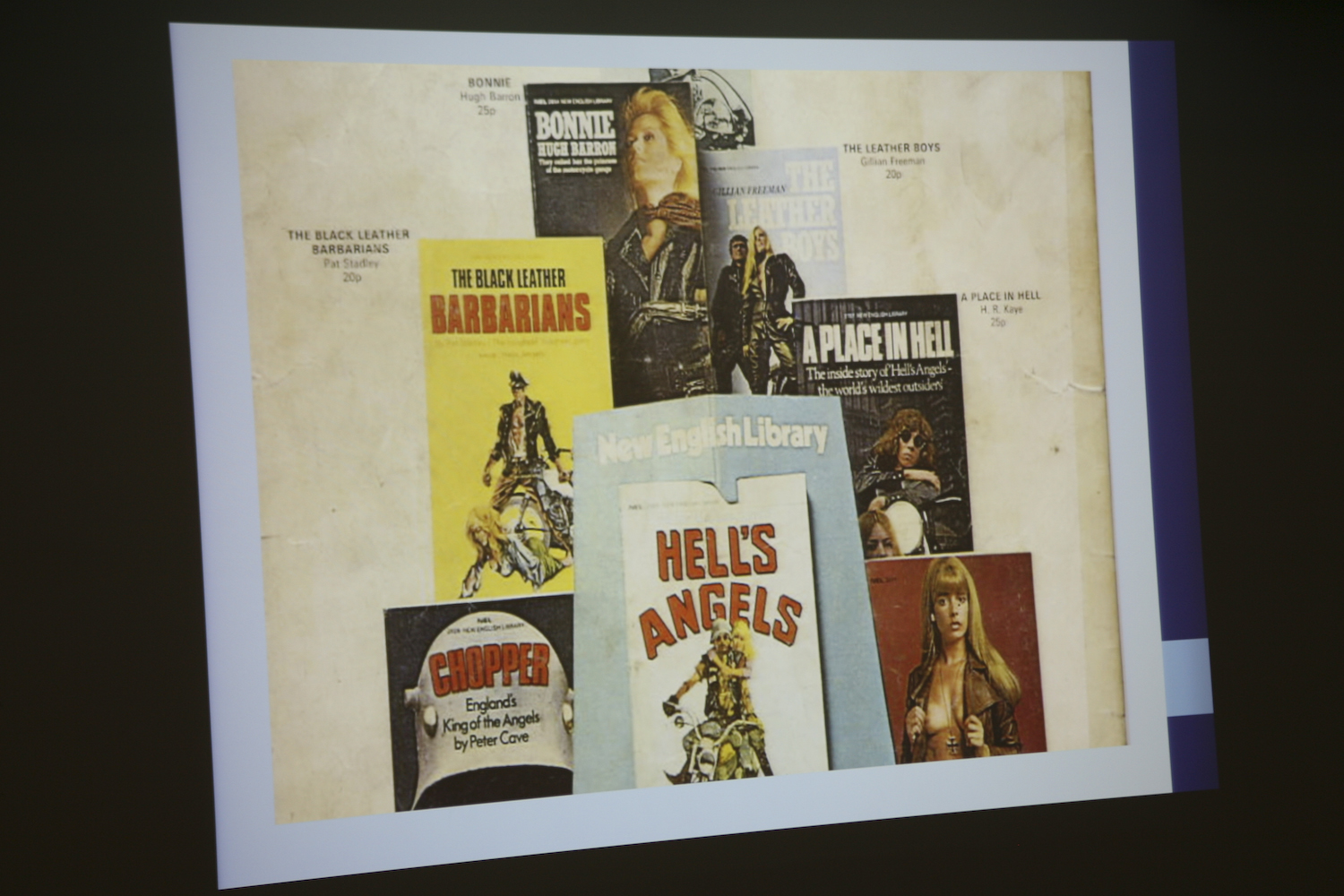 I must also mention Nicholas Biebuyck because he not only spoke on two panels covering both the aforementioned 'soft marketing' and then the mind-blowing Advanced Biomaterials for Pro Poor Transport: A Powered Two-Wheeler Made from Grass, but he also gave me a brilliant plug by reading out a couple of quotes from my book before holding it up and telling everyone what a damn good read it was!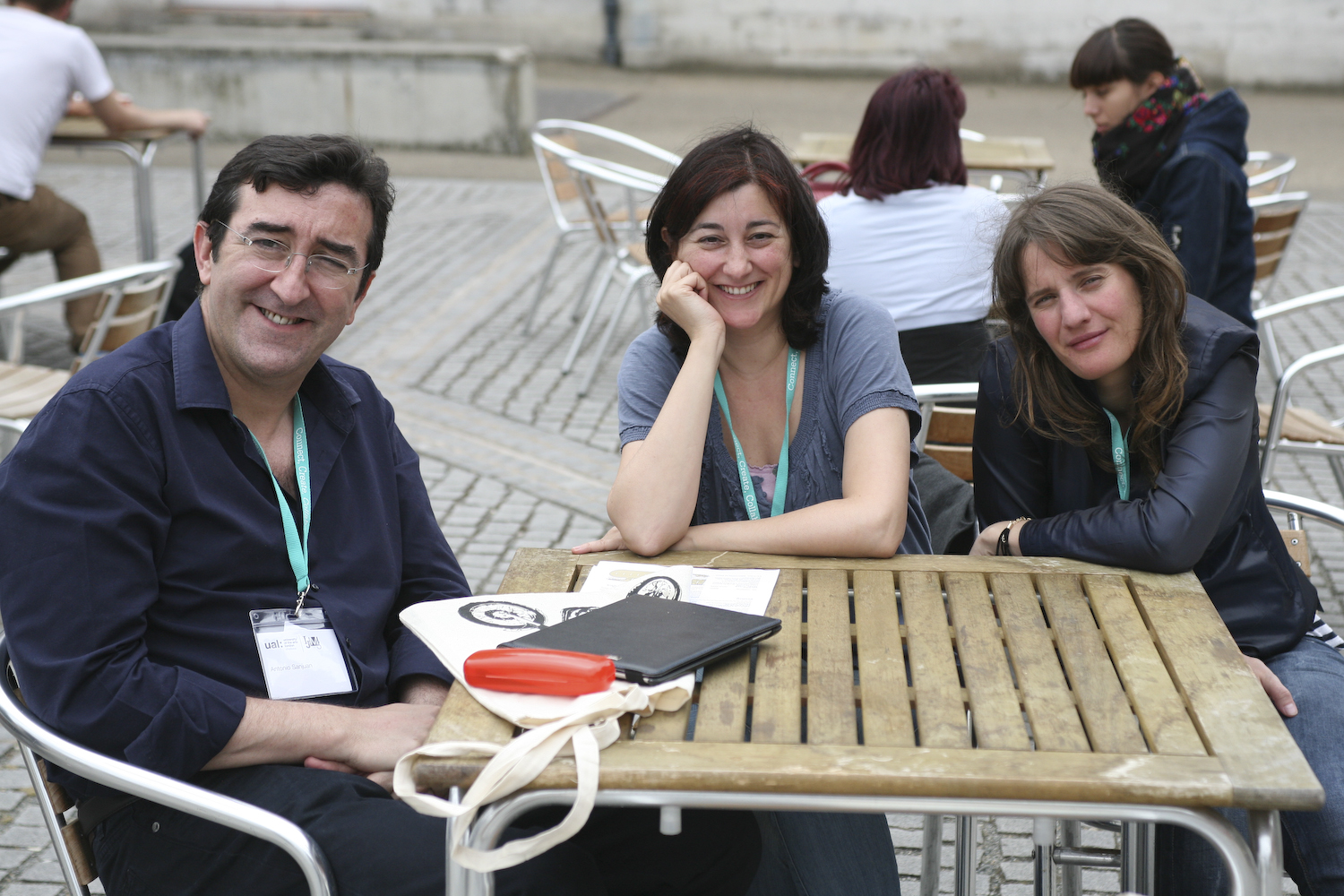 The discussions in the lecture theatre were obviously the main focus of the conference but, as is always going to be the case when you assemble a large group of motorcyclists together, the casual conversations in the breaks can be every bit as illuminating and a lot more fun, and it was great to meet and talk to other riders from around the world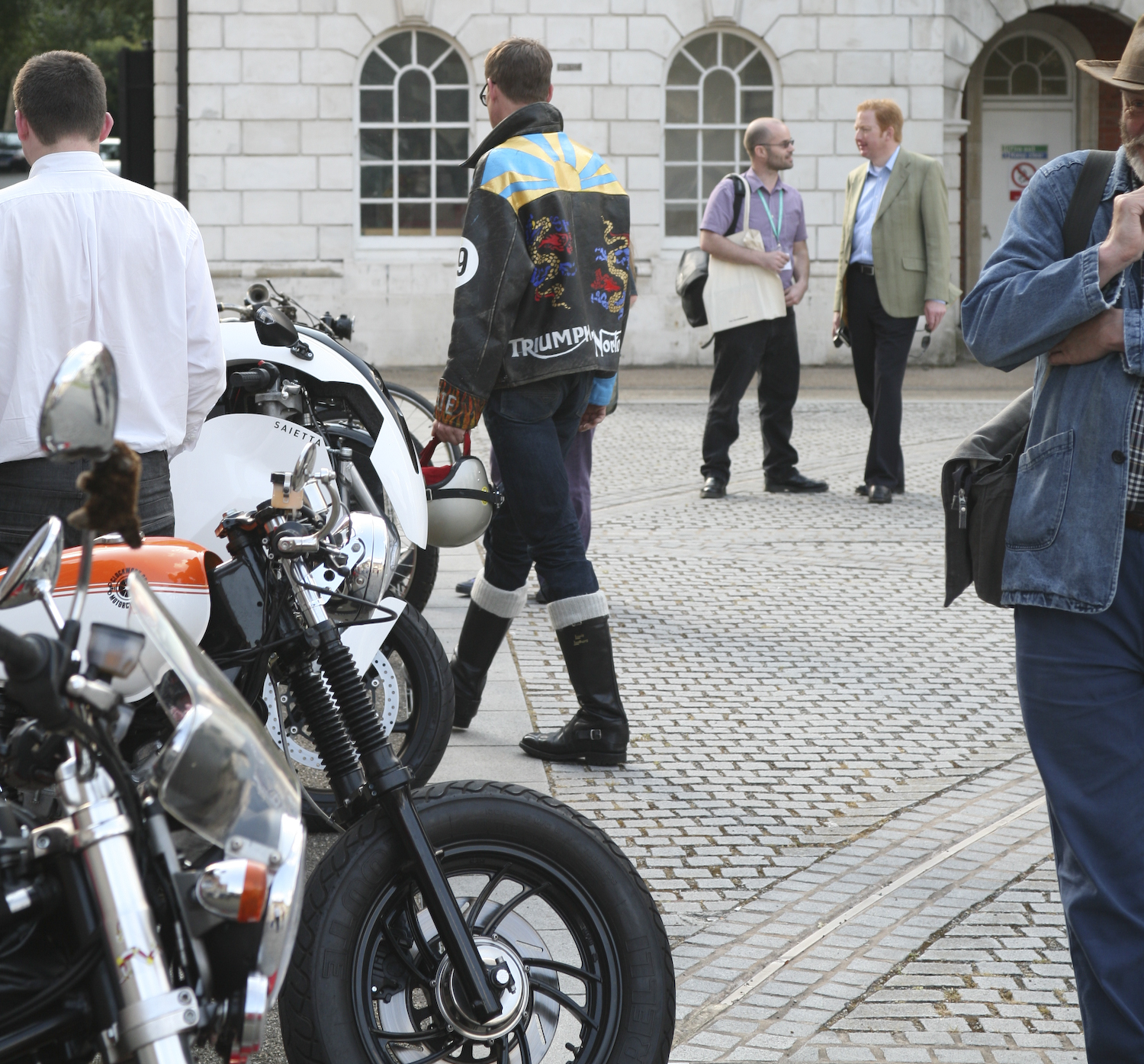 Then there was the exhibition in the Triangle Space, Motorcycle Cultures: Fashioning Bikes, Building Identities, which opened on the Thursday evening. Visitor numbers swelled steadily from about 5:30pm, as a stream of bikes – many of them works of art in their own right – arrived and parked around the parade ground, thus turning the art college into an impromptu summer evening bike meet.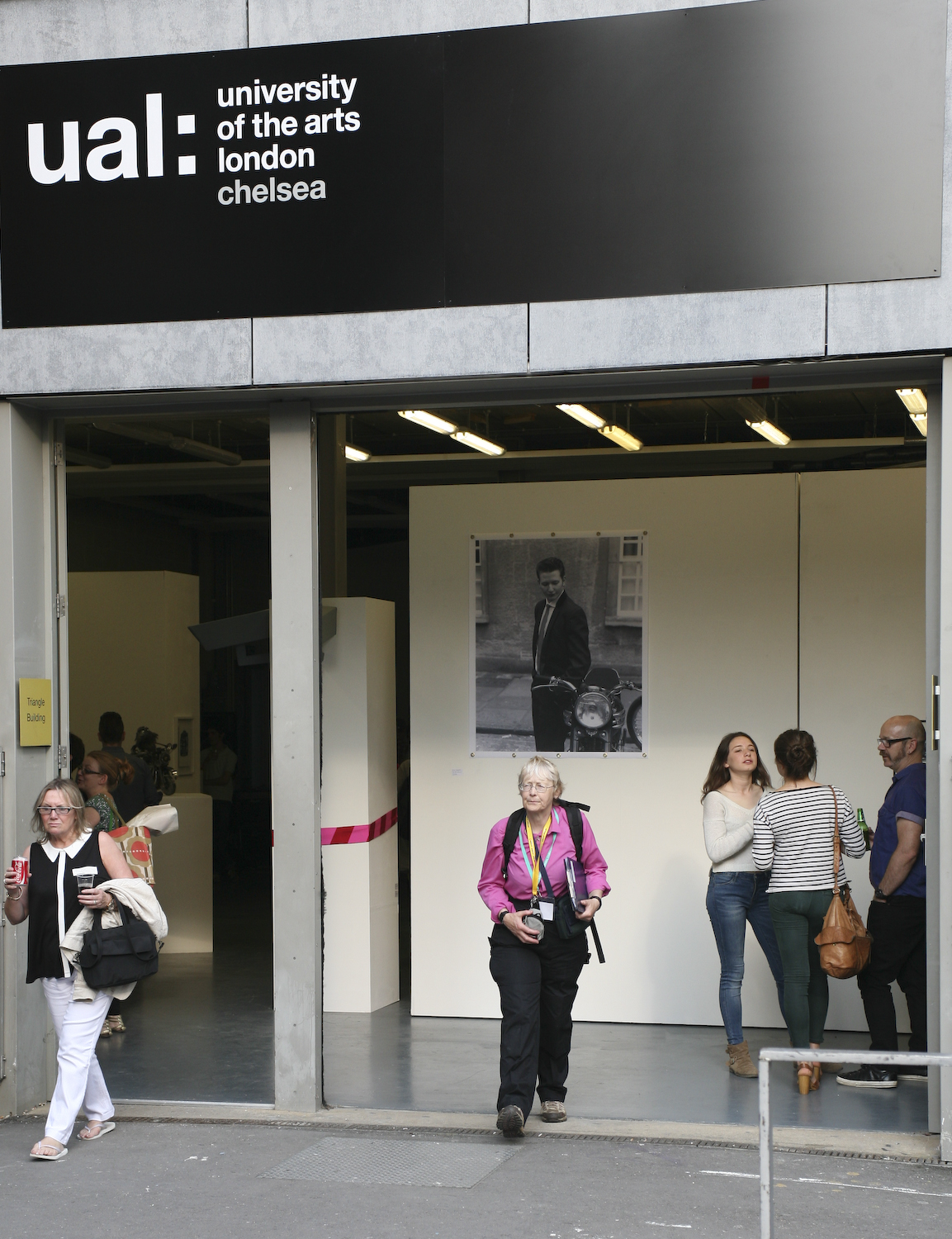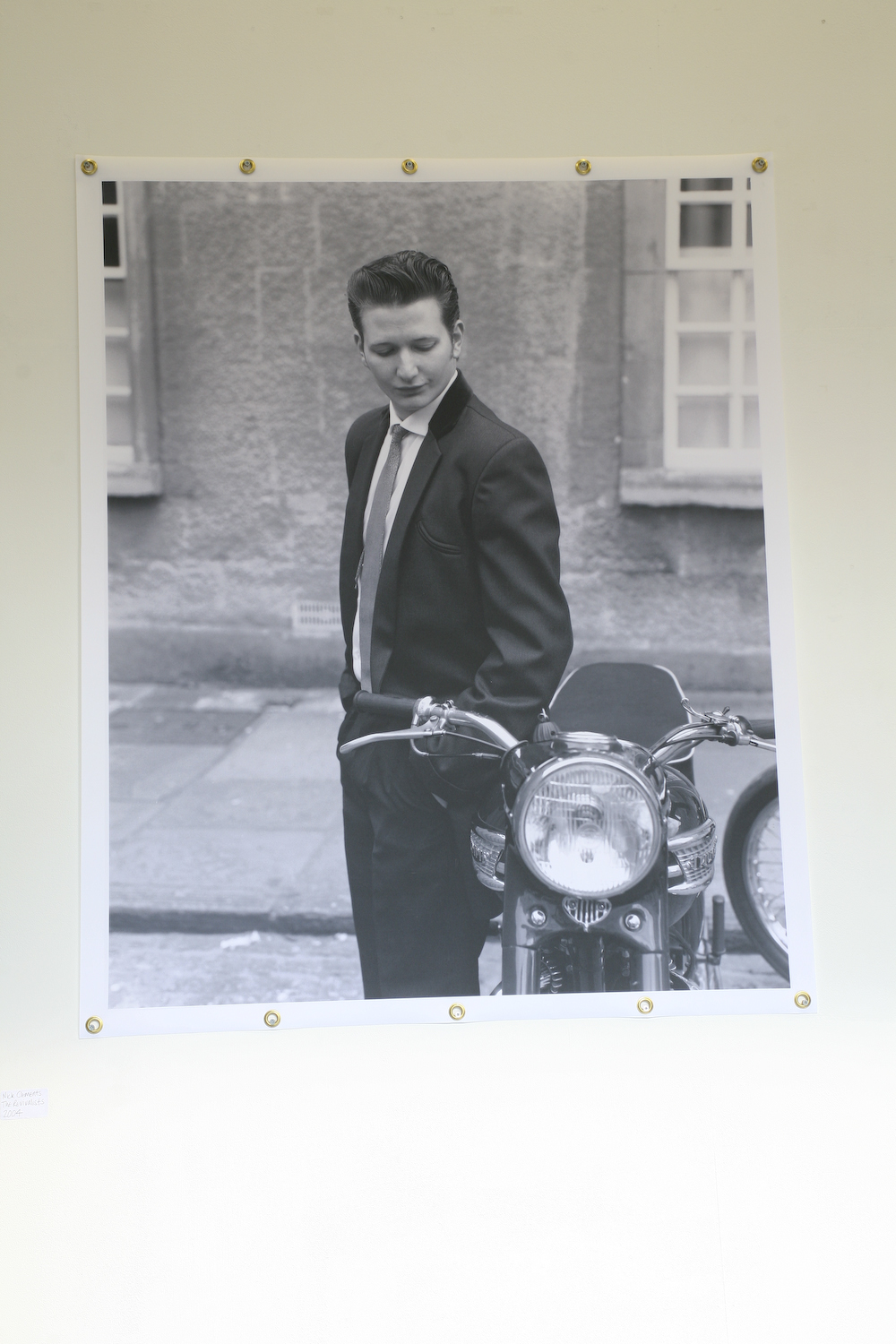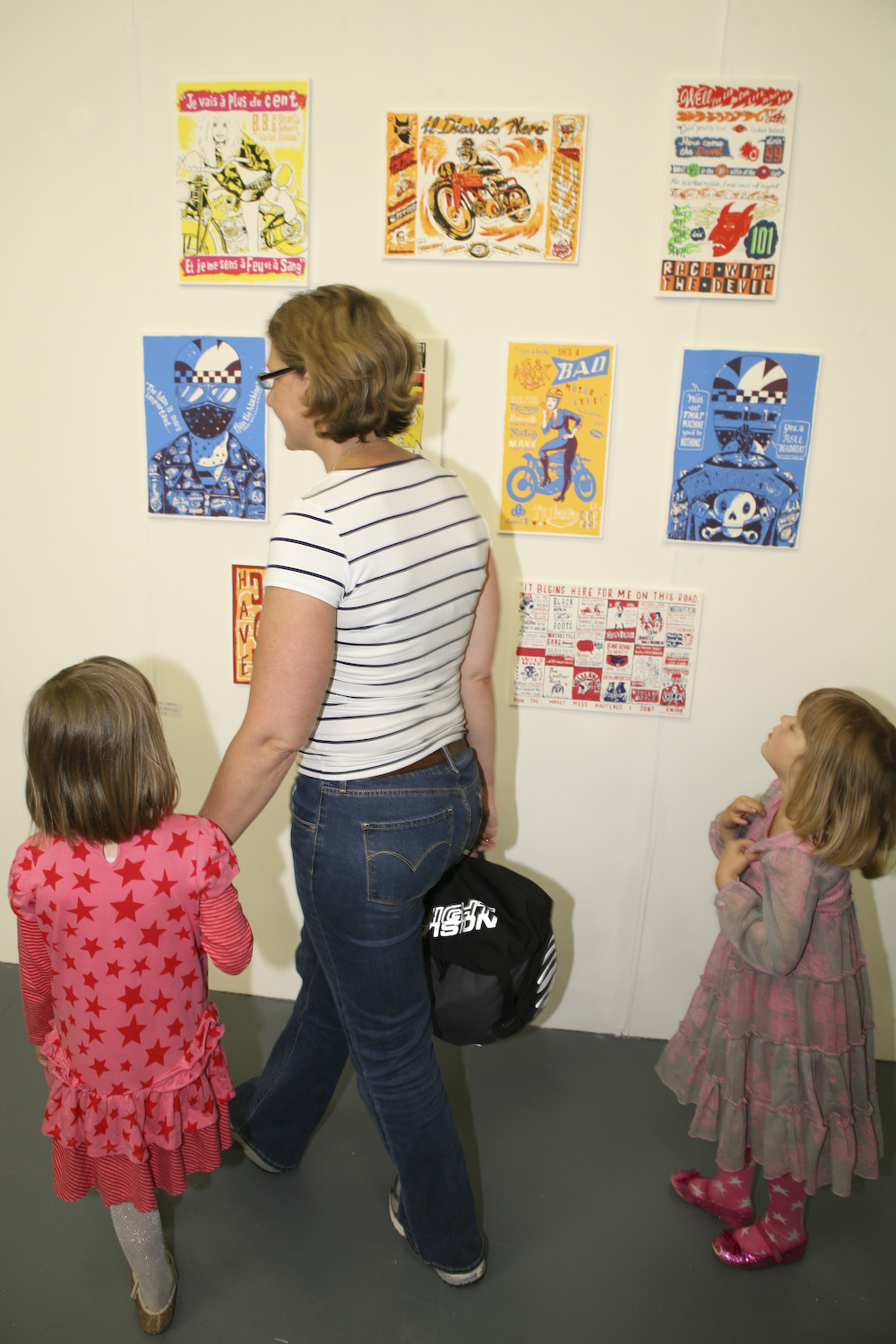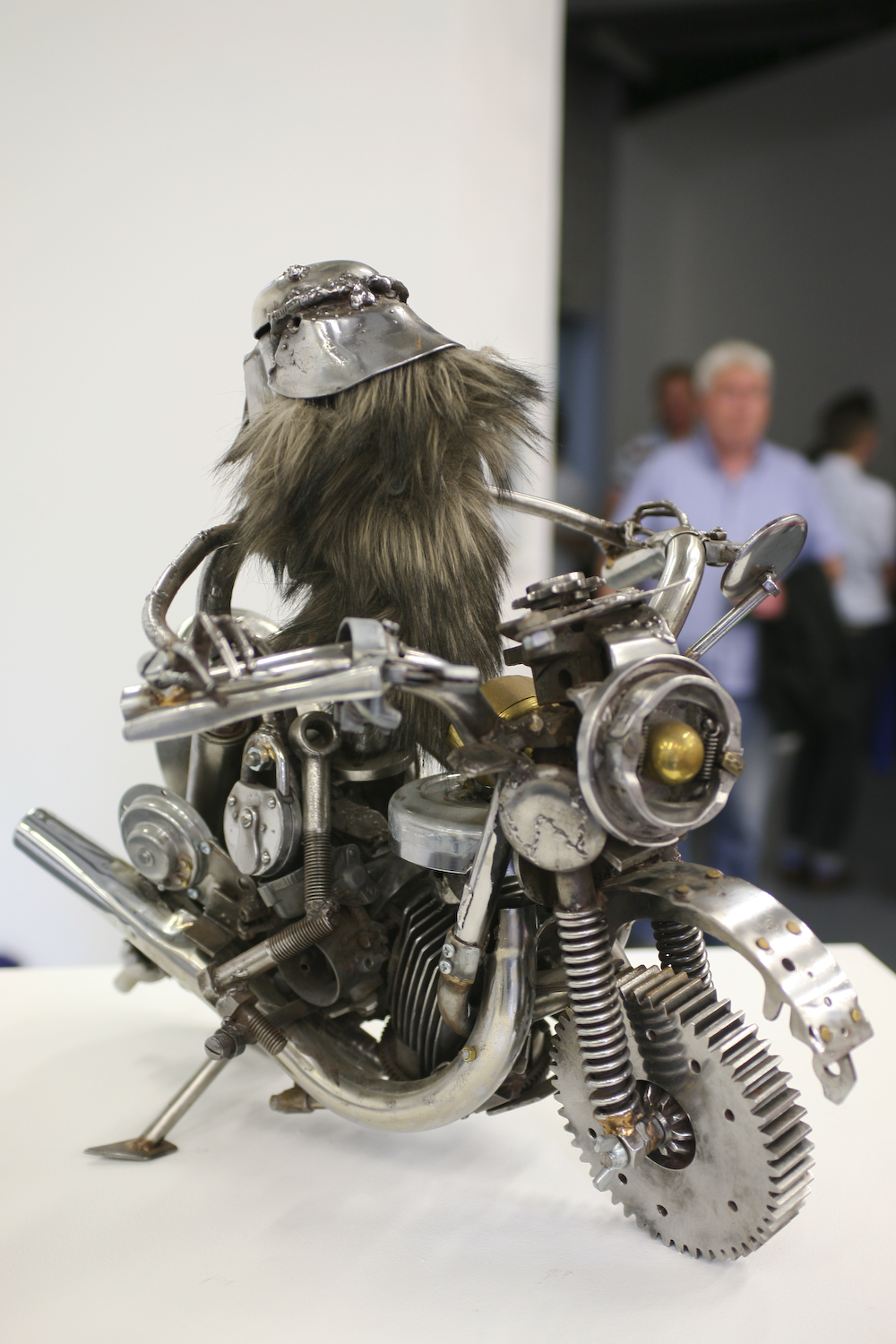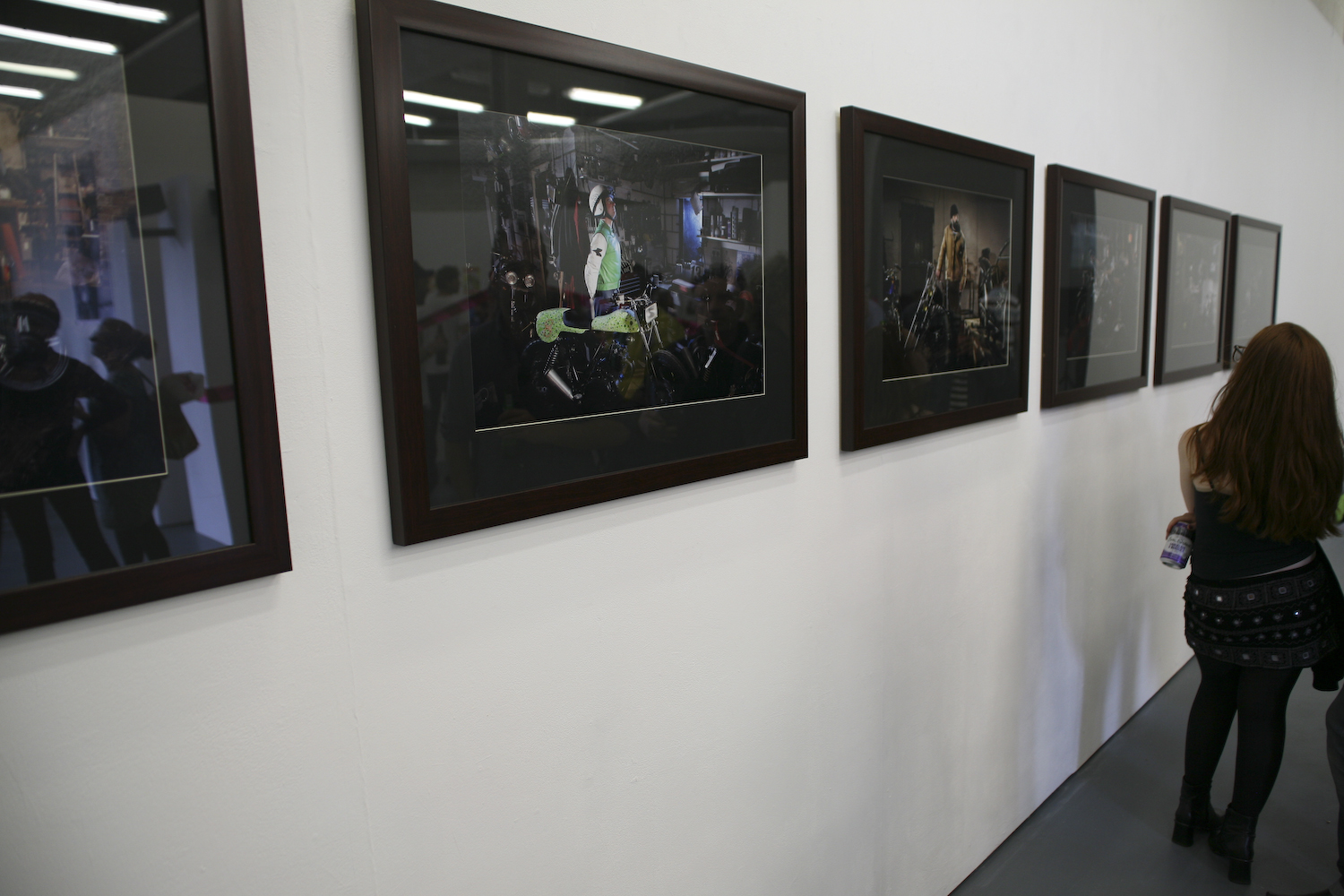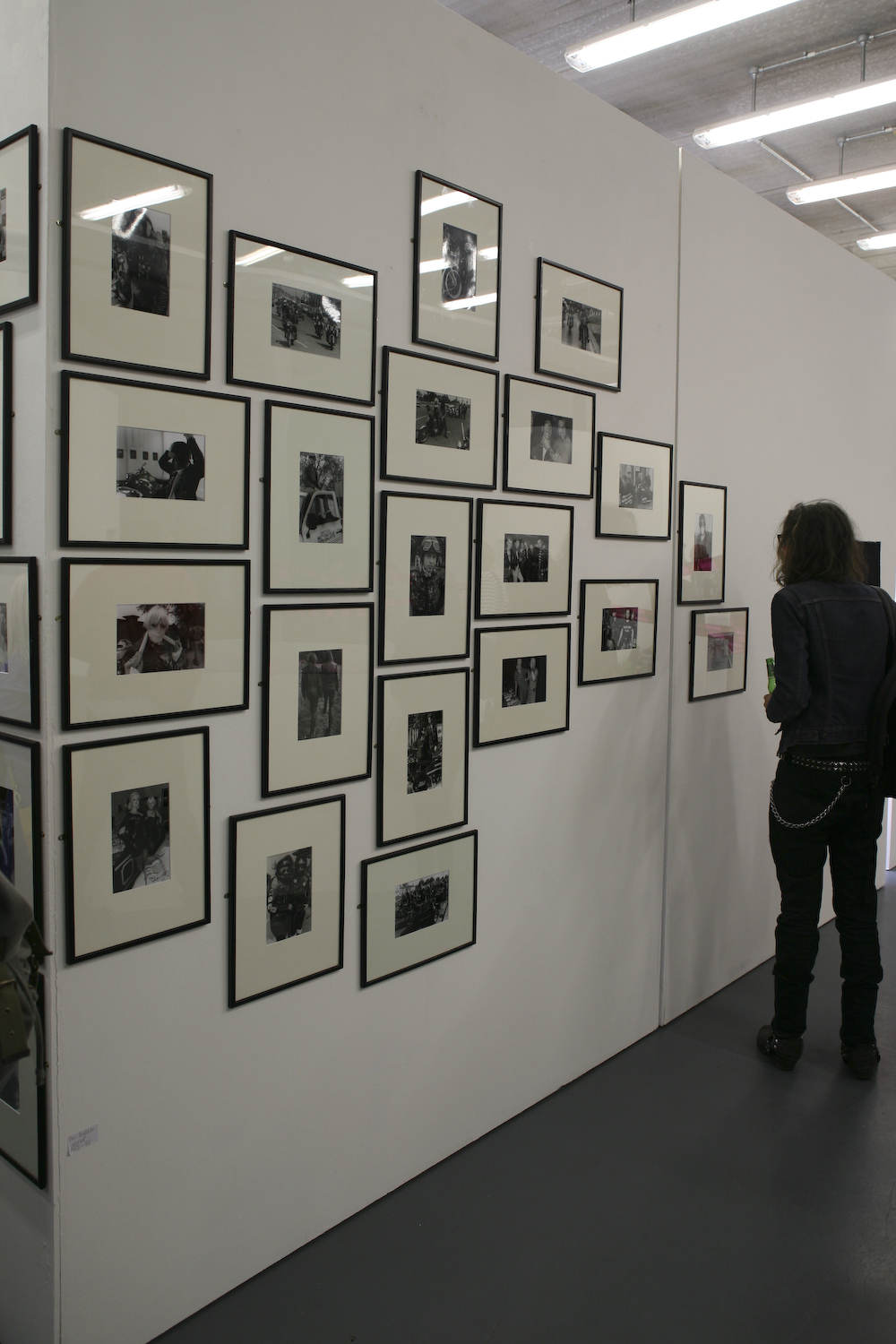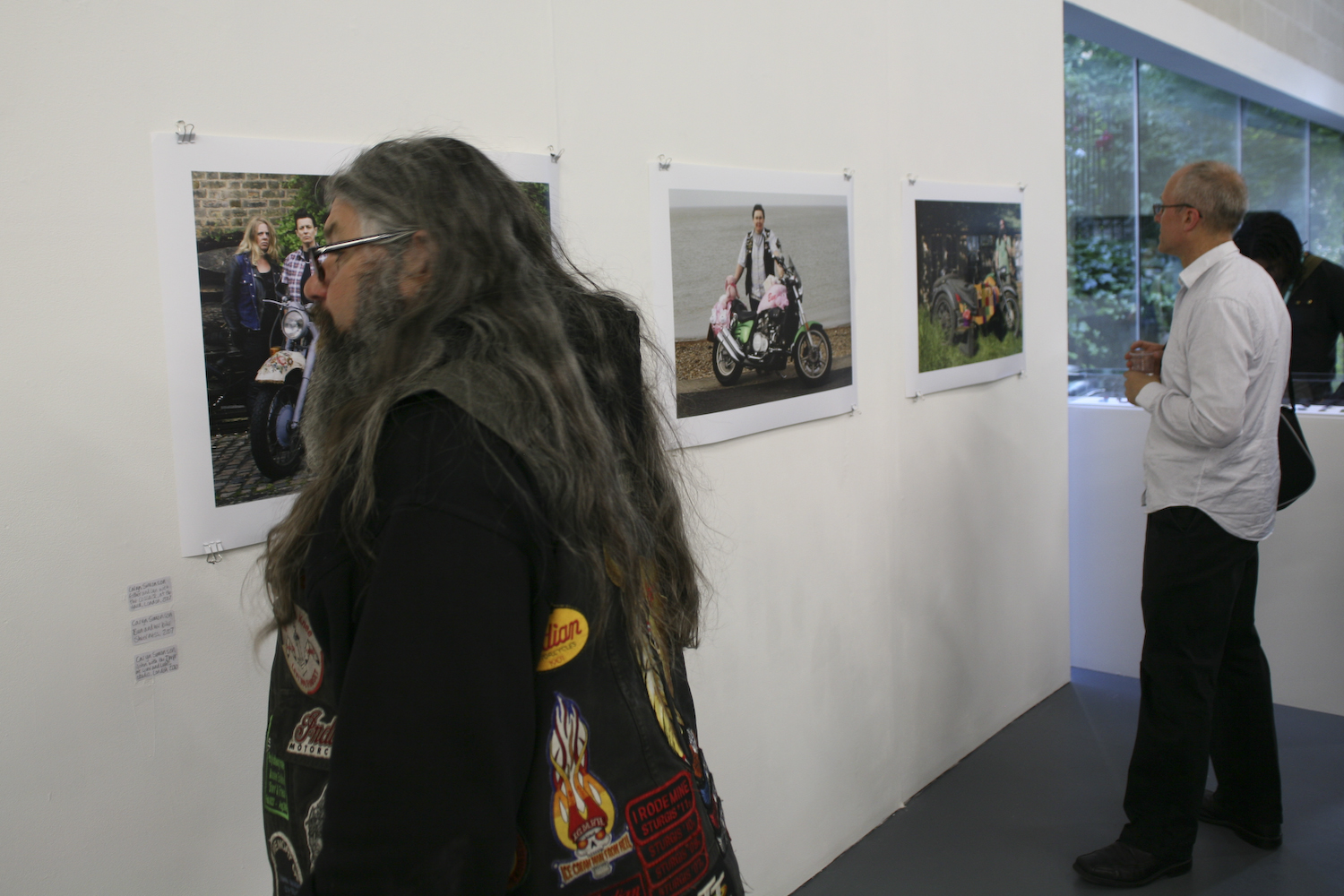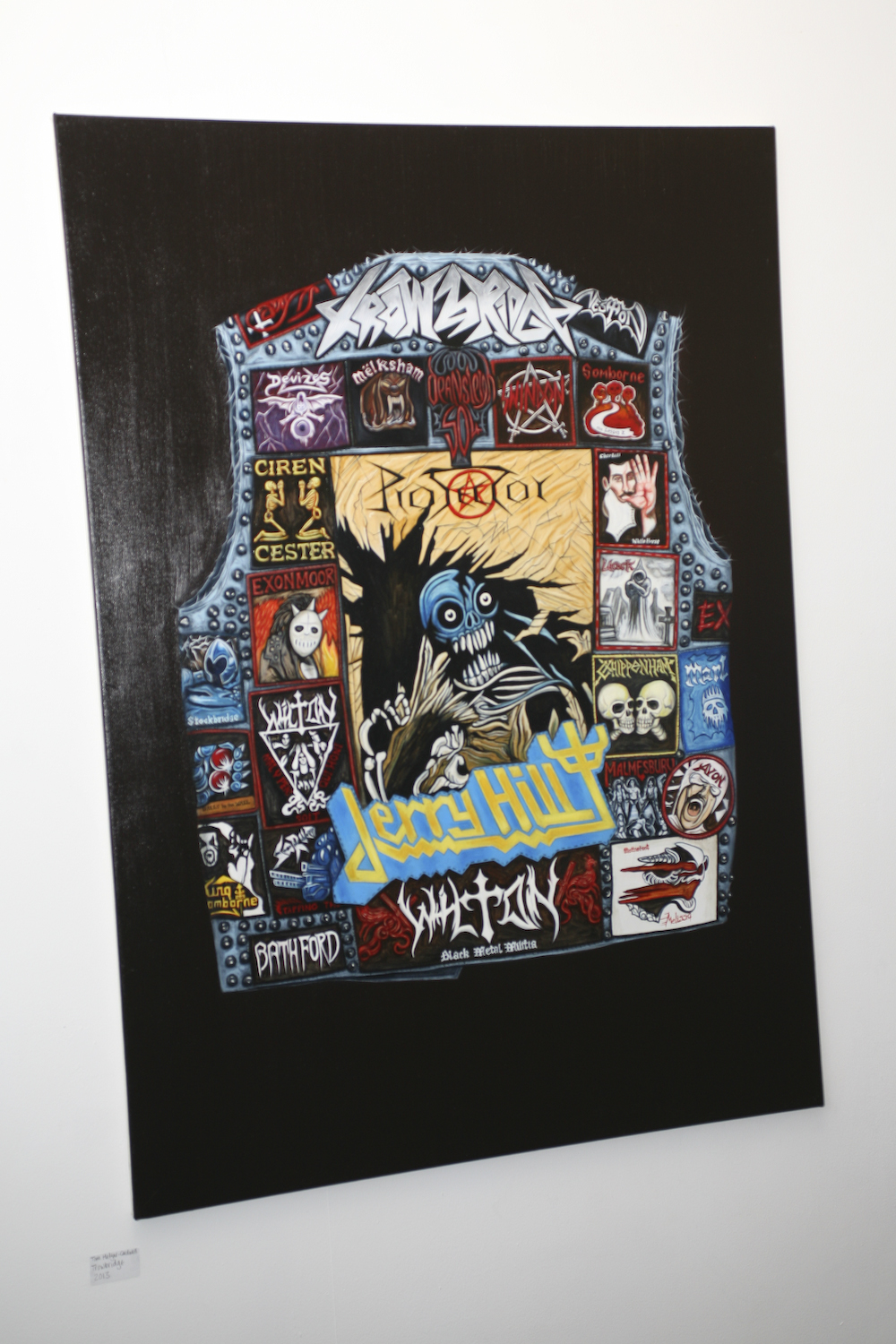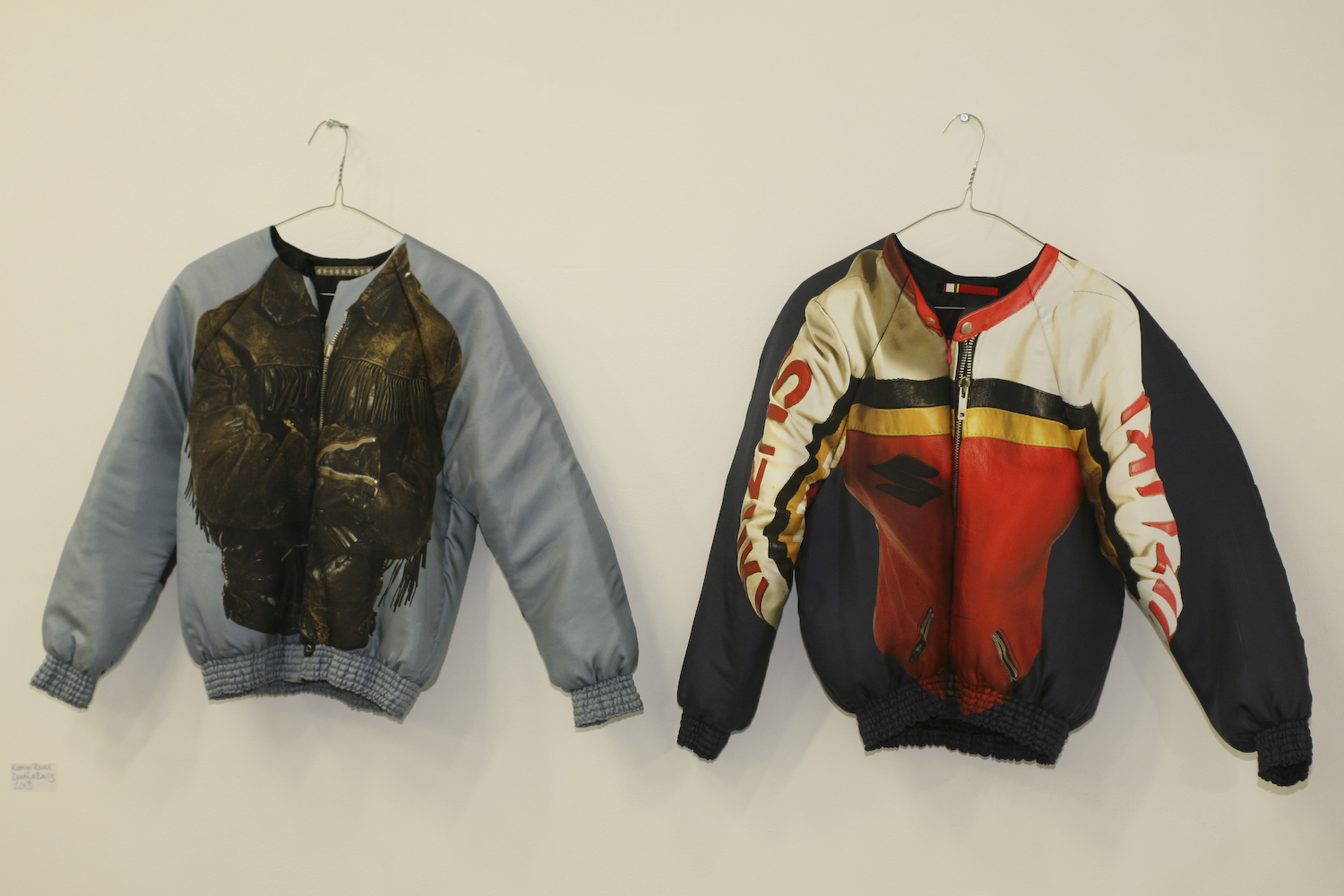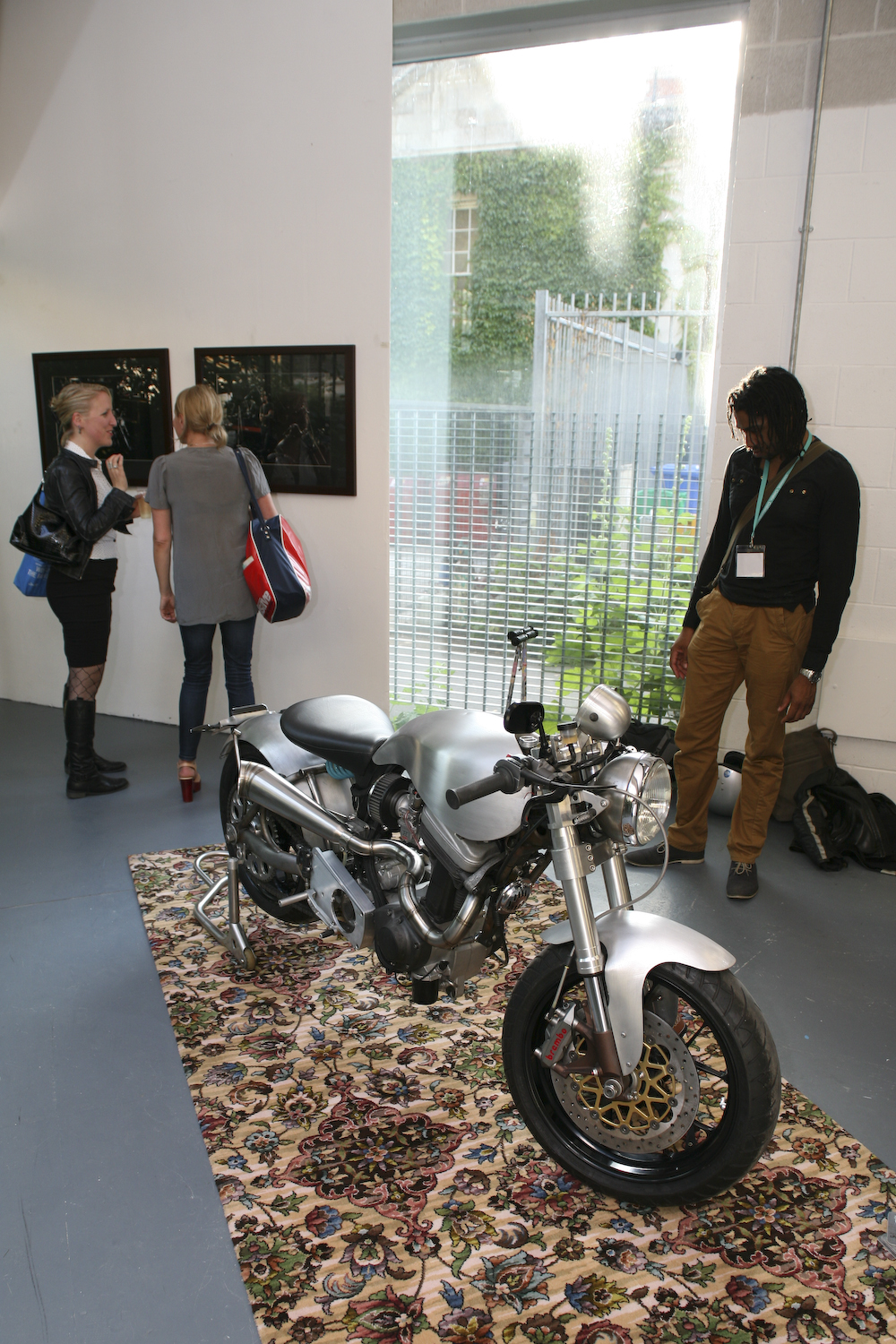 I didn't turn up for the brunch at the Ace Cafe on the Sunday because I'd already absented myself from my family for three long days in a row so I didn't dare blow the remainder of the weekend going to a venue that I tend to visit on a semi-regular basis anyway; but everyone who did attend, whether they travelled there by bike or on the vintage Routemaster bus that had been hired for the purpose, agreed that it rounded things off perfectly.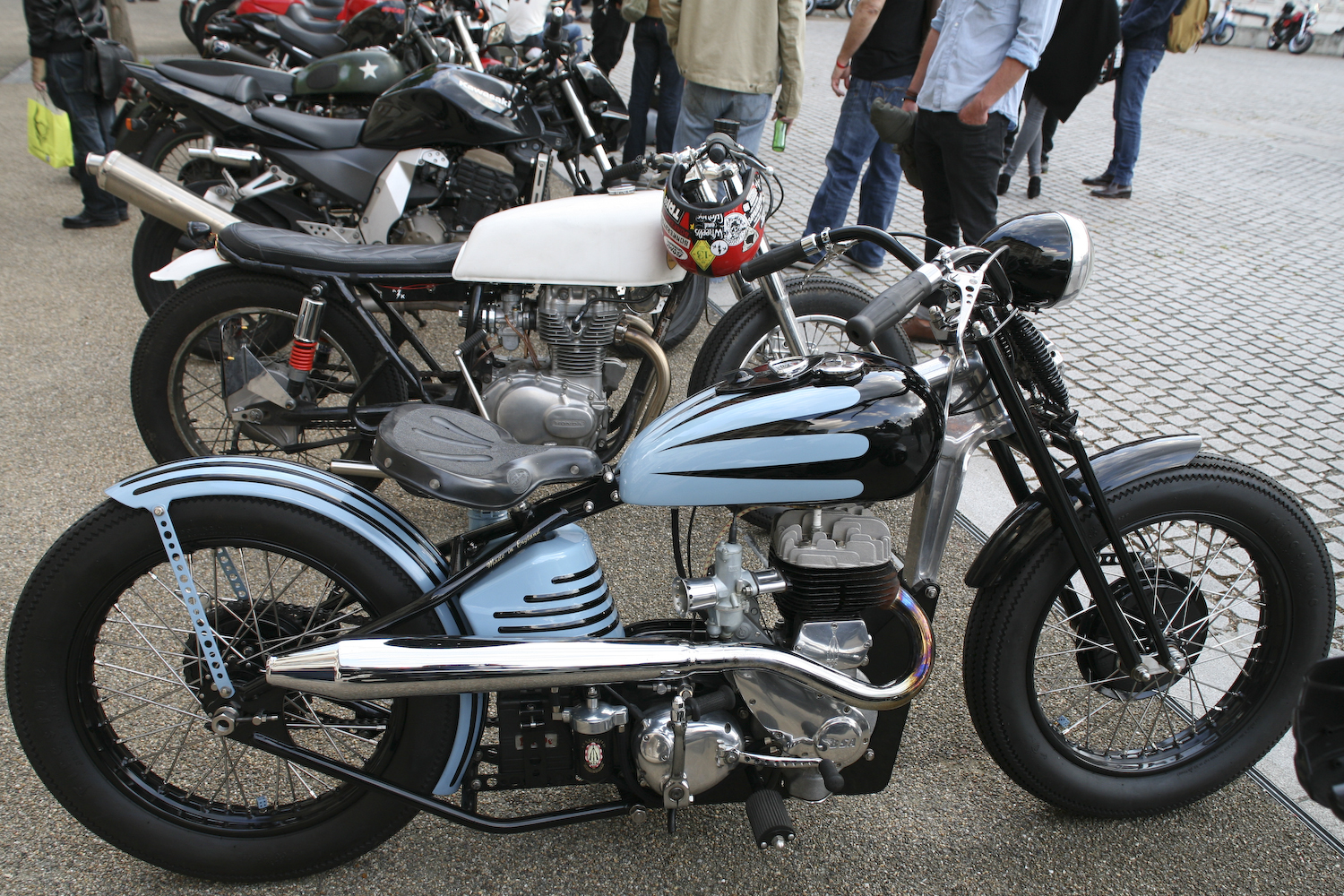 The 4th IJMS conference will be back in Colorado next year but that's a bit more than the 25-mile daily round-trip I had to make for this one, so I'm not making any serious plans at this stage. That said it would be brilliant to be able to attend because when all's said and done, they might be a bunch of academics who dress up an activity that we all love in a whole load of big words and complex notions, but ultimately they're all riders who enjoy talking about bikes – just like you and me.
Dave Gurman
You can see a full list of speakers and the subjects they discussed by following this link: www.ijms2013.wordpress.com/conference-programme
And you can find out more about the IJMS by visiting their web site:
http://ijms.nova.edu/index.html