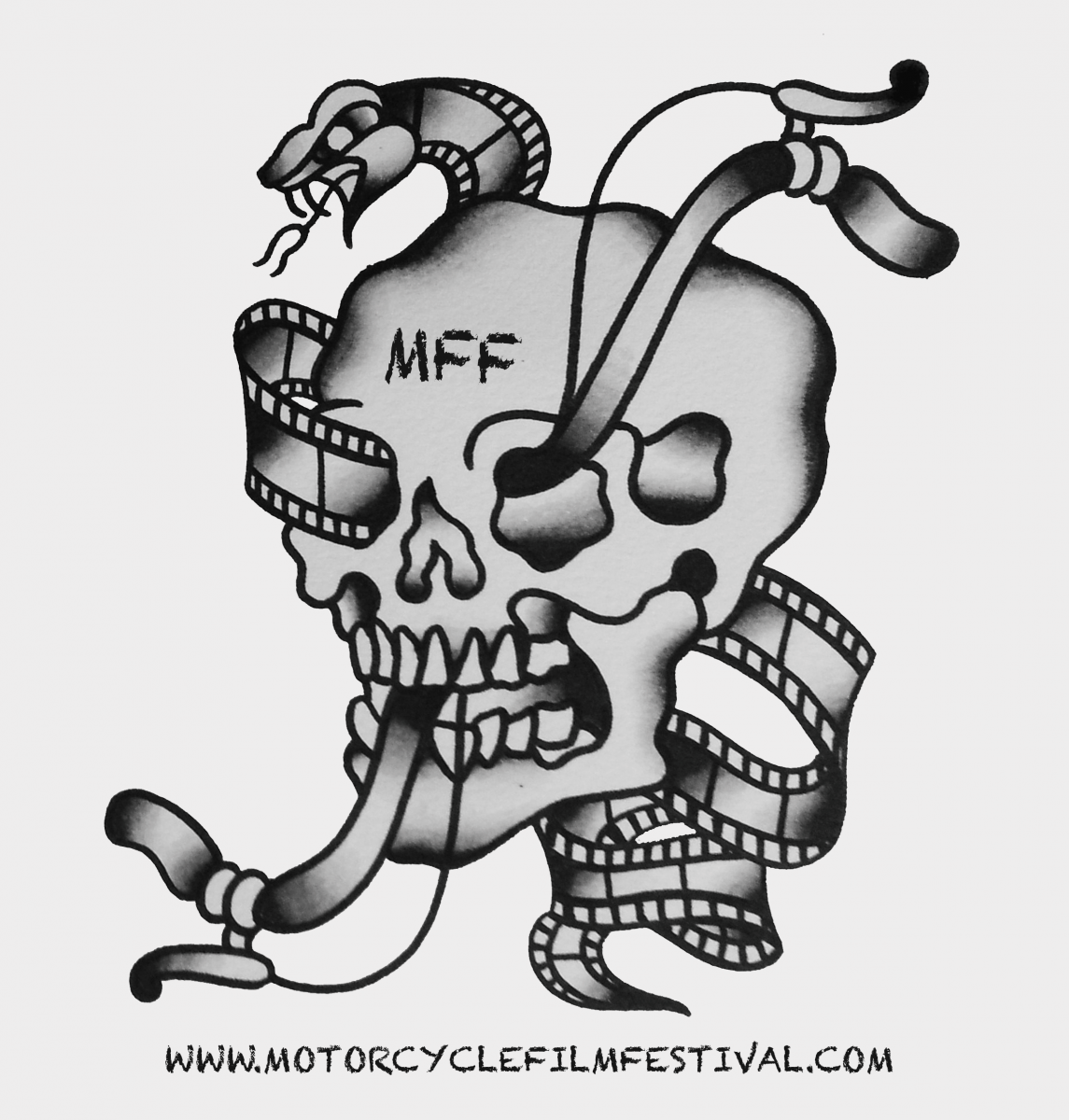 Read Time:
7 Minute, 17 Second
It's been about a century since the first motorcycle movie, Mabel at the Wheel (1914), hit the screens. And the 60s and 70s spawned a sub-genre of bikesploitation films at least one of which is on everyone's list of favorite bad flicks. Despite that long history, there has been no film festival dedicated to new or independent motorcycle movies.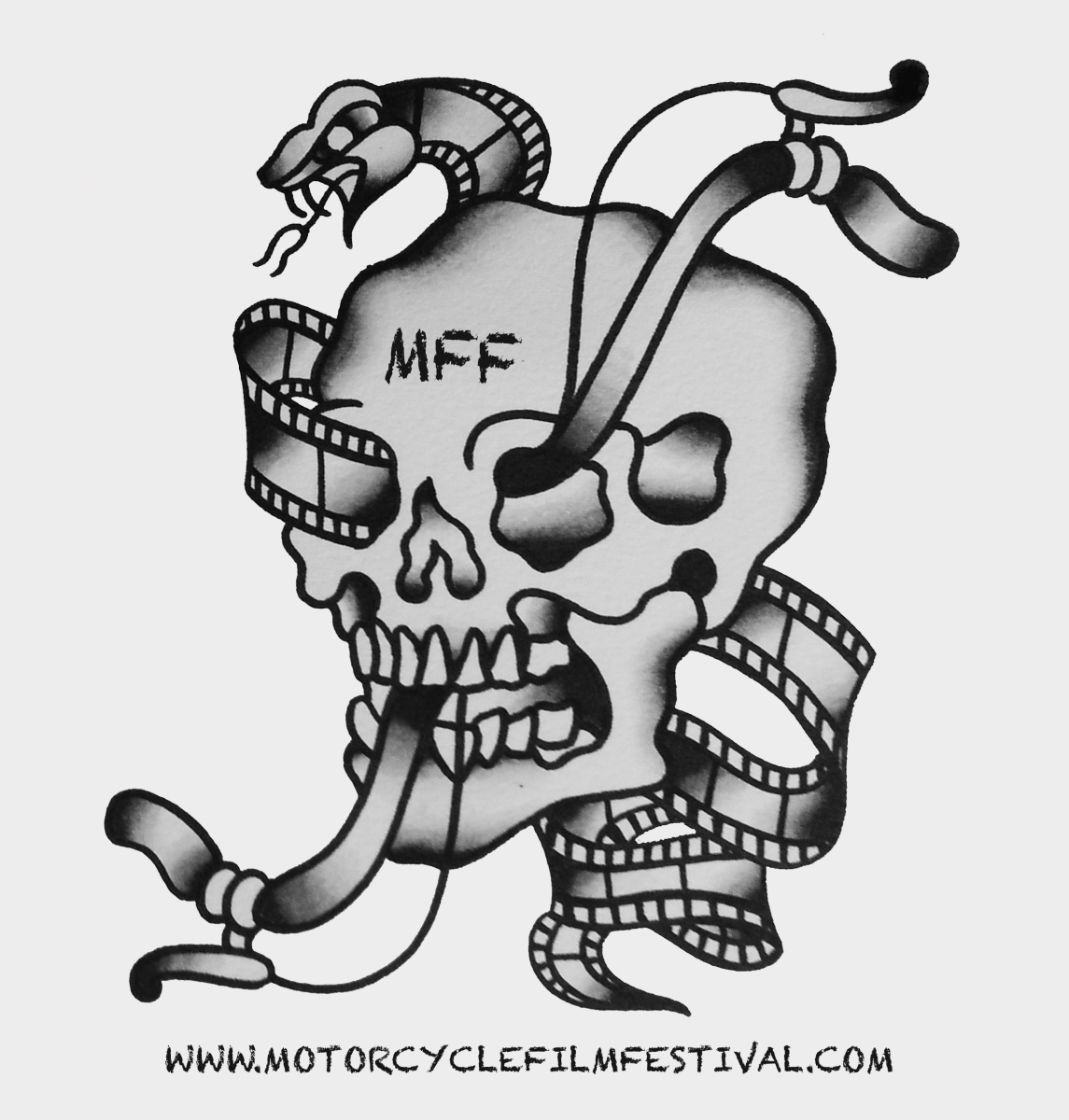 At least until now. New York City Vintage Motorcyclists (NYCVINMOTO), a casually organized group of people who have or are interested in classic or vintage motorbikes, launched the first annual Motorcycle Film Festival scheduled for 26th through the 28th of September.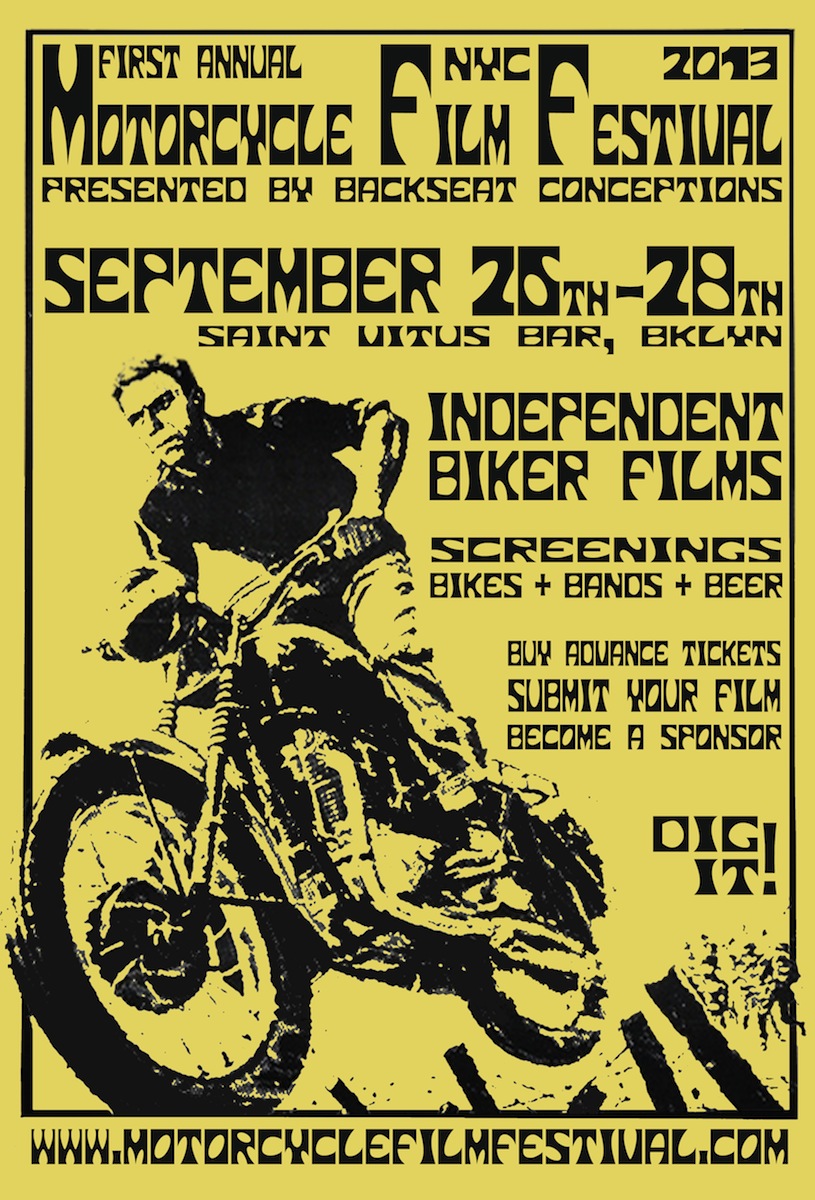 "The Motorcycle Film Festival is an idea whose time has come," the MFF explains in a statement. "[W]e are in the midst of the biggest creative boom centered on motorcycles since the 1970s. Every motorcycle customizer has an in-house filmmaker, and every hip moto-event from Biarritz to Melbourne has built-in paparazzi, we can re-live the antics of fellow bikers on Youtube, or gasp at masterworks from talented videographers, who often unwittingly work side by side. The massive, youthful rise of moto-mania has excited big motorcycle factories to collaborate with rising garage artists, and has inspired professional filmmakers that now is the time to produce that long-dreamt two-wheel feature film."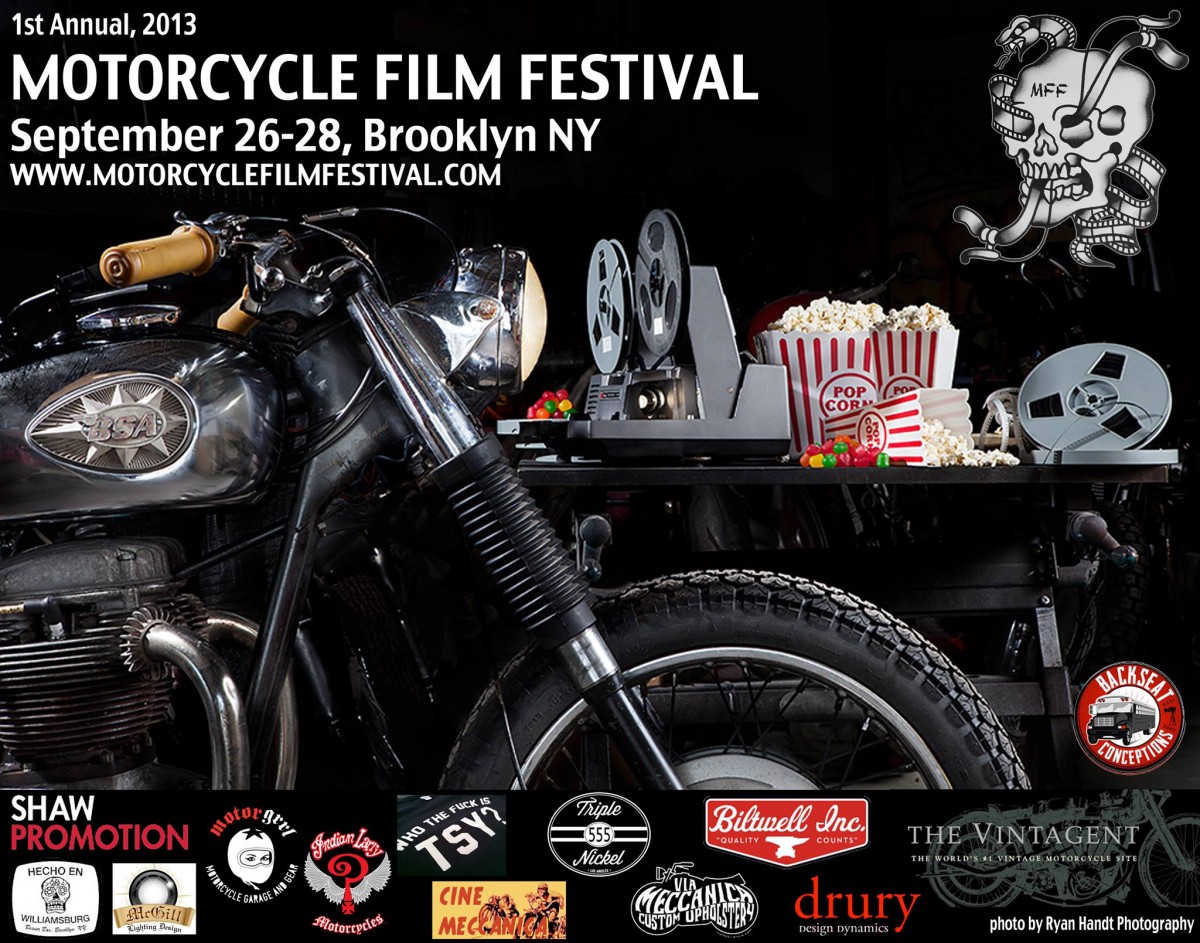 The advances in technology and distribution certainly beat strapping a camera to a bike for a traveling POV shot, which would have been frowned upon back when I took film production classes at New York University's School of the Arts. But then again, so would have been the idea of an independent biker film. And that was after the success of Easy Rider (1969).
NYCVINMOTO quickly drafted Paul d'Orléans, better known as The Vintagent, from the motorcycling and popular culture blog he has written for the past seven years as co-host and panel judge.
The Vintagent posted, "The world's lack of a Motorcycle Film Festival has been cured. Nobody realized a gap needed filling until Corinna Mantlo and Jack Drury conjured the idea, and suddenly, foreheads were slapped from Hollywood to Sydney – why hadn't this come up before? Simply put this pair hadn't done it yet."
While the MFF's references to cities in Australia remain obscure, d'Orléans has a point. The team of Drury and Mantlo produce the annual New York City Vintage Motorcycle Show with limited resources and unlimited resourcefulness (see The Rider's Digest issue 171). Mantlo is also the impresaria of Cine Meccanica, a weekly free screening of "vehicular flicks" at Lady Jay's in Brooklyn.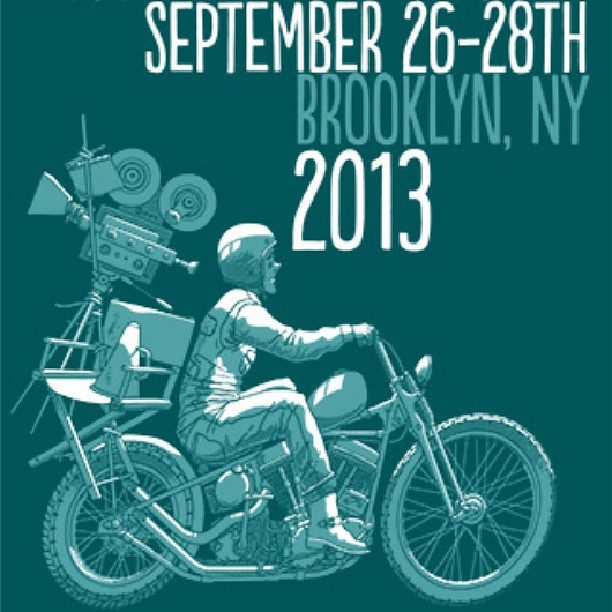 Mantlo conceived of the festival dedicated to films which portray bikers as bikers wanted to be portrayed a few years ago. She registered the name at 3am one morning after a Google search. At the time, the only thing close to an MFF was an event in Los Angeles that focused on shorts, not long form narrative or documentary.
Mantlo explained that she has been involved with film and film festivals since she was 15. Despite contacts at such Manhattan festival venues as Film Forum or Anthology Film Archives, running the MFF in a theatre would have been too expensive. "It's more important that the first year succeed than we get money," she explained.
With Biltwell Inc., the California-based specialist in motorcycle parts and accessories, committed as a partner, Mantlo shaped the festival to take place in a number of heavy metal music bars in Greenpoint and Williamsburg, Brooklyn. Screenings were scheduled along with beer, bands, and bikes.
The MFF awarded winners in five categories: Best Short Film; Best Feature Documentary Film; Best Feature Narrative Film; People's Choice; and Best of Fest. Among the shorts are: Black Kat, about a man who restores vintage Beemers in order to "pollinate Western L.A. with as many BMW's as possible"; and I Ride a Triumph, about Triumph riders (there's more than one).

Feature Documentaries include: The Salt Ghost: The Return of the Nitro Express, about the history of a vintage Triumph that raced at El Mirage and Bonneville Salt Flats for 20 years; and White Knuckle: The Story of the Motorcycle Cannonball, about the antique motorcycle endurance run. The entries for Feature Narrative are: The Best Bar in America, about a motorcycle trip along Route 66, going from bar to bar on a 1960 BMW R60/2: and Girl Meets Bike, about a woman who buys her first motorcycle with her wedding dress money.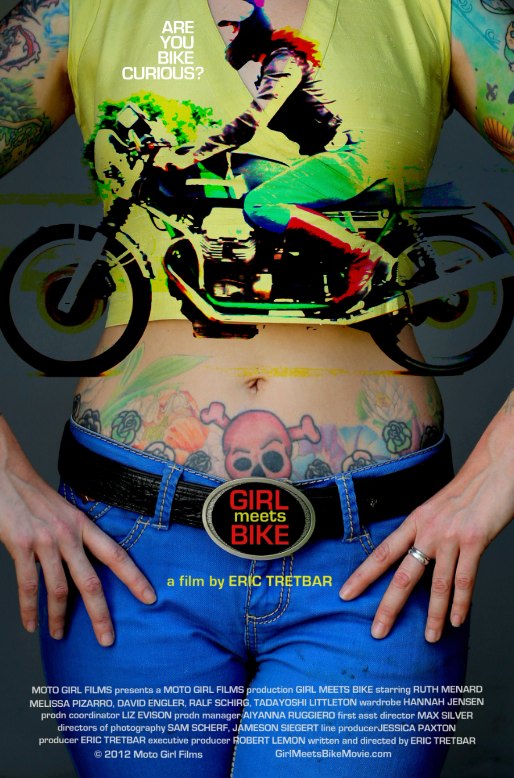 The festival opened on the 25th with a 'meet and greet' at Lady Jay's. In addition to screenings, there was a brunch with a seminar about motorcycles and film on Saturday at Over the Eight and a closing party at Saint Vitus Bar. Among the local bands playing at the events were Hector's Pets, The Tombstone Brawlers, and the Andy Animal Family Band.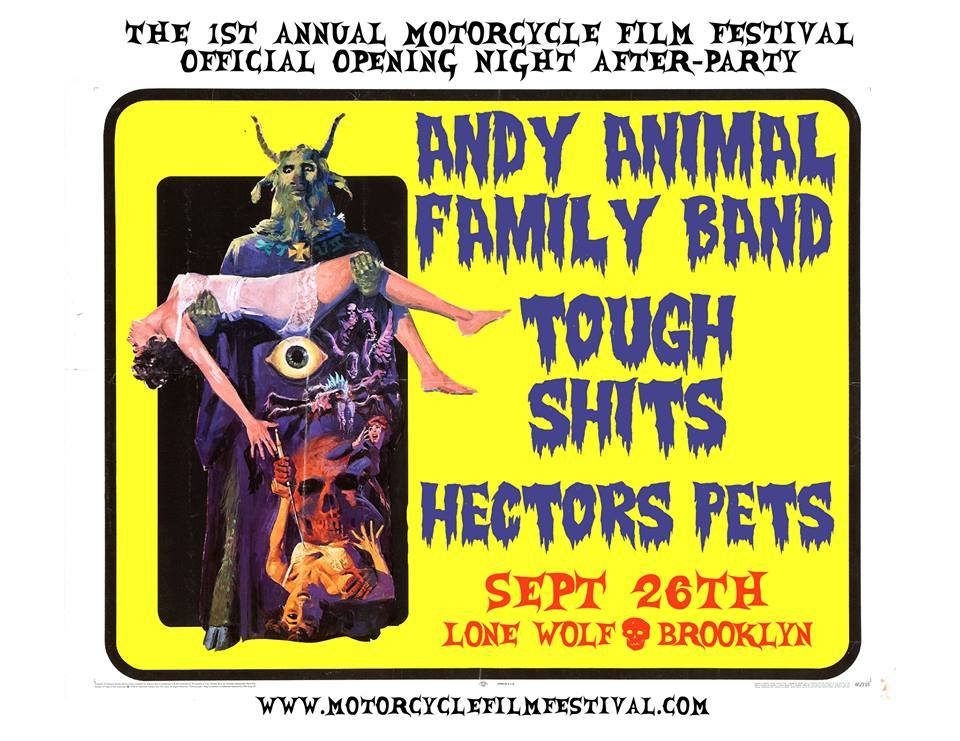 Rick Schenk, Body Art & Soul Tattoo, Brooklyn, designed the ubiquitous logo of a skull from which handlebars and a snake whose body is an unwinding filmstrip protrude.
All the judges are as qualified as film buffs as they are as motorcyclists. D'Orleans frequently blogs about motorcycles movies in The Vintagent. His favorite may be The Loveless, the first feature directed by Kathryn Bigelow, who would go on to win close to 40 different awards for The Hurt Locker, including Academy and BAFTA awards. He is also featured in one of the festival's entries, Why We Ride.
Stacie B. London has worked at an art director in film and is currently an exhibition designer at the Museum of Contemporary Art in Los Angeles. In addition she founded East Side Moto Babes (ESMB), a club that provides a supportive environment for women riders.
Ana Llorente, a founding member of ESMB, was another judge. Llorente teaches a course about how to curate and organize film festivals dealing with personal interests or contemporary issues at Otis College of Art and Design.
The fourth judge was JP of The Selvedge Yard, who once commissioned Shutter Speed to make a short film featuring London. He also not only blogs about motorcycles and popular culture, but also music, fashion, and whatever he feels is worth commenting upon.
As the son of a biker as well as a biker himself, JP notes about motorcycle movies, "[M]any of the biker flicks I've seen over the years are pretty easy to shoot holes in for their inauthenticity, and are more someone's idea of the motorcycle lifestyle than the reality, because they really had no idea what the lifestyle was about."
Jonathan Boorstein
jonathanb@theridersdigest.co.uk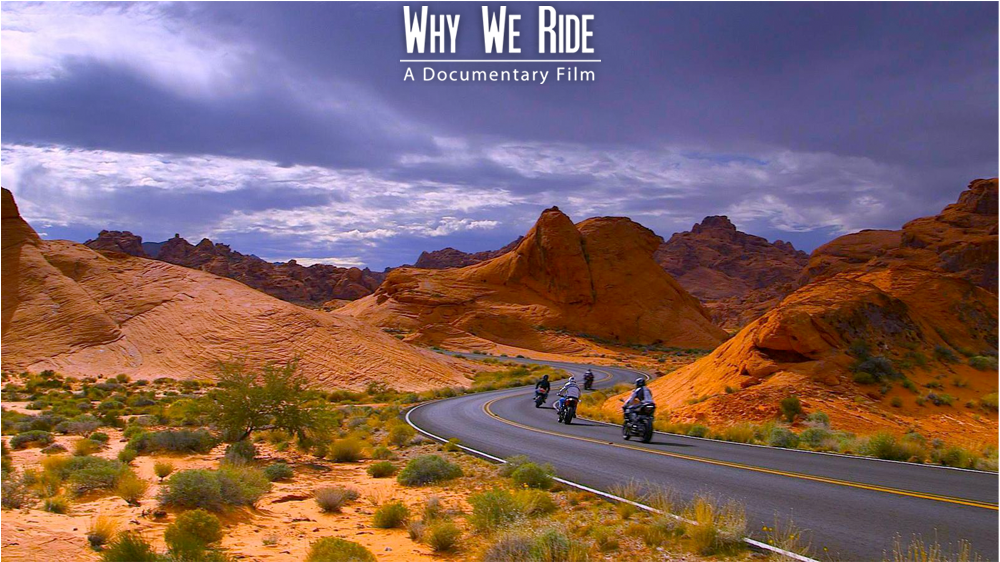 The Motorcycle Film Festival
www.motorcyclefilmfestival.com
New York City Vintage Motorcyclists
The Vintagent
New York City Vintage Motorcycle Show
Editor's note: This article was published before the MFF actually happened so neither the list of winners nor the full list of sponsors was available at the time. The winners are listed here.
We received an email from the organisers asking us to correct a couple of typos (which  have been done) in which they also said:
"Thanks so much for the article write up! As a first year festival, we really appreciate all the love from the folks writing about us and we couldn't be happier about how it turned out. Hopefully we'll have you there in person for next year!  We just have a few minor corrections for the article if that's ok.
– The MFF isn't an NYCVinmoto event (which just stands for NYC vintage moto). We are members of those groups and they're how we met, but Vinmoto and the NYCVMS have no official role in the festival.  Also, our connection to the NYC Vintage Motorcycle Show is that we volunteer for the vintage show along with a ton of other amazing people, but we by no means run it by ourselves.  The MFF is our own project though.
– Biltwell is only one of our sponsors. They signed on to donate seat pans for me to make the trophies out of and a helmet to raffle off, but are just one of many amazing companies that helped us put on the fest. We had several dozen sponsors on board and ALL of their help is what made the week possible.
– Jack Drury and I founded the event together and it's a complete collaboration between us and with the help from our wonderful panel of judges.
– The Saturday AM brunch panel actually morphed into a brunch screening instead.
 
If there's anyway to make those few changes, that would be great! Again, thanks so much for your continuing support. Keep in touch!"