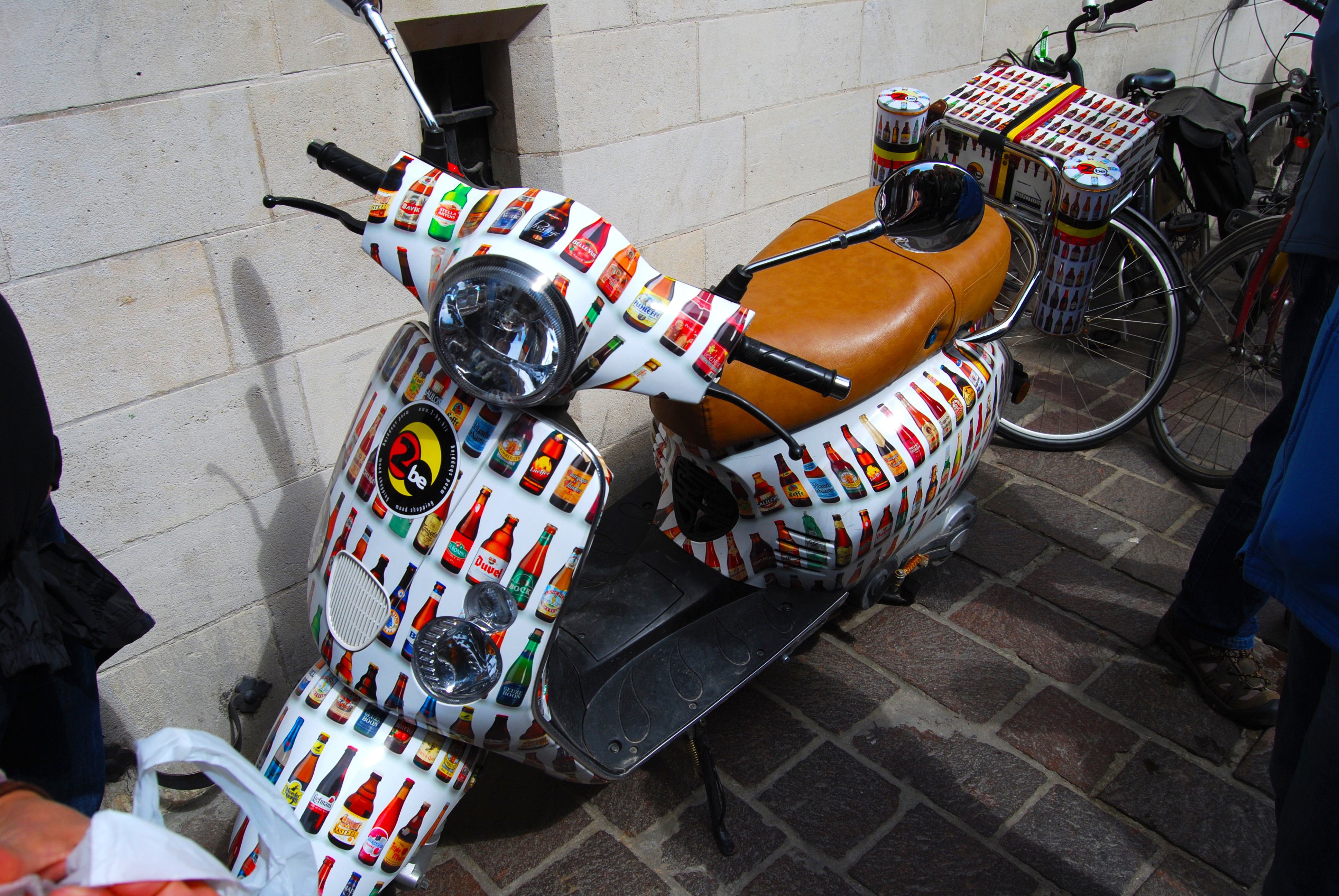 Read Time:
9 Minute, 17 Second
Sometimes things can go wrong. Even for those of us who have more than a vague idea about how bikes work. This sorry tale is a prime example. You can have a well-maintained motorcycle, lots of mechanical knowledge, years of experience and gaffer tape under the seat. But things can still go wrong.
A few weeks back I had a trip planned to Belgium. I was taking the ferry and meeting friends at a rally near Bruges. It's known as the Tententreffen (tent party) and is run by the Zedelgem Motor Touring Club. Very good it is too.
I was booked onto the ferry from Dover to Dunkirk, as Dunkirk puts you less than hour from the rally site. I loaded up my freshly built SV650 / Ural sidecar outfit and off we went, my (soon to be) long suffering girlfriend on the pillion.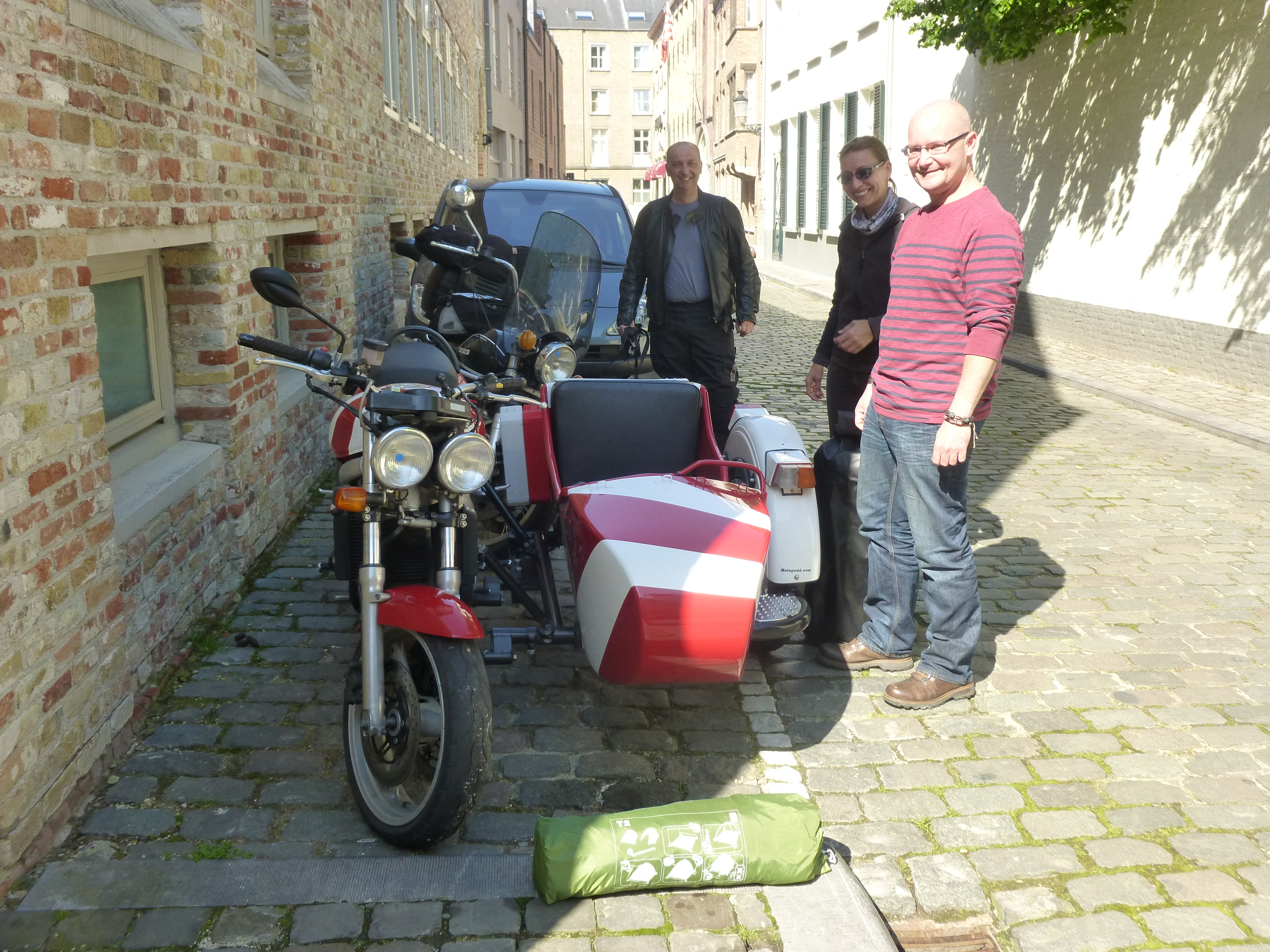 Aside from the rain, things were going swimmingly until we hit the M20. We were only 50 minutes from Dover when it became apparent to Cheryl that we had lost the tent, which had been strapped to the boot lid of the sidecar with some hefty tie-downs and had appeared to be very secure. I pulled over onto the hard shoulder, we had a brief chat about the situation but realised that it was long gone and there was nothing we could do about it. It was a flat disc tent, so we figured it wouldn't be too much of a hazard to anyone else.
So we set off for Dover. Except the bike suddenly had other ideas. It wouldn't start. The battery seemed to be completely dead. We were only a few hundred meters from an exit, so we pushed the outfit (in the rain) to the exit and off the motorway. (Obviously, I don't recommend that you do this without a Police escort and about a mile of dayglo material wrapped around you).  I had a bit of a check around the bike and decided that the battery had just collapsed and died, as no other symptoms had been noticed and I didn't have a voltmeter with me. We seemed to be just on the edge of a town called Snodland, which turned out to be slightly less than a one horse town, but it did have a bike shop. OK, so the shop was right at the other end of the town and it was raining quite hard, but they did sell me a battery. I fitted the new battery and the bike started and ran perfectly. Hurrah. It was quite late by now though and we were soaked to the skin, so decided to book into an hotel of the kind which almost certainly has never been frequented by Lenny Henry.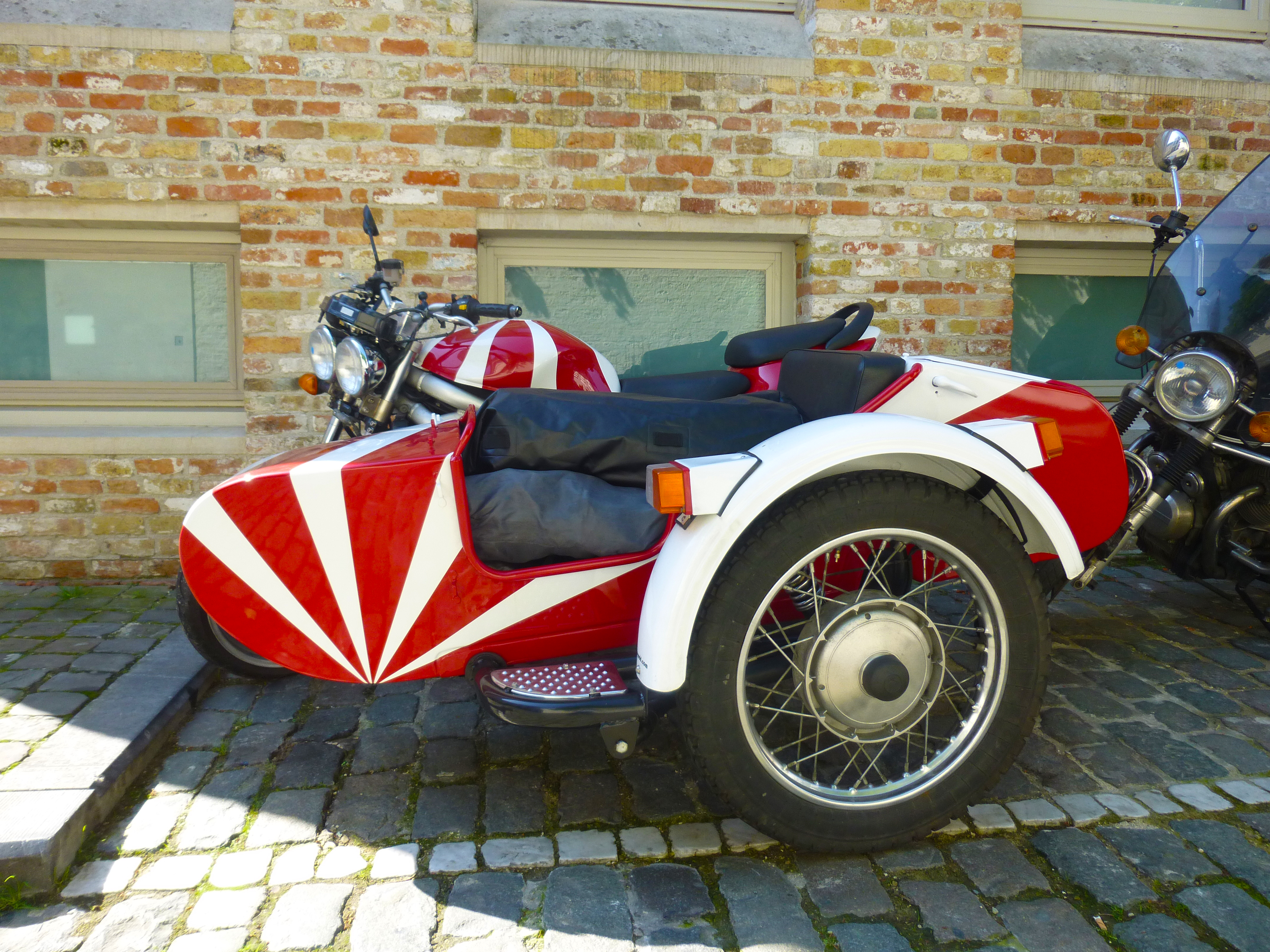 We called the ferry and paid a healthy surcharge to change our sailing to the next day and did our best to enjoy the evening on a retail park near Rochester. Our room was touted as having a view of the river but it was hardly Paris. Even the Bingo was shut.
Day two dawned and we set off, cheerily, in the sunshine to Dover, where we arrived at the ferry and subsequently, France, without further drama. The ride to the rally in Belgium was flawless and rainless. Our troubles were behind us.
Our friends took us to a huge camping shop where we purchased a new tent and set up home, before enjoying the Belgian hospitality.
The following day we were riding the short distance into Bruges, where we planned to stay with Maggie, a lovely Scottish lady who runs a B&B there. Once again, an incident free trip and a superb evening was had, as we scampered around Bruges, ensuring that the local Trappist ales were up to scratch.
All too soon it was Monday morning and we had to return home. Our friends were headed to the Chunnel, so we went our separate ways and headed off to Dunkirk. I'm guessing you can tell by now that this was not quite the end of our troubles.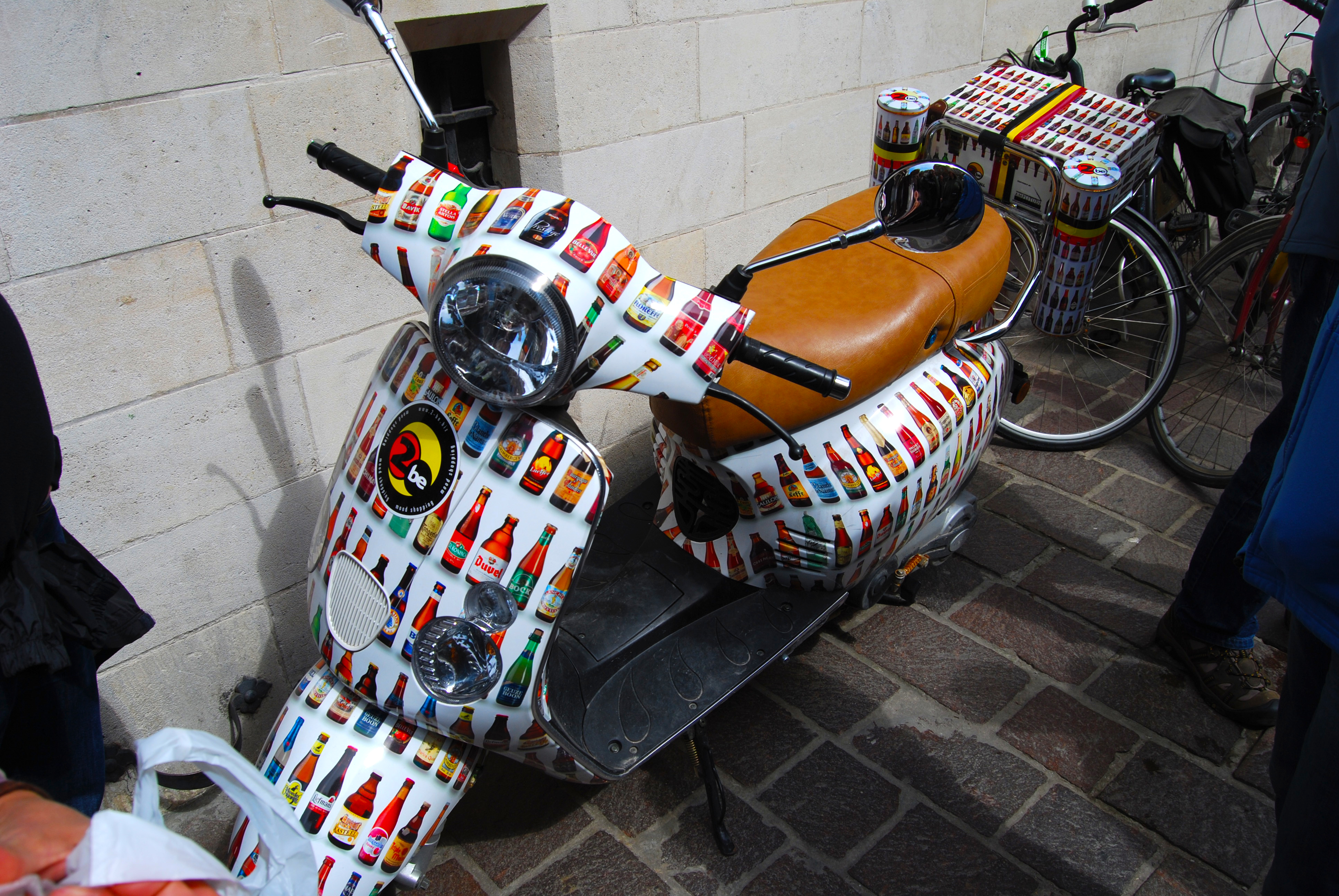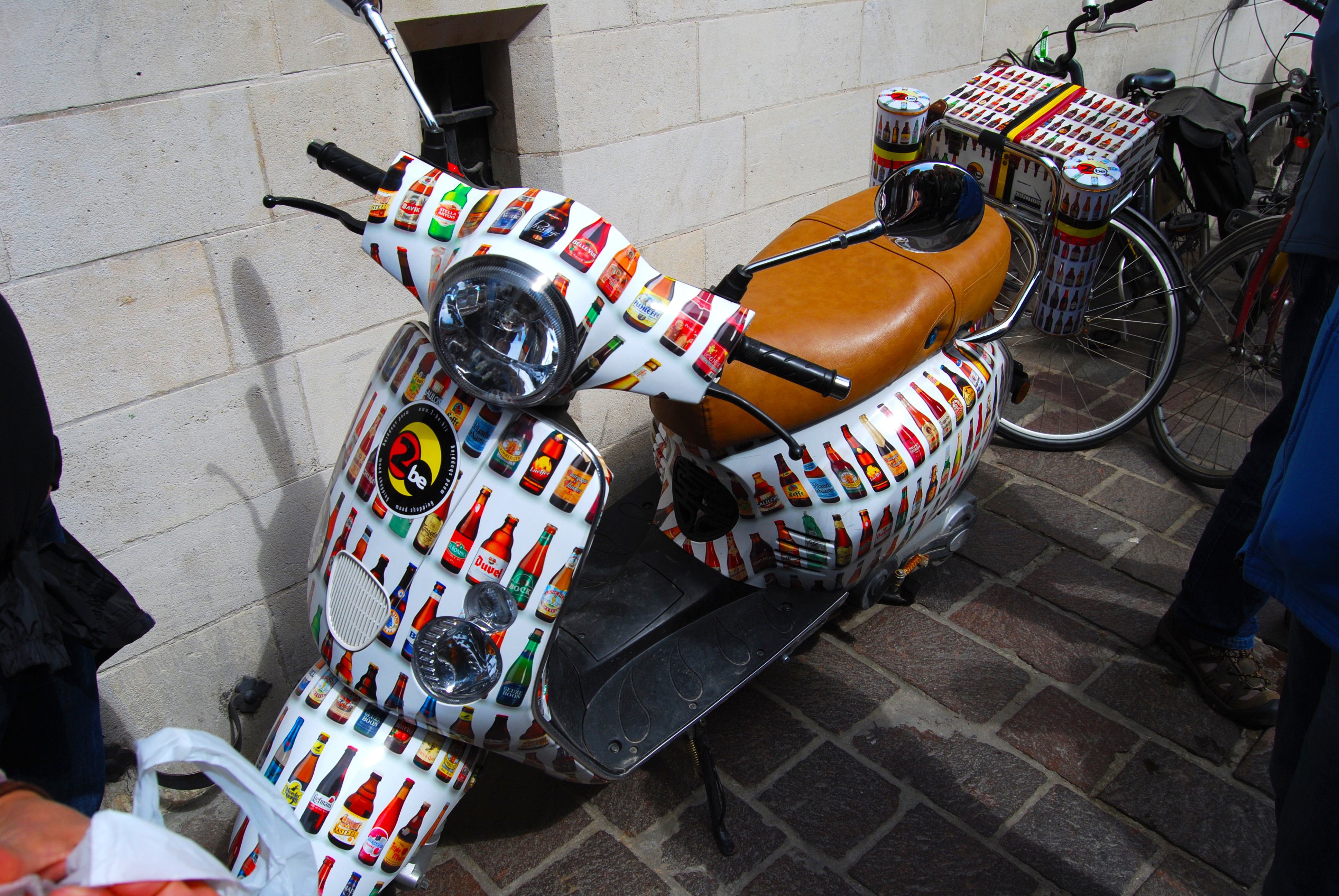 We didn't get too far. Still inside Belgium and on the motorway, incredibly, our new tent made a bid for freedom, which was quashed this time, as Cheryl grabbed and restrained it. I pulled over onto the hard shoulder and stopped. After a brief luggage shuffle we were off again. But not for long. The bike coughed, then backfired several times before cutting out completely. We rolled to a stop.
Once again, the bike was totally dead, no battery power at all. A quick check on the GPS revealed that we were about two miles from the next exit. We started the long push in searing heat and full bike gear. The exit turned out to be the one where all those duty free shops are located that sell cheap fags and booze to the Brits on the way home. It has a remarkably long and steep off ramp I can tell you. Up which, rode a great many UK plated bikes, of all kinds. Solo riders, packs of 6 or more riding together, cruisers, trailie bikes, sportsbikes, all kinds of them in a seemingly constant stream. To a man (and a woman) they each rode right past us as we pushed without so much as a wave. Even when we reached the top of the off ramp and were away from motorway restrictions, we were still apparently invisible. On our red and white striped sidecar with UK plates and the petite Cheryl pushing from behind. The camaraderie of biking has finally completely died. Next time you see someone on a bike obviously broken down, please stop. Even if you don't think you can be of any help.
A quick check over revealed that the battery was pretty hot, and dead. Overcharging then. I decided that since we were less than an hour from Dunkirk, I'd simply get another battery and ride for the ferry, if we stopped frequently and ran the battery down with the lights, we'd be fine to get home. It was either that or try to find a voltage rectifier and who knows if that was all we needed? No, I don't have breakdown cover, I'm a bike expert, I have a van and I don't want to discuss it.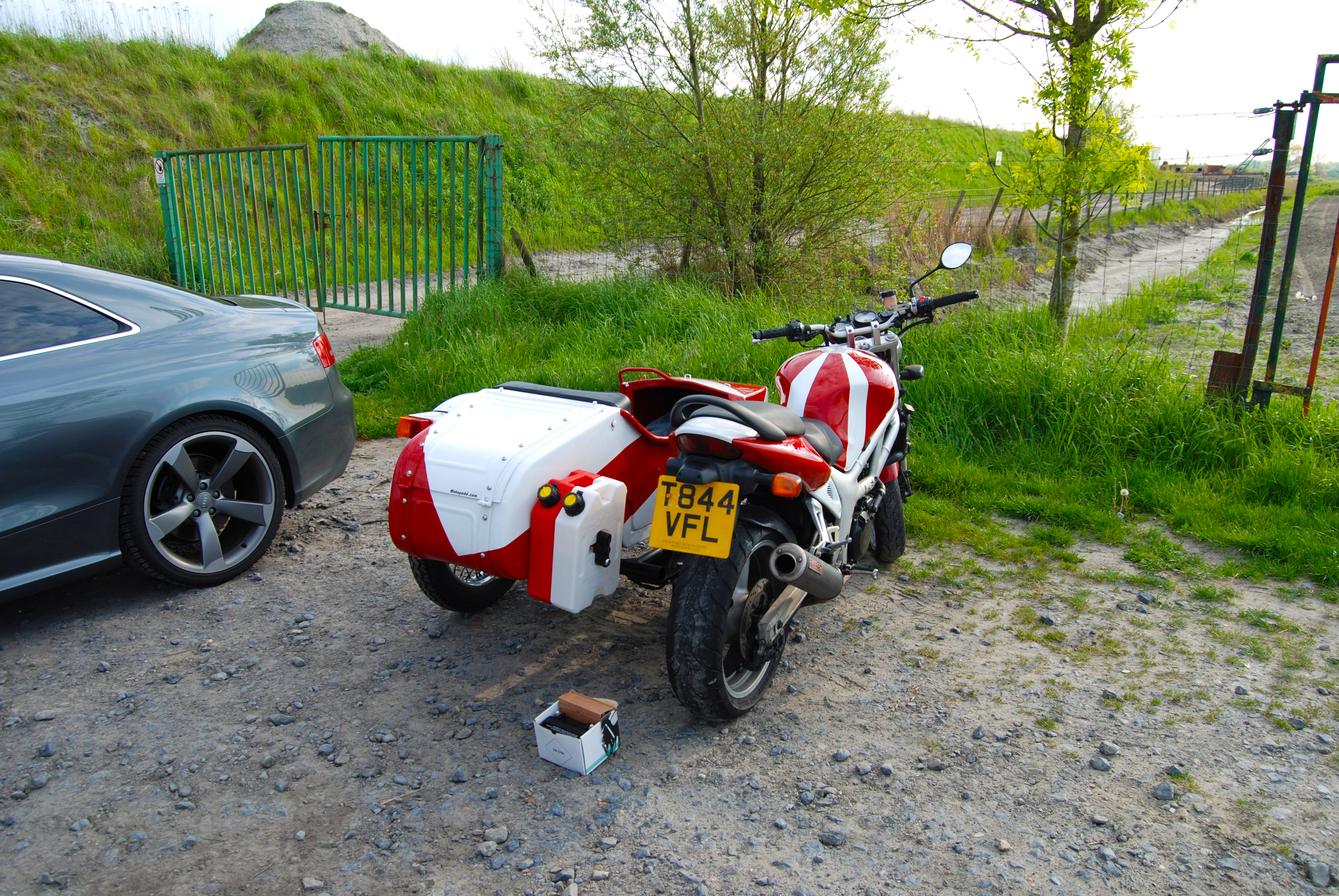 Once again, we set off into the nearest town, which also was a bit short on the horse count front. Most of the town was closed and it clearly had no bike shop. We did manage to walk the length of it though and found out that the next town, 5 miles away, did have shops that were open and would be able to sell us a battery. We walked to the next town and found a car tyre shop that just happened to have the correct bike battery for the SV. They also arranged a lift for us back to the bike. Fabulous. Except the bike still wouldn't start. I diagnosed a blown CDI unit. At this point a Brit on a BMW stopped and asked if we needed help. We had a brief chat and he apologised for the rest of the British biking population and their appalling manners. Thank you, unknown biker, you made us smile at a difficult time.
 It was getting late again, so we decided to check out the accommodation possibilities. The bike was still abandoned on a cycle path on the motorway bridge. The only accommodation appeared to be the world's worst campsite, so we went there. On foot. Apparently, the Belgians do not believe in taxis. Whilst waiting for the one and only taxi in Belgium to arrive at the campsite to take us back to the bike to get our tent (among other things) we realised how truly awful the campsite was, so we instructed the driver (who turned out to be a genuine superstar) to take us to the bike, then on to the next town to any kind of place that might put us up for the night. He helped us move the bike to somewhere mildly better and found us a B&B in the next town. We had quite a good evening as it turned out. We figured it had cost a fortune by now, so why be miserable as well as poorer?
The next morning we wandered down to the tyre shop where they were quite surprised to see us. I explained the dead bike and asked if they could bring it back to their shop and keep it for a few days. Our new plan was to just go home and return later with the van to collect it. They were more than willing to help, so after giving them a wad of cash, we headed to the local train station, fully expecting to get on a train to Dunkirk.
It was mid morning on the Tuesday by now.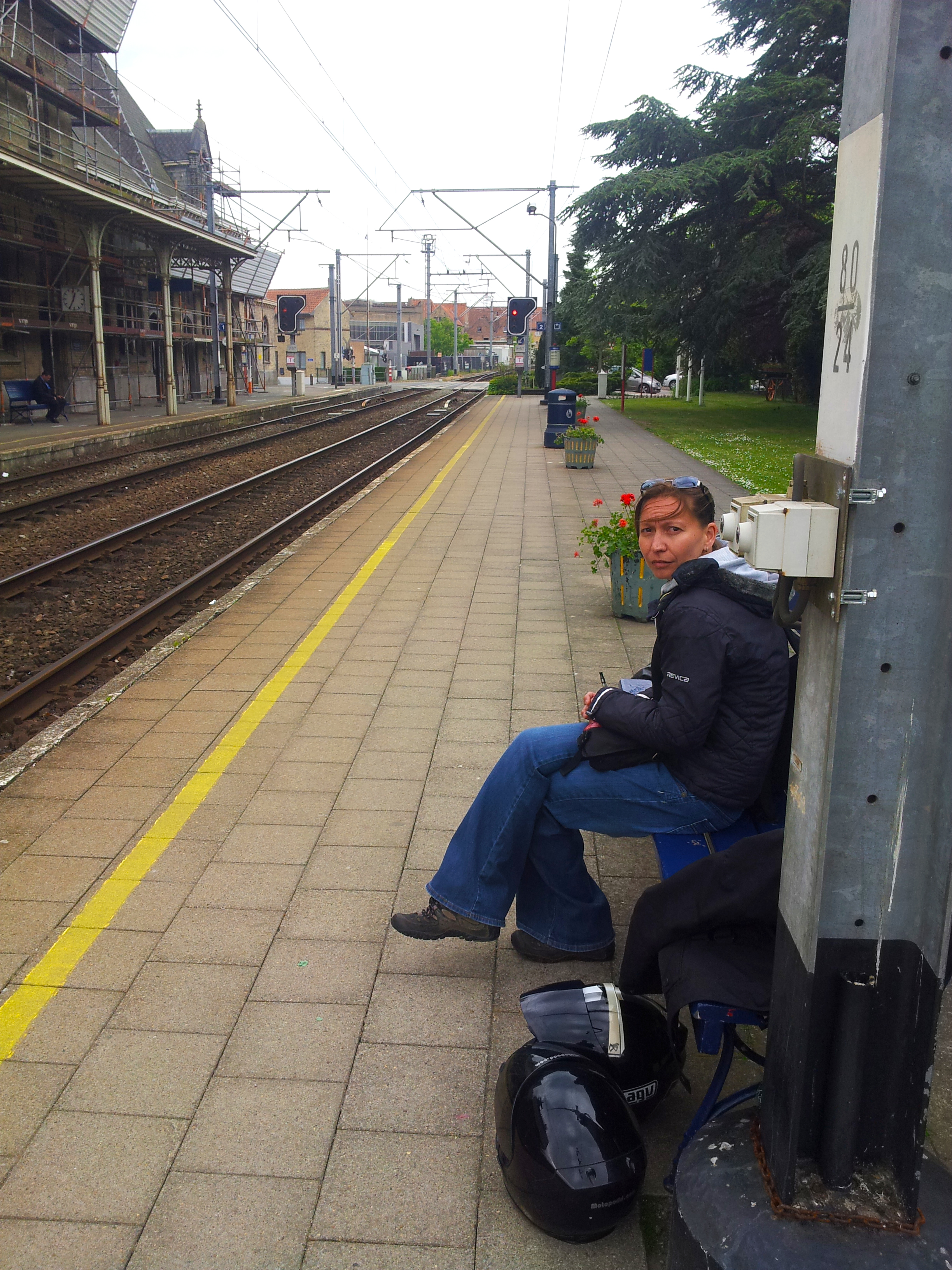 The train station was less successful than we thought. After a great deal of misunderstanding and three hours waiting, we were on a train that took us back to the town where we broke down, but no further. The Belgians don't like the French very much (the taxi driver told us they were all thieves) so they don't build train lines that go to France, unless you go from Brussels. We were then told to get a bus. I phoned the ferry just in case there was a problem when we got there. They impolitely informed us that they would not take foot passengers, despite the fact that they had brought us to France, had taken our money and more since. We found a bus to Dunkirk. It left in 5 hours.
By early evening we had managed to travel less than 50 miles, to Calais, in an entire day.
Of course, we were dropped in Calais town, not the port. Something snapped inside us and we jumped in a taxi to the Eurostar terminal. Several hundred pounds on fast train tickets, to London, seemed better than a ferry to Dover, arriving around midnight with the prospect of finding a train back to Buckinghamshire after that.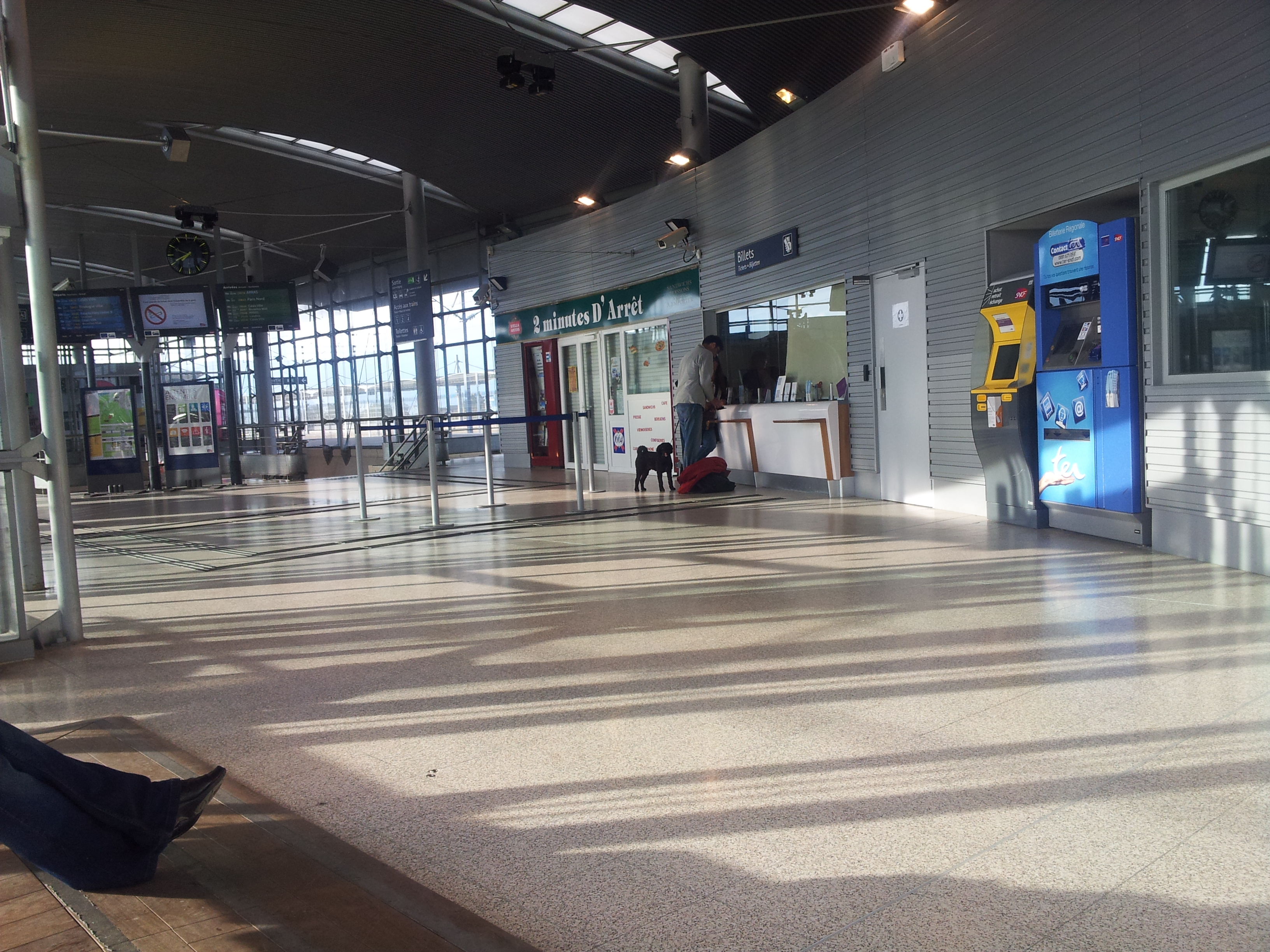 We got home quite late, with no bike and having spent enough money for a fortnight in Australia on what was essentially a weekend break, but hey, we had fun.
Did I mention that I lost my passport during all of this?
I returned to Belgium with the van a few days later, after a trip to the passport office, and picked the bike up. A new cdi and rectifier fixed the problem in seconds once I'd returned home. I will now and forever more, carry a multimeter in my toolkit.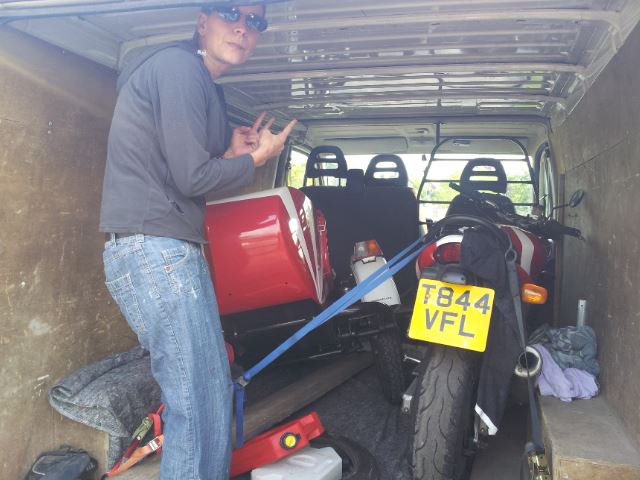 Huge thanks to Tulpin Banden in Veurne, Belgium, the unknown biker who stopped and to Cheryl, who remained cheery throughout the entire debacle, even when I shouted "push faster" during one particularly low moment.
The bike has subsequently been to north Yorkshire and back without further incident, Cheryl stayed at home.
Rod Young