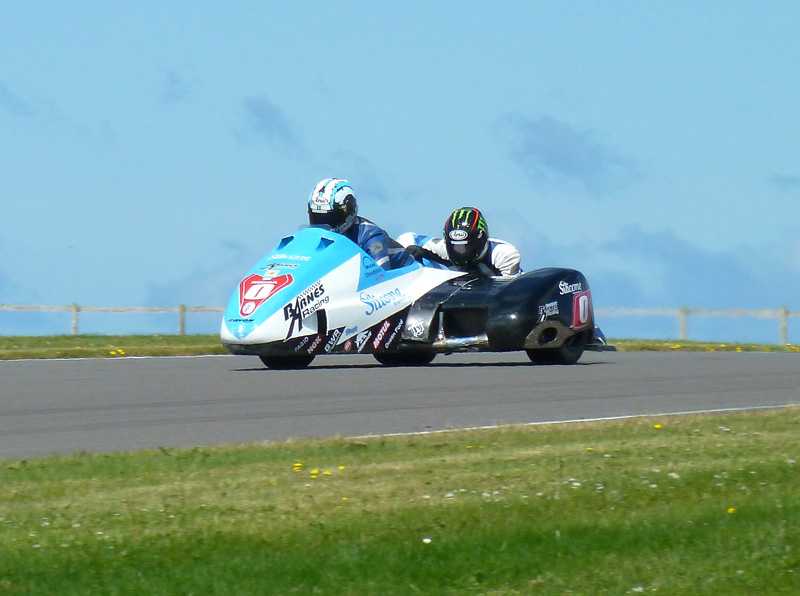 Read Time:
4 Minute, 47 Second
The editor (me) and Mark The Chef (author of the Honda Collection feature in Issue 187) went to Anglesey Circuit in North Wales for what was ostensibly a two-day club meeting organised by the Wirral Hundred MC, but which also featured round four of the British F2 Sidecar Championship.
Sidecars!
The 'chairs' get far too little in the way of press coverage in this country, even among the specialist press who should know better; yet as a category of motorcycle racing they are more exciting to watch than many of the solos, and for the competitor they are not quite subject to the same kind of budgetary 'arms race' as, for example, the 600cc solo class in which the size of your wallet is slightly more important than the size of your cojones.
Sidecars are therefore a subculture within motorcycle racing that is accessible, friendly, not even remotely arsey or prone to diva tendencies, yet very highly specialised and still intensely competitive.
Here then, is a bit of a pictorial from the Saturday's practice, qualifying and 20-lap race, run in perfect sunburn-inducing conditions. Special mentions go out to TT-winner John Holden, and chassis builder Tony Baker and his daughter/passenger Fiona for their impromptu sidecar masterclass in their garage at 10:30 pm the previous night; and Meon Valley Racing's Thomas Quaye and Tom Quaye for putting up with our incessant questions just 20 minutes before their headlining race. See what I mean about accessibility?
Also a special mention to the incredible Anglesey Circuit itself which is perched on a cliff on the west coast of the island of Anglesey off north-west Wales. I'd never been to it before this meeting, but I now know that it deserves every word of its reputation as not just a superb rider's circuit, but also of having as good a scenic backdrop as any circuit in the world. It really is the Northern Hemisphere's equivalent of Phillip Island. It's cafe also does a fantastic Full English Breakfast.
Morning
Wakey wakey rise and shine! It's 0700 and Mark is still tent-bound after we walked the track at 01:00 the previous night with the assistance of a Maglite (and beer):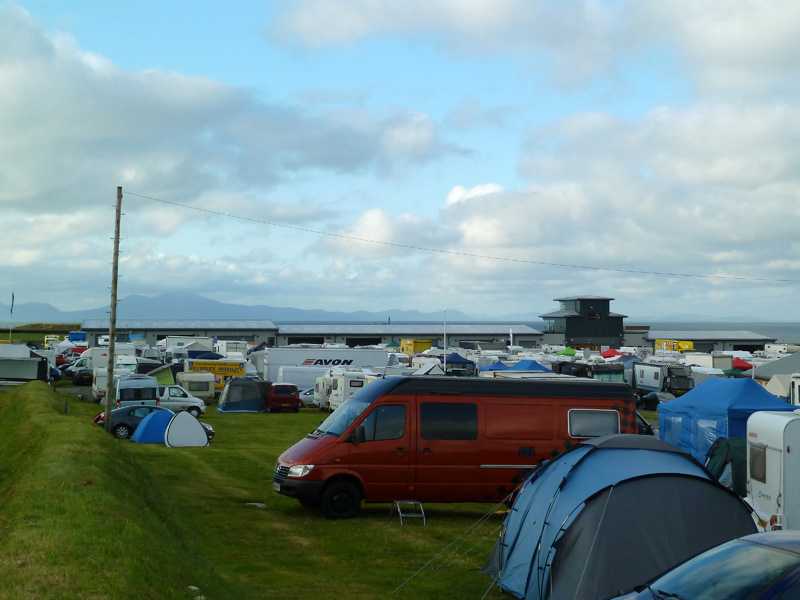 07:30 and the cafe's open: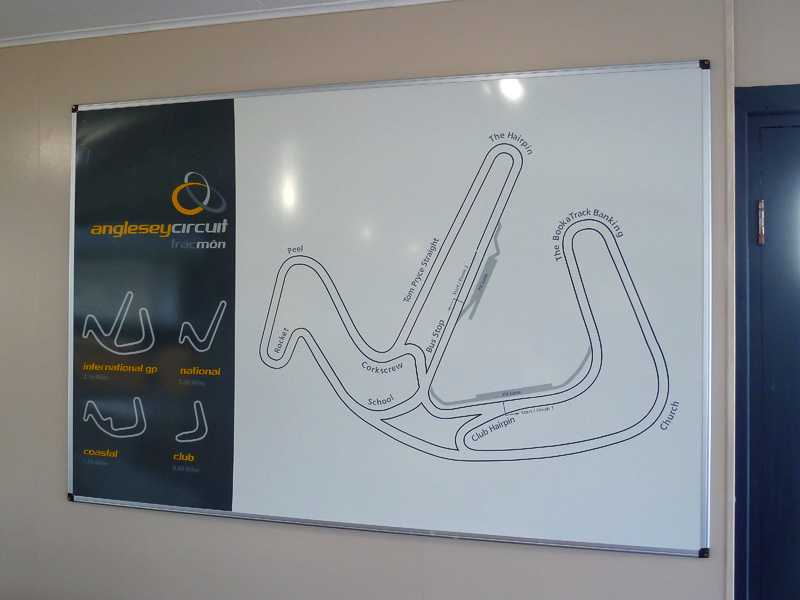 Never mind the nutritionist, here's the burger van: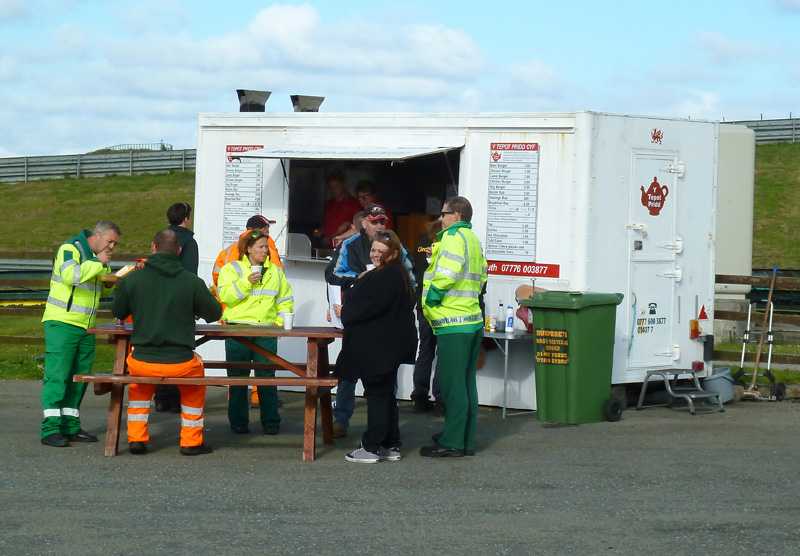 Below – Charlie Morphet & Paul Halliburton's #37 LCR outfit. Sidecars represent precision engineering within a very extreme interpretation of what a 'motorcycle' is supposed to be. F2 outfits run 600cc supersport engines, car tyres at three different widths (Avon are preferred), 2cm of suspension travel at the most and none-at-all on the chair, which is merely a carbon fibre shelf with a bunch of strategically-placed grab handles. Paul Halliburton: "Until you get that trust between the rider and passenger, you can guarantee that the rider will turn his head to check that you're still there and are where you're supposed to be before he turns into a corner. The most difficult part for the passenger is probably dealing with the braking forces."
Some teams are running £9,000-worth of Motec ECU on the engine too, but as Tom Quaye of Meon Valley Racing said: "Just 'cos they've got Motec, doesn't mean they know how to use it. You can start with something like a Suzuki K6 engine like we did that cost £400 from a scrappy. With that we've run in the top ten in British Championship rounds, and we finished 17th in the TT at our first attempt."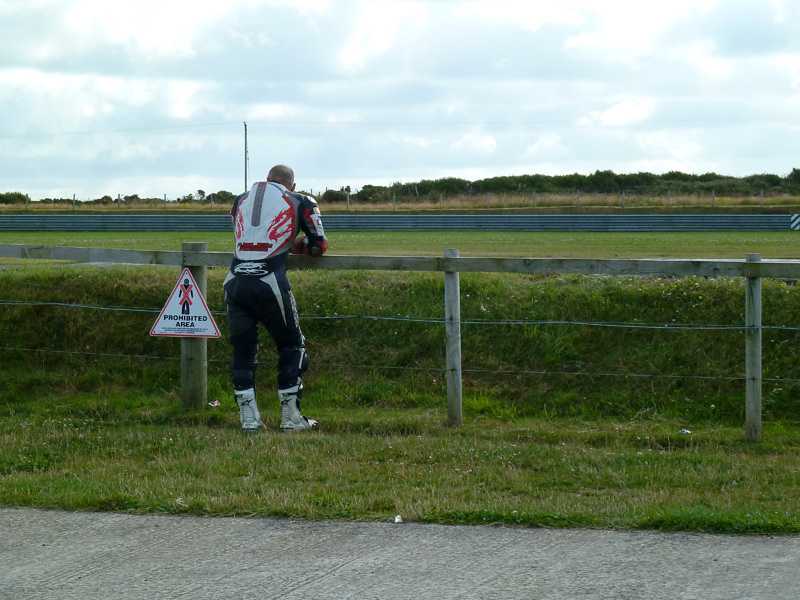 Afternoon – practice and qualifying, the circuit, the paddock and the race.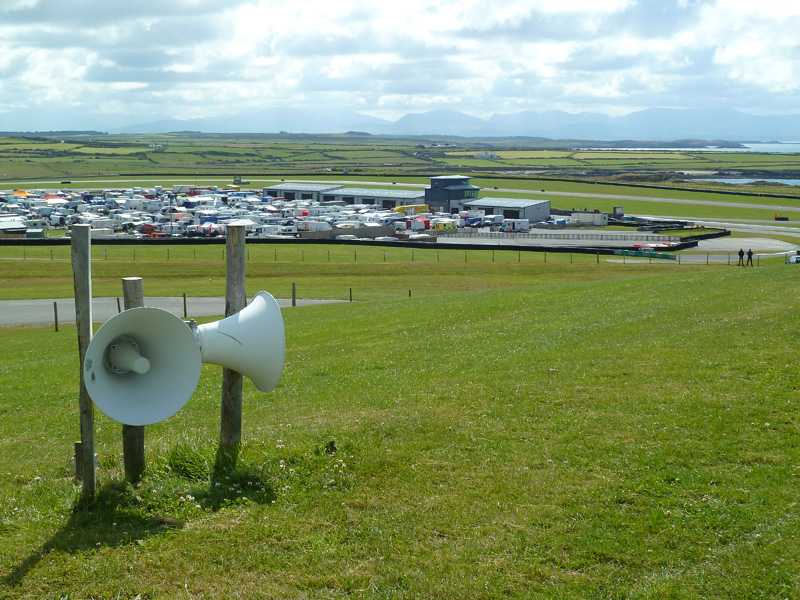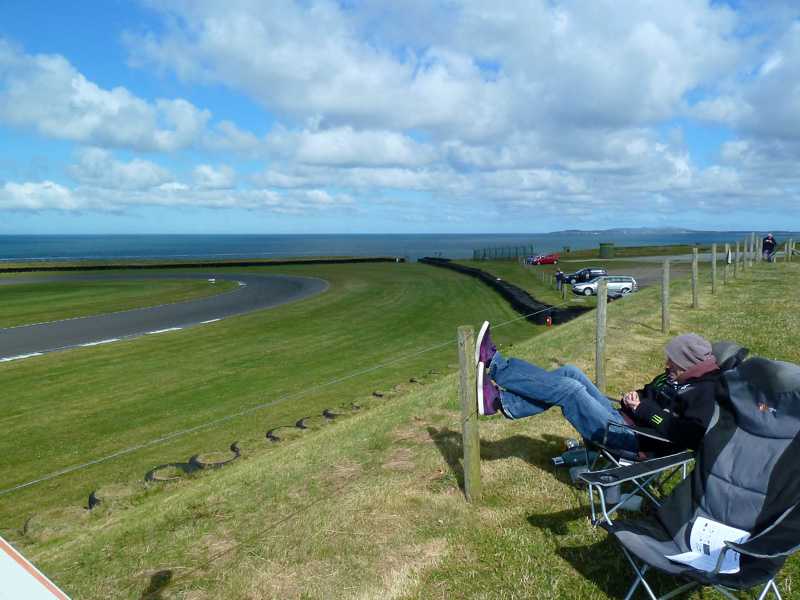 TT-winner John Holden and World Champion Ashley Hawes on an LCR Honda: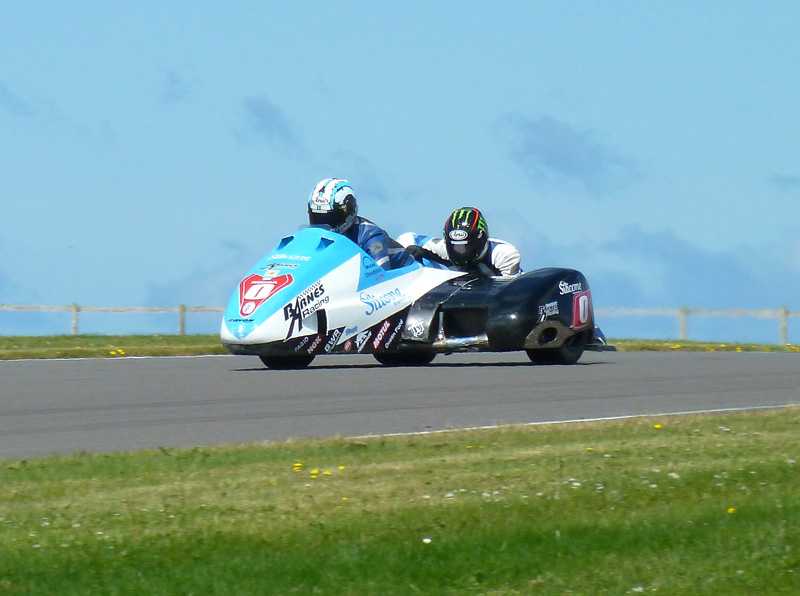 #6 – chassis guru Tony Baker and his daughter Fiona Baker as passenger: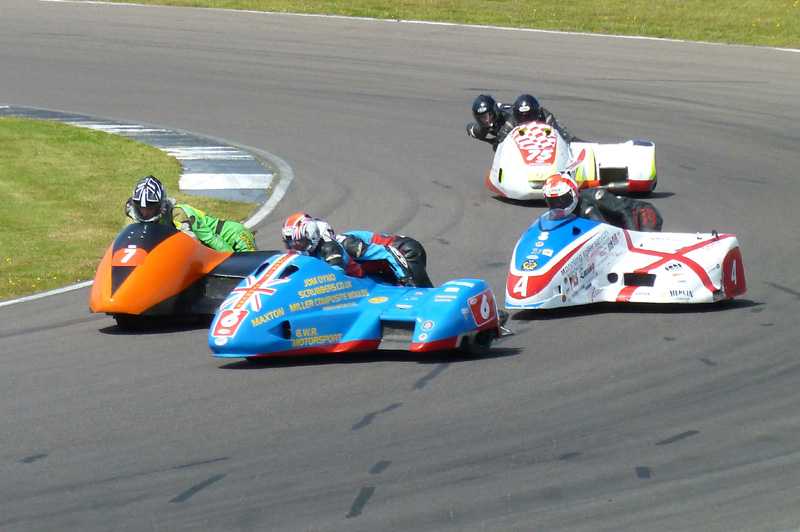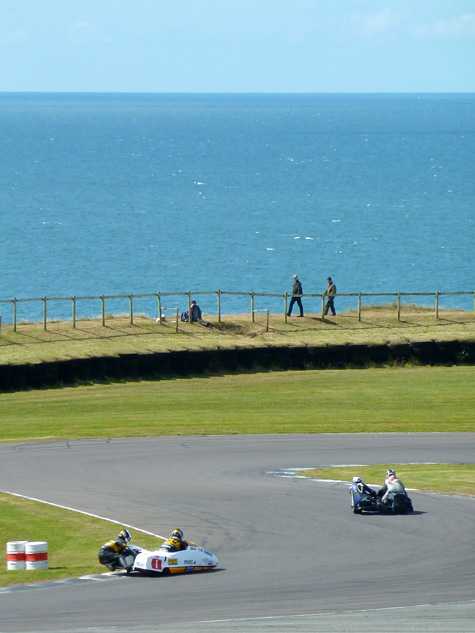 TT-winner Conrad Harrison (Dean's dad) and Lee Patterson: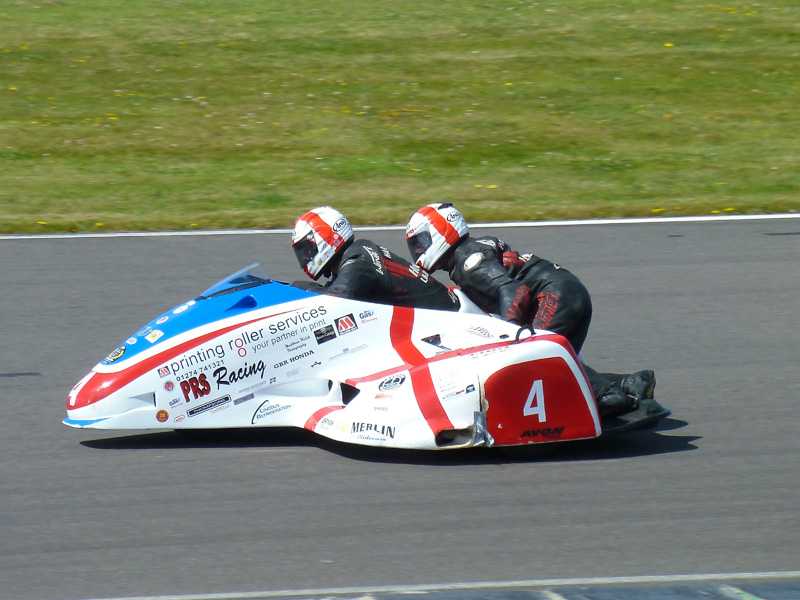 Roy Hanks/Kevin Perry on a Dave Molyneux chassis: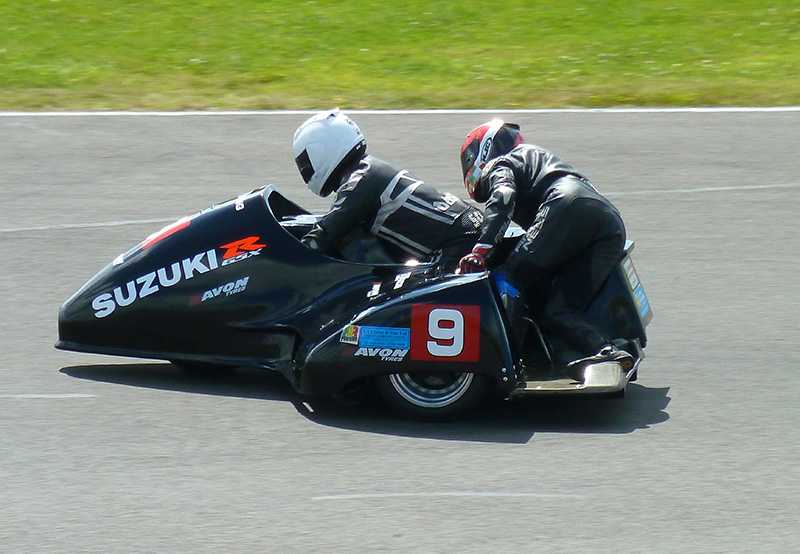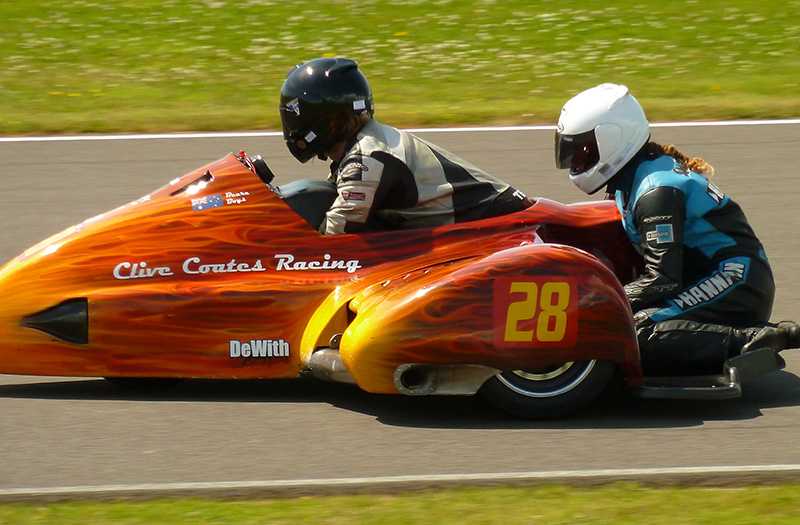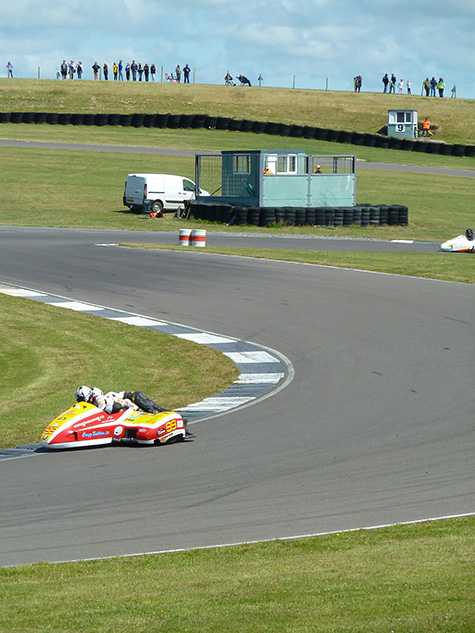 The different styles of the passengers is telling – those with the willingness to hang the furthest out there will be the quickest –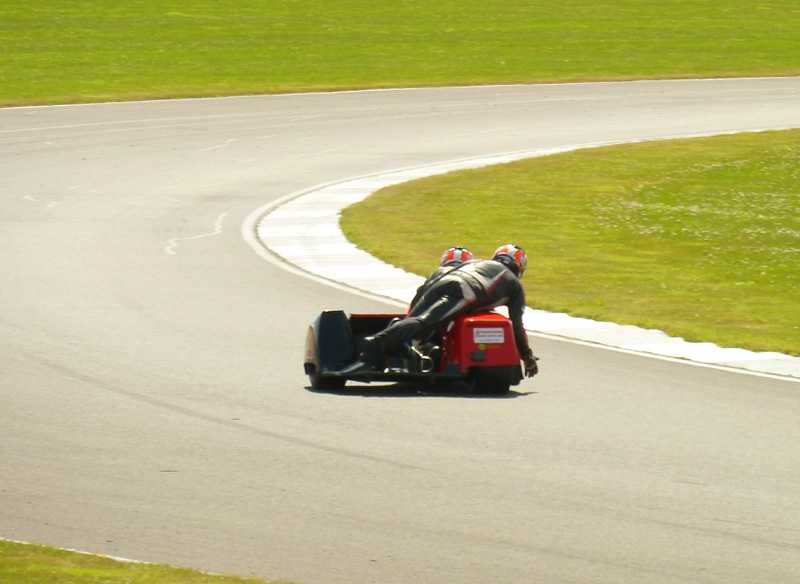 – so since Ashley Hawes is one of the world's best passengers and the 2012 World Sidecar Champion (with Tim Reeves), just do what he does: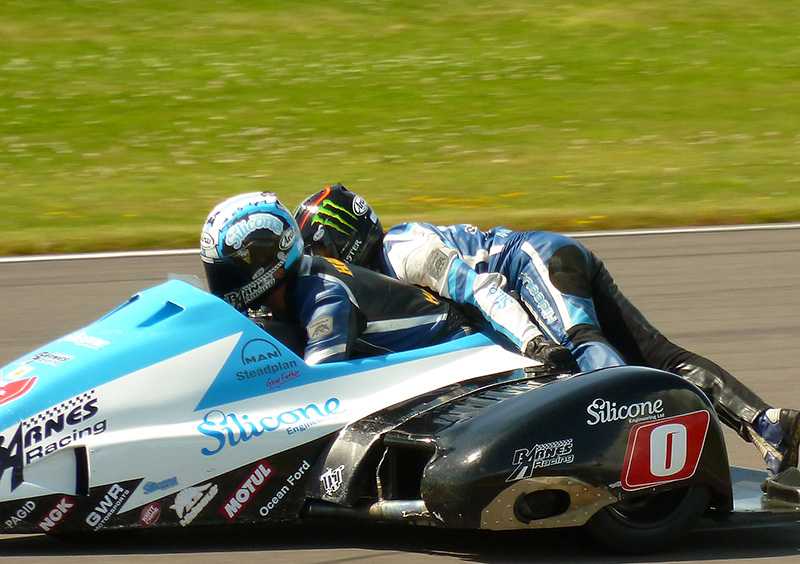 Tony Baker and Fiona Baker on the eponymous Baker chassis with a Suzuki engine: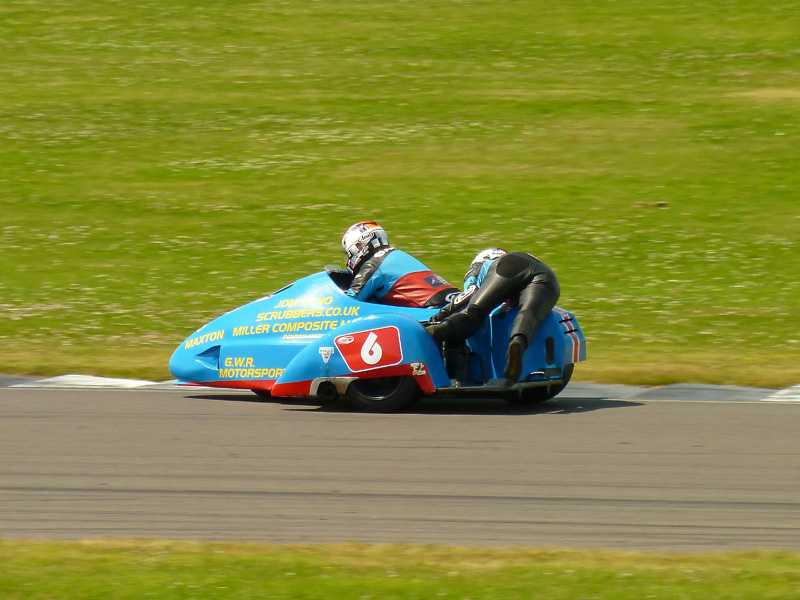 Steve Ramsden/Matt Ramsden and the 'Lorenzo 99':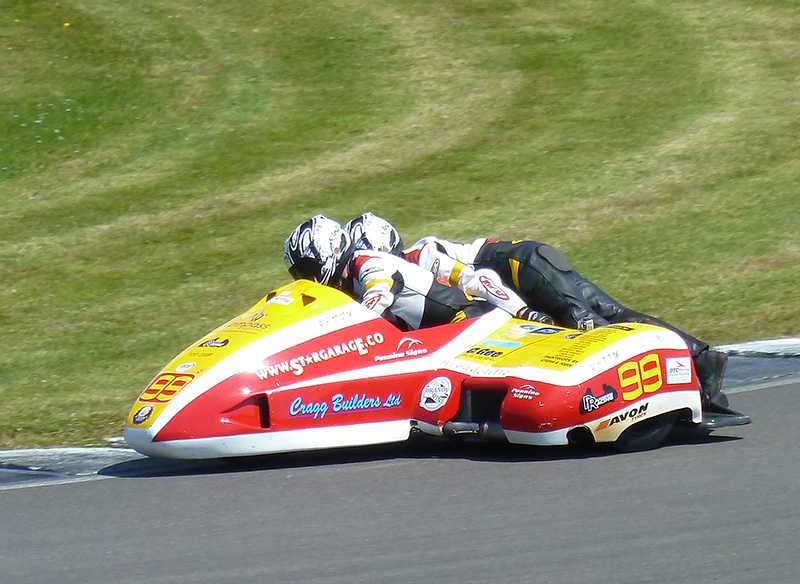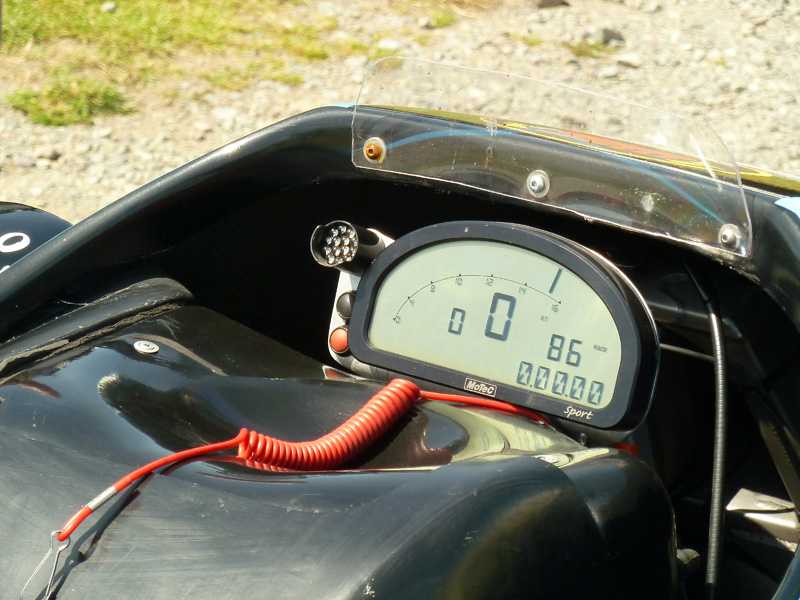 Father/son combo Tom Quaye and Thomas Quaye: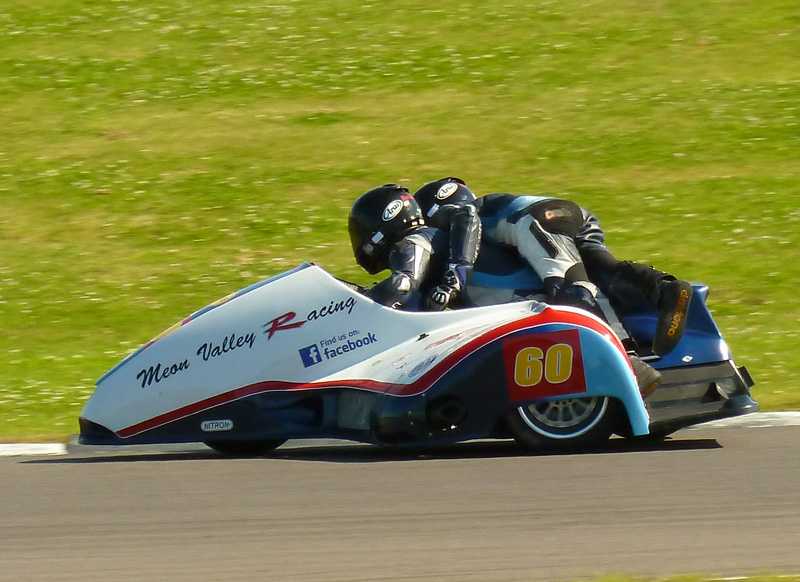 – and their MRE Suzuki outfit with its Gixxer 600 engine: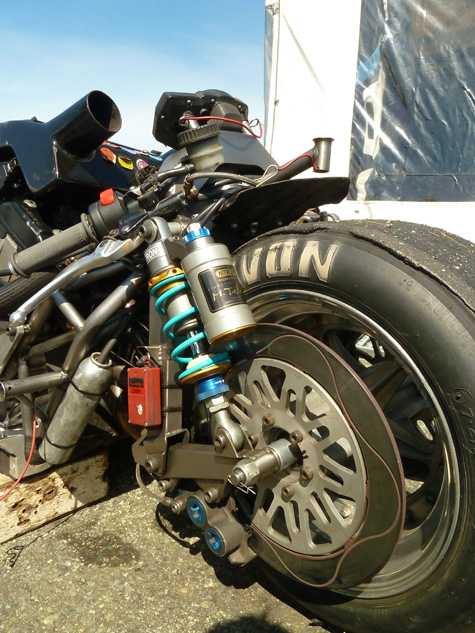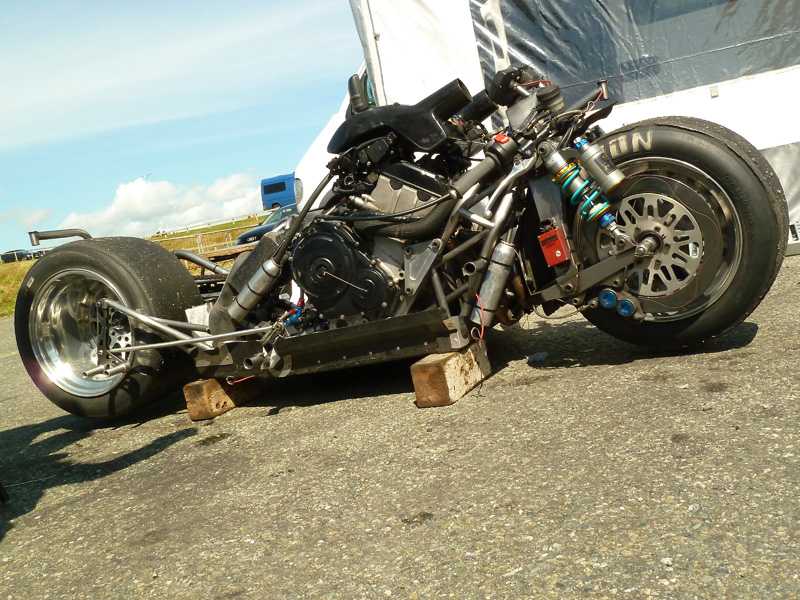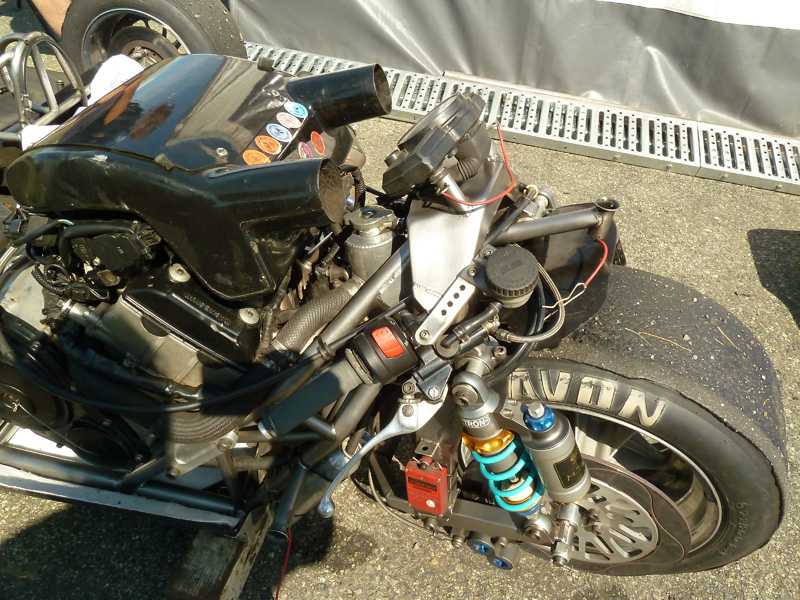 "Give me Goodwood Anglesey on a summer's day, and you can keep the rest" (from a famous quote by racing driver Roy Salvadori):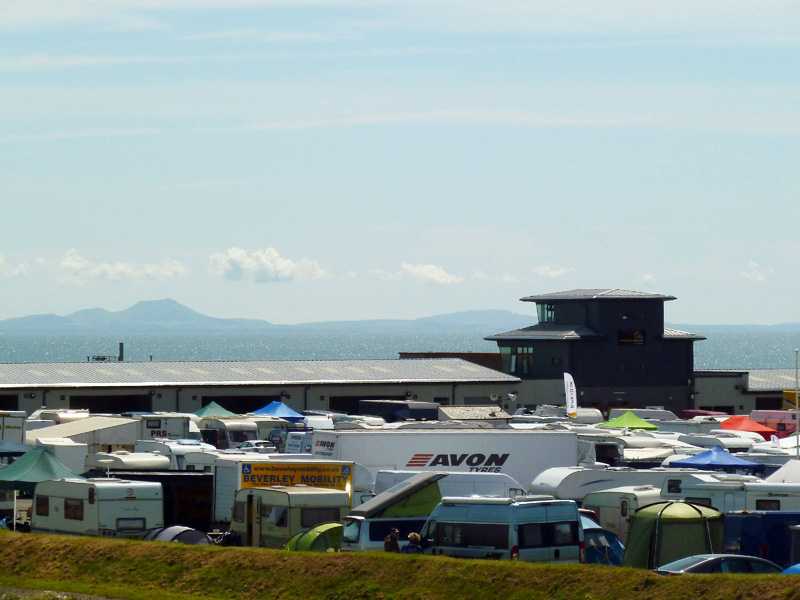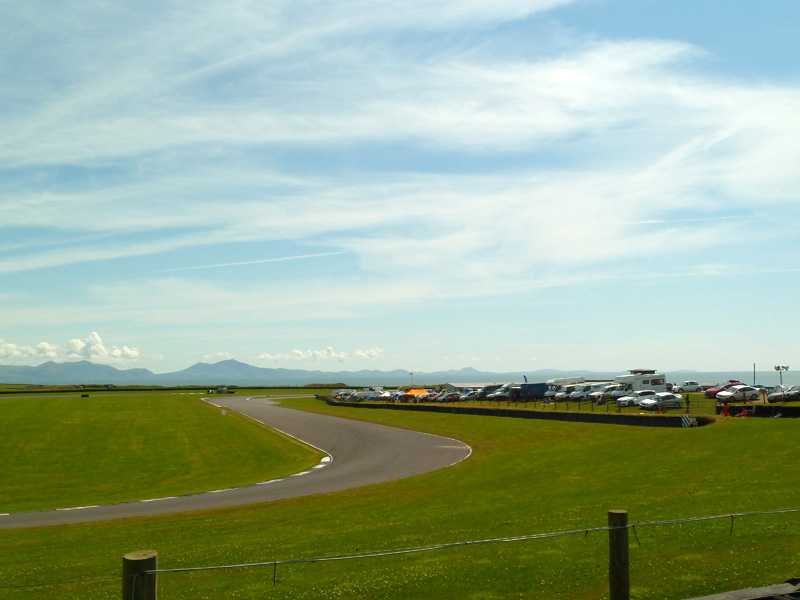 You can't beat a bit o' sausage and egg butty action at a circuit on a summer's day either: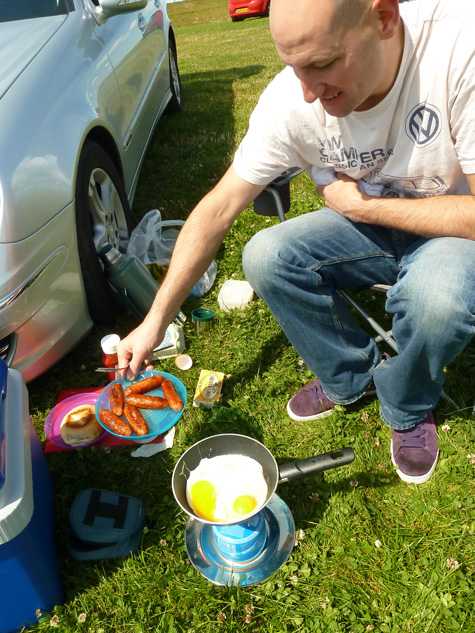 The beam frame configuration of the LCR (Swiss builders Louis Christen Racing) is favoured by the front runners, but that quality comes with a premium price tag: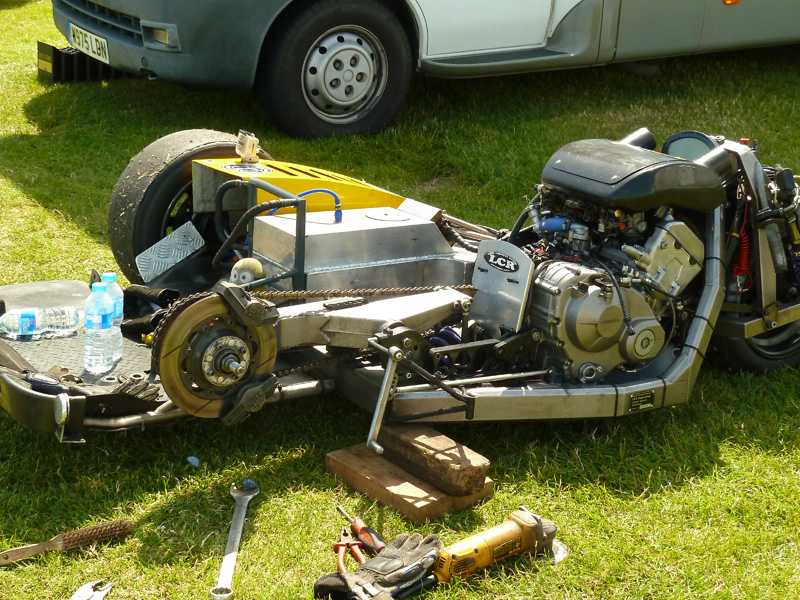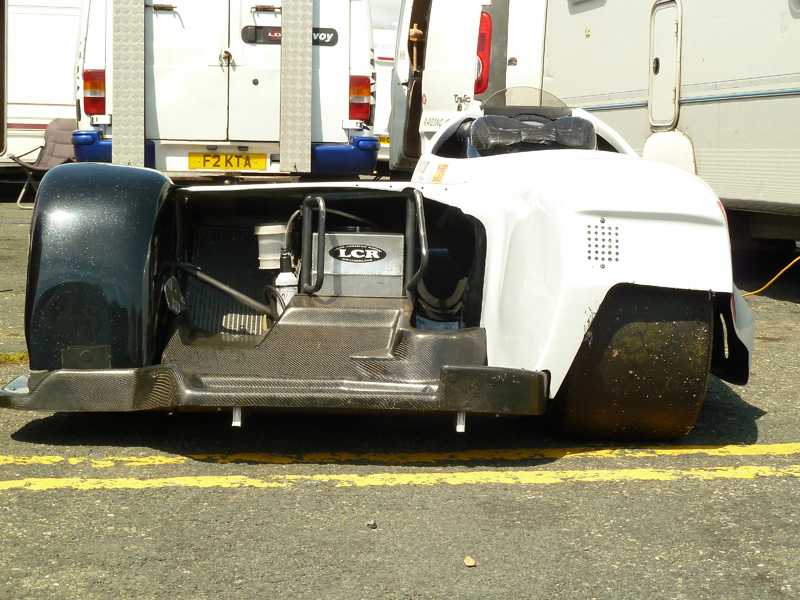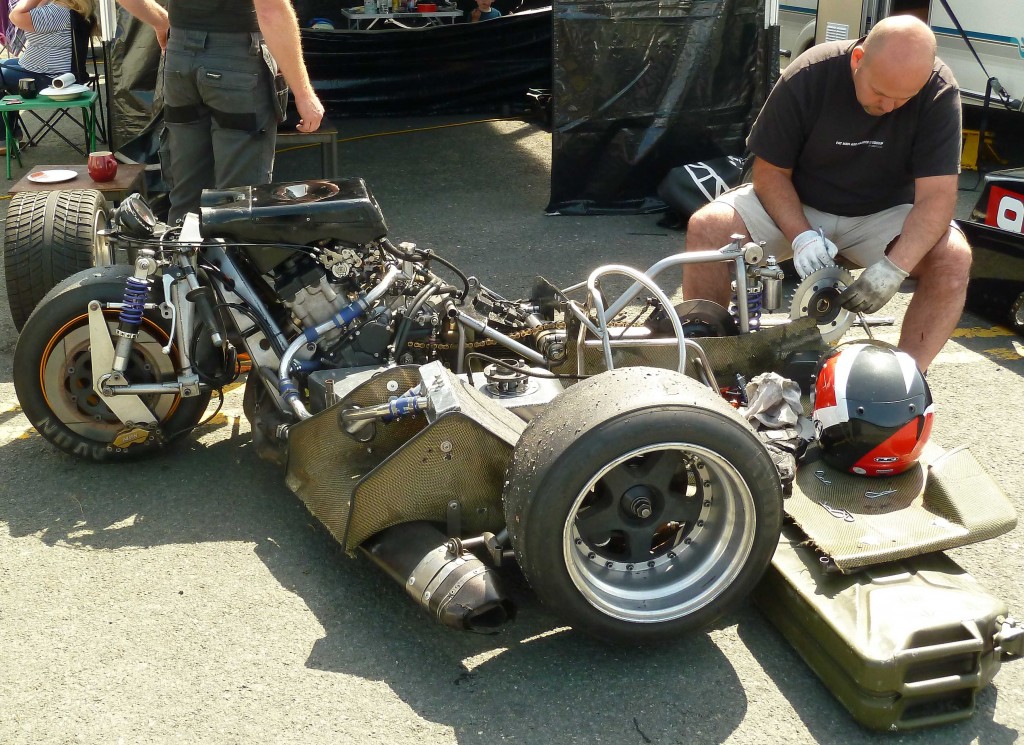 TT-winner Conrad Harrison's Shelbourne chassis: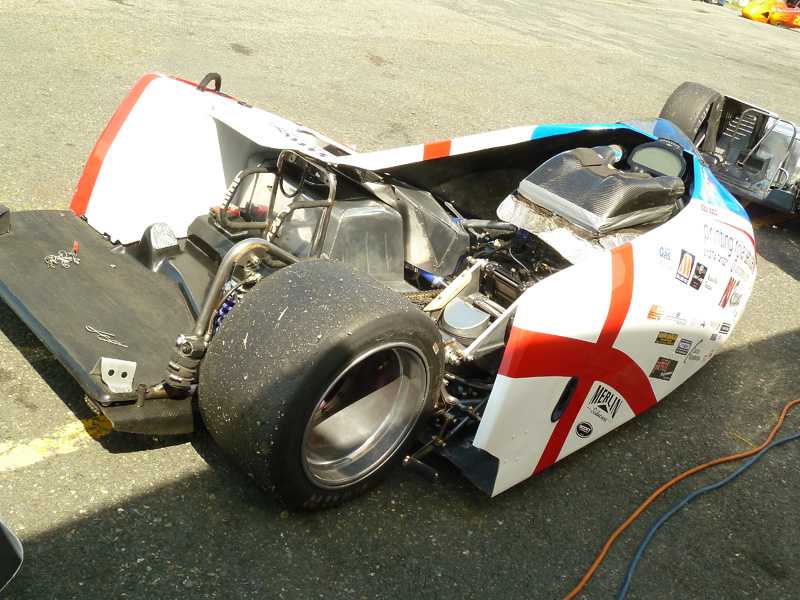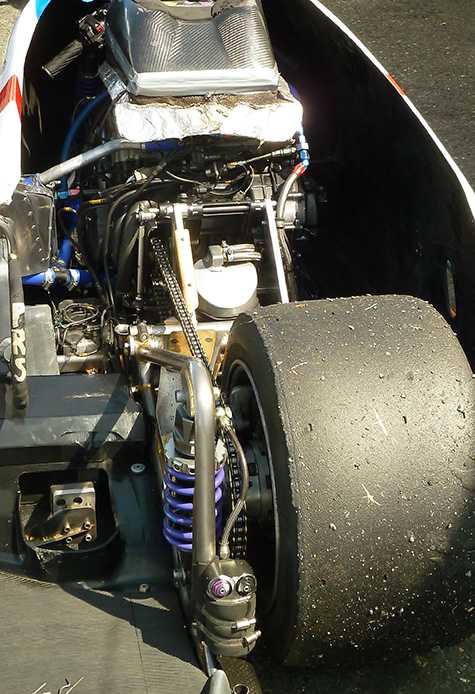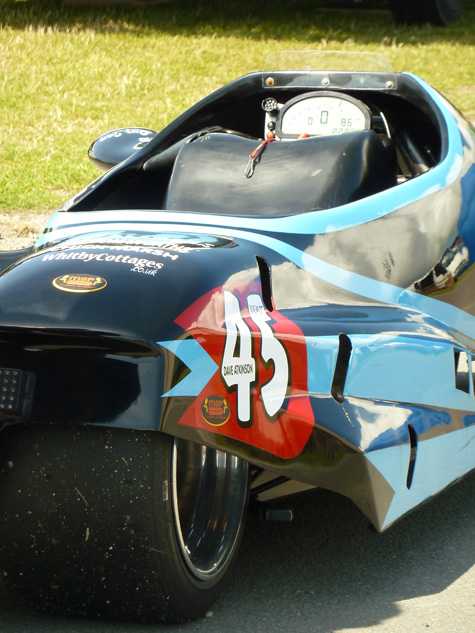 Saturday's race – lap one: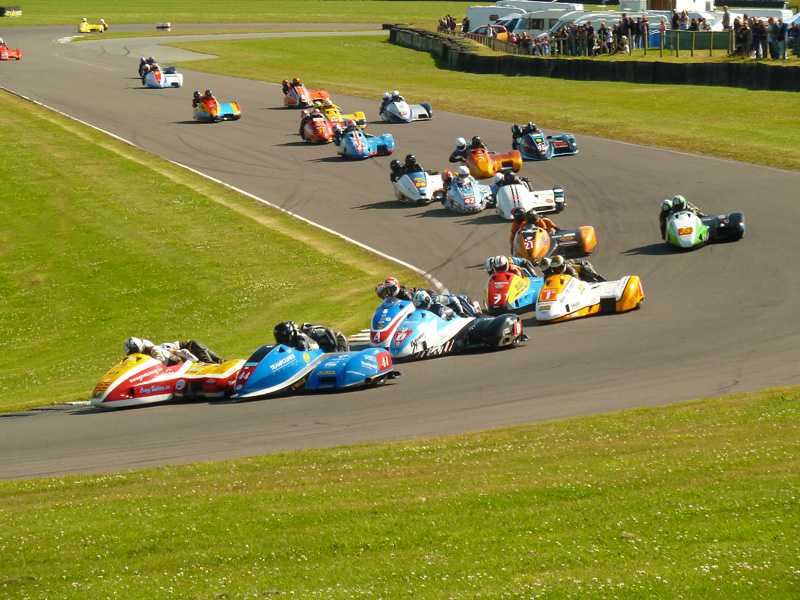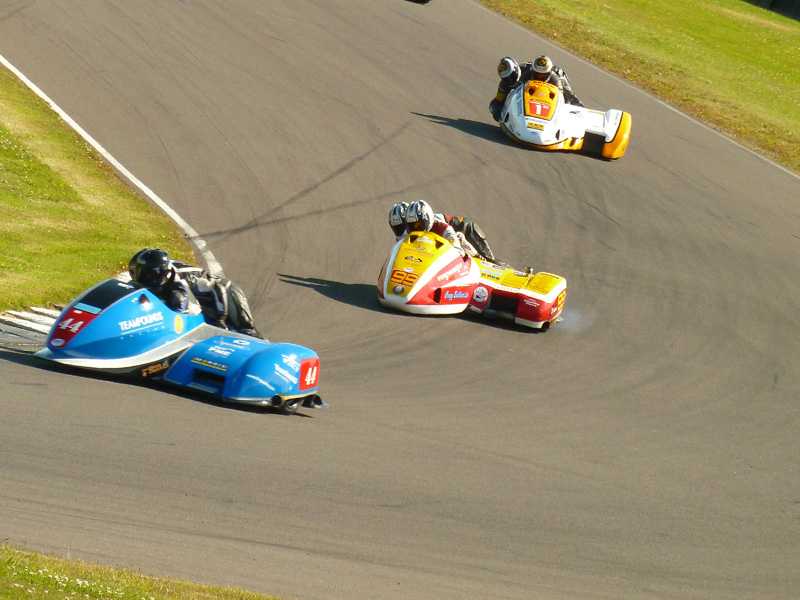 Race winners Alan Founds and Tom Peters (LCR Suzuki):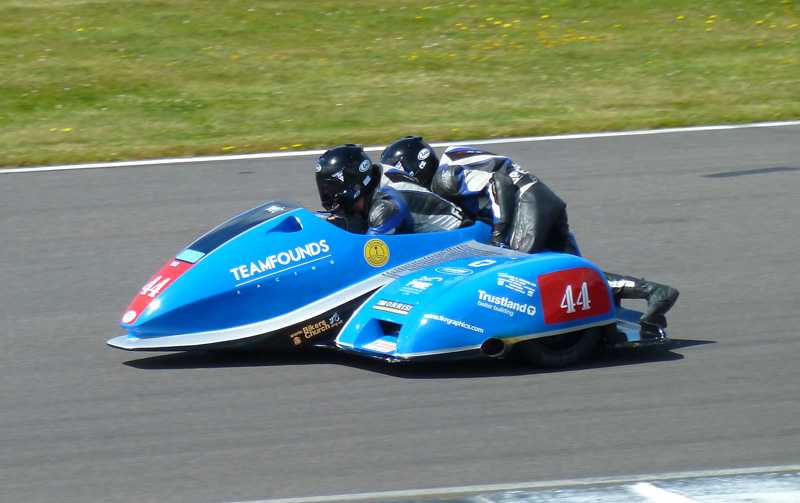 Back in the garage. John Holden's LCR outfit still bears the scars from the previous month's Isle of Man TT: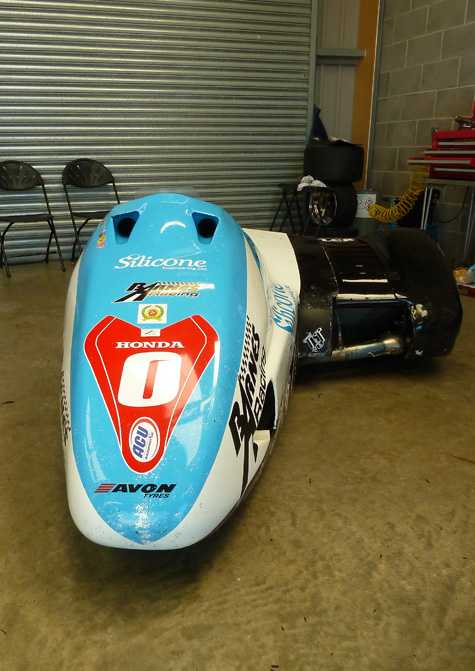 This meeting at Anglesey was the fourth round of 2015's six-round championship. At the time of writing, the two remaining rounds are at Cadwell Park and Croft, both in September.
Check out further details on the national championship and its upcoming fixtures at the Formula Sidecar Racing Association's website.
Social media was basically made for sidecar racing with its inherently 'social' nature. Here are just a few of many pages:
Meon Valley Racing, Team Founds Racing, Steve English's community page and Facebook page.
Also take a look at Anglesey Circuit and the organising Wirral Hundred MC that was commemorating its 100th meeting at Anglesey .
See you at Cadwell for Round Five…
Stuart Jewkes