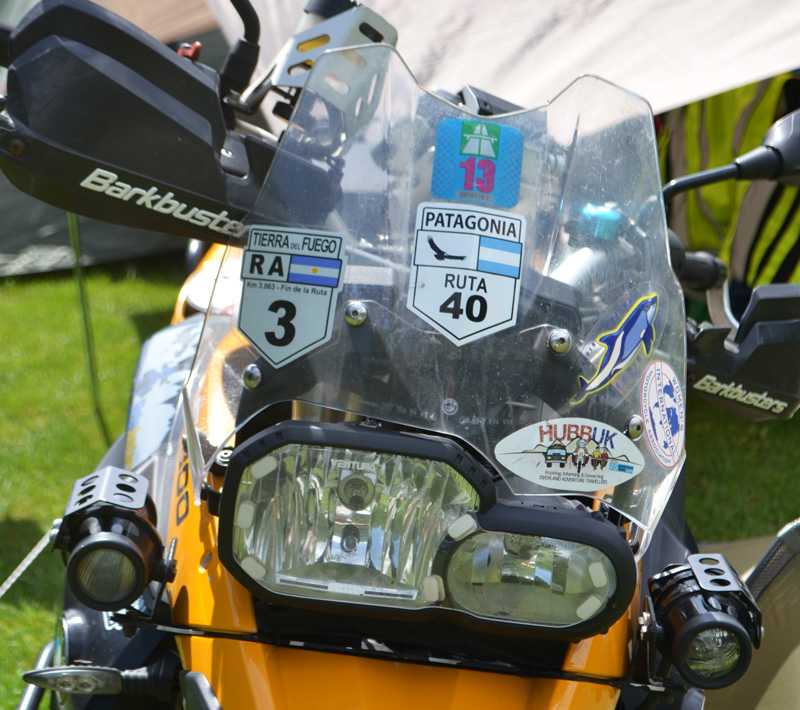 Read Time:
8 Minute, 30 Second
More than 700 outdoor types attended the Adventure Travel Film Festival (ATFF) recently at London's Mill Hill School.
The school, whose alumni includes one Austin Vince, (former army officer, former teacher, film maker, husband of adventurer and author Lois Pryce and curator of the ATFF) is the new setting for the festival, which has outgrown its former venue in Hampshire.
Set high on a hill, a stone's throw from where the M1 reaches into North London, the school's magnificent rolling grounds, grassy banks and imposing buildings proved a perfect setting for the festival; with its rugby pitches covered in rows of tents punctuated by an assortment of vehicles, from innocuous looking family cars to motorcycles of all shapes and sizes as well as several trucks and 4x4s.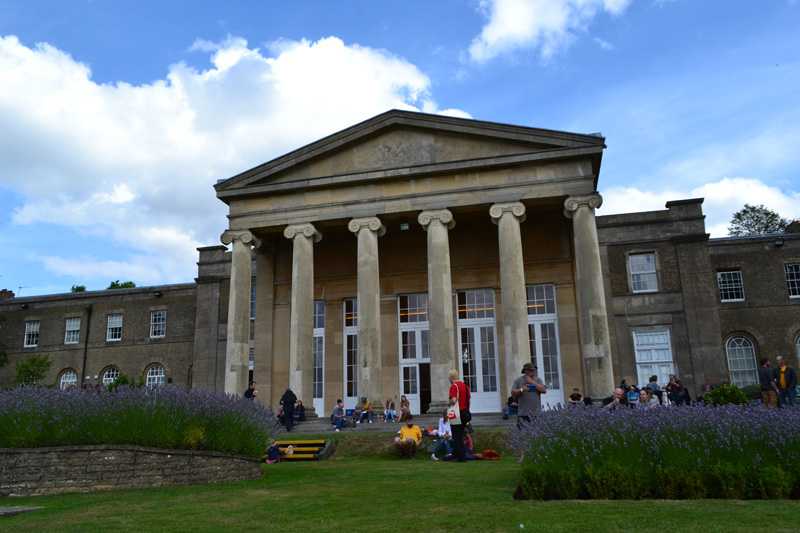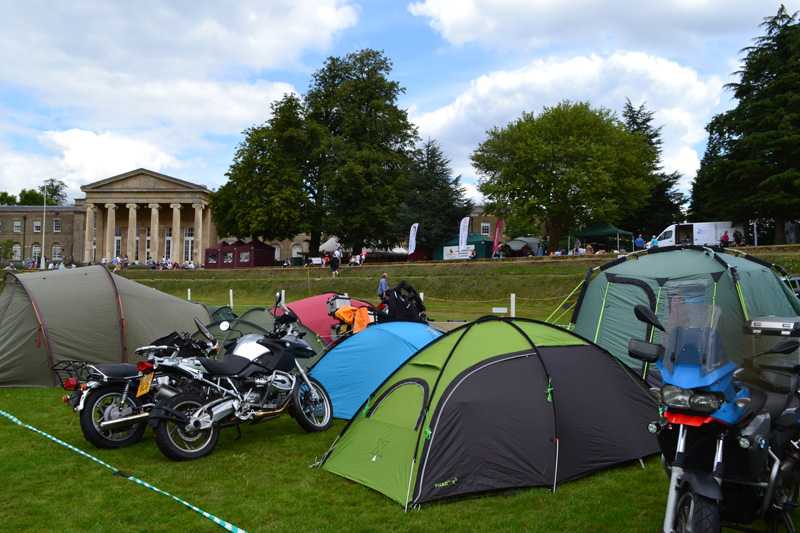 On a terrace above the playing fields, a collection of trade stands were plying their wares to those who prefer life away from the beaten track, while a number of workshops were held in various locations by various experts in their various fields to enable those present to hone their already considerable survival and exploration skills.
As someone to whom adventure travel means staying at a hotel without wifi, the concept of setting off for nowhere in particular for an open ended period with limited funds and nowhere to stay is an alien one, but clearly from the numbers of attendees present there is a increasing sector of the population from all walks of life interested in developing a sense of, well, adventure.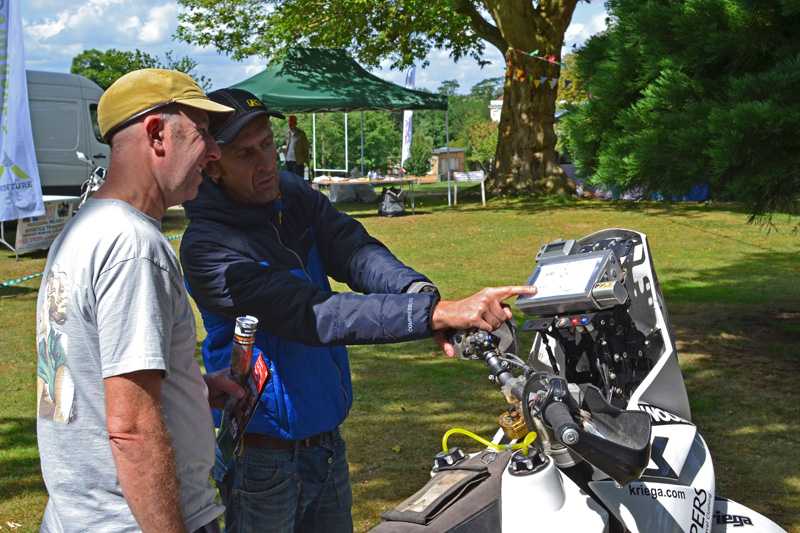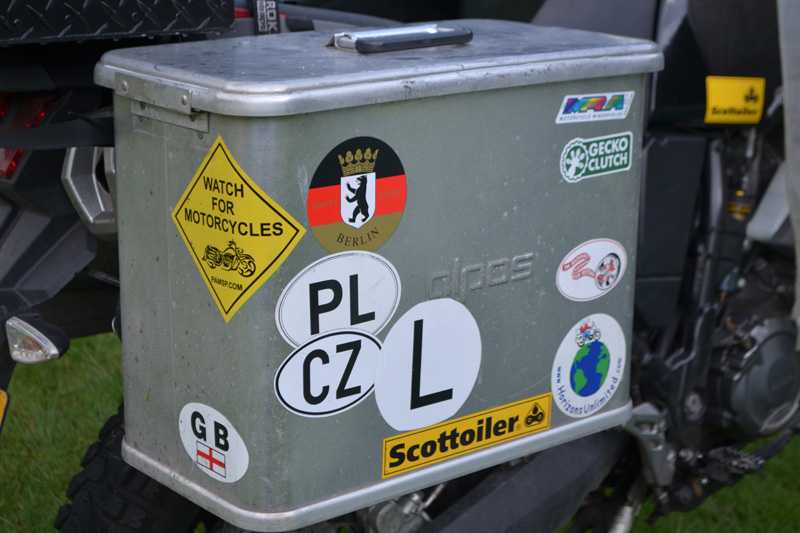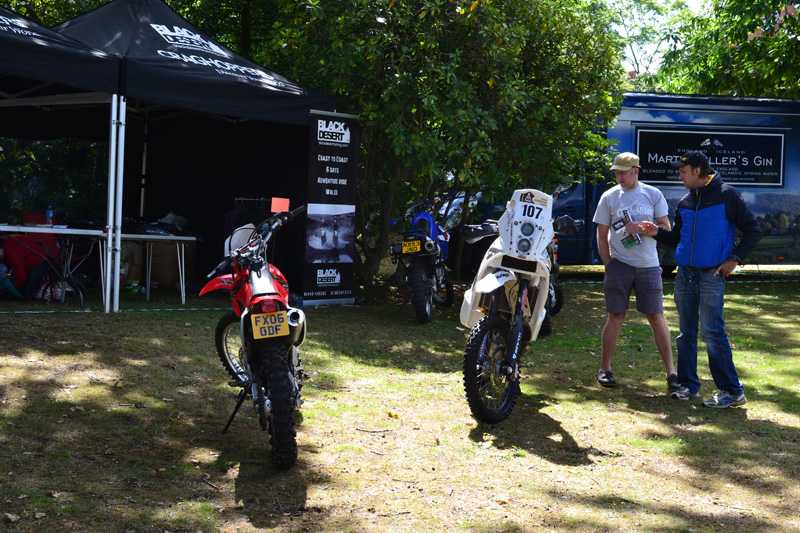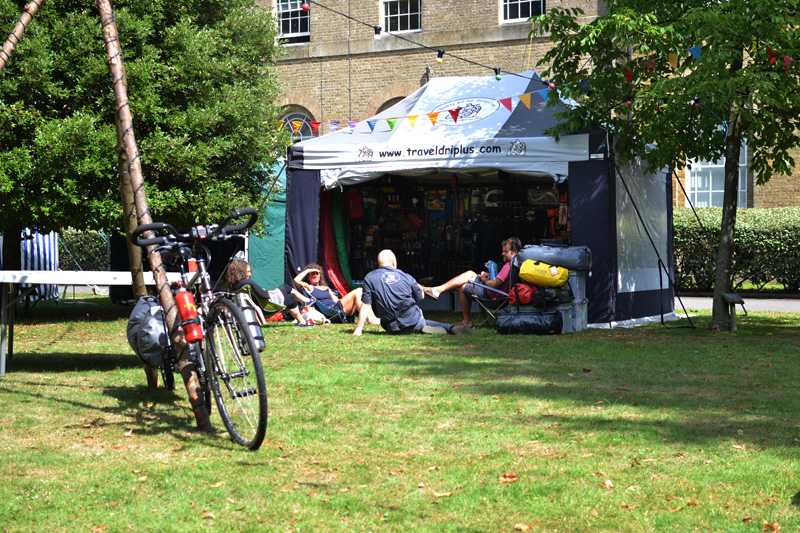 As the title of the ATFF suggests, an eclectic collection of inspirational travel films were being shown over the three days, repeated at regular intervals so you didn't have to miss any.
These included the self-explanatory 'Idi Amin – A Self-Portrait'; 'Hitchanbul' – as the title suggests, a film about Dimitri and Karsten attempting to hitch hike from Belgium to Istanbul in seven days; 'Fourteen Horsepower through Africa' – a vintage travelogue of an epic journey from Cape Town to Cairo in 1935 (the 14hp also had to pull a sidecar!); and 'Somewhere Else Tomorrow' – Daniel Rintz's epic tale of adventure, desperation, true love and bevel drive bearings as he circumnavigated the globe on a BMW airhead.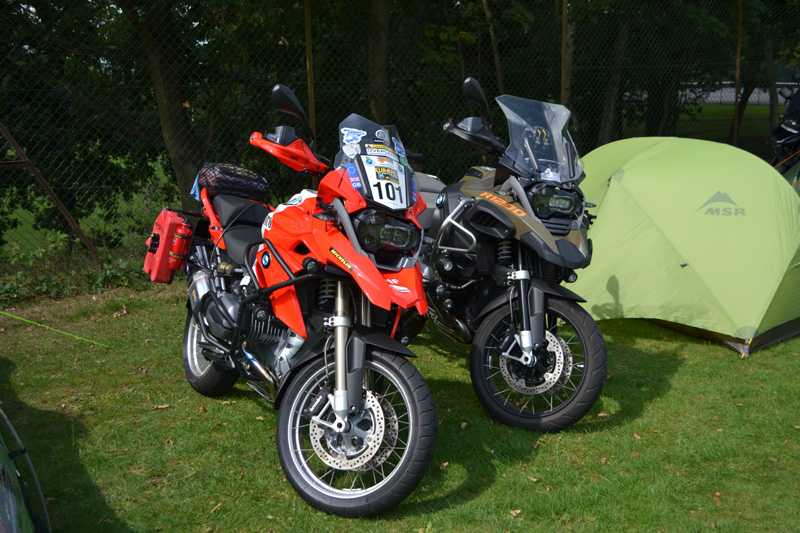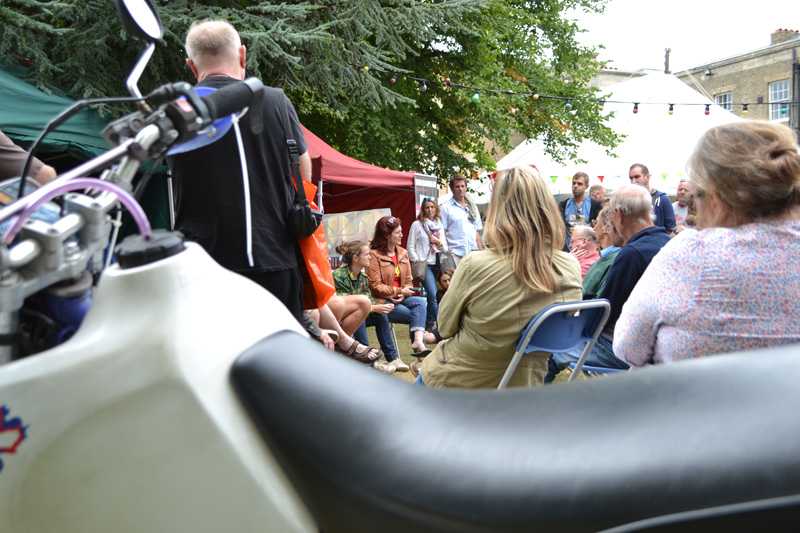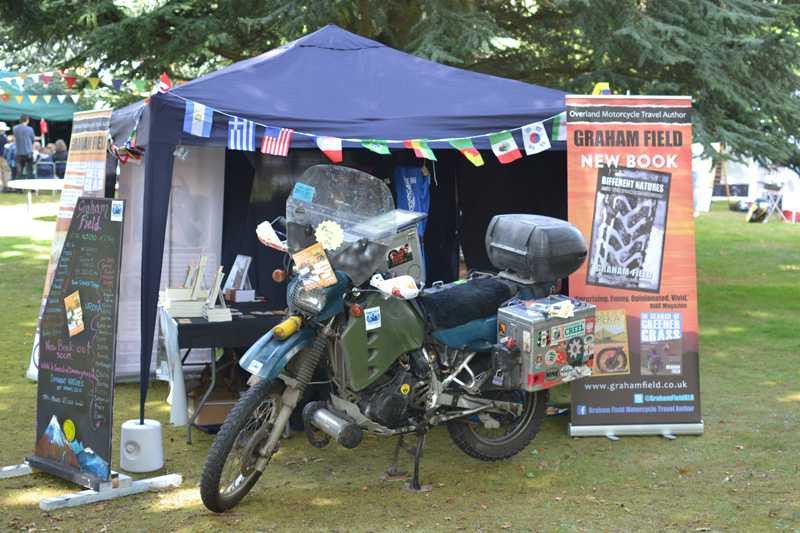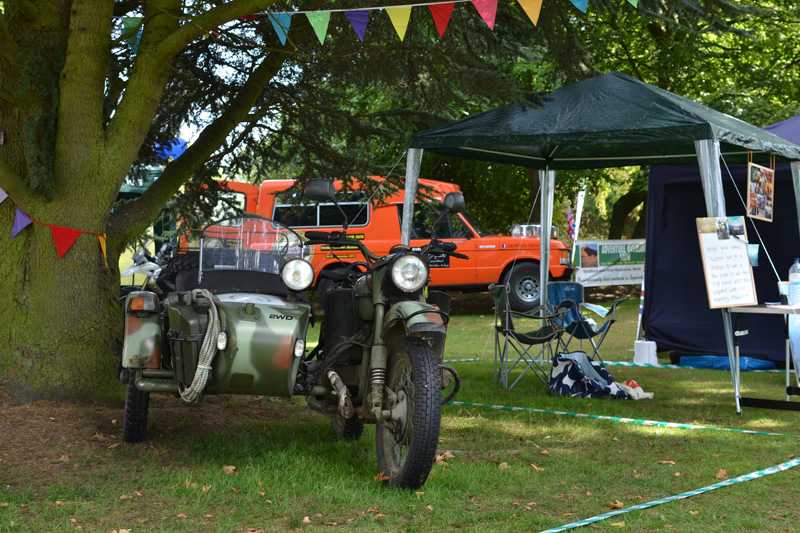 But even though you're reading this courtesy of The Rider's Digest, you may be surprised to learn that the festival wasn't all about motorcycles; every form of travel you can imagine was featured, among the trade show exhibits were huge 4×4 camper vans (with similarly huge price tags) sturdy walking boots, all terrain bicycles and of course the ubiquitous BMW GS featured, along with some rather nifty devices designed to bring first world solutions to third world problems.
A tiny wood stove (about the size of a can of beans) had the capability to charge your smart phone or a tablet simply by burning twigs via a USB port. You could also boil a kettle on it, (the stove, not your tablet) or expand the cooking area by adding a two legged grill extension, and it all packed away into a tiny bundle. Beautiful.
Nearby a mundane looking plastic water bottle fitted with a long life filter was transforming murky ditch water into crystal clear drinking water.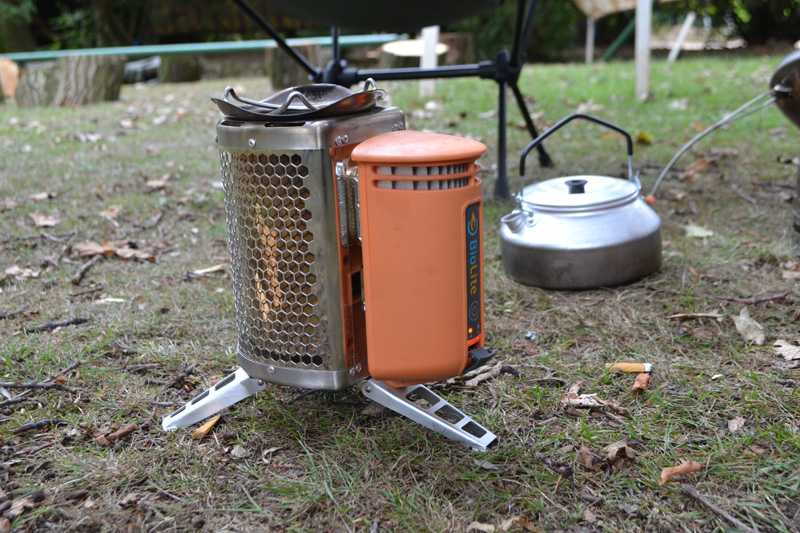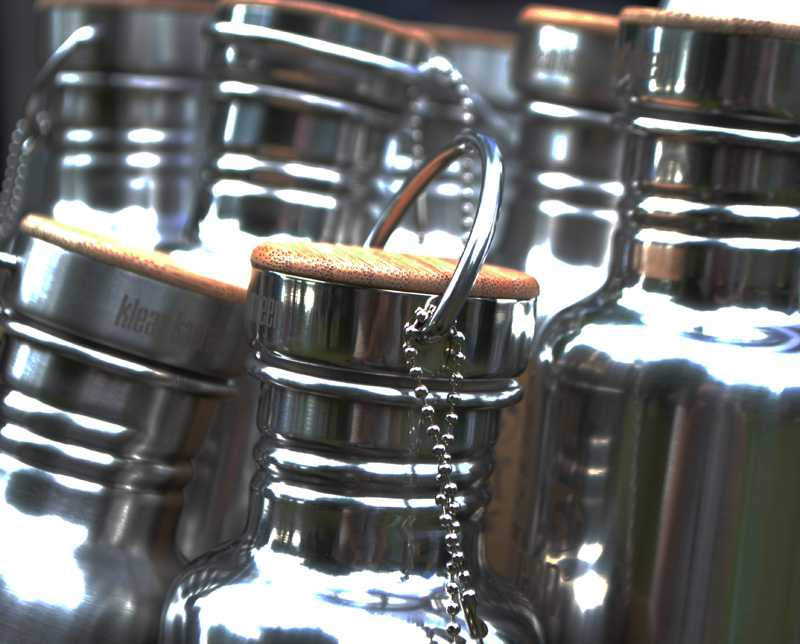 Two very well spoken young ladies were showing an interest in packs of dehydrated chocolate 'for daddy' – he was apparently off on an expedition in the coming weeks. I asked them where he was headed.
'He's running across the Yukon' I was told. I suggested that I was glad it wasn't Milton Keynes. The girl on the trade stall found this quite amusing but the two young ladies just looked confused.
A brief chat with Austin, who could frequently be seen striding purposefully about the site clutching a clipboard (while wearing his trademark immaculate overalls compete with unique stripes and embroidered patches) confirmed that both he and Lois were firm supporters of TRD, before suggesting that I should have a wander around the camp site to see the wide variety of bikes present.
And he wasn't wrong, bikes of all shapes and sizes were very much in evidence, two of which – an unlikely pairing of a Royal Enfield and a big trailie (difficult to see what it was as it was being used as a coat rack) – even had their own tent.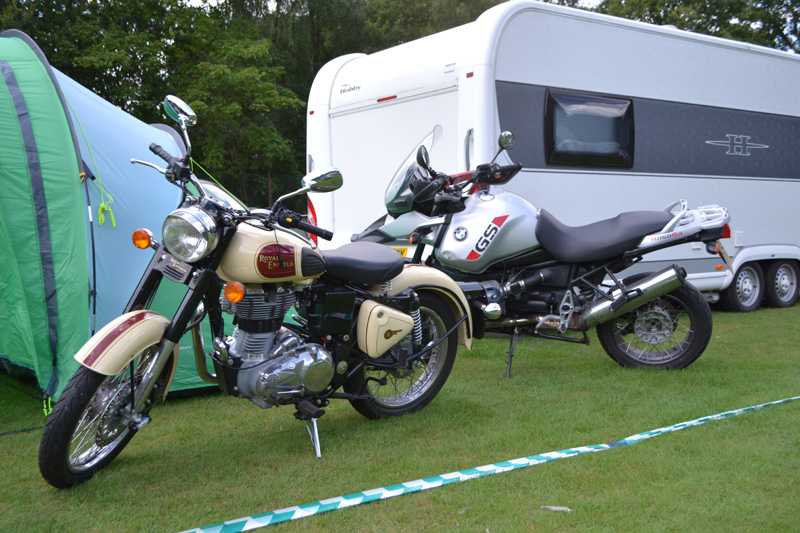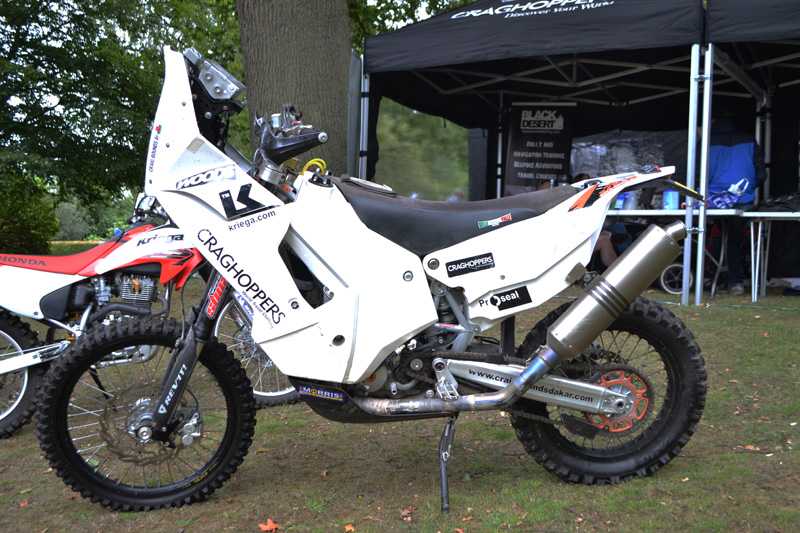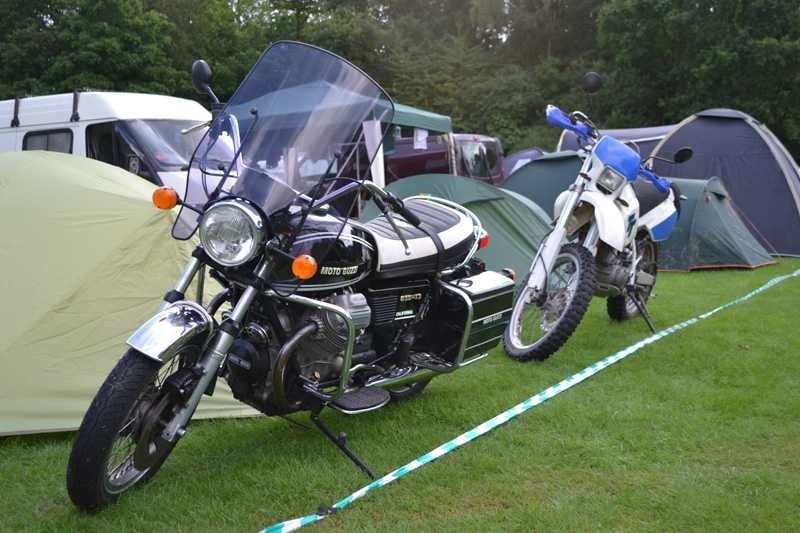 Like all good explorers, I started to plan how I could spend my available time most effectively, and looking at the Saturday schedule, I made my way across the terrace to catch the tail end of the 'Knots and Lashings Workshop', hosted by the 'Jolly Woodman' Adam Thompson in a quiet clearing in the trees.
Confident that I had the necessary knowledge to securely attach a mountain goat to my top box, I then decided to grab a coffee before spectating on the 'Fire Lighting Workshop', held by Kevan Palmer of Woodland Ways (below), although I must say, while I was watching Kevan's assistant Jay Jenner seemed to be doing all the work.
Maybe Kevan was preserving his energy, but Jay proved very proficient in a variety of techniques in creating fire without the aid of a Zippo or a box of Swans.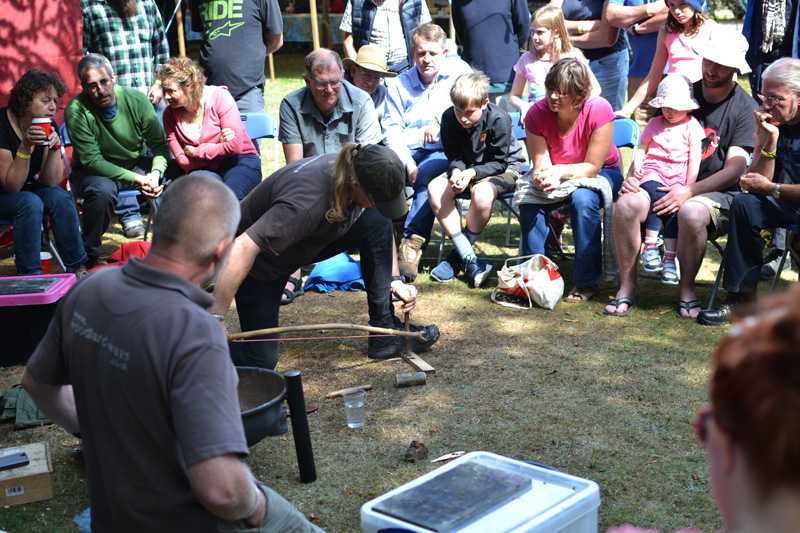 However, I couldn't help thinking that if you were ensuring that you had dry supplies of straw, bows and strings, tinder strikers, cotton wool and charcoal-ized pieces of cloth, it might be just as easy to take a disposable lighter or a couple of boxes of matches. But I know that's not really the spirit.
Once I had the knowledge that Baloo craved in 'The Jungle Book' it was time to grab a bite to eat. Just as I was starting to think that the festival was a rather quiet affair, hundreds of people emerged from the school buildings and started forming orderly queues around the food stalls and the coffee vendor, while others spent time catching up with long lost friends.
I sat on a step, people-watching. A chap with long hair and a beard (who turned out to be seasoned overland truck and bike builder David Lambeth) strode across the lawn on this fine summer's day to announce to someone sitting nearby that he'd got some snow chains for him.
Elsewhere people discussed what the ideal size of bike was for making one's way through a jungle. Thoughts of a 1200 GS Adventure evaporated very quickly when the answer was revealed to be a 125, or maybe a 250 if you were two up.
I then headed for the huge sports hall to take in 'Somewhere Else Tomorrow' – as described earlier, this is a great film, Daniel Rintz's account of his adventures as he rode his specially adapted airhead GS around the world.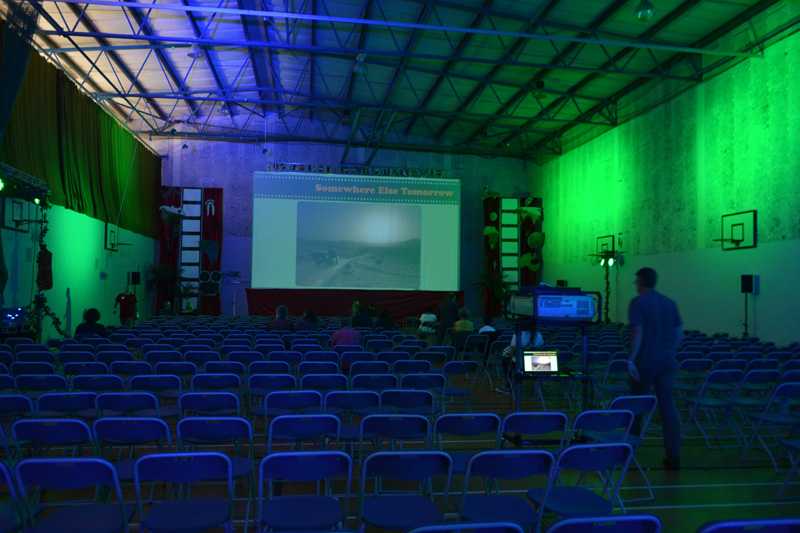 Just over an hour later, I made my way to 'The Large' – an ornate hall in the heart of the school just in time to see Lois introduce the 'Travel and Adventure Legend' Jonny Bealby – founder of adventure travel company Wild Frontiers.
Jonny's talk was captivating, with a tragic and unexpected twist to his tale of his early travels while in the idyllic setting of a houseboat in Kashmir. His presentation featured visually stunning images of a lifetime of travel, including shots of the Hunza Valley, the Vale of Kashmir, Tash Rabat, The Celestial Mountains in Kyrgyzstan, the Ethiopian Highlands and the Hindu Kush, northern Pakistan. I sound like I know what I'm talking about, but I was scribbling notes in the half light, so please don't take me to task on any geographical inaccuracies.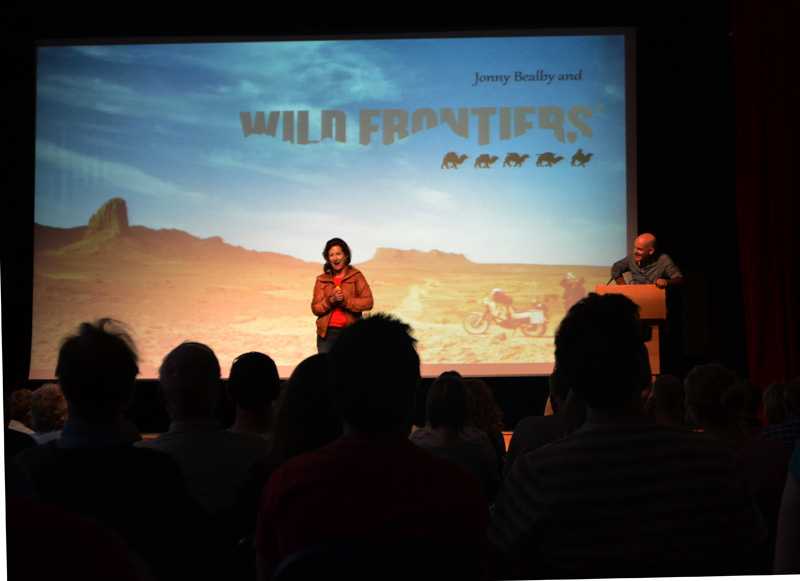 After a few questions and answers, my next destination was to the terrace again, and a panel of experts discussing vehicle expeditions, the lively discussion being kept in some sort of order by Lois Pryce, who at one point interrupted proceedings to inform the panel – which included adventure motorcyclist Chris Scott, Land Rover aficionado Toby Savage and the aforementioned David Lambeth – that she had no idea what they were talking about.
In the late afternoon I headed off into London town in search of my own adventure, but the festival continued into the night at Mill Hill. After dinner in the main hall, as night fell on that fine summer evening, the adventurers gathered with their folding chairs to watch the movie 'Gold of Bengal', shown on a huge outdoor screen, constructed on the edge of the rugby field using the spectacular columns of the main school building as a backdrop.
The film was introduced by creator Corentin de Chatelperron, and tells the tale of his solo voyage on a tiny traditional home-made sampan from France to Indonesia, complete with an on-board vegetable plot and two chickens for company.
The day was rounded off by a late night performance on the terrace from the band Foghorn Leghorn; a banjo led soundtrack of fast paced country rock providing a lullaby for hundreds of campers more used to the sounds of crickets chirping into the night, or perhaps the howl of a lone wolf or maybe a prowling hyena than tales of the wild, wild west.
Meanwhile, I'd been listening to a more adventurous kind of soundtrack, a landmark gig by the prog rock band Big Big Train in Kings Cross. But after the gig, as I made my way home towards Old Street, my bike – no doubt inspired by the rugged machines it had been parked among during the day – decided that the sat-nav I'd been testing didn't suit it, and promptly cut out from a lack of available volts, (see 'Bitz' – in issue 190 of TRD) leaving me sitting on the kerb among the wildlife of Central London on that late summer's night.
Resisting the temptation to build a camp fire and create a makeshift shelter for the night, I called the recovery van, but before it arrived I managed to restart the bike and make my way home with the help of the satnav running from its own battery.
Not much of an adventure in the grand scheme of things, but it's a start.
Martin Haskell
 The Adventure Travel Film Festival website