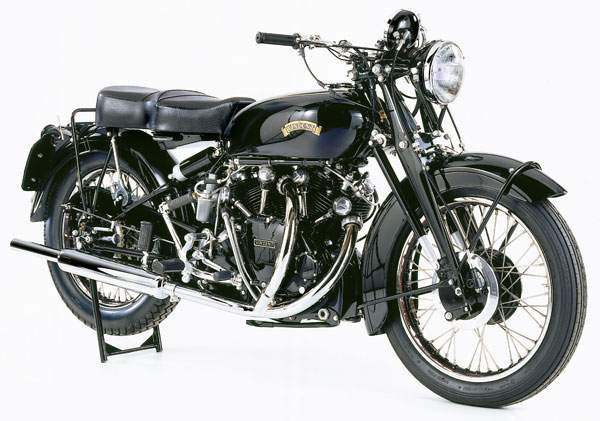 Read Time:
6 Minute, 15 Second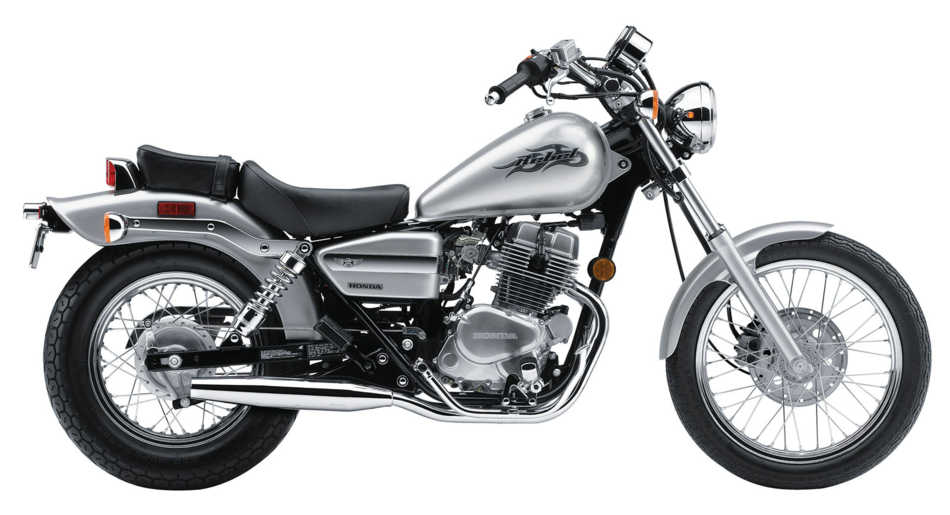 Weird place names have always fascinated me. There are thousands throughout the world, such as Ecclefechan in Scotland, Puddledub not far from my previous home, and Pratt's Bottom in England, but my all time favourite is Bear Butte in the Black Hills of Dakota. Bizarre and comical as these names appear, they will have evolved throughout the ages and will have a sound historical reasoning for their existence. A Butte is a known topographical feature, and it can be safely assumed at some time in the past, bears used to accumulate there.
Unfortunately, there appears to be no such logic in the naming of motorcycle models nowadays. As with seemingly all decisions made by modern companies, a new model name will be chosen by a committee of people who apparently have no knowledge of the bike they are about to name, biking in general, or its target market. That's unfortunate, as a perfectly good bike cursed with a silly name will undoubtedly put off some potential buyers, and sales will be lost.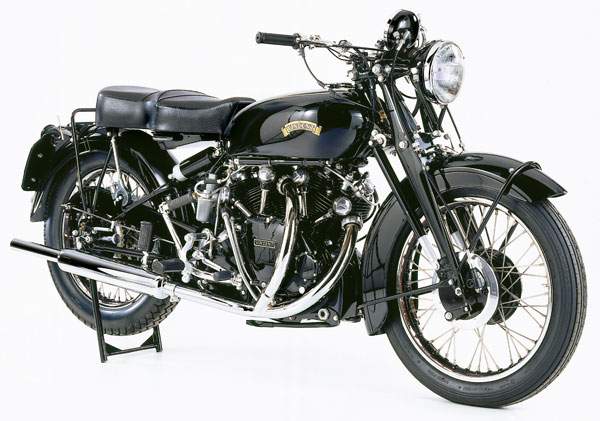 In the 'good old days' when Britain was seen as a major bike producer by the world's markets, the makers were able to create the kind of monikers that still stir the emotions of classic enthusiasts. The mere mention of names like Black Shadow, Bonneville, Goldstar, or Commando will cause eyes to mist over, not just because of past memories, but also because these names sound like they belong to something to be proud of. Even BSA's Bantam (my first bike) implied lightness, but I'm not sure what Scott were thinking about when they called their new model the Flying Squirrel. Of course there was the NSU Quickly, which was anything but quick and on the other side of the Atlantic, the Yanks had their Indian Powerplus, Scout and Chief, while Harley developed its own unique means of naming their bikes (which I'll cover in detail a little later) but the words Duo-Glide and Electraglide still sound good today.
Our Teutonic neighbours, and some Japanese manufacturers, usually play it safe and logical and label their bikes with letters and numbers, which provide information on the type and cubic capacity of the engine. Not much chance of making a gaff there, but it does take away some of the excitement of ownership – saying you are going out for a ride on your R1200GS just doesn't sound the same as, say, a Fireblade.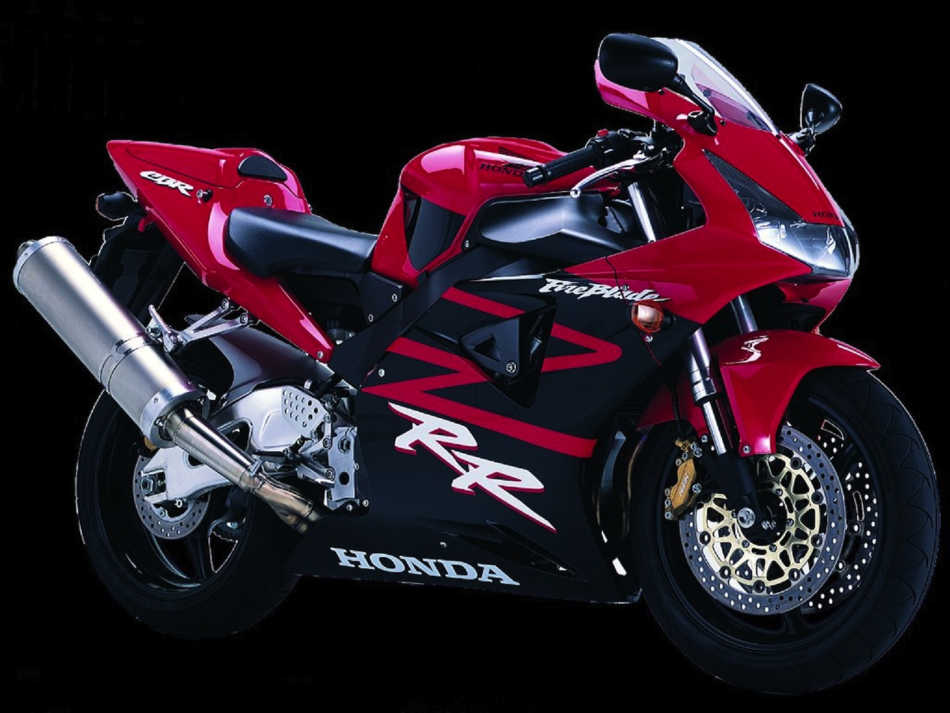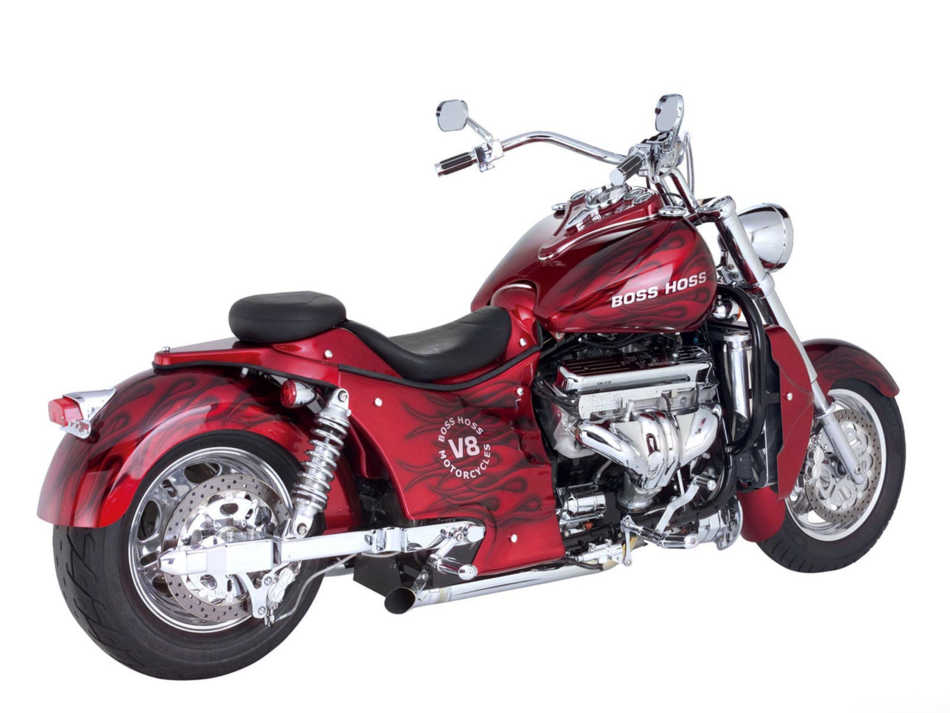 I mentioned the Fireblade purposely, as a good example of appropriate naming. It implies a heart of fire, and razor sharp handling, which is a pretty fair description of the bike in question. The same goes for a Buell's Lightning or Benelli's Tornado. The model name gives you advance warning of what to expect from the bike. You just know a Boss Hoss will be a big sod, and a Ducati Monster will be a wheely machine, like MV Agusta's Brutale. So what was Suzuki's naming committee thinking when they called their 650cc single factory custom "Savage"? It's about as savage as a newborn lamb. Come to think of it, Suzuki have screwed up a few times – god knows what these guys call their kids. I'm thinking of the 125 Marauder I fixed up a few years ago, which was only good enough for marauding the gutters, or the VanVan, which for obvious reasons makes me visualise an old white Transit. What can you say about the 650 FreeWind – something must have got lost in the translation from Japanese? They managed to get it right with the Bandit, but Suzuki really should stop calling their bikes weird names that need to be translated to mean anything, Katana and Hayabusa being prime examples. And although it's a good bike, would you really be happy riding about on a Gladius (especially the lipstick red version), which to my ear sounds like Gladys.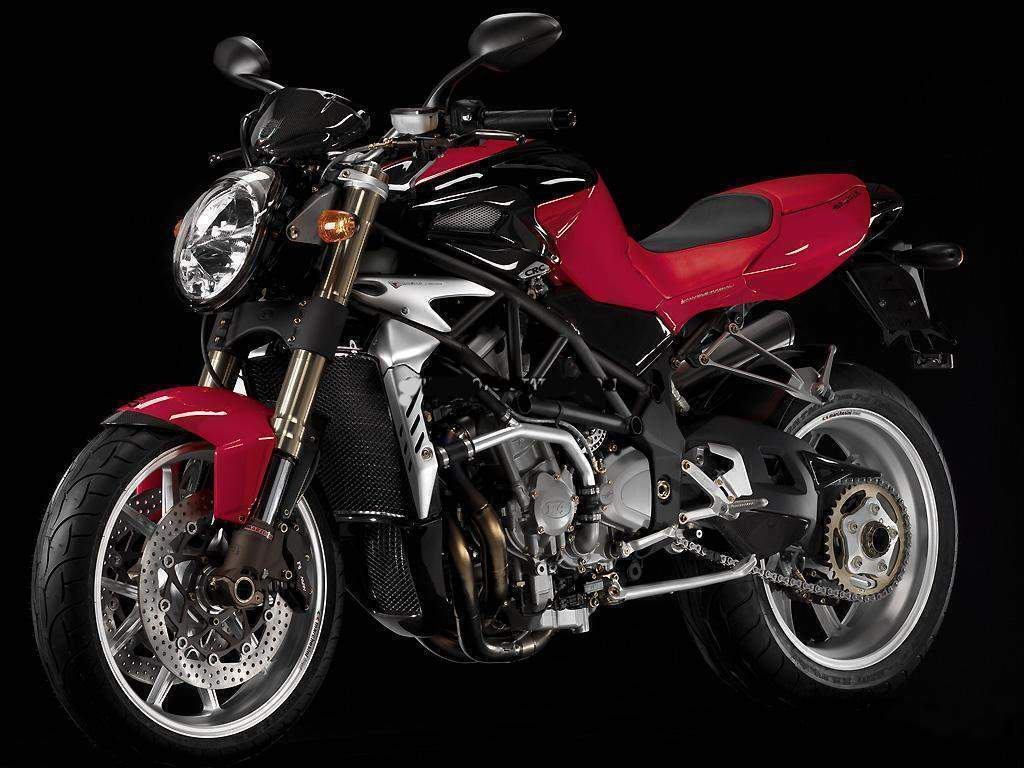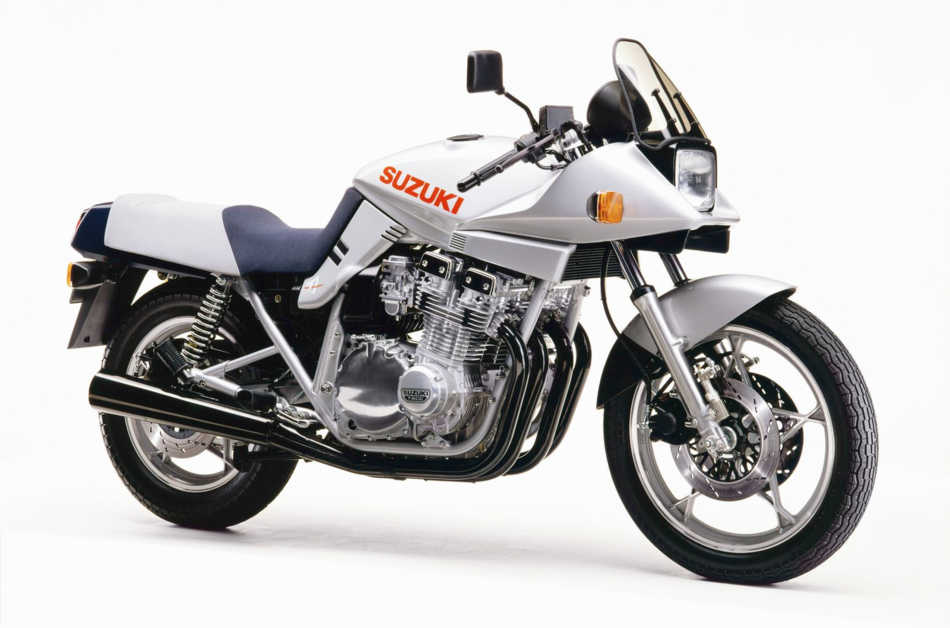 Suzuki seems to be the worst offender, but the other manufacturers should not sit back, laughing up their sleeves. Take Honda for example. By no stretch of the imagination could their Dream (see Image of the Month – Ed) live up to its reputation and you would struggle to be rebellious on a Rebel. While a Pan-European does correctly imply long comfortable journeys, a Blackbird is a little bird in my garden which eats worms and in no way makes me think of a very fast bike with a good drag coefficient. Maybe blackbirds are a bit bigger and faster in Japan than the European version. Or, possibly they were just stuck for a name, looked out the window, saw a blackbird, and said, "that will do, lets go to the pub".  I think Victory slipped up a little calling a recent model Hard Ball (or was it Hard Balls, I can't remember). In total contrast to Suzuki, the guys at Hinckley Triumph have spotted the importance of the right name for a model, and have managed to get them just right. Even Rocket 3 seems to suit the bike that wears their badges proudly on its panels.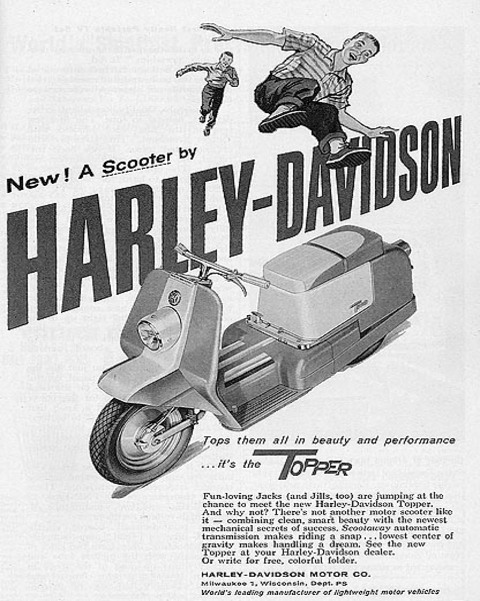 And then, returning to Harley Davidson, whose obvious humorous streak when thinking up new names for its bikes shows a skilful marketing tactic and implies a sense of fun at the Factory, which I would guess is probably down to Mr Willie G Davidson himself. Of their earlier bikes, I can only criticise the Topper, a metal box with two wheels and pull cord starting like a lawn mower, which was described as a scooter. The word "topper" makes me think of a kid's comic from my childhood, or a grass-cutting device pulled by a tractor, so maybe there was some logic in the name after all! Excluding the comic lawn mower, the early model names did make some sense, and provide some information about the bike – a Duo-Glide had suspension at both ends to give you a smooth ride, and then when they added an electric starter, it became the Electraglide. A Springer Softail tells you that bike has old style Springer forks, and a rear suspension system that looks like a hardtail, but isn't. Simple, really. The Sportster was relatively sporty in its day, and there is something quirky (in a good way) about using the same name today for a bike that has no sporting pretensions at all.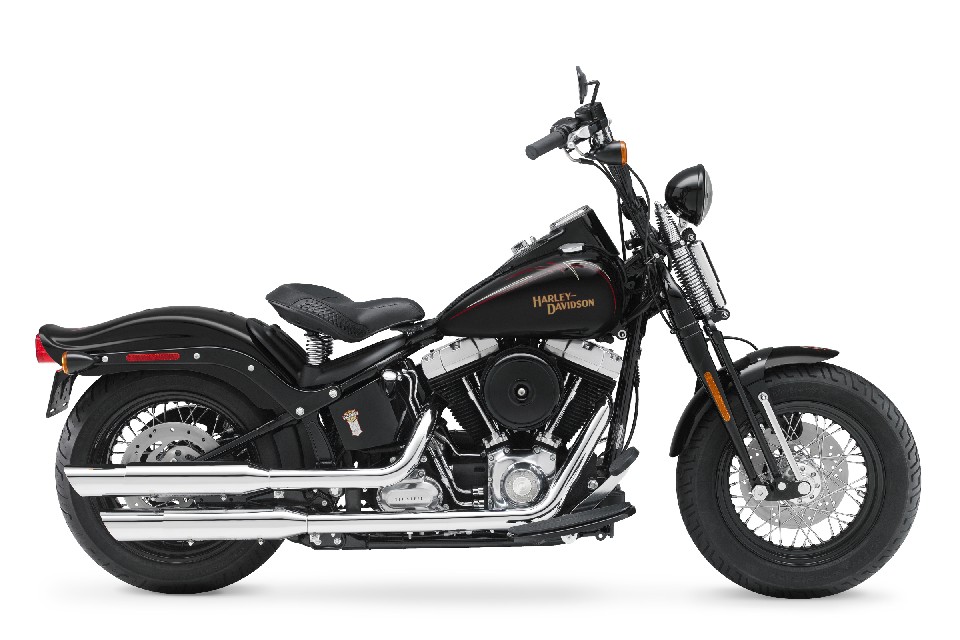 However, it's in more recent times that the Harley naming committee, or possibly Willie G, has had some fun. Bad Boy, Fat Boy, Fat Bob, Street Bob, Crossbones – not one of these wonderful names tell me anything useful about the bike they are attached to, which appeals to my warped sense of humour, and are much easier to pronounce than the more official FLHTCUI. One thing you need to be careful of, of course, is saying "I'm just going out to ride my Fat Boy", in the wrong place or within the wrong company – that might just get you into a bit of trouble.
So in my "naming of the bikes" competition, I would have to say Harley Davidson wins purely for not taking itself too seriously; Victory gets a raspberry for trying to copy them, and failing; and Honda could sometimes do better; but it's Suzuki who pick up the dunces cap, and get sent to the back of the class for regularly making an arse of such an important job.
Wizzard