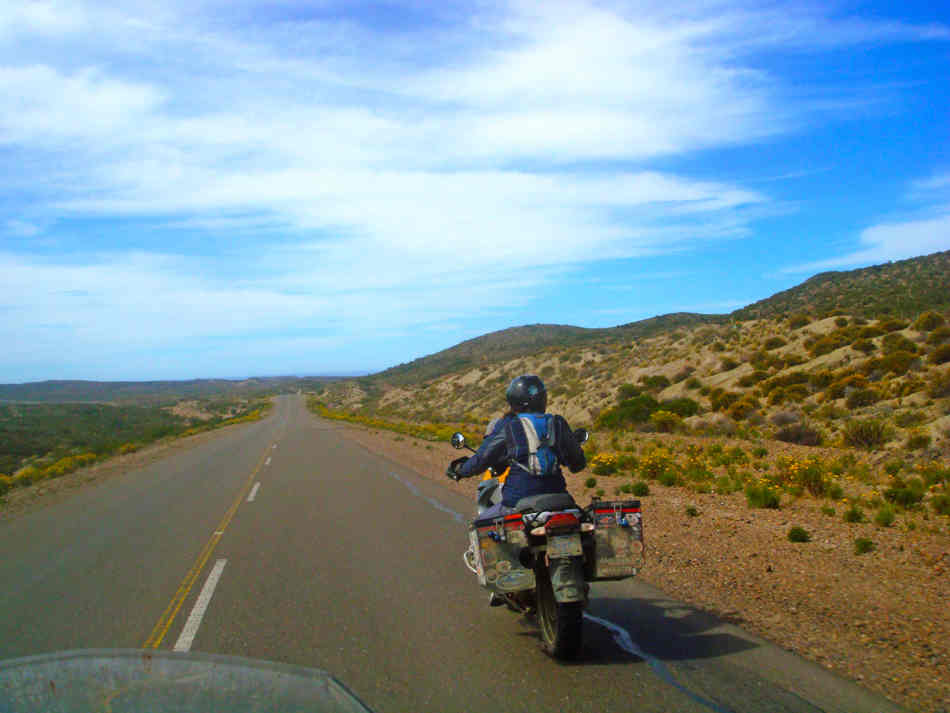 Read Time:
29 Minute, 14 Second
Final Chapter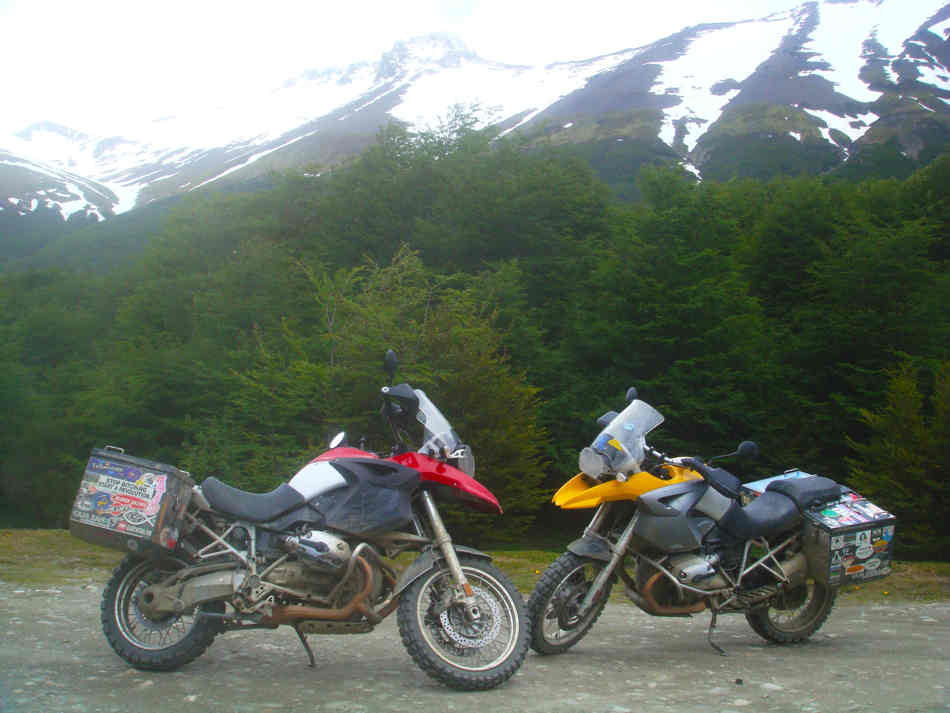 We spent four days in Ushuaia, suddenly the whole journey caught up with us and we both felt quite exhausted. For the end of the world, it's a busy place; there's a huge seaport, as many of the shipping companies use Ushuaia and the cape rather than the Panama Canal. At one end of the town is a huge yard full of Mearsk containers and the cruise ships that go to Antarctica call this their home port. The main street is thronged with American and European tourists as they come back from or wait to sail to, the world's last great wilderness. The duty free shop sells tax-free cigars from Cuba, if that's your type of thing, not me however; I'm a non-smoker.
While we were there I had the opportunity to get the bracket on my pannier mended. Alexandro recommended a guy and we went there immediately. Castro didn't speak any English but between the two of us, I explained what I needed doing and he agreed to fix it. His garage was a small shed out the back of his home and as we watched him work I was aware just how good this guy was. The workshop was full with every conceivable tool a welder/mechanic could want and after a very short wait – he presents me with my one-piece bracket. Together we put it back on the bike and refitted the pannier. With everything done I asked him how much I owed him. He just shook his head. I tried again thinking he may not understand my poor Spanish but I got the same response. We rode away and I was touched at just how wonderful people in this remote part of the world are (later we returned with something for him and his wife).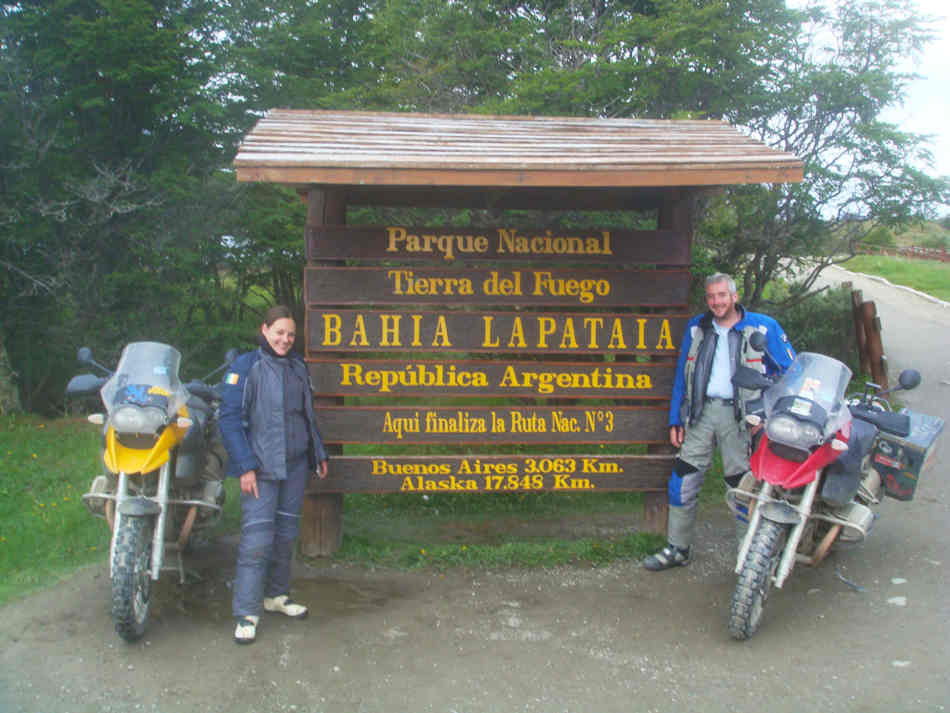 Ruta 3 continues on the other side of town where it dwindles into a hard packed gravel road, at the end of which a sign reads Buenos Aires 3,076km. On the fourth day we pack up our bikes and head back through the mountain pass, back past Rio Grande and to the border post with Chile where we plan to refuel. We get there just in time, both of us rolling in with empty tanks, only to find that once again, the petrol station is dry. While the friendly attendant assures us that fuel is on the way the lady in the attached truck-stop cafe tells us that they have been without petrol for two days. We have little choice so we sit down to the first of many ham and cheese sandwiches, which we wolf down followed by bars of chocolate for desert. While we weren't to know it, this is to be our steady diet for the next four days.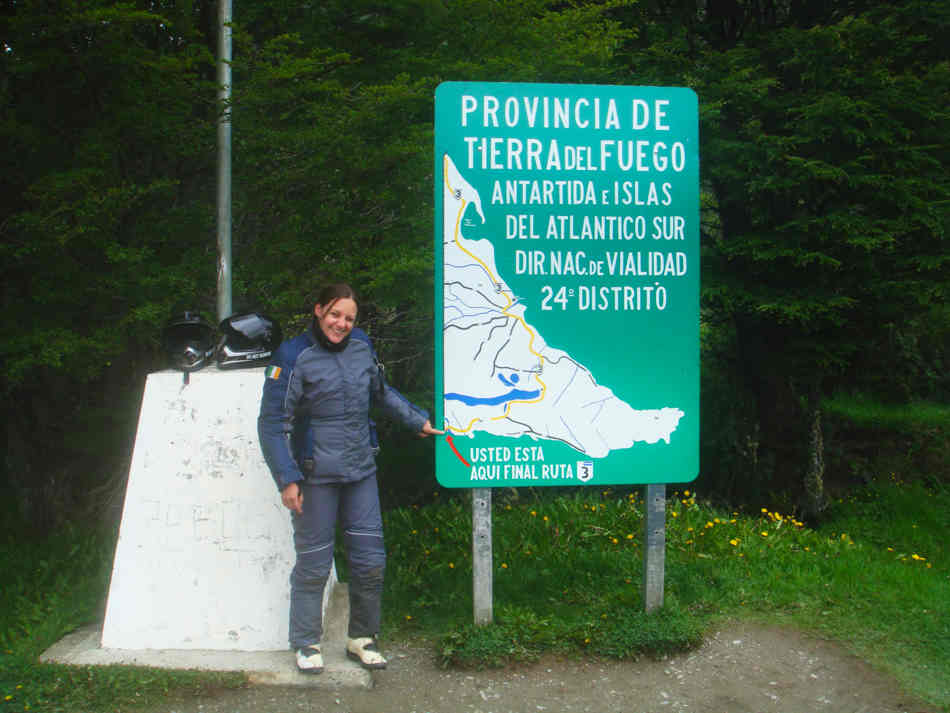 We meet another couple headed the other way. Carlos and Julianne are travelling south on a couple of Trans Alps and they join us while we wait for fuel. Much to our relief the truck shows up just after five o'clock and half an hour later we cross back into Chile. We ride back across the dirt road and we take the ferry crossing back across the Straits of Magellan. Once again we cross over the border into Argentina and late that night, under the cover of darkness, we ride into Rio Gallegos, which we now both refer to as "Rio Gollygosh" and we spend the night in the same hotel.
We head north on Ruta 3 bound for Buenos Aires where we hope to take a break for Christmas. Ruta 3 now runs all the way up the coast for another 2,500km and while the road is mostly paved, there are some small sections of dirt where it is being resurfaced. The landscape is pure Patagonian except for the occasional group of poplars around isolated farmhouses and petrol stations; nothing else grows much taller than a couple of inches. The occasional wildlife consists of guanacos, a llama like creature that is prone to running out across our paths with amazing speed, and ñandú's, a small ostrich like creature which displays the same suicidal tendencies when it gets to the road. Our companions for the whole journey have been long distance truckers. In this part of the world the Mack and Kenilworth trucks of North America are replaced with the Scanias and Volvos that we are more familiar with in Europe, but they carry on with the same companionship and familiarity as anywhere else.
In Ushuaia tours are run every day to see nearby colonies of penguins and whales. One of the things we notice here or in places like El Calafate is the busloads of organized tours. These people have flown in to take a 'snapshot' one or two days in these places and, to them, our travels and our motorcycles are almost as much of an attraction! While this is initially quite amusing, it tends to be tedious after a while and as such we are quite reluctant to join in what is basically one leg of someone else's package holiday. Having spent so many days on the road and generally being exhausted we decide not to take any of these trips. However, we have also been told that Peninsula Valdez on the Atlantic coast is a haven for marine life and well worth a look.
So taking a break from the monotony of Ruta 3, we arrive at Puerto Pirámides, a small beach town located within the National Reserve that is Peninsula Valdez. There is only one road that leads out to the Peninsula and we have to pass through the Park Gates and pay an entry fee of a few Euros. The whole place was declared a UNESCO Heritage site in 1999 due to the abundance of marine life both off and along its coasts. There are sea lions, elephant seals, guanacos, rheas, magellanic penguins and the southern right whale as well as numerous bird species.
The main industry on the headland used to be removing salt from one very deep depression on the southern side and shipping it out of Puerto Pirámides but now the interior is dotted with sheep estancias or ranches, and apart from tourism that's the main business on the headland. Puerto Pirámides is smaller and quieter than neighbouring Puerto Madryn where most tourists are based. They get bussed in early each morning and are shuttled around the headland on a strict timetable before being whisked away again.
For us the little town is perfect and after we arrange our accommodation for a few nights we start to explore the sleepy village. The following morning we attack more gravel roads. Apart from the main road, all the other roads on the island are wide gravel tracks. We head out to Punta Norte, the most northerly part of the headland and are delighted to find a curious armadillo in the car park when we arrive. He seems intent on following Maeve around and later we discover why. This amazing creature has its burrow nearby and tour guides feed him water while they wait for their clients to return from the lookout post over the shore. Fleeing from his mighty jaws, we walk over a few dunes and are presented with the Southern Atlantic Ocean.
The beach is crowded with southern sea lions, lying basking in the sun. Some are huge, up to two metres long and can weigh up to three hundred kilos. The lucky lads have up to ten female mating partners per season and the beach is dotted with smaller one and two year old pups. The noise of the braying is almost frightening and watching them from such a short distance is truly amazing.
After taking our fill of sea lion frolics on the beach, we ride on and about fifty gravel covered kilometres later we get to the penguin lookout spot. We're both a bit disappointed that the area is fenced off but if it wasn't everyone would be disturbing the penguins and their burrows. These Magellanic penguins are amazing and we are able to get quite close to them. They are sometimes referred to as jackass penguins due to the noise they make and if they feel threatened they can bite. We found them adorable and Maeve is captivated by them. In the water they are graceful creatures and can get up to speeds of 8kph. On land, although less graceful, they can stumble along and hop over any obstruction in their path. We sit on our hilltop perch and watch them for what seemed like an age – and honestly, if I hadn't dragged Maeve away, I think she'd still be there now. The best thing of all though is that there isn't another soul around for the entire time we are here. We had hundreds penguin pairs all to ourselves!
Back to base and out of the relentless wind for a while we enjoy a really good meal in the local bar. Maeve continues in her quest to try as many different types of Malbec as possible!
Because it's late in December we had both resigned ourselves to the fact that we aren't going to see any whales. It's just too late in the season and they should all have gone south by now. Regardless, we sign up for an outing on a twenty-foot rib. Accompanied by a large number of large tourists we head out into Golfo Nueva bay to see what we can find. Our guides and captain for the early morning adventure are informative and interesting. They warn us of the likely disappointment. Everyone was amazed when suddenly our skipper shut off the engines and coasted along slowly. He told us to look to the port of the rib and sure enough, breaking the surface of the peaceful water was a large black object. Just as I was starting to get really upset at being stuck on this boat listening to a tour guide explain to a boat full of fat tourists that this is where the whales were 'a few weeks ago' the animal's tail breaks the water. As long as I live I will never forget the beauty and the majesty of what we saw that day. The boat, the dumb tourists, the guide and his tinny PA all faded away and each moment felt like a privilege.
The population of these whales was almost wiped out due to humans hunting them. It's just us, they have no natural predators. The whales around Peninsula Valdez are now protected and slowly their numbers are increasing. It takes three to four years for a female to have a calf. There had been some talk of allowing whaling again soon, when the powers that be deem their numbers to be sufficient. To us this seems despicable. Such huge creatures of grace and beauty, how could killing them for money be right?
The following morning we leave the peninsula and rejoin Ruta 3. The road has now become extremely monotonous. I look at my odometer, the wind from the Atlantic is blowing so hard I feel I could get my knee down going in a straight line. At this stage I'm counting the mileage in 100km units and the tedium is really getting to me… "If there were 999 green bottles sitting on the wall and one green bottle should accidently fall, there'd be 998 green bottles sitting on the wall". At 273 green bottles I lose my count. The Scania coming towards me seems to lurch as it crosses onto my side of the perfectly straight road. I flash my lights and look to the hard shoulder which doesn't exist; it merely falls away to the gravel and scrub at the edge of the road. If I ride off the road at this speed and survive, I'll be lucky to get the bus to Buenos Aires. At the last minute he sees me and I can see the driver wrench the steering wheel of the truck and bring it back onto his side of the road. I'm now riding on the line on the inside of the road. The truck is leaning hard on its suspension and I can hear all the tyres on left side roar under the strain of the weight of whatever cargo its carrying as it whizzes past my head with inches to spare. My heart tries to jump out of my chest with fright and I got one of those instant 'ice cream' headaches as I down shift, draw to a halt and switch on my hazards, plant both feet on the ground and drop my head onto the tank. I can't wait to get off this road! We ride on to the next fuel station for yet another ham and cheese sandwich and yet another bar of chocolate!
Somewhere on the way south towards Ushuaia, Maeve noticed that when she rolled on the power to accelerate, particularly when overtaking a vehicle, her bike seemed a little asthmatic. The first time it happened we put it down to dirty fuel. The second time we took a little more notice but as the two occurrences were a couple of hundred kilometres apart, we still didn't worry too much. Now riding back up Ruta 3, constantly fighting crosswinds, the problem had started again. Now though, she could only roll on the power very slowly and after a while it began to get really annoying. Where I could easily overtake a vehicle, she needed a lot of space to build up power, a straight road where she could see what was coming and a lot of patience. Maybe our time in the deserts and on Ruta 40 had taken their toll. Perhaps riding behind me, the air filter had become clogged with dirt and dust. Whatever was going on the last couple of hundred kilometres into Buenos Aires were slow for both of us.
Arriving in the city on the eve of Christmas Eve, we call up a local motorcycle shop, Dakar Moto's. We'd met a few other motorcyclists en route to here and they had all raved about the set up these guys have. A phone call was made, directions given and we arrived outside the shop early on Christmas Eve. As well as Maeve's acceleration problem, we are both very much in need of new tyres and are hoping that we can get them here. Given the time of year we don't hold up much hope of anything being achieved today! A quick knock on the door and it's opened by an English guy, Tim. "Xavier will be here soon," and he disappears from whence he came. Twenty minutes later and Xavier does indeed arrive.
Tyres, not a problem and Maeves acceleration? A quick test ride established that there is indeed a problem. Sandra, Xavier's wife and business partner, arrives and puts the kettle on. Maeve and Sandra establish themselves in the back garden with sunshine, coffees and cake while work continues inside. The guys started out with a small motorcycle garage, mainly fixing bikes for locals. Slowly but surely business got better and international travellers started to call their way. A couple of years ago they moved premised to here, to Calle Carlos Tejedor, a residential side street north of the centre of the city. Now they have a small kitchen and bunk bed facilities for those in need of a place to put their heads down.
But, back to the bikes and first things first – two new sets of tyres for the GS's. After that we all stop for some more coffee. Maeve suggests the power problem may be the air filter and this is where Xavier starts. He takes the filter out but all looks well. We begin to get worried. Xavier looks at us and says, "The problem may be with the cylinder head."
And sure enough – he removes the spark plug from the left hand cylinder head to find that the rubber seal around it, holding it in place and preventing oil from leaking out, is perished. It had been incorrectly installed in Santiago when the cylinder head was changed out. Xavier quickly borrows one from my bike and then starts Maeve's. Immediately the engine sounds different. Another quick test ride around the block affirms that the problem is the seal. Xavier doesn't have any in stock and a quick phone call to the BMW dealership establishes that they don't either!
Xavier won't be put off. He stands by his workbench drawing on a cigarette, head tilted slightly upwards. He starts to rummage around the bench and after a few minutes begins to work on something small and red. Trying not to be annoying or upset the apple cart, we go back outside to the sunshine and the happy company of Sandra. Twenty minutes later we hear Maeve's engine running, and then mine. They both sound the same. Xavier, genius that he is, has cobbled together a replacement seal, which he made by cutting the finger off a rubber glove and heat-sealing it to the coil. Now both bikes are running perfectly. This is just the best Christmas present yet!
You have, of course, seen The Mission. It is set in South America and stars Robert De Niro and Liam Neeson. The music is now quite a famous collection by Ennio Morricone. It's set on the Argentine border with Brazil at a waterfall called Iguazu Falls which, in the movie at least, looked pretty cool. We have by now established that Buenos Aires to Frankfurt is the route that we will be taking back to Europe so we decide that a side trip to the falls is in order. So after two mind numbingly boring days on the road, the monotony only broken by the driver of a luxury bus drifting the thing out of a corner towards us, we arrive in the town of Foz do Iguaçu in the northern province of Misiones.
As we head down to the Iguazu National Park we pass the Sheraton Hotel. Now I'm a big fan of living in a tent, I'm even sporting a BMW rider's beard as I write this, but a Sheraton always has a buffet at lunchtime and for twenty US dollars you can eat yourself sick. So after we partook of their generous hospitality and polished off a fine Cohiba on the lawn (despite my best efforts I can't convince Maeve to quit the cigars) we elect to wander over to the Falls themselves. There are actually 275 waterfalls along 3km of the river. The Garganta Del Diablo or Devil's Throat is the one we've come to see. It's a U-shaped,150m wide and 700m long cliff, and marks the border between Argentina and Brazil.
The park and the falls are UNESCO World Heritage Sites, so getting to them is carefully controlled. We are ferried from the gate to the end of a 1km walkway on a small tourist train, which for a legendary adventurer like myself is a bit weak. This 4m high suspended walkway leads out over the river to the Garganta Del Diablo. The water rolls over the top and thunders down over 80m to the river below. The mist created rises so far above the falls that it can be seen for miles around. This place is breath taking and not even the hordes of tourists or the warning signs about snakes can take that away. After only a few minutes we are both soaked through and our gallant little Sony camera, having finally had enough, bows out.
As its New Year's eve, I decide to invite Maeve for dinner at a little known buffet place I happen to know in the area, it would be rude not to. While the spin up here was boring, the spin back to Buenos Aires will be anything but. By the way, the twenty-dollar buffet includes a fillet steak. And not a small one at that!
We were on the way back from Misiones when at 140kph my bike started to act up. The clocks switch themselves off and then came back on. The speedometer drops back to zero and then jumps back to the correct speed. The ABS warning light comes on and then goes off again. I decide to stop when the fuel pump switches itself on and off at 120kph. The bike has a full service history from official BMW dealers along the way and the next one is not due for a few thousand kilometres. Therefore I'm at a bit of a loss as to why it should be acting up now.
There's nothing much along this stretch of road other than a fumigation station and as I slow down, the battery finally gives up, shutting everything down including the engine. This is a fairly remote area of Argentina and I have to borrow Maeve's bike to ride into the next town and call for help before riding back again, a round trip of 85 kilometres. When I get in to the town and finally locate a phone, BMW Customer Services are on holiday and after a lot of confusion I eventually find the Automobile Club of Argentina – they tell me to go back to the bike and wait there; they'll be with me in an hour.
An hour and a half or so later the flat bed from ACA shows up. The driver is a friendly enough chap but insists on loading the bike himself. I throw my gear in to the cab and we head off. Ten kilometers or so later I look out the back window and see the bike has fallen over and is hanging off the edge of the truck by a single strap. We stop and get out but the driver is reluctant to let me tie the bike down. Therefore I instruct him to take my bike back off his truck and with his help I try and jump start it but the battery is completely gone. It's a lost cause.
At this stage a friendly long distance truck driver who speaks English pulls up. Using his blackberry he locates and emergency number for BMW, alas with the same results. Nobody is answering because it's New Year's Day. We eventually get rid of the guy from ACA and locate a nearby hotel where Maeve goes to spend the night. On the basis that the bike is impossible to secure and loaded with all our kit, I elect to spend the night with it. I roll it up to the larger of the two fumigation sheds, sit up on the saddle and stare up at the beautiful cloudless night sky. It's going to be a long night!
Sometime later I fall into a light sleep only to be woken by the local policeman who informs me that roads are not for sleeping on, hotels are. I explain my situation and the cop tells me that he is studying English. There then follows a couple of hours of perhaps the most awful English tuition in the history of teaching language. If you ever get stopped speeding in northern Argentina and the cop tells you, "I'd like to be kicked in the nuts", you'll know where he learned it.
Dawn breaks the following day and Maeve returns from the hotel. Once again I borrow her bike and make my way to the hotel where she had stayed to get a few hours sleep. I find another phone and call the emergency services number. They agreed to send another truck. This time they assure me that it will be capable of carrying a motorcycle. Once that is complete it's back to the bike to wait. A couple of hours later and an old flatbed rolls up the road. The bike is tied down so well that I am unable to move it at all. It is very reassuring to see some motorbike stickers on the dashboard of the truck, this guy obviously knows what he's doing. Before we set off, however, he tells me it would cost USD$650 to get the bike in to Buenos Aires and he wants half of it up front in cash.
As Maeve had very little sleep I suggest that she ride in the truck and I ride her bike back to Buenos Aires. I hadn't considered how tired I am and having given nearly all my cash to the driver, I am left with only a credit card for fuel. We agree that if we get separated we would meet up at the bike shop, not a great idea as Buenos Aires is 870km away and the shop would be well and truly closed by the time we got there. The truck leaves the fumigation station first and I leave shortly afterwards after bidding farewell to my friend the cop. By the time I catch up with the truck, the fuel light is flashing on Maeve's bike, I pass by and point at the tank, our signal for please stop at the next petrol station.
This is where our first problem occurred; as we got to a T-junction I go right to a petrol station, the truck driver, unknown to me, goes left. It is to be twelve hours before I see Maeve again. I fill up the bike and attempt to pay for the fuel with my credit card; this proves to be problematic as the petrol stations in the countryside won't accept credit card payments since they don't trust the banks. I have just enough cash to pay for the fill up.
As I ride on I make good progress but fail to catch up with the truck. Before I know it I am on reserve again. I stop at six garages, none of which will accept credit cards, my reserve tank now reads zero and I have no idea how much further I can go. Another motorist seeing my plight gives me two litres of petrol from his reserve tank. I ride back out on the road again and am delighted to see a large Shell sign bearing all the logos of credit card companies. I ride onto the forecourt to be greeted by the dreaded row of traffic cones indicating that the petrol station is out of petrol. In desperation I ride on another few kilometres with no phone, no idea whether Maeve is in front or behind me, no cash and very short on fuel. I stop at the next fuel station where once again I am told cash only but there is a station 30km away that will accept credit cards. Sure enough, there it is – a second Shell station. And as I ride onto the forecourt, the bike quite simply stops. I had just made it on the last drops of fuel.
After filling up I make it to the outskirts of Buenos Aires. Here the petrol stations all accept credit cards and there isn't a problem getting more fuel. I have now ridden for two days and stayed awake all night and am so exhausted I don't remember the arrangements I had made with Maeve. I ride into Buenos Aires where I get lost and thoroughly soaked in a rainstorm as I'd left my waterproofs on my own bike. Eventually I find my way to the hotel we'd stayed in at Christmas but Maeve hadn't called or arrived here. Frantically I call Sandra at Dakar Motos and she calmly suggests that I call BMW Emergency Services where I should be able to get the truck driver's mobile number. After a bit of toing and froing I get the number and arrange to meet Maeve at the hotel where she turns up at one thirty in the morning. We unload her and her kit from the bike and pay the truck driver the balance. Not surprisingly the price has inexplicably gone up by USD$50 which again he insists on being paid in cash here and now. We both retire to our room in the hotel where we fall into a deep sleep – it has been quite a few days!
The following day we go to the BMW dealership. We are told the bike is scheduled for inspection in three days time. I tell the dealer that the battery has failed and I need a new one. He asks me if it is difficult to remove the panniers. This troubles me a little bit as I don't see why you have to remove the panniers to get to the battery. When I point this out to him he agrees and puts a new battery on charge. He tells me this would take a few hours so we leave the dealership to return at the close of business. So much for three days!
We get back to the dealership at five o'clock. The bike has a new battery fitted and turns over at the first try. I am a little taken aback to find a bill of USD$295 for a new battery. I point out that it should be covered by warranty and am informed that BMW batteries die of neglect because the owners here are typically wealthy business men who only do 3,000km per year and, as such, are liable for their own batteries! I point out that we have done 50,000kmin eight months and used our bikes almost every day. Yes, I am assured the dealership understood, but they wouldn't be covering it under warranty as BMW motorcycle batteries only fail if the bike isn't used on a regular basis. One failed battery, USD$295, recovery to nearest BMW dealership, USD700 – total cost, in a country where the distribution is owned by BMW and a full warranty system exists: USD$950. Wankers.
We get in contact with Lufthansa and arrange to call into their city office. We jump on the bikes and head downtown. For our stay in the hotel we have been using a nearby car park to keep the bikes safe. It's on the other side of the block from the hotel. As we walk around we both become aware of the traffic jam on Avenida Belgrano. Local police officers are blocking this five-lane city artery and redirecting a massive amount of annoyed Argentineans into the small, narrow streets nearby. We mount up and ride out into this mayhem. I'm in the lead, manoeuvering my way through the now stationary traffic and eventually between two city buses. I get to the front but cannot go any further. So I wave at the drivers of both vehicles, just to let them know I'm there. The traffic moves on and just as Maeve is about to do the same, the bus to her right starts to move. As it does, it pinches her handlebars between the two busses. She blows the horn and starts to scream and shout at the top of her voice. The driver soon spots her and stops, allowing her to move forward!
Ten minutes later and we have negotiated the roadblocks and are standing in front of David, the Lufthansa shipper. Money changes hands and he gives us instructions as to where to leave the bikes and who to ask for at the airport. Having two hours to kill before being due at the cargo terminal, we cross the road and have a coffee in the Hilton. Now everything is really real. The bikes will go today and in two days time we'll board a Europe bound flight. We say very little to each other as we sit there, each of us immersed in our own thoughts, our own worries. But there is nothing for it – just as it took courage to leave and undertake this monumental adventure, so too shall it take courage to return.
The whole process takes a few hours; getting to the airport, processing the paperwork for our motorcycles, crating them, weighing them, wrapping them and saying our goodbyes. Soon we are walking away from the cargo building, out into the evening sunshine. We hail a nearby taxi and jump in. I explain our downtown destination and we leave the airport behind. The driver queries why we are carrying helmets and when we explain he tells us that he is a part-time fireman and is frequently called to the scene of motorcycle accidents. This cheery man then proceeds to talk about his city, about Diego and football and about how things are changing in Argentina. We listen and eventually the conversation returns to our journey. I ask him one of my favourite questions: "which is faster, red motorcycles or yellow?" In his simplest, easiest to understand Spanish, the driver turns slightly in his seat to look at us and asks, "Who is paying the fare?" When it's established that Maeve is picking up the tab for the cab, he promptly announces, "yellow, yellow motorbikes are the fastest!"
It feels strange being here without our bikes. We've always had our bikes with us or they have been nearby. Knowing that they are beyond reach for a few days is an unusual feeling for both of us. Basking in our last few hours of warm sunlight we spend an afternoon in the Boca region of the city, famous for its junior football team and brightly painted corrugated metal buildings. This area is thronged with tourists and with them comes a multitude of stalls selling crafts, paintings and souvenirs. It's a wonderful part of the city to spend a few hours.
I feel sick in my stomach this morning. We're all packed and ready to go. We left as much luggage as possible locked in the panniers of the bikes but we still have a bag each to carry. Like the day we left Dublin, we arrive at the airport in Buenos Aires with our motorcycle helmets over our shoulders. Only this time we are beginning the end of our adventure instead of just setting out. I wonder how much I have really changed in these past few months, in 52,000km, about the things I have seen and done. If you'd told me two years ago that I'd ride a motorcycle from Toronto to Alaska to Argentina, I'd have laughed and said you were a fool. Now I try to push thoughts of returning to my old life out of my head by daydreaming of where and when we'll go next!
Paul Browne
www.pabloscafe.ie