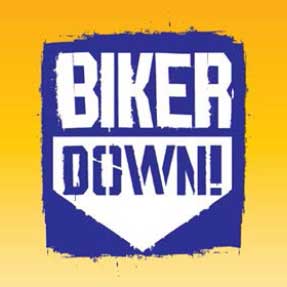 Read Time:
11 Minute, 17 Second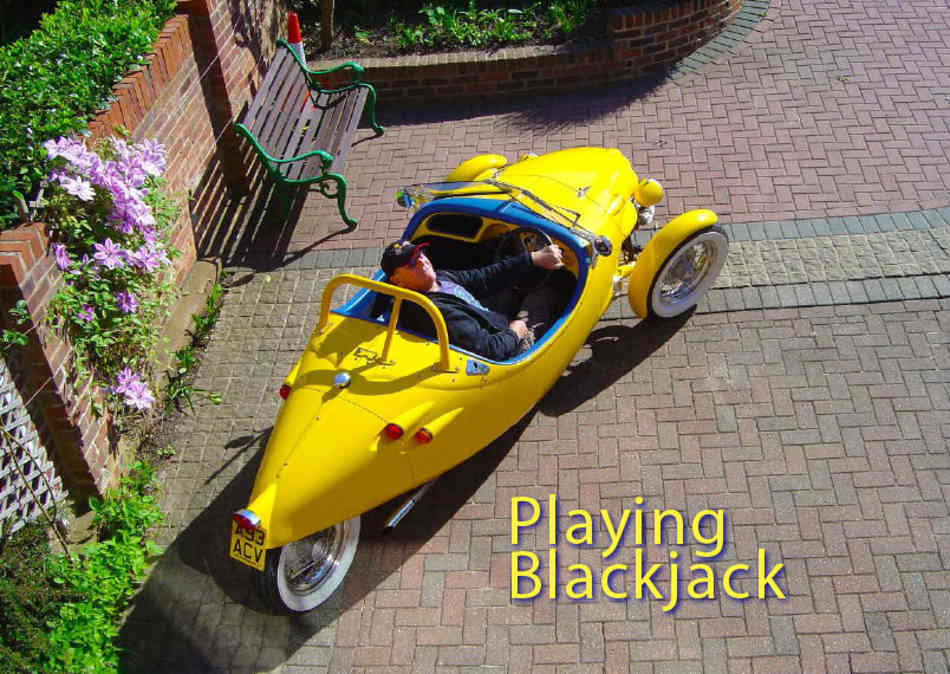 "Kevin, I've got an idea and I'd like hear your thoughts about it"
That was how I was first introduced by Jim Sanderson to what was soon to become 'Biker Down', the free accident management, first aid and collision avoidance course.
Let's start by telling you who we are.
Jim is a fire fighter with Kent Fire and Rescue Service based in Ashford in Kent, a former CBT and DAS instructor and one of the Fire Bike team. What's a Fire Bike, I hear you ask? Well, it's not a two wheeled fire appliance, but a motorcycle used in a road safety role. A number of UK fire services operate Fire Bikes to promote safer motorcycle riding. It's a role that fire fighters are far better equipped for than many people realise because they are often first on the scene of a traffic collision and have the unenviable task of dealing with the accident scene alongside the other emergency services. Bikers make up only 1% of road users but sadly account for 25% of those killed and seriously injured on Kent's roads. Fire crews are frequently called to road traffic collisions involving motorcycles, mopeds and scooters where riders are trapped or hurt, and Jim himself had witnessed a serious bike accident.
Jim explains: "One of the hardest issues trainers and safety advisors face is changing peoples' behaviour and our experience shows that motorcyclists and drivers are particularly difficult to influence in this area. Shock tactics may work for some, but with the high number of fatalities and casualties involving motorcyclists on our roads, another approach is clearly needed."
Kent uses a Honda Fireblade and more recently a Kawasaki 1000 in this role, fully painted with the fire service markings and colours. Jim and the other Fire Bike riders have completed a police rider training course and the bike does the rounds of events such as bike shows and race meetings, the local toy and egg runs, and throughout the year the riders get out and about to visit dealers, popular biker cafes and other meeting places to engage with bike riders. In general, as fire fighters rather than police, the Fire Bike riders tend to be seen as more approachable by motorcyclists.
My background is as a long-time professional rider, first as a courier and more recently as a full-time motorcycle instructor at basic and advanced level. Since 1997, I've run 'Survival Skills Rider Training' and run post-test training for hundreds of riders at all levels from newly qualified to highly experienced, including a number of police riders who wanted a different experience. I've also worked with several local authorities including Buckinghamshire and Somerset on road safety initiatives aimed at bikers and I was the researcher and writer behind the 'Lucky 13' series of cartoons promoted by ACEM, the Association of European Motorcycle Manufacturers a few years ago.
I first met Jim via the Kent and Sussex Bikers web forum, where we traded a few opinions on rider safety and skills, not always in full agreement I will say, though we found more common ground than not and we soon developed a mutual respect for each other's knowledge.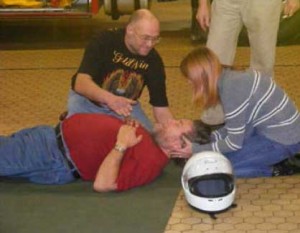 What Jim put to me back in the summer of 2011 was an outline of a course for small informal groups built round the Fire Bike team, specifically to deliver advice to riders on what they should do should they find themselves first on the scene of a crash where someone is injured, both to protect the casualty, manage the scene and apply essential basic emergency medical skills. Specifically, the course would encompass the very latest advice surrounding the thorny issue of helmet removal. Where he wanted my input was into how we could add a third module, something that would be seen as a 'proactive' accident avoidance module, and show riders simple techniques to help avoid being involved in a crash – and thus needing someone else to give them the first aid!
Jim again: "The idea is to offer people the ability to train in essential life skills and the knowledge to help them cope should they encounter or be involved in a road traffic collision, rather than just (give them) information on the consequences. We believe this will bring about more of a sense of responsibility when out on the road and hopefully a change in attitude that will keep them safer, both in their riding technique and how they react at the roadside." In particular, Jim made clear that he wanted this course to be free to all bikers of all ages and abilities so that there would be no financial barrier to taking part.
Although the middle of the summer is my busiest time of the year, within a week or so I'd roughed out some ideas for what was to become Module Three. Plans moved forward rapidly and by early August the Fire Bike team led by Lol Pater had secured funding and recruited several paramedics led by a specialist in motorcycle trauma care who is also a KFRS first aid Instructor.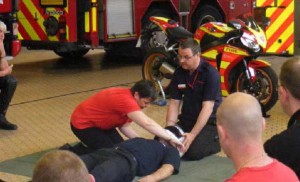 The first course was a pilot which gave us all chance to evaluate our various inputs into the course and was held at Ashford Fire Station in mid-August. Two more courses were held later that autumn and by the end of 2011, the final structure had been settled upon:
Module One – Incident Scene Management; presented by one of the Fire Bike Team (usually Jim) on how to ensure the safety of a fallen rider and anyone else involved in offering first aid, as well as advice on alerting the emergency services.
Module Two – Casualty care; delivered by qualified Life Support Instructors from KFRS dealing specifically with motorcycle-related first aid including typical trauma and mechanism of injury to legs, dealing with major bleeds and basic life support, CPR, managing spinal injuries and crash helmet removal.
Module Three – The science of being seen, which looks at the way the brain interprets data sent by the eye so that what's visible isn't always seen, examining phenomena such as motion camouflage, saccadic masking and looming, and offers some positive advice on how to make the most of our chances of being seen.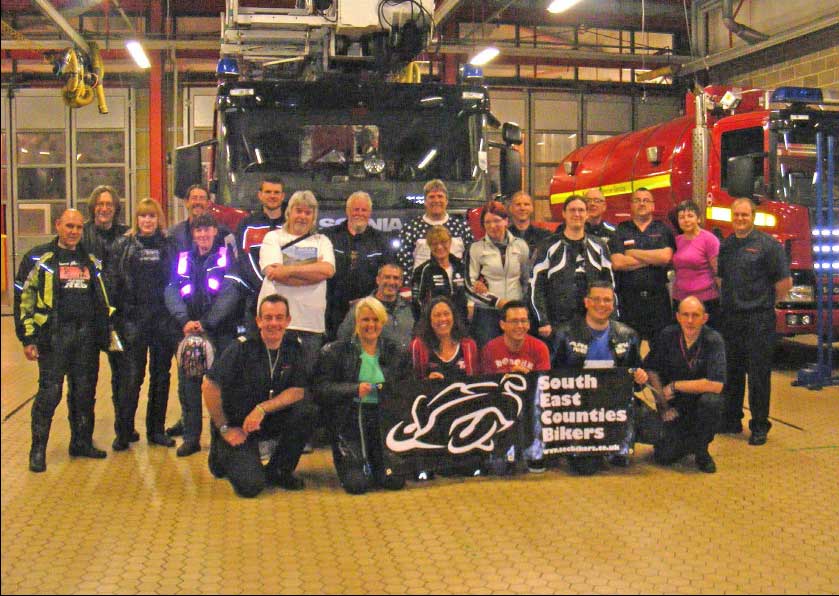 The course is highly interactive with plenty of lively discussion and questions, plus the hands-on experience of the first aid module. At the end of the day, participants receive a certificate of attendance as well as an 'aide memoire' to help remember the content of the course, a 'Crash Card' for medical details to be slipped inside their helmet and the 'Great Roads, Great Riders' rider skills DVD.
In this format, the Biker Down team have been delivering the course in the evenings approximately fortnightly, mostly at Ashford Fire Station, with courses run both for motorcycle clubs and groups of all backgrounds from Harley owners to advanced riding groups, as well as for individuals. There are now something like 800 motorcyclist out there riding in the South East region who have this basic training, and we've already had feedback from several who've attended not just bike accidents but also car crashes and put their skills to good use. Demand for this scheme has been very high and we've got a lengthy waiting list here in Kent. The Biker Down scheme has a large following on social media, with a regularly updated Facebook page providing an online resource for motorcyclists
And to top it off, our efforts were recognised at the Prince Michael of Kent International Road Safety Awards in December last year when we collected one of the 12 awards and one of only two in the motorcycle category! We were pleased to go up to the Savoy in London and collect the award as a team, too.
So that's a potted 'story so far' of the project. Where's it going in the future?
The good news is that a number of other Fire and Rescue Services have picked it up, some are already running courses and others are in the planning stages. The basic 'package' is available to all Fire Services so there's no need to reinvent the wheel; they can just roll the course out with their own resources. Kent Fire and Rescue have also set up an inexpensive 'Rider Skills' package which is being delivered at Brands Hatch this year, something Survival Skills will also be involved in incidentally, along with local advanced riding groups. Our team has also grown with several new members, including a former combat medic who is also a blood runner, another worthy activity and one I was involved with for a number of years too.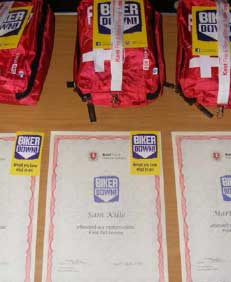 Over the years I've been at the scene of several motorcycle and car accidents, including one bike crash in Lincolnshire which required the local air ambulance to attend and another that happened in France and hospitalised the rider. Looking back on those incidents, the knowledge that I've gained both in terms of accident scene management and motorcycle-specific first aid would have been very useful. In the event, we muddled through because either someone else in the group was first aid-trained or someone with the necessary skills stopped quickly at the scene but thinking back, it's pretty clear to me that things could have gone badly wrong. It's particularly useful for riders to have some first aid training because riding is such a social activity. With bikers often riding in pairs or small groups, it's not unusual for the first person on the scene of a bike accident to be the rider's companion.
Accident scene management is largely common-sense, but the problem is that in the middle of an emergency, it's difficult to think clearly. A typical response is to dash to the aid of the fallen rider and forget that on our hands and knees in the middle of the road we've now put ourselves at risk too! The combination of the training module with the aide-memoire card means that a rider who's attended the course should avoid panic and the silly mistakes.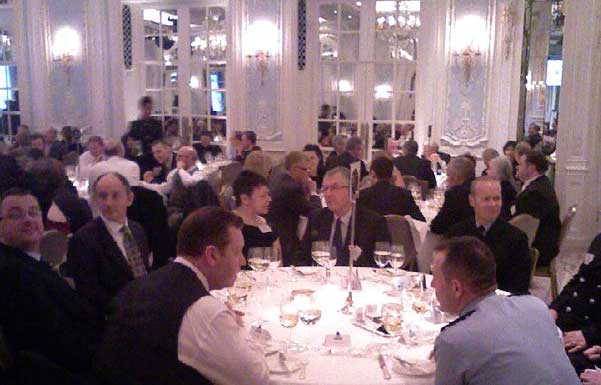 Many clubs and groups already discuss the need for the training of riders in how to deal with a crashed biker, but injured motorcyclists need to be dealt with in a specific manner by a first aider, with thought to the type of injuries that might have happened. The first aid module is delivered by paramedics who travel up and down the country dealing with riders who crash during race meetings. They travel to all the top events and have picked some of the best-known riders out of the gravel. What I immediately picked up from the two Andys was not just their humour that deals with a potentially grim topic with a steady flow of light-hearted banter, but having done several first aid courses as an instructor, I really was struck by the relevance of the advice being given. Any first aid training is good, but I've yet to come across a rider who's suffered poisoning or electrocution – this content is spot-on. It's also bang up to date with advice on the use of tourniquets, something that makes a lot of experienced first aiders who've done the course sit up and take note. It also explains precisely why we should consider removing a rider's helmet and then the safe way to actually do it. As the photos show, there's plenty of time for hands-on practice in the various techniques.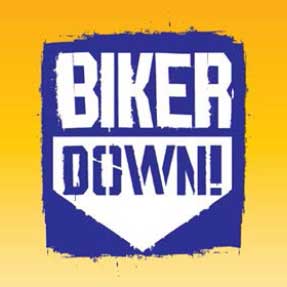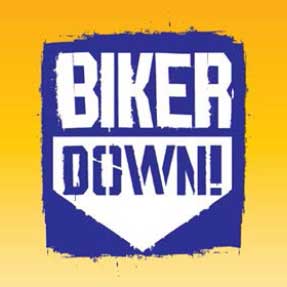 My own module? Well, it's illustrated by a bunch of graphics which put the point over quite clearly that hi-vis clothing, day riding lights and retro-reflective materials don't guarantee we'll be seen by other road users. Our best defence is assuming that we might not be seen and riding accordingly.
The Prince Michael Award is nice of course, as it means we've been recognised by the high-ups in the world of road safety, but ultimately it's the constant flow of 'thank yous' and the occasional "I had the opportunity to use what I learned…" emails that Jim fowards to me that makes me feel this is one of the most worthwhile activities I've put my name to. It's great to be involved in a volunteer capacity on a scheme such as this and put something back in to biking beyond my training courses.
Kevin Williams
For further information or to sign up for the course here in Kent (open to anyone in or outside Kent) contact Jim Sanderson by email at james.sanderson@kent.fire-uk.org or you can make contact via Facebook by searching Kent Fire Bike. For national enquiries look for the 'Biker Down' page. Survival Skills can be found on Facebook too, or via our website at www.survivalskills.co.uk I'll look forward to seeing you on a course soon.