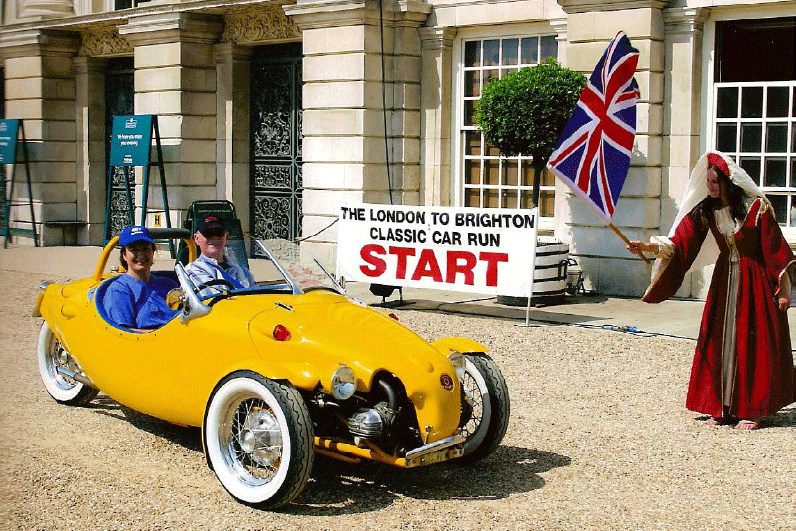 Read Time:
8 Minute, 55 Second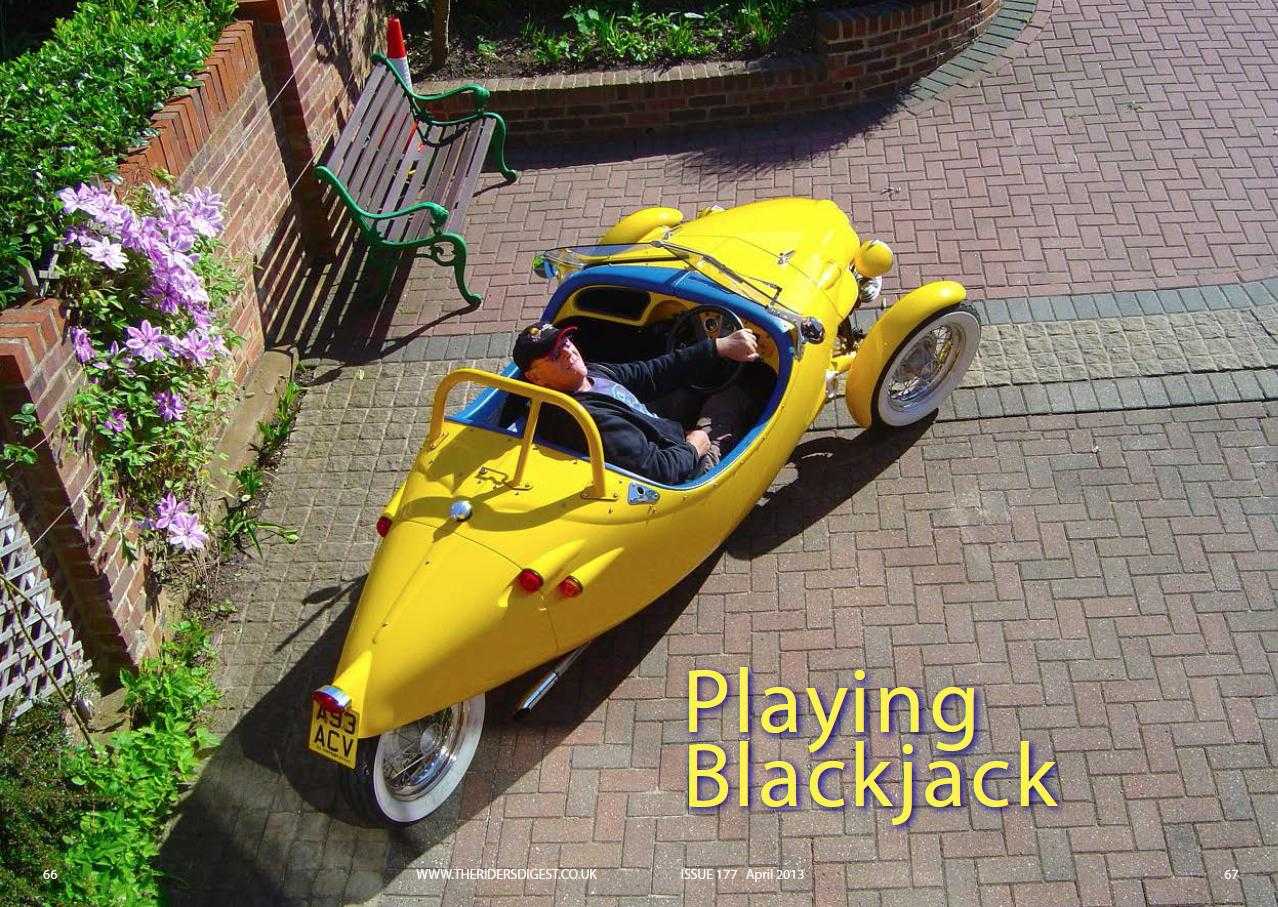 Back in the 1960s, I had an Isetta 'bubble car' made by BMW, which was great fun but I wrote it off on black ice, so I moved on to a BSA 500 single motorcycle and sidecar and various motorbikes. However, with a family, I then had to add another wheel and spent several years driving in conventional cars.
Fast-forward some years, family grown, I'm divorced and back on two wheels with a Moto Guzzi T3, and met wife #2 who was riding a Honda CX500. We spent many happy years holidaying all over the continent, either on my Guzzi or later on my Yamaha FJ1200… to Prague in the east, north to Norway, to Portugal the west in and south to the foot of Italy.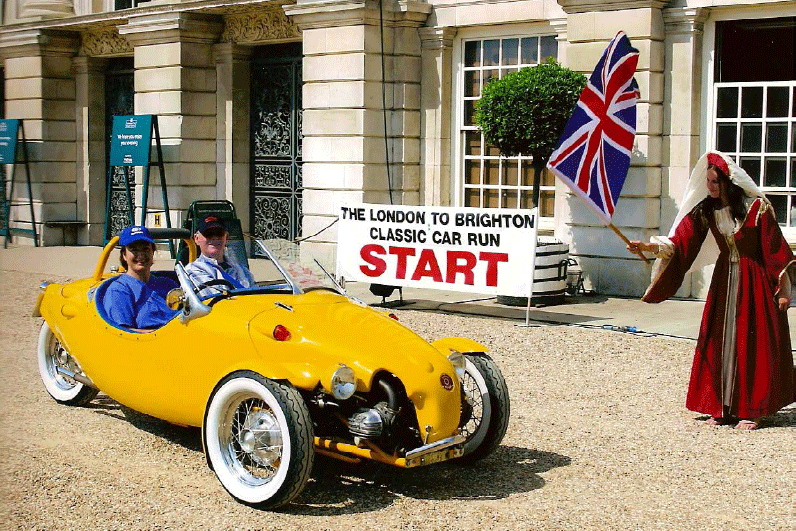 But one year, after visiting the Bike Show and thinking "you know, it all looks the same, I want something different", I started to look at kit cars and, in particular, three wheelers. I test-drove a Grinnall and liked it very much though I wasn't sure that rear-wheel drive was the safest set-up for such a powerful vehicle, and I continued to go to various bike and kit car shows.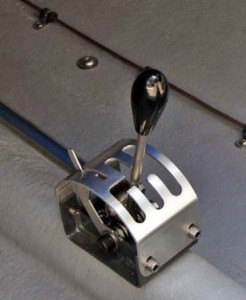 Meanwhile, my wife saw a three-wheel Blackjack Avion (2CV engine) for sale on Ebay and impulsively pushed the 'Buy It Now' button without physically seeing it. She'd had a bright yellow Citroen 2CV many years earlier and always regretted selling it, saying that if you've had a 2CV then it's always in your blood and that, one day, she'd buy another. So we drove up to Wales and my first sight of this Ebay apparition revealed that it was eye-catching and quirky, like my old bubble car. For her, it was love at first sight. It's not everyone who can cope with a 2CV gearbox but she hadn't forgotten and as I followed along behind on our return to London, I saw how many people were waving at her, taking videos as she passed and even stopping on roundabouts to let the Avion through. Back in London I asked how her ride was "Fantastic", she said, "but my face hurts from too much smiling".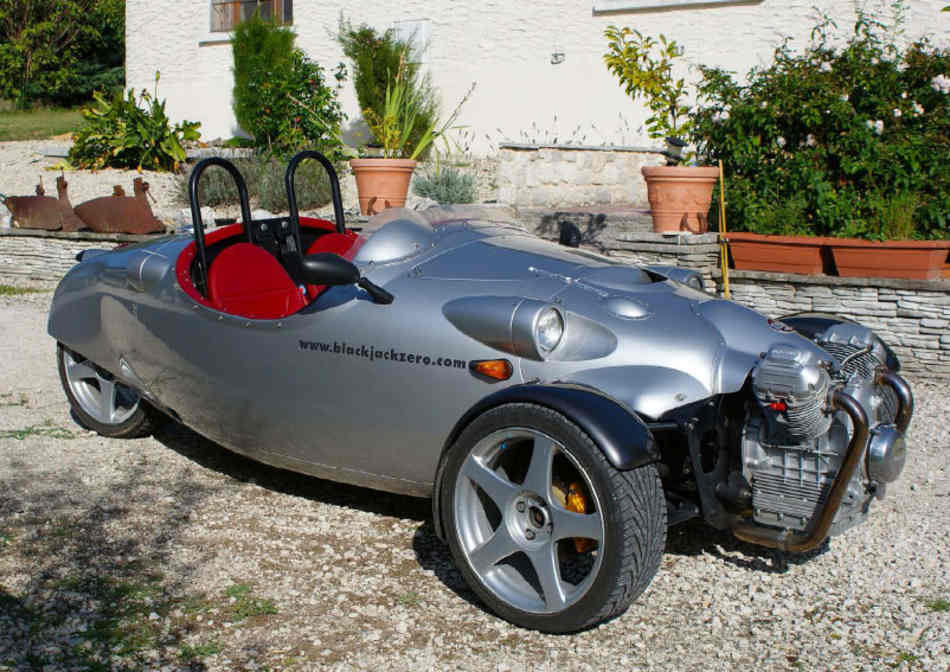 A few months later at a kit car show, we saw Blackjack Cars' latest model, the Zero, which, at that time, was powered by a reversed VW camper engine.We'd had so much fun driving the Avion and this new model was lower, sleeker and looked much more powerful. I got chatting to Richard Oakes, the man behind Blackjack, and the more we spoke, the more I was sold on the machine and the dedication that he'd put into the design and production, so I bought his prototype, car no. 1.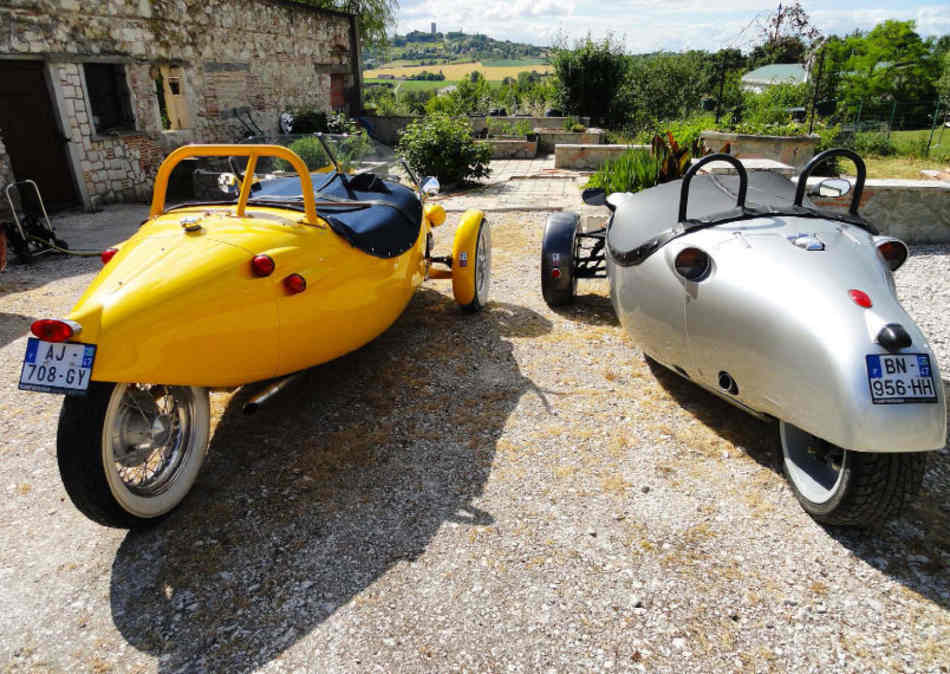 We collected it from his Cornwall workshop and drove back to London. My first impressions were that the acceleration was fast and the steering very precise and I instantly felt very 'at one' with the car. It came with two clip-on windscreens but the shorter one was blasting air into my face so we stopped and put on the higher screen, which was more comfortable.
Back home,I was able to have a good look at the car. The finish was impeccable – Richard Oakes is certainly a perfectionist – and there's luggage room for several stuffer bags behind the two seats and also a locker box above the footwell, which can easily accommodate two full-face crash helmets and some waterproofs plus a basic toolkit.
Naturally it got a lot of attention, which is half the fun of driving it and you also make a lot of new friends, but in the summer it was running very hot in London traffic and, being a Guzzi enthusiast, I chatted with Richard about the possibility of having the VW engine replaced. My brother found a Guzzi unit at an autojumble and we got it down to Richard's workshop where he installed it… a marriage made in motor heaven!We now had a V-twin front-wheel drive three-wheeler, withfour forward and one reverse gear. The car is a head-turner and the handling is sharp and responsive.And, of course, there's that distinctive Guzzi crobba-crobba-crobba engine noise.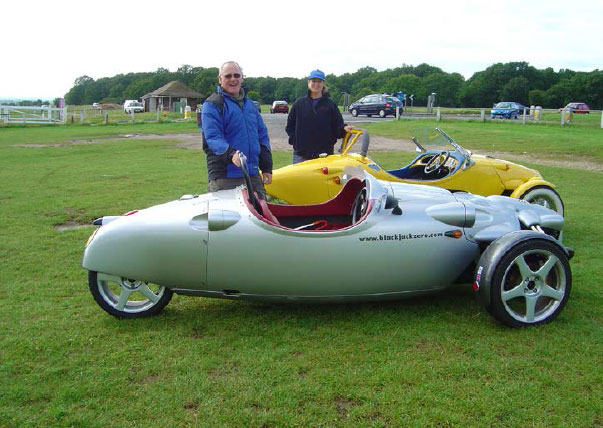 I found I was using the Zero more and more, and the bike much less, so I sold the FJ1200. Was it difficult? No, not really, because in the 3-wheeler you get as much enjoyment from the bends, you have as much acceleration to overtake and that same feeling of open-air freedom.But, as in motorcycling, you get wet in the rain so helmets and waterproofs are a necessity but these are easily stowed away in the car.
A few years ago we moved to France for the better weather and more space and brought the cars over on their UK plates. Initial enquiries to get them registered in France met with Gallic shrugs and "Impossible". They can't be cars, we were told, because they have three wheels and they cannot be tricycles because they have two wheels at the front instead of one. Sandy said, "Well how do you register a sidecar outfit, with a wheel at the side?" She received a frosty look then the clerk insisted we would have to drive them to Paris to be inspected.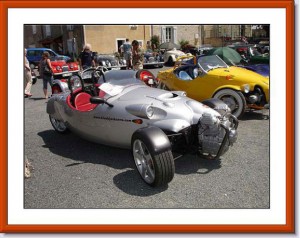 But thanks to the knowledge and diligence of a fellow 3-wheel enthusiast, who we'd met via the Blackjack owners' club, we helped Richard put together the necessary documents that would give the car European conformity and thus allow them to be registered in France. We took the Avion documents to the bureaucrats who said it satisfied everything and gave us a new registration certificate. A few weeks later armed with nearly identical papers for the Zero, we went to the same office but a different clerk who said, "This is impossible, it is illegal and cannot be done". We showed him the authorising paperwork for the Avion, which his colleague had issued, and he said, "No, that is a mistake, I must send it all to Paris" and grabbed the lot – Sandy quickly leant over the counter and grabbed it all back and we left.
But luck was on our side; every French department, or regional council, used to issue its own number plates with a local numbering system but the registration system has changed to a national one, the same as the UK. This meant that we could go to a neighbouring council with friendlier, more receptive staff, who were interested in the cars and happy to issue a French plate.
So now the two cars are French registered. Sandy's yellow Avion has Harley Davidson wheels with whitewall tyres and is painted bright yellow. It's often mistaken for a 1930s Morgan and definitely has a 'vintage' look to it. The car's a good looker and the wife's not bad either. The French can identify the distinctive 2CV "phut phut" as it comes down the road and the gendarmes look twice, blink and pretty much leave us alone.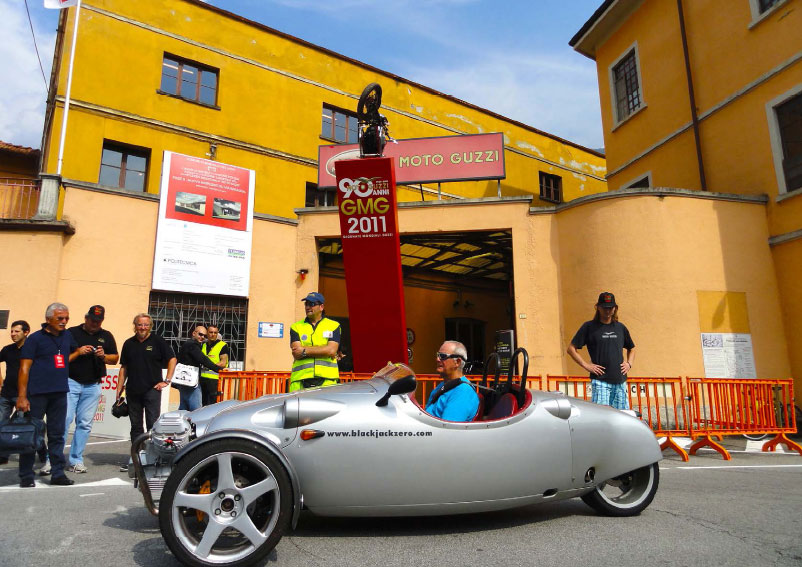 In September 2011 we drove in the Zero to Mandello, Italy – the home of Moto Guzzi – for its 90th anniversary celebrations. It was good roads and wonderful weather all the way;and a detour through the sinuous Gorges Du Tarn and over the famous Millau Bridge presented us with spectacular views. A broken exhaust(I blame the speed bumps which are starting to appear in rural France) forced us to pull into a repair shop just before the Italian border where the staff with their 'can-do' attitude, welded the exhausted and posed for photos with the strange beast!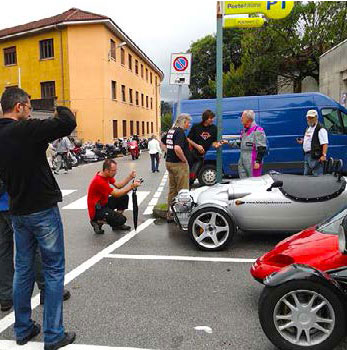 The Guzzi engine knew its way home, and we followed the signs to Milan and then onwards to Lake Como and the factory, which is situated on its shores at Mandello del Lario. As we came closer, all the roads were full of motorcyclists, all going in one direction… Mandello. It's a small town but it was choc-a-bloc with motorcycles and parking was difficult to find, even on a two-wheeler. Upon arriving outside the factory (after being quickly ushered on by marshals as we were causing a traffic jam because so many pedestrians jumped into the roads to take photos!) we were answering questions about the car, about the Blackjack factory and this strange Italian/English hybrid. We passed the factory three times before we found some parking – I wish I had a penny for every photo taken as I could buy another car now!
Organisation of the rally was typically Italian – disorganised but very enjoyable! Upon arrival at the rally you were given a box with various goodies, which we stowed in the car, then we queued for the factory visit. However it turned out that you needed to be wearing the goodie bag's rubber bracelet in order to enter (never explained) so we, along with dozens of others, just accosted the bikers who were leaving and used their bracelets.Security never batted an eyelid.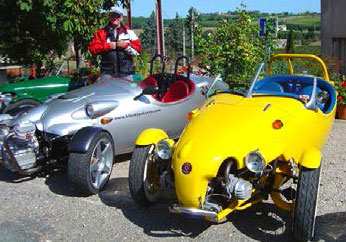 I'd been to the factory about 30 years before when it was all in full swing and I remember watching the mechanics, smoking cigarettes, working on the bikes and then seeing one of their riders race it around the test track. Now the factory, owned by Piaggio, is clean, quiet and clinical and looked more like a storage facility than a working factory.
Back outside and the party was in full swing with bands and burger stands and a great sense of camaraderie. Riders had come from all across Europe – there were plenty of Finnish riders there and we met some Australians and a Japanese who'd flown over just for this event. A 30-mile run around the mountains was great fun as the Zero's lightweight and front wheel drive means it just eats up tight bends.
Are 3-wheelers as much fun as motorbikes? Well the Blackjack Zero has married some of my great driving joys:  the grin-factor of my 1960s Isetta, the front wheel drive of a BMC Mini that I'd owned, and the acceleration, speed, thrill and open air freedom of a motorcycle. An early morning drive through a French village with the smell of sweet woodsmoke in the air and sharp coffee as you pass a café… these things you lose in a conventional car. So the Zero is extending my joy of motorcycling and, judging from the smiles on people's faces as I pass, it's giving other people a chuckle as well.
Pete Hewlett.