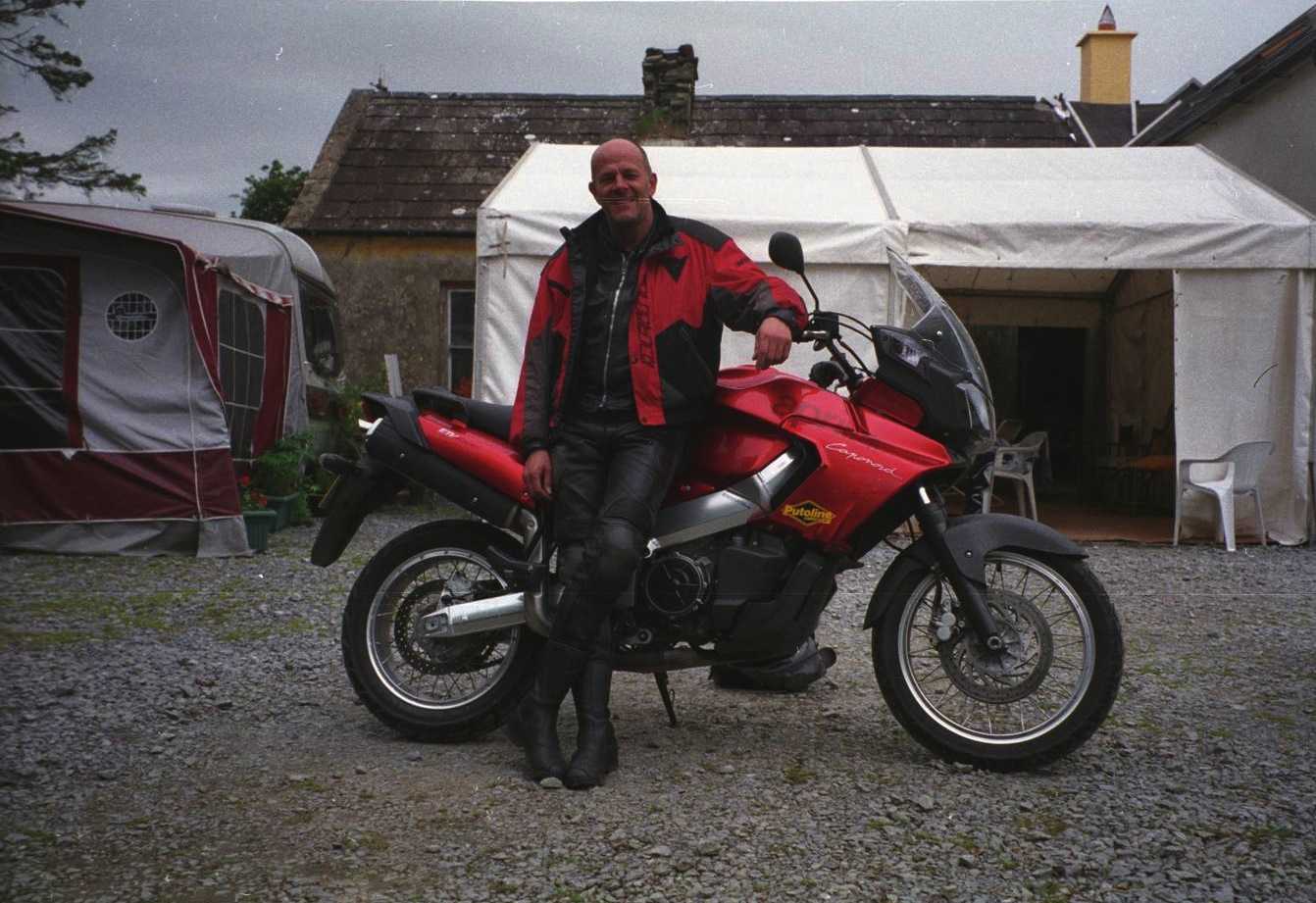 Read Time:
27 Minute, 51 Second
My Ireland trip proper was due to begin in Anglesey at 09:20 the following morning but before I could roll onto Irish Ferries Swift Service to Dublin, I needed to squeeze in a bit of rock.
The open mic night I mentioned in issue 67 was celebrating its 2nd birthday at Dingwalls in Camden Lock, so there was no way I was going to head to North Wales until after the party had finished. It was a top night and wonderful to see performers I knew and loved playing in front of a large appreciative audience. Unsurprisingly I blew my self-imposed Cinderella curfew and it was 00:45 before I pulled out of the Texaco garage just up the road. It was 263 miles to Holyhead, I had a full tank of gas, half a pack of cigarettes and sunglasses (although sensibly I wasn't wearing them) – so I hit it.
Even for a seasoned biker and ex-courier, that's a fair chunk of tarmac to face after a long day with my two youngest boys, followed by a night of rock n roll – but I had a plan to break it up into bite size chunks. In spite of ignoring my optimistic deadline I still had over seven and a half hours in hand and I'd lined up a stop over at a friend's empty house in Wolverhampton. I planned to grind out the lion's share of the motorway tedium (including all those miles of West Midlands urban/industrial sprawl) grab a quick nap, then awake refreshed and tackle the infinitely more interesting second stage with the dawn.
At 2am I was rolling through Birmingham on the M6 feeling fresh, fine & groovy. I was mentally congratulating the Aprilia Caponord on its prodigious ability to chomp miles and looking forward to getting my head down within the next half hour, when I saw a sign informing me that the the motorway was shut at jct. 6 and I'd need to follow a diversion. What with traipsing about the city, running around beneath spaghetti junction and then when I finally re-joined the motorway, taking the wrong Wolverhampton exit, it was getting on for 3:30 before my head nestled gratefully on a pillow.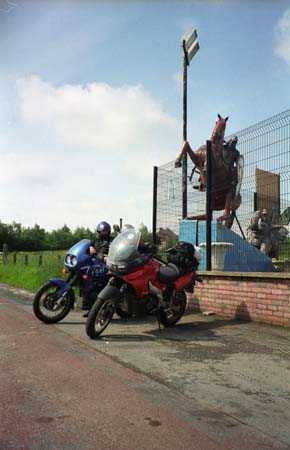 I was woken from a solid sleep by my mobile. Dave Newman and his 14 year old, Martin, were just leaving Woffy's place in Leamington in time for our 06:00 rendezvous. As I put the phone down its alarm went off to let me know it was 05:15 and time to get vertical. After quick ablutions, I climbed back into my riding gear and had a smoke while I loaded up. I pushed the bike to the end of the drive, started the engine and looked both ways, but it was barely dawn and it looked like the good folk of Wolverhampton were still abed. I didn't see any point in waking them all, so I eased the clutch in and finished warming the engine as I poodled slowly along the residential streets.
Although I'd had less than two hours break, as I rode off in dawn's early light I felt as fresh as a daisy. I was meeting Dave and Martin at the big truck stop at jct. 1 on the M54, which was just a short bop from my crash pad and as I pulled in he had literally just turned his fully laden Tiger around – a fine bit of synchronicity and the sort omen that even non-superstitious folk like me and Dave appreciated.
After swift greetings we set off. We'd allowed a generous two and a half hours to reach Anglesey so there was no panic and we settled at a comfortably fast pace simply because we were enjoying a fine ride. Dave and I met when we were both couriers at Mercury Despatch 25 years earlier and as is so often the case with riders who've covered a heap of miles together over a long period, we've developed a level of mutual understanding and anticipation that almost amounts to telepathy. Whether we were cruising at a consistent gap, moving over, dropping back, closing in for an overtaking opportunity, or filtering up to roundabouts, we executed it with a level co-ordination that would have been difficult to better even if we'd been fitted with bike-to-bike comms.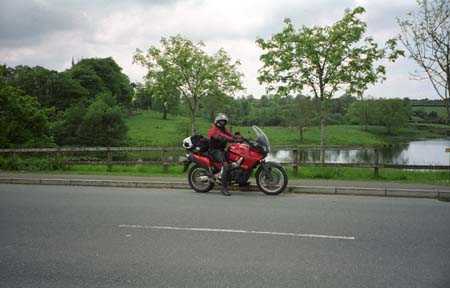 The A5, particularly after it turns left just south of Wrexham, follows a fabulous route. On the downside there are a few too many extended stretches of double white lines on roads where in reality there are loads of safe passing slots – especially for a couple of large capacity bikes on a roll; but we'd heard too many stories of zero tolerance by local police forces to totally disregard the overcautious road markings. By the time we reached Betws-y-coed the scenery was so spectacular that it was something of a treat to be slowed down behind a caravan because it offered a moment's respite to soak in the scenery. Otherwise the perfect surface invited us to barrel from bend to beautiful bend, at speeds that weren't exactly conducive to sightseeing.
We arrived at the ferry port shortly after 8 am, checked in and waited in the terminal building. Once we were called, loading was quick and straightforward. We left the bikes securely tied down and headed for the drivers' lounge (assuming that meant riders too). It certainly looked like a well appointed tub, with plenty of posh shopping, eating and entertainment options; unfortunately the only thing I can vouch for personally are the seats in the lounge – and they're more than adequate for catching zeds. The Swift Service takes a mere 1 hour 49 mins and it seemed like moments later that I awoke with Dublin growing in the windows so I went up on deck for a smoke, before descending into the bowels of the boat to retrieve the bikes.
We headed straight out of Dublin and picked our way through miles of chaos caused by work on road improvements; but the mire never really bogged us down and we were soon galloping up the N1 towards The North. We stopped for brunch just across the border (which had been more or less invisible) in Newry, then set off in a light drizzle for a city that I'd heard about on the news for a large chunk of my life, but had never visited.
By the time we were approaching Belfast's southern suburbs, the rain was falling steadier and we were grateful to arrive at our destination before we got entirely soaked. We were staying with friends of Dave's, who were wonderful hosts; and after a great dinner we were taken for a tour of Belfast city centre. Walking around the familiar shops and outlets, we could easily been in any provincial city in England; but the murals (both Republican and Loyalist) that were painted with painstaking detail on walls in the surrounding residential areas, were a chilling (albeit colourful) reminder of its recent turbulent past and on-going tensions.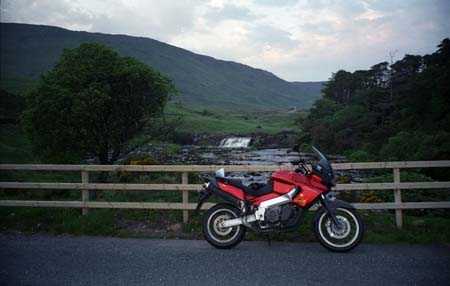 Riding out the next day we passed through a series of towns (Lurgan, Portadown and Armagh) that had also featured heavily in the news of 'The Troubles'. Seeing them with whole sections of red, white & blue curb stones and Union Jacks tied to houses, lampposts and a variety of other locations, I was reminded of how I felt as a young Spurs supporter growing up surrounded on all sides by Gooners. In a situation where the issues are clearly much more immediate and fundamental than the petty rivalries of football clubs, I couldn't help thinking how a young Catholic lad might feel having to walk past all that symbolism every day.
But then perhaps I'm overly sensitive; on the whole the feeling was one of travelling on good roads through some lovely countryside, among traffic that was generally light and well behaved. We were nominally heading for Enniskillen, but as it got closer we decided on a whim that we'd follow a B road, which would take us south across Upper Lough Erne and on down to Longford. The female half of the Newman clan were flying into Shannon airport while we rode, so we were heading down to meet up with them at their ultimate destination at Pat & Tony's house in Ennistimon. However it occurred to me that while Dave and Martin had family ties to tug them south and west, I was on my own on a thoroughly enjoyable borrowed bike, and I had well over 48 hours before anyone expected me at the big housewarming party that had drawn us all to Ireland.
Over lunch I told the others I'd decided to continue west and that I'd join them in Co Claire the following evening. I'd stopped for lunch in Westport last year and it had struck me as a lively town at the time so it seemed like as good destination as any. We left town together and rode in unison for a while, until they tooted and turned south and I continued on the N5. The A standard two-laner (plus hard shoulders) was wide and almost Roman in its directness, and with drivers who were generally very good about pulling over to encourage you past, it was easy to maintain a safe cruising speed that was way in excess of the numbers posted.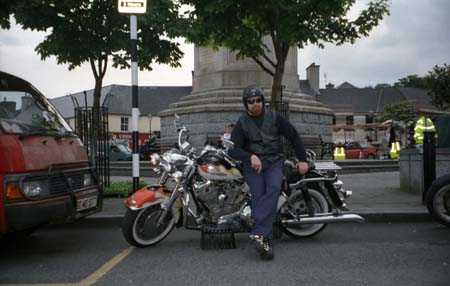 It was early evening by the time I pulled in to Westport. I did a couple of slow circuits of the centre, before riding wider to check a few of the literally dozens of B&Bs that were posted along every road in or out of town. They all looked "nice and clean" but that was the problem: chintzy bungalows had been fine when I was touring in a car with my ma the previous year, but solo on a big red Italian motorcycle it just didn't feel right. I was still looking for something suitable when a Harley went past and it occurred to me that the rider might be able to point me at a place more suited to my requirements. I set off after him and was just closing when he headed for the hills. Spotting me on his tail and assuming I was chasing him, he made a run for it; but as you can imagine on a dressed up HD complete with tassels on the running boards, it was never going to happen.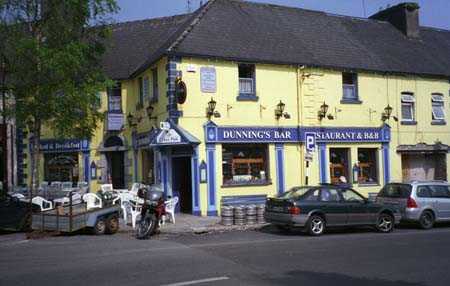 I explained my dilemma and he led me back to Dunning's Bar, Restaurant & B&B (and internet cafe), which I'd somehow failed to spot right in the middle of town. The delightful, young, and radiantly copper-crowned Kirsty, showed me to my room, chatting happily about her time living in London. After a quick freshen up I went downstairs and checked the bike. Unloaded it looked lovely and it begged me to take it out for another blast. The solo leg of my ride that day had just been a long fast blast, with little by way of wiggly bits to up the fun factor, so as I still felt fresh and up for a little jolly, I allowed the 'Prilia to talk me into it.
The R335 to Louisburgh runs due west out of town, and with Clew Bay off to the right most of the way, it was a real lung-filler of a ride. From there the road swings sharply south and inland, but the map indicated that if I followed a narrow track for a little over 4 miles, I'd arrive at Roonagh Quay, which was right on the Atlantic. The Caponord is designed to be a dual purpose machine and although I've always felt distinctly uncertain on dodgy surfaces, I took them steady and in low gears and the bike covered the uneven ground with a poise that suggested it had a lot more in reserve than I did. I rode to within feet of the ocean and took some great moody pics.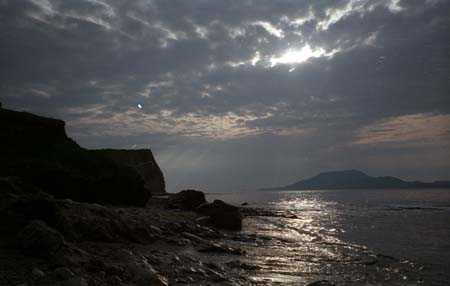 Back at the 'main road' I headed south towards Cregganbaun and on along the Doo Lough Pass. Although it was getting late and the setting sun had dipped behind the Mweelrea Mountains it didn't look or feel like dusk. Diffused light bounced back from the non-threatening clouds above, and the far end of the valley was washed in a watercolour of fading but still weakly bright sunlight. I congratulated myself for electing to have just one more ride before supper, because I felt like I'd strayed into motorcycling Nirvana. I could see the road stretching ahead of me for miles. No worries about surprise cars, pedestrians, tractors, sheep or changes in surface; just a tantalising series of kinks and twists, as two lanes of tarmac followed the natural contours of the land until they disappeared into an ever shifting, but always far distant vanishing point.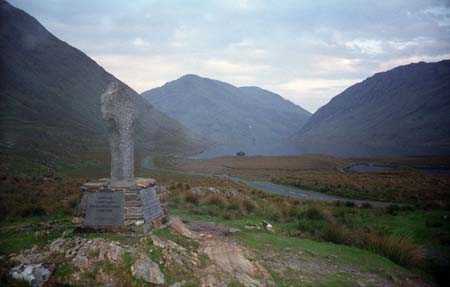 Rolling-on in top, the V-twin motor was smack in the middle of its broad spread of power and breathing fire. The big Aprilia has masses of ground clearance and pukka suspension, so by picking my lines well and using the entire width of the road to flatten them, I was able to all but ignore the brakes and launch myself along the valley at a nigh on constant velocity. The 355 from Louisburgh to Glennagevlagh is getting on for 20 miles of the kind of road that – in my humble opinion – bikes were designed for and if I hadn't stopped for a smoke alongside a Celtic cross that overlooks Doo Lough, it would have all flashed by in minutes.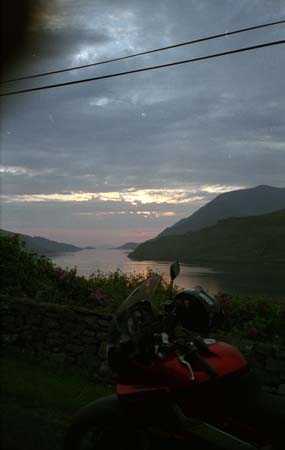 By the time I'd finished sitting there inhaling deeply and soaking up the incredible vista, the sun was just about ready to hit the sack. I decided that if I followed the pass through to the end, I would arrive at Killary Harbour in time to take some good pictures as it went down; but when I reached Aaslagh Falls, I realised that a tall headland directly ahead meant I wasn't going to get the snaps I'd been hoping for. However, it was also apparent that if turned right onto the N59 and followed the southern side of the harbour, sooner or later I'd get the shot. I slowed down for Glennagevlagh and Leenane, but otherwise I rode like a man racing against the sun – and after around five or six miles of tearing along a road that took its line from the rim of the water just below, I finally caught up with it.
Once I had an unobstructed view, it was clear that the red sphere still had quite a few miles of ocean to cross before Connemara saw the last of its light. But I got the photograph I'd imagined, so I tucked the camera away and walked back to the bike with an overwhelming feeling of contentment.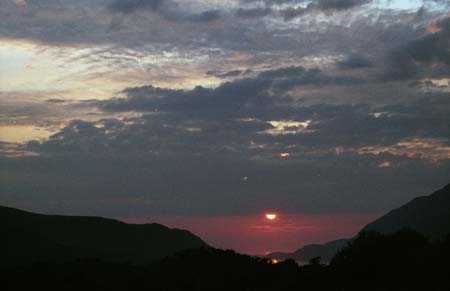 I'd chosen Westport because I'd heard great stories about the craic there and I had been hoping to check it out. So with the sun rapidly sinking behind me, I roared off to cover the 23 miles of N59 that stood between us. In the pitch darkness the headlights were fantastic, even on low beam; full on they were a serious source of light pollution, which was all the better for eating those miles. With the scenery appearing only in silhouette and plenty of advance warning of any approaching traffic, there was little to slow me down. In no time I was back in my hotel room, sitting on my bed feeling the adrenaline subside and fifteen minutes later I was out again on a personal pub-crawl, searching for some real music.
When I'd first arrived in the town I'd noticed a pub advertising traditional music; and as it was just up the road – and directly opposite a chippie – it seemed like an ideal location. After boshing off a quick pie and chips, I walked into the bar to be greeted by a man on a synthesiser (complete with cheesy electronic backing beat) and a woman enthusing her way through "Dancing Queen". Call me old fashioned, but ABBA isn't really my idea of 'traditional' West of Ireland – but apparently that only referred to Saturdays. However they pointed me in the right direction and I finished the night supping beer listening to fiddles, squeezeboxes and bahdrons.
Alcohol has never really been my drug of choice so I'd only had a couple and woke up bright and early. After getting outside of a full Irish, I paid the bill, loaded the bike and headed off. It had certainly been a red sky the night before and the morning had all the makings of the kind of day that would delight every shepherd in Co Mayo. I planned to take the N.59 back to Leenane and then on across Joyce Country. I'd driven through its wild wet landscape in a car last year and was looking forward to having another opportunity to absorb all that scenery – only this time without filtering it through steel and glass.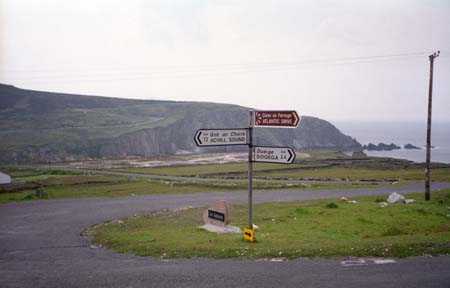 The road looked completely different in daylight. It was still sparsely trafficked and entertaining, but I recognised nothing from the night before, beyond my feeling of exuberance. When I reached Newport I realised why. Newport is a striking old port town, with an ancient stone bridge crossing the middle of it; and I knew I'd never laid eyes on the place – day or night, this year or last! A quick shufty at the map indicated why; I'd taken the N.59 north out of Westport, when ideally I should've been heading south. A bit of a "couldn't have got it more wrong" type cock-up but in the greater scheme of things, it had been 7 or 8 miles of lovely biking road. Even if I'd simply turned the Aprilia around and checked how the curves felt in the opposite direction, the whole adventure would have 'cost me' little more than around 15 minutes. But looking at the map I decided that as I'd come that far, I might as well keep on going, because the road was about to swing west towards Achill Island.
Achill Head is as far west as you can go in that part of the country so a little trip to check the view seemed entirely in order. The N.59 to Mulrany was straight and flat with just occasional kinks; and the R.319, which took me from there across the Corraun Peninsular, was more of the same. Consequently the 20 miles between Newport and Achill Sound, disappeared under my wheels in an adrenaline fuelled blur. When I crossed the bridge, I had the option of staying on the R road, or taking the scenic route; and as I'd already enjoyed a nice wake up buzz…
The "Atlantic Drive" was largely single track but as there were more sheep on it than other vehicles – and they scattered as soon as they heard the muted roar of the Caponord's under seat exhausts – I rolled along it at a nice comfy 50 and sucked in the atmosphere as the road patiently skirted the ocean it was named for. Aside from the occasional zigzag up and over a steep headland, the "Drive" hugged the coast for 10 miles, before turning inland to re-join the 319. Back on the relatively open road I powered on for the short distance to Keel.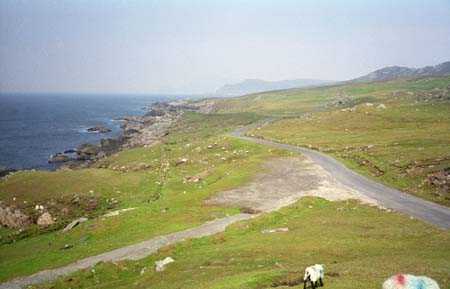 Beyond Keel the track develops a 'coming to the end of the world' feel, so I reverted to tourist mode. Around a mile and a half later, I could see the very end of the road ahead of me – or I should I say below me. Keem Strand lay at the bottom of a sheer cliff and the steep twisting track that ends at the beach, was cut straight into the side of it. To my left was a sheer drop onto the swirling foam and rocks hundreds of feet below – and I really don't do heights. Unfortunately I'd committed myself and there was no way I was going to attempt a three-point turn, so I kept going and put up with the torque wrench adding another few ft/lb to my nuts every time the road curved to the right.
At the bottom I looked around for somewhere to buy a drink and discovered that I'd passed the last shop in Keel. Without water there was no way I was going to hike across country to Achill Head; besides my boots were never designed for the same purpose as Nancy Sinatra's. I settled for a dry and dusty smoke on the sand, while I tried to come to terms with the expanse of water ahead of me. There are many places on the English and Welsh coasts where there's nothing but sea to the horizon and beyond; but there's something especially awesome about standing on a desolate beach and realising that the next nearest land mass is thousands of miles across an ocean.
Going back up, I stuck tight against the cliff and it felt like a 30 second breeze, compared with eternal terrifying nightmare of my descent. I wet my whistle in Keel, then took the fast road off the island. I backtracked to Newport; then, rather than retrace my entire morning, I opted for the R.311 to Castlebar, where I picked up the N.84, which runs south between Loughs Mask and Carra to Ballinrobe and then on to Galway. The scenery that accompanied it was a complete contrast to the spectacular landscapes of an hour earlier and I could easily have been anywhere in the Home Counties. Galway was the first city of any size I'd encountered since I left Belfast and as I sliced painlessly through its clogged streets, I was reminded once again of just how much I enjoy riding tall bikes in traffic.
The N.67 skirts the southern rim of Galway Bay and is blessed with stunning views. At Ballyvaughan I stopped to take some pics of a castle, and given the magical trip I'd enjoyed so far, I wasn't surprised to see a fairy tale princess sitting on the grass outside. Setting off again, I had to choose between another twenty miles of stupendous coast, or heading inland over the equally tempting wild landscape of the Burren. Examining the map closer, I spotted Corkscrew Hill a few miles along the cross-country route and decided it looked too good to miss.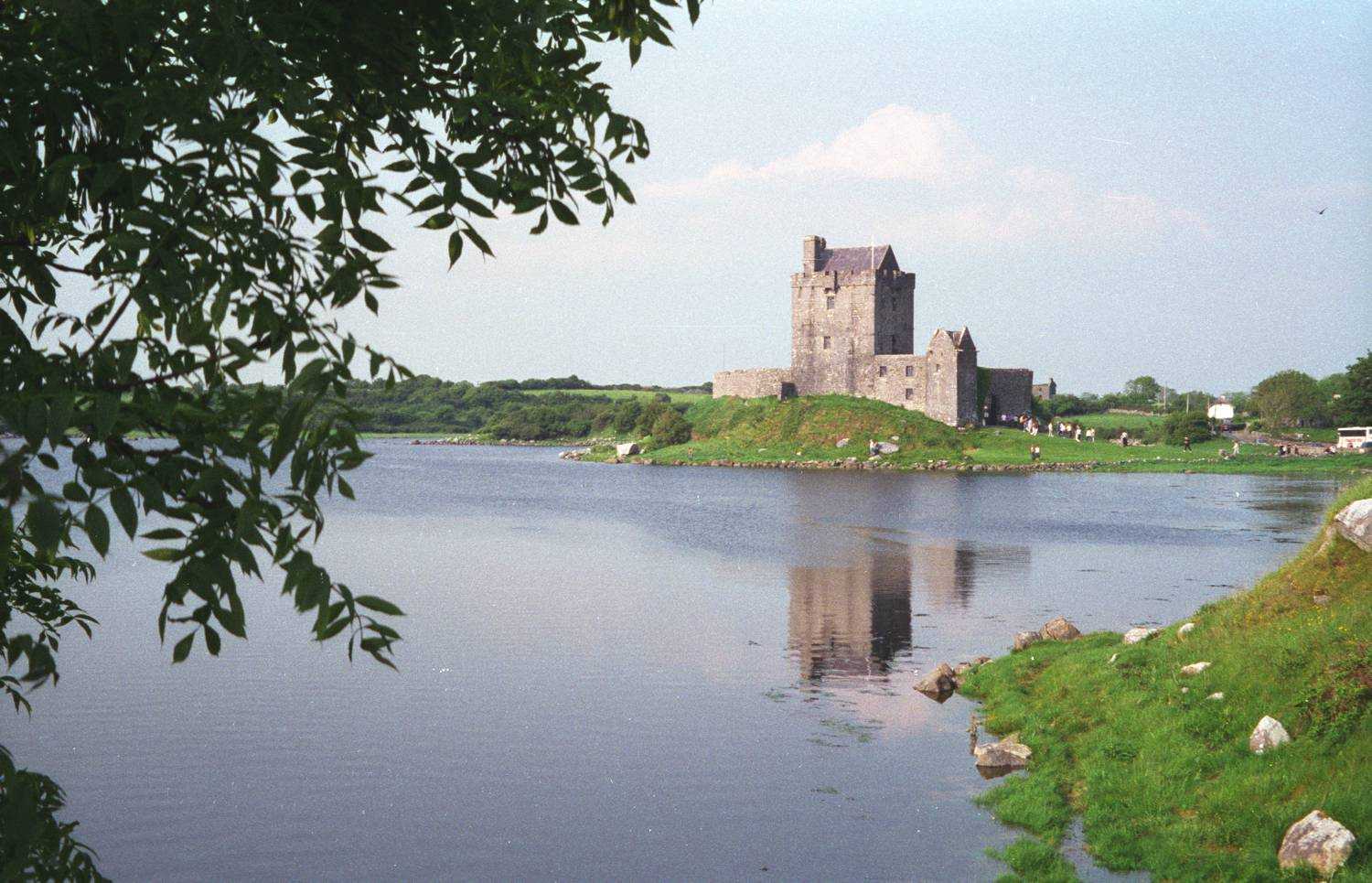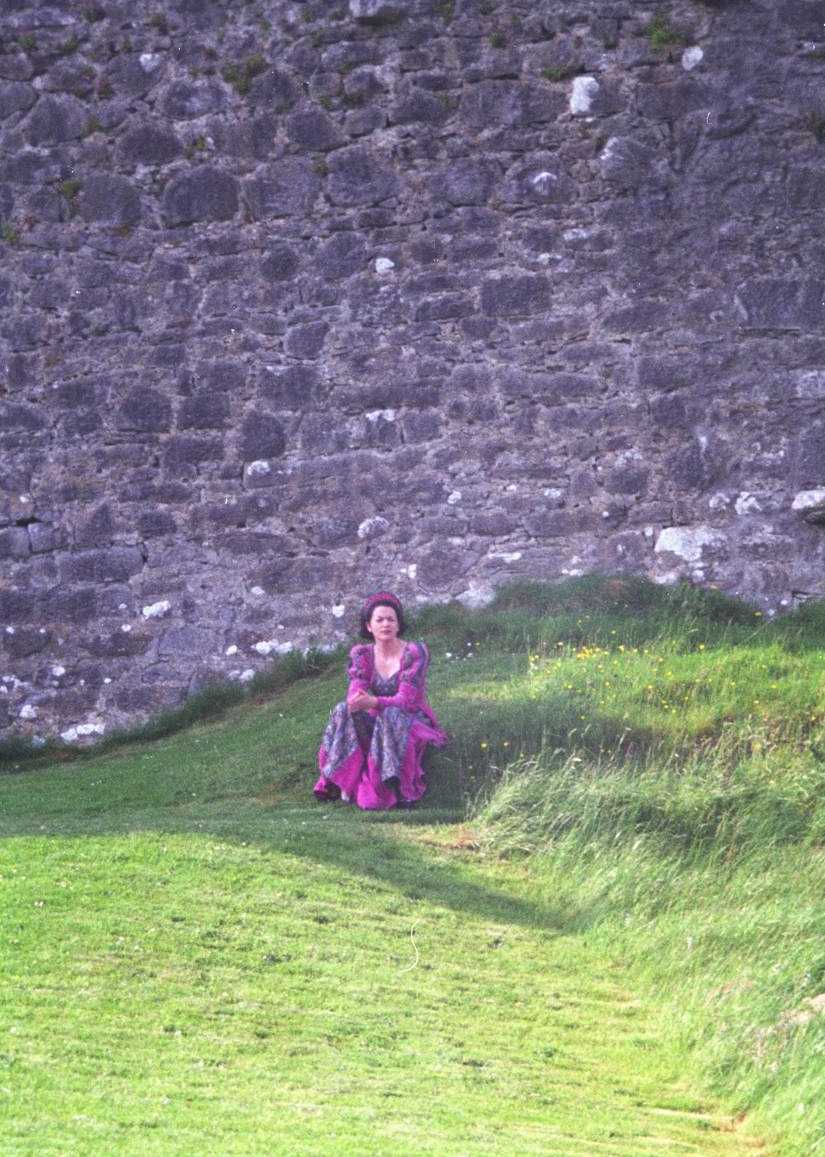 Just before I reached it, I passed a youngster standing alongside a NSR125, just about to put his lid on. I waved and moments later the road started rising sharply. The first turn was a vicious left-hander that had me scrabbling for first gear and from there on up they just seemed to get tighter and nastier. Half way up I stopped to see if I could get a picture and seconds later the Honda screamed past and showered sparks at the next right-hander. I was glad I'd been stationary, because he'd have clearly pissed all over me in spite of the enormous power difference between our machines, so at least I was spared being embarrassed by 17 year old on L plates.
From the top of the hill on down to Lisdoonvarna and beyond the road reverted to entertaining rather than excruciating and I arrived at my B&B in time for a quick shower, before joining my friends for dinner in Corrofin. Setting off when I should have been there, I sprinted along the road trying to make up time. I saw a "loose chippings" sign ahead – which was worrying considering some of surfaces I'd negotiated without any warnings – so I peeled off speed and rounded a bend onto a veritable sea of jumbo grade gravel. I stiffened and the Aprilia slithered and slid for a horrendous half minute, but regained its bite instantly when it encountered a solid surface and I wound it on again.
As there were around thirty people including kids in our group, they were still arguing the toss over the menu when I arrived so I found a seat and settled quickly on the bacon & cabbage. Following the cars back, I watched the road closely for the horror strip but I was almost at Pat & Tony's house before I realised that I'd already passed it in the darkness without noticing. A perfect illustration if it was needed that the bike was more than capable and that it was only my tension that had upset its composure earlier.
Everyone assembled at the house, so I figured it might not be an early night. Sure enough the sun was threatening and the birds were singing when I got back to my B&B. A few hours later I was up again and roaring towards Shannon airport for an 8:30 flight. The N.85 is a broad two-laner with hard shoulders and although it twists and curves most of the way to Ennis, they're all wide open so it flew past at a steady ninety-plus. The N.18 is straighter and as you get closer to the airport it becomes dual-carriageway; but it also carried more traffic, so apart from a few short bursts to 120 mph, I was actually travelling slower.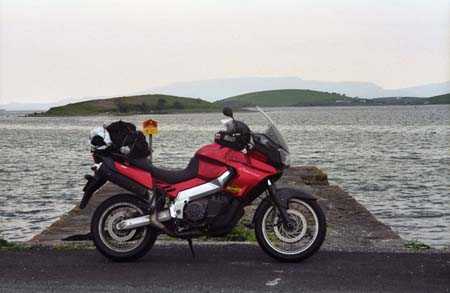 I reached the terminal minutes before Woffy strolled out carrying his open-face. After hiyas and hugs, he climbed on and we headed back. Once clear of the airport I opened it up and the whoops from behind suggested that he was enjoying it. By the time we got back on the N.85, I was rolling round the broad sweepers at over the ton, to the sound of chuckles from the pillion. A few miles short of our destination, we'd just crested a wonderful right-hander banked over doing one-ten, when I saw a guarda ahead with his hand raised. I pulled up and was just reassuring myself that no matter how big the fine, it wouldn't affect my licence, when the officer walked straight past me, clocked the GB number plate, and waved me on without a word. Now that's what I call a tourist friendly country!
We got back to the B&B and filled up on a couple of late full Irishes, before joining Dave on his Tiger and his brother John on his bored out SV750 for a little Saturday afternoon jaunt. We rode down to the seaside resort of Lahinch, then on to the Cliffs of Moher. After a stop to reacquaint myself with their terrifying proportions, we headed up the coast to Doolin. When I'd told Dave and John about my ascent of Corkscrew Hill, it was meant to be a horror story but somehow they'd come away with the impression that it was a 'must do' and as we rode back up the track from the sea, that was where we were heading. Then as we trickled up to a give way line at the R.478, I saw a car approaching and stopped short. Unfortunately John was right behind me checking over his shoulder and when he glanced back to find me stationary, he grabbed the brakes on gravel and did a classic no-speed tumble. Both John and the bike were picked up without showing signs of serious damage but he'd snapped the end off his gear lever, and while it was still rideable, it wasn't ideal for the Corkscrew. So regrettably I had to forego repeating that pleasure.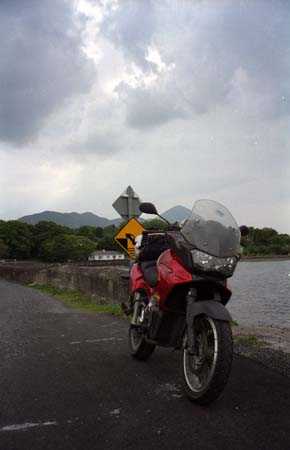 There were at least 50 or 60 guests at the housewarming party, and they were just about an even split between locals and old friends who'd travelled from the UK and beyond. At one stage I took the Aprilia back to my B&B to pick up some tapes and one of the revellers decided to come along for the ride. She enjoyed the short blast down the road, so we took a little 20 mile detour to the coast on the way back. The party was hour upon hour of music, dancing, booze and talking (with fireworks somewhere in the middle) and it was gone 9 am by the time Woffy and I picked our way through the bodies and headed back to the beds we'd paid for. We got a few hours out of them before rising to another very late breakfast, courtesy of Sheila our unbelievably accommodating landlady.
There was plenty of time before I had to get Woffy back to Shannon, so I returned to the house to see if my pillion from the previous night was serious about going out for a longer ride – and she most certainly was. Once underway I quickly noticed that like the night before, the faster I went, the tighter she held on and the firmer the grip of her thighs became. By the time we'd been up to the Cliffs of Moher and over to Lisdoonvarna I'd fine tuned to the pressure she was exerting and for the return leg, I think I managed to stay the right side of the scary line. I dropped her back and swapped pillions for the blast to the airport. Neil's body language gave nothing away but no matter what speed we were doing, or what angle we took the bends at, if I glanced in the left-hand mirror all I could see were fly-spattered teeth.
Besides delivering on promises to take various youngsters for a spin, I took a day off from riding on the Monday and settled for a mellow stroll in the surrounding countryside. Dave, Martin and John left on the bikes around midday and the numbers continued to dwindle until by nightfall, we the were down to around a dozen.
I slept in a caravan that night and woke the next morning at 8 am with rain lashing viciously on the roof – so I rolled back over. It was still pouring when I stirred again; and continued to do so throughout the day as the house slowly emptied. By mid-afternoon I was left alone with the rain, while Pat & Tony drove the last of their houseguests to Shannon. I'd planned to leave in the morning, to take a leisurely ride around the southwest coast, before stopping in Waterford to see if I could find Annie (the redheaded biker who had me waxing lyrical last year) but I hate setting off in a downpour and it hadn't let up all day. Finally at around 5:30 I decided I had to bite the bullet and went outside to load the Aprilia. And it stopped raining – just like that!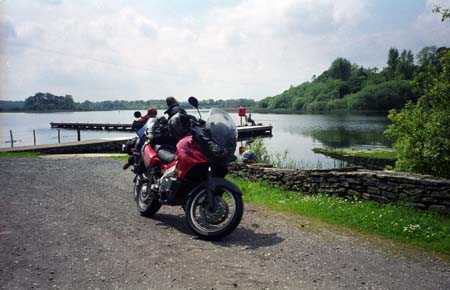 Funny, I've always heard that it's a long way to Tipperary, but it's only 60 miles from Pat & Tony's! In fact the entire cross-country journey to Rosslare was under 150 miles. I took the familiar road past Shannon to Limerick, where I picked up the N.24 all the way to Waterford. I called in at the pub where Annie worked, but the landlady told me she'd left the previous day, for a bike tour in France – kismet I guess. I was booked on Irish Ferries 08:45 sailing the next day and had planned to find a B&B but after checking my watch and the map I realised I could make the 21:00.
I reached Pembroke at 1am, which meant that I faced the prospect of miles of soporific M4 throughout the early hours. Bad idea, so I cashed in my Swansea connections and got my uncle to leave his back door open. I arrived at 2 and was asleep on the couch within minutes. At 6:30 I pulled the door behind me quietly and by 7:30 I was back in England. After miles of tedium, I stopped at Reading services for a smoke and a leak but as I returned to the bike the skies let rip. What the hell, I could almost smell London from there. It was still raining when I hit the congestion on the elevated section at Brentford, but by then I'd done almost 2,000 miles on the Aprilia – some on roads that had terrified me – so slicing through traffic on home ground was a breeze.
An hour later I was sitting in my bath reflecting happily on the amazing variety of roads I'd travelled and the breathtaking landscapes that accompanied so many of them. But mostly I thought how wonderful it was to have both the freedom and the machine to ride to the edge of the world on a whim and I decided that it had been the most soul-satisfying week I'd ever spent on a bike.
Dave Gurman