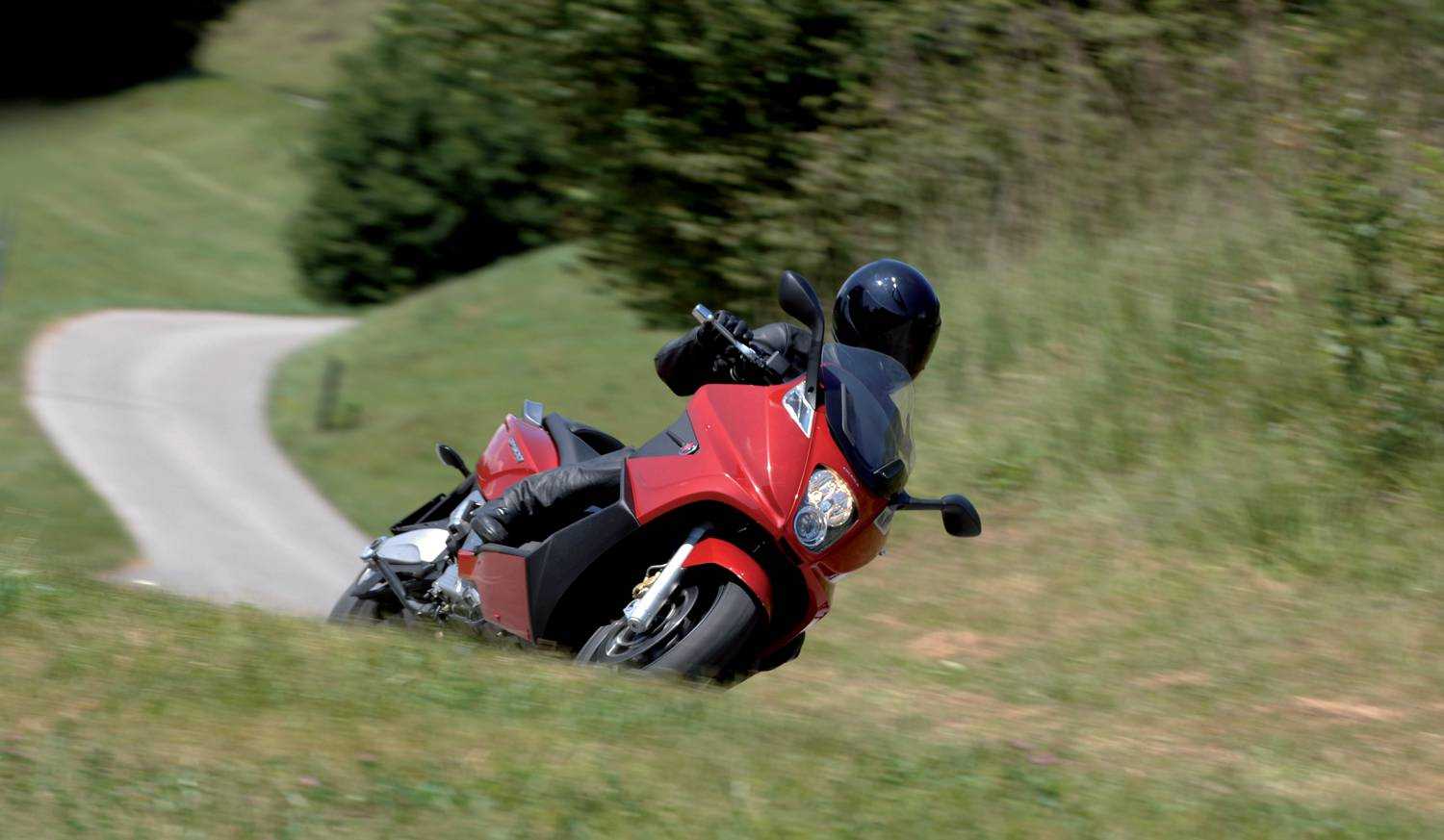 Read Time:
10 Minute, 39 Second
Many commentators have questioned who the current crop of larger capacity super scooters are aimed at? Well, rather than providing a definitive answer, the GP800 – replete with its 839cc V-twin Aprilia engine – throws the whole question wide open. Who isn't it aimed at?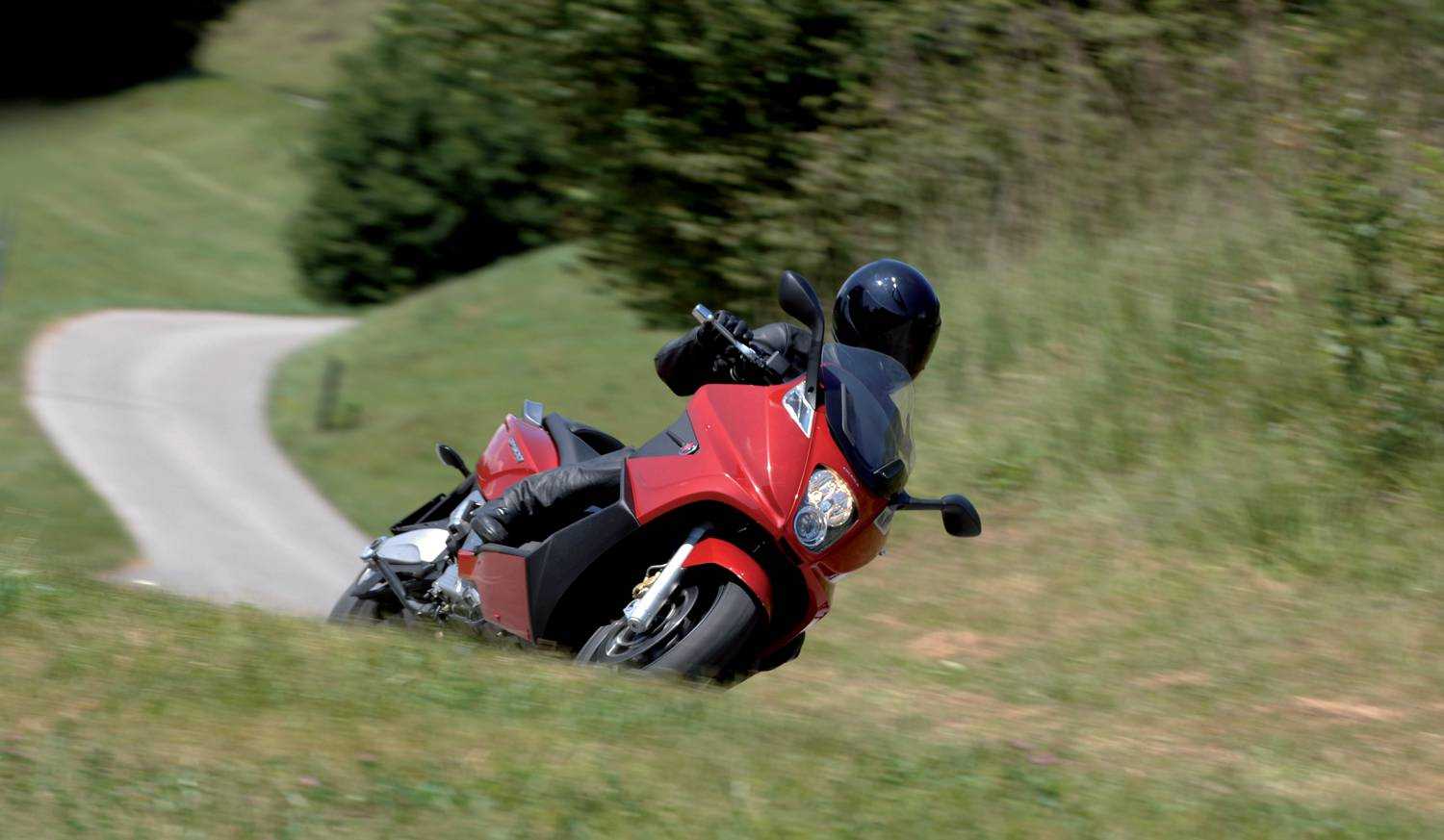 Actually the answer to that one is dead simple: the close-minded. Anyone else who enjoys the sensation of travelling rapidly on a pair of powered wheels is guaranteed to have a ball on this big bad hoot of a scoot.
Having said that I don't really expect the majority – or even a substantial minority – of the readership to cast aside the habits of a riding lifetime and convert to twist and goes simply because myself and a handful of letter writers start waving our hands around saying that we've seen the light.
And I can't really say that I blame you. Before I destroyed my right knee, my preferred riding position was a classic clip on crouch – leaning forward with my arms reaching down to the bars and my feet tucked up beneath me on rear-set pegs, like a jockey taking command of a thoroughbred – and if I'm entirely honest it's difficult to say just how open-minded I'd be today if I was still able to bend my leg enough to assume that posture.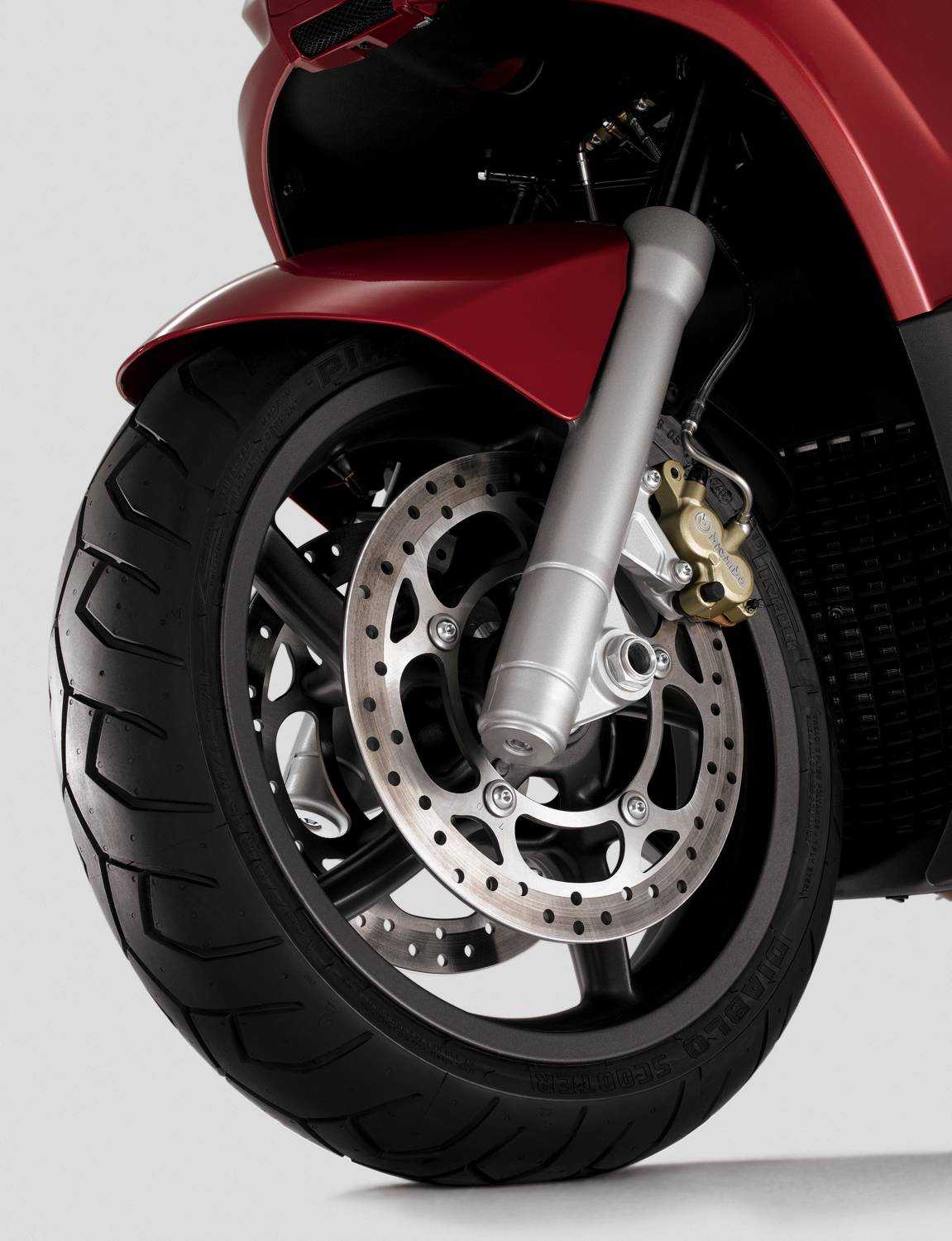 However, I'd ridden the BMW GS1150 and the Triumph Tiger in the months before I did the number on my knee and I'd quickly realised that they were infinitely more comfortable than being hunched over the front wheel and that the high-up, wide-armed stance they offered, worked well for the greatest variety of motorcycling situations. I'd just enjoyed a brilliant fortnight touring on an Aprilia Caponord, which had entirely reinforced that opinion, when it all went tits up and I discovered that the 'dual purpose' bike was also a pretty effective bone crusher.
So if I could still flex both of my legs, do I really think that I would forsake exotica like the Ducati 1098 for a jaunt on a machine that many motorcyclists would look at and see an old man's shopping trolley? I honestly believe that I would; partly out of journalistic duty but mainly because I've never been one to turn down the opportunity to try something different. Also, and this is a big also, the tame appearance that other riders might scoff at, is the most appealing thing about the GP800 for me because I've always got the biggest bang out of cars and bikes that are 'wolves in sheep's clothing'; and this scoot is definitely the kind of innocuous looking machine that would fool Little Red Riding Hood into thinking that it was safe to stray from the path.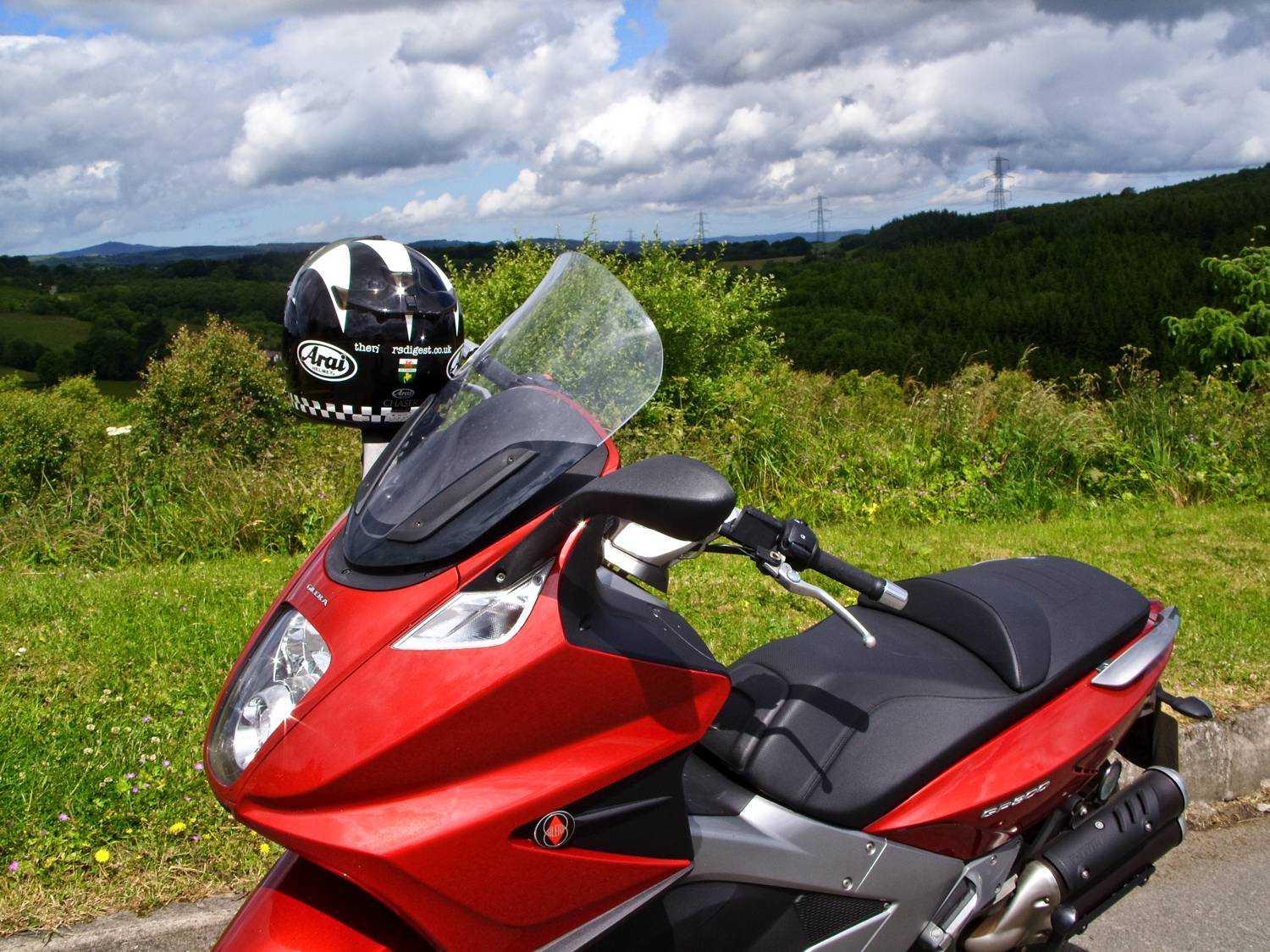 All these thoughts were in the mix then when I first sat astride the Gilera, which when all's said and done, did look like just another maxi scooter – even the paint job was the kind of red that you'd associate with an old Rover rather than the blood red hue Ducati and Ferrari employ to underline just how fast and furious they are. If it was indeed a lupine, it was hiding its potential well under its nice woolly cardie.
Half an hour later I was sitting at a red light on the Kingston Road in Merton, no more than five miles into my journey to Plymouth when an R1 pulled across in front of me with that, "Make way for the fast boys!" attitude that I've witnessed so often when I've been riding a scooter. He shot off on red and amber without giving me another thought, until he short-shifted into second and I surged past on a steadily rising wave of power. I could hear his engine roaring as he attempted to close the widening gap, but I'd reached the narrow one down the middle of the traffic by then so he'd blown his chance.
He caught up while I was sitting at the lights at the A3, so I turned and smiled sweetly, only to be greeted with a hard, focused, straight-ahead stare that seemed to say, "You got a jump on me that time, but you just look what going to happen now!" So I did the same again, only this time there weren't any lights to slow me down and he struggled to stay anywhere near me in the traffic. It was shortly after we reached the national speed limit section, about seven miles down the road, before a long clear stretch of tarmac finally allowed him the opportunity to show me just how fast his bike could go in a straight line.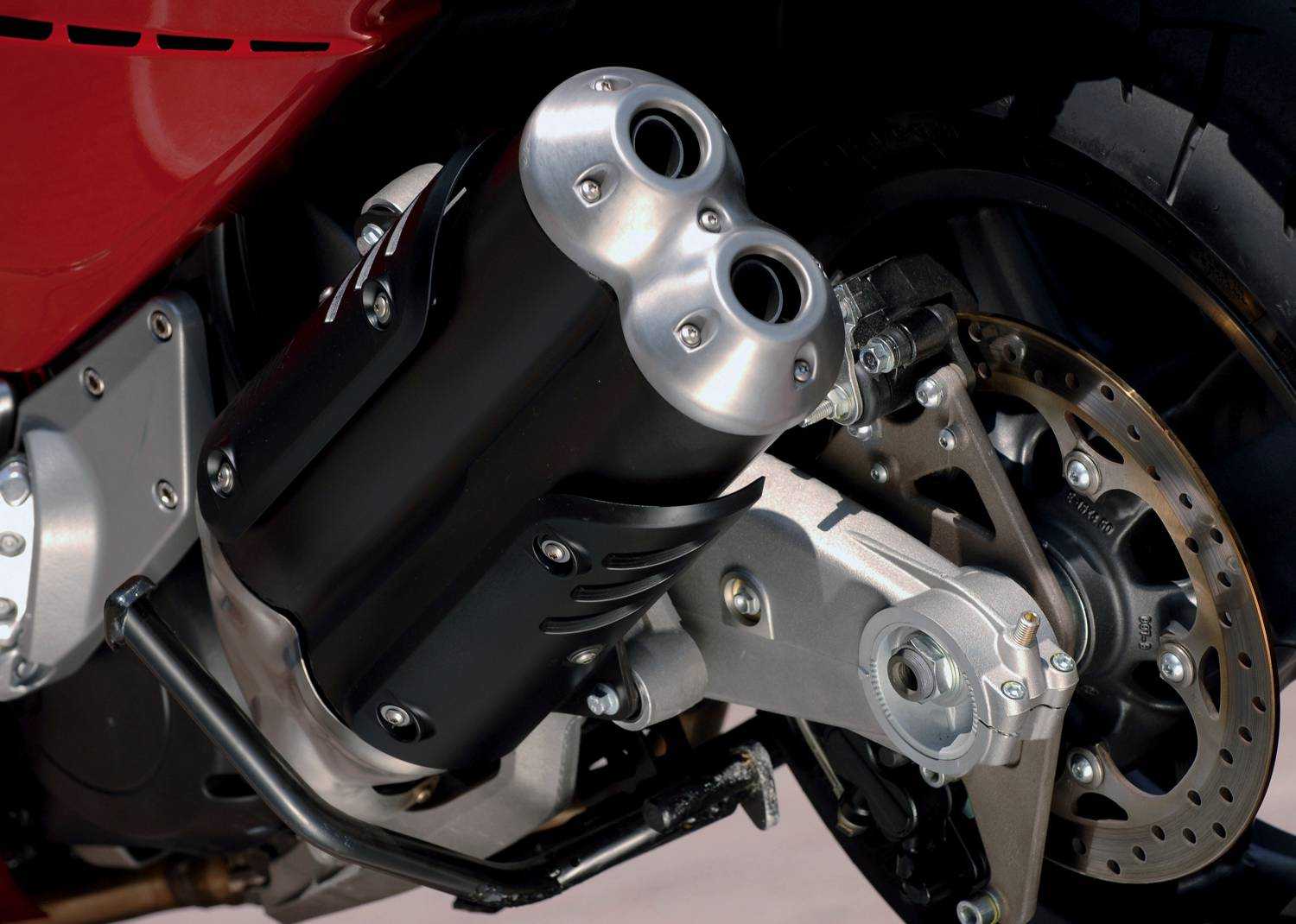 OK I admit that a man of my age shouldn't give in to such a juvenile streak, but I blame that on the bad influence motorcycles have had over me for the last thirty odd years – I'm sure I'd be a lot more 'grown up' now if I'd never ridden one (but that's not the only reason I love them). However, whatever the reason behind my Peter Pan attitude, I can't deny that I get an inordinate dose of childish glee from giving arrogant types a sharp prick to the ego.
As usual I shunned the M25, in favour of the Hogs Back and the A287 to Hook, where I reluctantly joined the M3 for a few miles before swinging off to follow the A303 across Salisbury Plain. Once free of the mindless morass on the motorway, the Gilera quickly showed itself to be every bit as comfortable, capable and entertaining as I'd hoped and disposed of the miles with an effortlessness that could easily be described as grace.
After kipping at my friend John's, he hopped onto the substantial pillion and directed me up onto Dartmoor to get a fry-up and check out the grim prison while riding the wide-open moorland. From Plymouth it was a relatively short hop to another John's in Tiverton where I spent another overnight, before heading off towards my favourite destination – Swansea. It's no more than 50 miles away as the crow flies, but with the Bristol channel nestled in between, the route I'd chosen following the A38 and A48, would amount to three times that distance.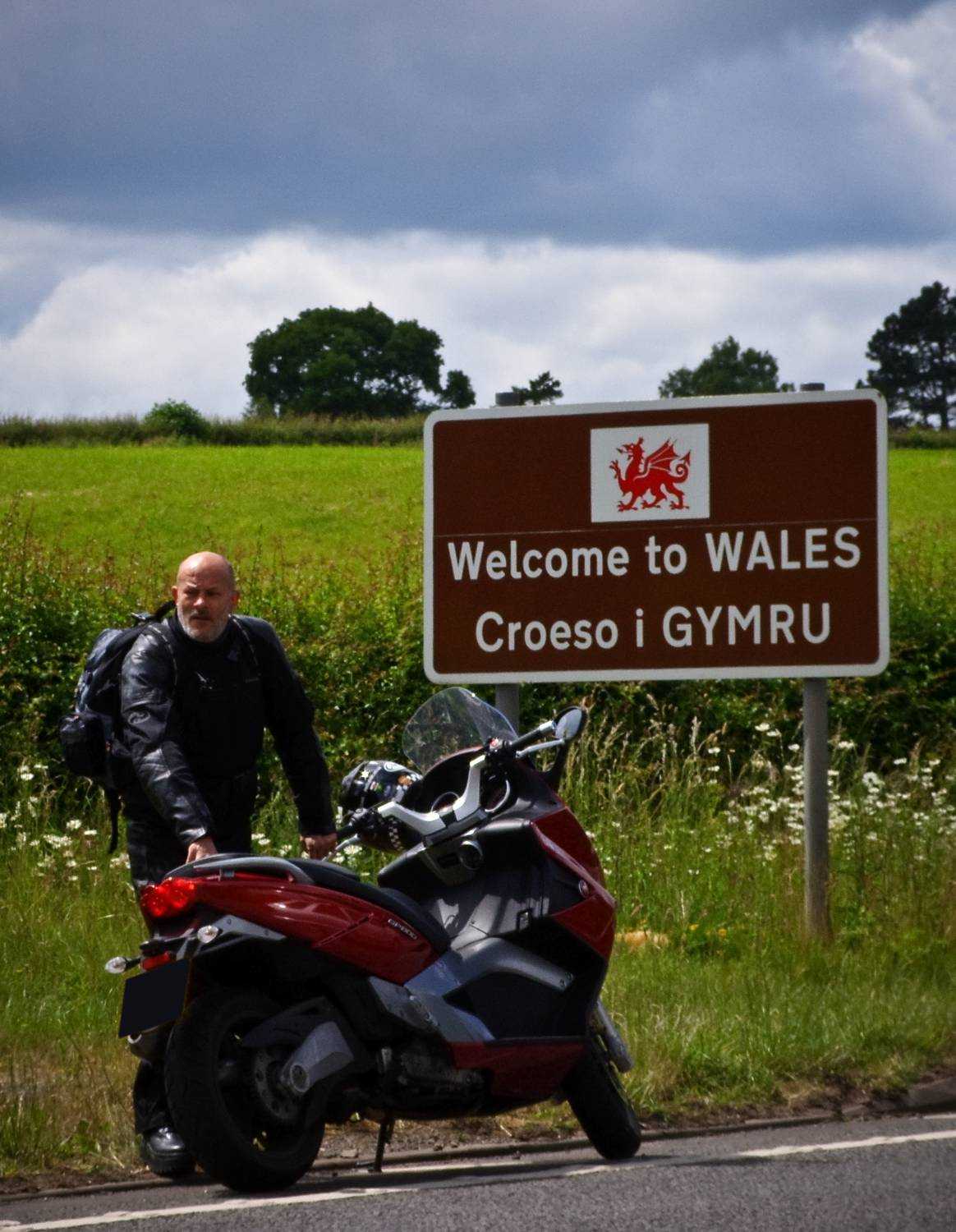 I've said it before and I'll say it again just in case anyone has missed the message and still chooses the soul destroying sameness of the motorway systems over the major trunk roads they have replaced – WHY? These grand, old, and invariably empty arteries, tend to run more or less parallel to the traffic clogged great blue ways that have supplanted them, and so few people seem to use them during weekday working hours that, in my experience, if you're riding a motorcycle you can often maintain a higher average speed than you ever could travelling between Armco with the rest of the herd.
The other thing I keep banging on about are my Ultimate Ear monitors (and not because anyone is paying me to do so, I should add), which for me are simply the best thing that's happened to my long distance riding since I traded up from a CG125 in 1978. I realise that many of you wouldn't dream of listening to loud music when you're riding a bike and I can respect that, but if like me, you thrive on the extra stimulation an iPod can offer, these in-ear headphones are the business.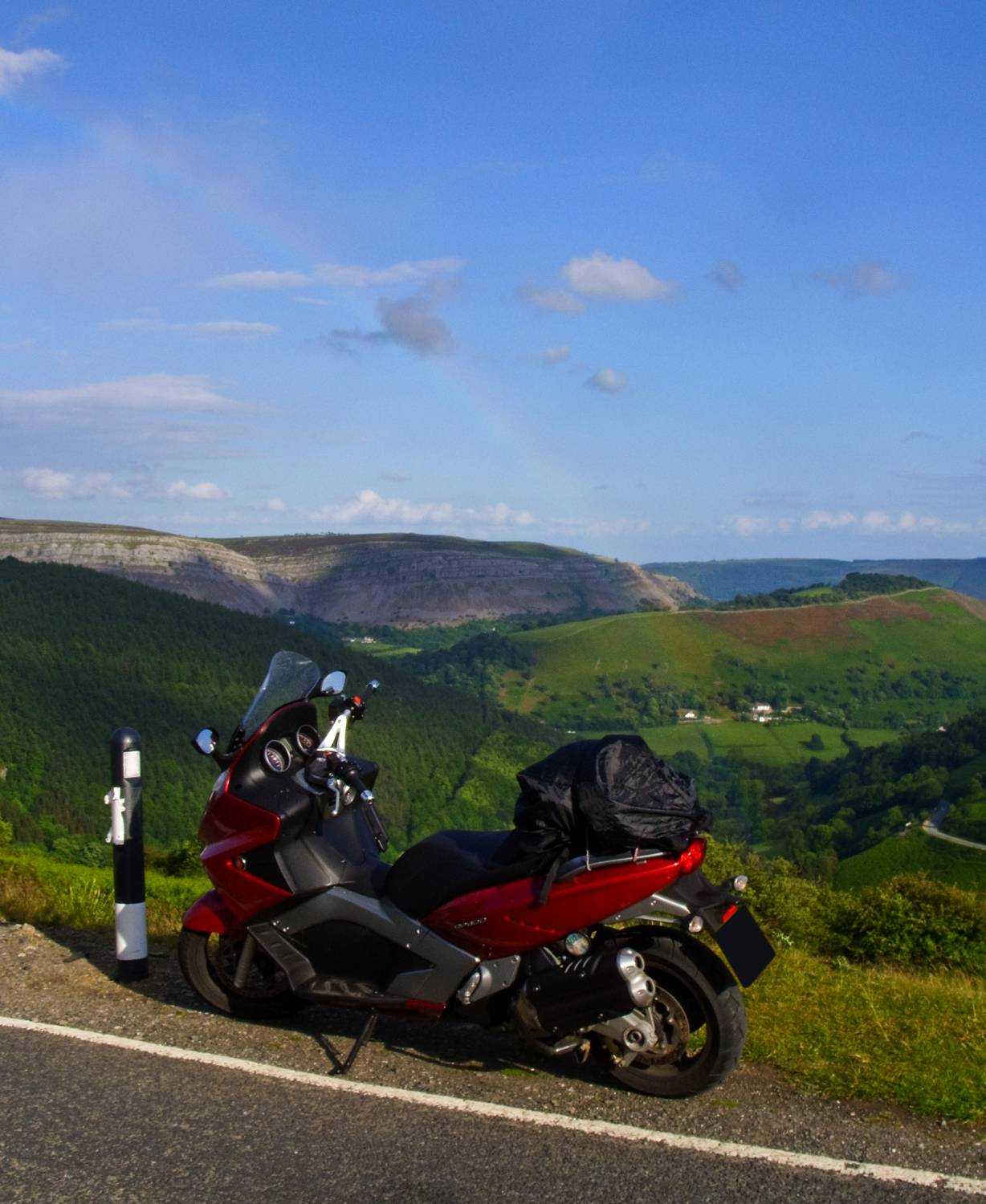 Like I say, Swansea is one of my favourite places to point a bike at and the opportunity to take a leisurely ride around the Gower peninsula – the first place in the UK to be designated an 'Area of Outstanding Natural Beauty' – is a central part of the attraction. The A4067, which heads northeast out of the city and across the Brecon Beacons National (sheep) Park, is another. Riding north from there, through the middle of Wales to Llangollen in the north via Builth and Llandrindod Wells, Newtown, Welshpool and Oswestry is pure motorcycling Nirvana (in spite of the ever present danger of finding one of Brunstrom's boys hiding around every bend with a radar gun).
A room in the Abbey Grange Hotel, which is about half a mile south of the Horseshoe Pass, cost me twenty quid and left me with a five minute ride to the Ponderosa for breakfast. While I was there I bumped into three cops from Wirral BikeSafe who went to great lengths to convince me that they were on an important training run – yeah right!
The A525 provided a scenic route to Whitchurch and from there the A41 offered a great alternative to the traffic and tedium of the M6. I soon reached the twin Digest outlets of Lyn's Raven Cafe and the Midway Truck Stop, but breakfast was still fresh in my memory (and hard in my arteries) so I kept heading south until I reached the A5 a few miles east of Telford, where it runs so straight for so long that it's obvious that it's been there since the Romans . I stuck with the ancient road as it skirted the northern edge of the West Midlands' urban sprawl and carved its way south through the centre of the country. By the time I reached Jack's Hill Cafe near Towcester, I was ready for a cuppa and a smoke.
Sitting outside cogitating on just how wonderful life can be when you have a couple of wheels attached to a willing engine and time on your hands, I paused for a moment to reflect on the crucial role that cafes like this and the two Shropshire nosheries (and all their counterparts up and down the country) played in this nation's rich motorcycling history. Back in the day, a cafe racer was a stripped down, tuned-up, highly individual machine (invariably of British origin) that derived its name from the establishments that provided the start and finish lines for the flat out races on public roads that they were built for.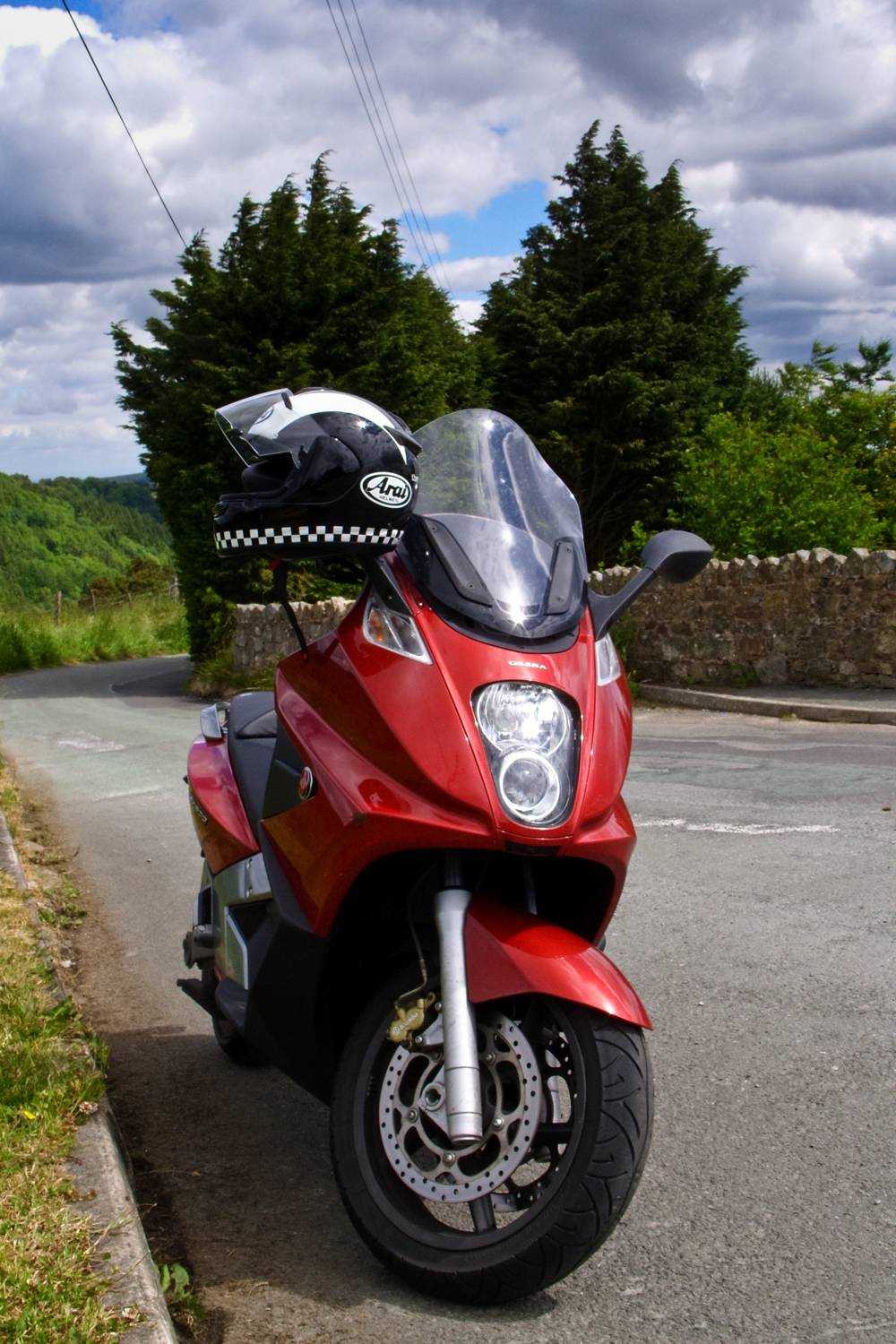 I realised that they'd have run those illicit time trials on exactly the kind of roads that I'd been exploring so contentedly for the past few days. The big difference is that while the Rockers on their homebuilt specials – all of which had little or no suspension compared with a modern machine – arrived at their destinations with loose fillings and fingers numbed by vibration, I'd spent hours in the Gilera's saddle each day without suffering any discomfort whatsoever – and best of all, on a few occasions I'd been travelling at speeds that the ton up boys would have sold their grannies for.
It speaks volumes about the amount of fun I had on the bike (yes I said bike) that on the Sunday evening before it was due to go back, after already having covered over 1,200 miles in a week, I was flicking through my address book looking for a friend who lived far enough away to provide me with a quick last waltz and a short sharp blast later I was watching a spectacular sunset in Sunbury-on-Thames.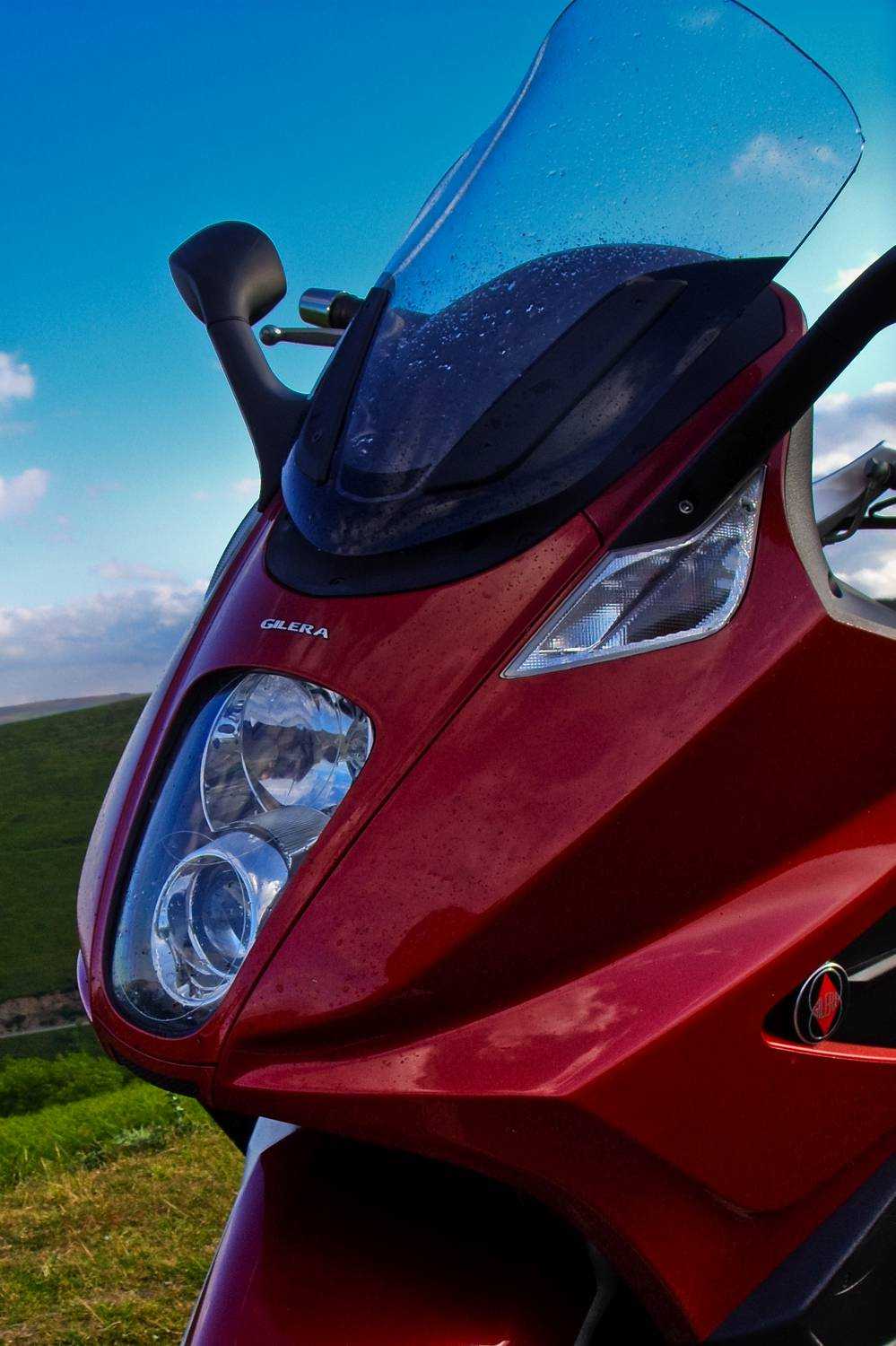 As it turned out the GP800 wasn't collected until the Wednesday, which allowed me yet another opportunity for a final blast and there was no way I was going to pass it up. The last time I kept an Aprilia engined bike for longer than I was supposed to, the consequences were literally shattering but there were no such dramas on this occasion. The weather was glorious on the Tuesday, so I did what thousands of motorcyclists have been doing since long before I was born: I threw my leg over a bike (or more accurately in this case stepped through it) and headed down to Boxhill just for the sheer joy of it. After a swift milkshake in the scorching June sunshine, I pointed the GP800 south along the A24 where I quickly dispatched a couple of Rocket III's that were heading the same way, before swinging off onto a minor road and spending a contented hour or so, wandering aimlessly but satisfyingly through the lush green countryside.
Surely that's what riding a motorcycle is all about? Because ultimately the size of your wheels and where you place your feet are minor details compared with that wonderful feeling that you are not only existing in the moment, you are existing in the best of all possible moments.
Dave Gurman
This feature originally appeared in issue 131 – September 2008