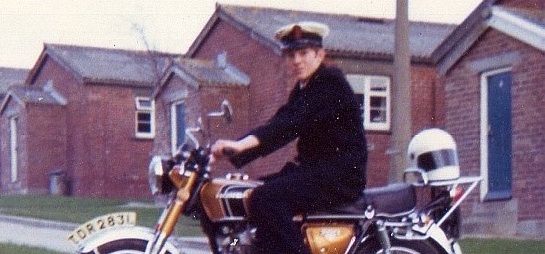 Read Time:
3 Minute, 11 Second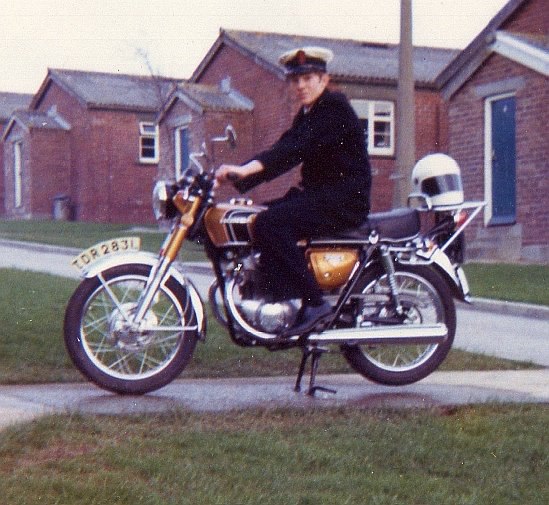 1. What was your first motorcycling experience?
Picture the character known as Kilroy, Mr Chad in UK or Foo was here, from down under. There I was hands on the bars peeking over the headlamp cowl. Well it wasn't a real motorbike but my Dad's scooter. Aged 5, I use to stand on the running boards, between his legs for safety, peaking over the front, wind in my hair to visit my Grandfather's woollen mill in Leeds. First older experience was a Matchless 350, age 14. I thought I was the coolest kid in winklepickers. The first of my own bikes – a Sun 98cc, rigid back end, springer forks with two speed handlebar gear change. A field bike, thrashed to hell and back. The tyres had holes in them so we just taped them up to ride the fields and disused railways.
2. What is your current bike?
Is? Was, as I recently sold my DRZ 400 Supermoto. I thought age 57 I was meant to mature on a motorcycle but once the dynojet kit was in and air box modded it was punchier, so I just had to slide, wheelie and top it out round the tarmac/gravel/mud supposed B roads on the island where I live. I don't think anyone saw me. What to do for my 49th motorcycle is the next dilemma?
3. What bike would you most like to ride/own?
Ducati Supermono and a Gilera RC 750R Desert Racer. The list goes on, but as long as it is a single cylinder or V twin essence of motorcycling configuration, I don't care. I could be persuaded to go electric or FF.
4. What was your hairiest moment on a bike?
Good riders don't have hairy moments. They just think they are better than they are and make the 'odd mistake.' I suppose that Porsche that didn't pull in, in the pouring rain on the outside lane on a German Autobahn (unusual) – hacked me off, to the extent that I rode in-between him and the Armaco barrier. Once passed I weighted the front of my Suzuki 380 Triple two stroke and fishtailed the rear to scare him – and me! More bad temper ensued on a single track road in the wilds of Scotland. Me and my mate happily parping and blatting on our Supermotos got behind a Sunday driver. The guy wouldn't let us past. A nod to my mate and we passed either side on the grass then, stopped on the tarmac in front of him, loaded the front end and spun up the rears. One stone peppered bonnet later we sped off. Funny how you forget a number plate identifies you.
5. What was your most memorable ride?
Baja Mexico riding to Mike's Sky Ranch and totally dialled, nipping into Algeria without a passport. Going up the Pyrenees when the snow plough had had enough and was coming down. Just too many memorables as all the highs are good. Merzouga Dunes in Morocco. Getting selected for the film On Any Sunday II in California (and then getting dropped at the last minute). A silver in the SSDT. Joint equal fastest over a year out of 800 riders in the Donington Park finals of the race school. The other guy got Marlboro Clubman's sponsorship. I went to Brazil to drive mini subs. All rides are good, just some stand out.
6. What would be the ideal soundtrack to the above?
Wild Angels – Red Hot 'n Rocking
7. What do you think is the best thing about motorcycling?
Riding.
8. What do you think is the worst thing about motorcycling?
Not riding.
9. Name an improvement you'd like to see for the next generation?
No Cars or Lorries
10. How would you like to be remembered?
Differently.