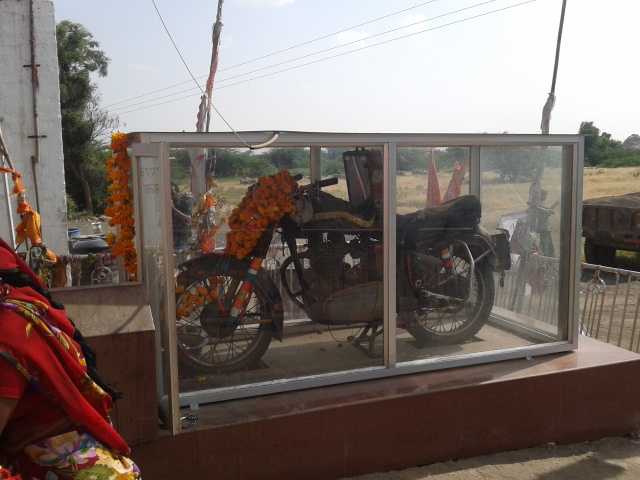 Read Time:
4 Minute, 43 Second
Of course I would have loved to have had my Enfield with me but it wasn't that sort of trip to India this time. It was a 'proper' holiday with my daughter who had said she wanted to go to Jodhpur in Rajasthan. So Jodhpur it was, and motorcycling would not be a feature of it although we both agreed that if there was a possibility of hiring one, we would. Abby, who has a motorcycle licence too, had visited me before whilst I'd been in India and like me, wanted more of it.
I couldn't help being drawn to the few Enfields I saw whilst we were walking about, far fewer than when I'd been in India for so long between 2000- 2002. Now Japanese and Chinese motorcycles outnumbered them but the Enfields I did see were in immaculate condition, obviously loved and valued by their owners. In Jodhpur, whilst we were choosing which spices to buy, amid the market mayhem, I heard the unmistakable sound of an Enfield which drew up alongside us. Shining despite the dust, it rested and tinkled as the hot metal cooled and, ignoring the spices, I couldn't resist having a good look and a chat with its owner who invited me to ride it there and then! Such is the generosity of strangers. Reluctantly, I had to refuse as I was wearing flimsy sandals and tourist clothes, not the usual sturdy boots, jeans, fingerless gloves and long-sleeved tee shirt I'd always worn in India on my own Enfield.
A look through the guidebook revealed an unexpected delight. Not far away from Jodhpur was:
Diary entry 8.1.2013.
Today was Enfield Shrine Day- an easy excursion to Om Banna Shrine from Jodhpur bus-stand.  We hopped on a bus going to Pali and our arrival at the shrine, near Chotila village, was announced by the bus conductor. It was a much bigger spectacle than I'd imagined, recalling roadside shrines in Catholic countries but people were queuing to pay homage .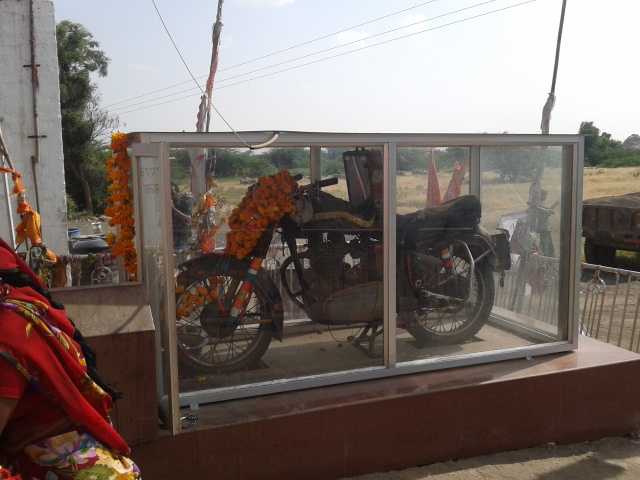 In 1988 a 28 year-old man from the village had crashed into a tree whilst riding his 350cc Enfield Bullet and died instantly. People said they saw the spirit of the man after his death and he is now revered as a god because miraculously, (and miracles are very popular in India) when the Enfield was taken to police headquarters, it 'made its own way' back to the scene of the accident. Despite being chained up and drained of fuel it happened TWICE! Now it is a deity in its own right, enshrined in a glass case behind the tree where it crashed, with garlands of marigolds all over it. We stayed for a couple of hours observing the spectacle of droves of people arriving to see the Enfield. Two musicians competed loudly with each other with Indian keyboard/bellows instruments, one man and one woman both looking devout whilst an attendant accepted 10, 20 and 50 rupee notes and placed a vermillion powder bindi spot on the forehead of devotees. I received one as well. Incense sticks burned and people shuffled round silently in single file touching the shrine, barefoot and obviously moved. There were many dozens of people there plus sellers of cold drinks and little boys selling stickers.
On the other side of the road was a dhaba, India's rural equivalent of a motorway service station, but without fuel pumps at this location. In addition to the restaurant and snack-shop and there were many stalls next to each other selling identical memorabilia of the deceased. Om Banna pictures, stickers, clocks, posters and key-rings. I ate a lentil curry lunch there. Abby's appetite was a little 'off' that day and she had a safe canned soft drink! We talked with the waiters. They explained in very good English that Om Banna was a popular man, the son of local landowners, almost of princely status and very generous to the villagers. He had been drinking on the night of the crash and would I please like to buy a sticker?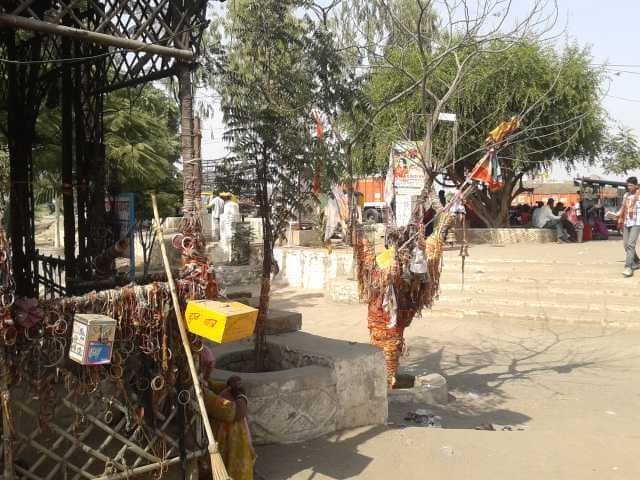 The tree he rode into is now decorated with sparkly coloured ribbons and rope. It is necessary to honk your horn as you pass the shrine as doing so may prevent an accident. With all the buses and cars pulling in and people wandering into the road as they disembarked from buses and cars which were drawing up and parking in some disarray, we wondered if it might be more likely to cause one. It was a really interesting experience to go there and couldn't leave without buying an Om Banna sticker as a souvenir.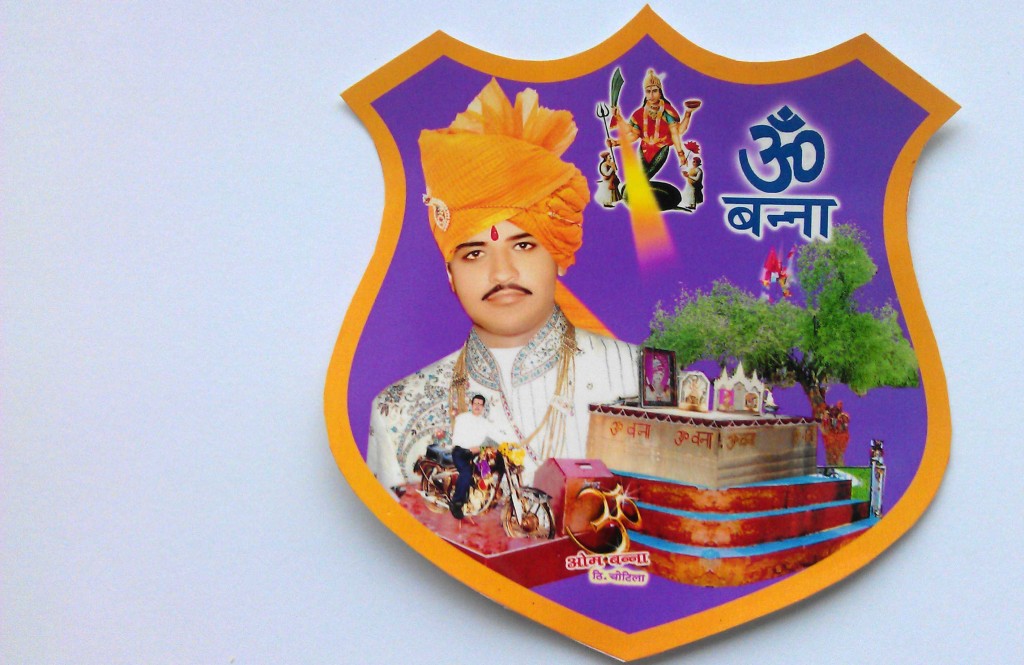 Another day's outing, a tourist trip in a jeep, (which I'd had to help push to get started!), to an 'ethnic village' was a poignant journey for me. It took us on quiet, out in the country roads, just the sort of roads that years before, Hendrikus and I had tootled along in no hurry to get anywhere in particular. I realised how very lucky I'd been to have that experience with all the time in the world just being on our Enfields. "Mustn't be greedy!" I said to myself. I'd had the best part of seven years wandering around the world by motorbike before riding back to the UK with my constant mechanical companion. That's what I call a souvenir and now I have an Om Banna sticker, too!
Jacqui Furneaux
[from The Rider's Digest Issue 187 – Winter 2014. To read this and more unique content from 187, download the issue here]