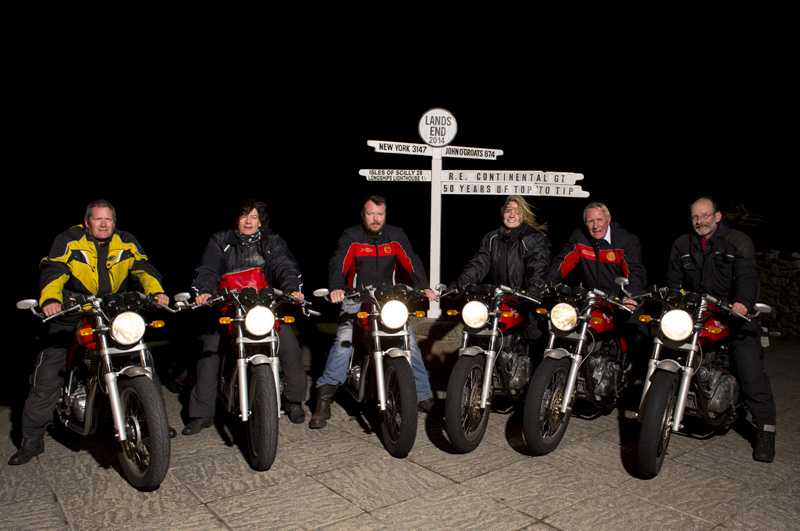 Read Time:
18 Minute, 49 Second
Blez recounts a memorable ride to the end of English earth on an Indian-built bike with a proud British history, inspired by an intrepid journey half a century earlier.
When I was a nipper, Royal Enfields were still made here in Blighty and their Constellation 700 was one of the mightiest steeds on the road. British learner riders were first restricted to 250cc machines in 1961 but could ride one at 16. A decade later the minimum age was raised to 17 and I was caught out by the 'sixteener law' as it was called, which restricted 16 year olds to mopeds. However, there were no speed or power restrictions, it just had to be 50cc and have pedals. This explains why the only brand new vehicle I've ever bought was a 60mph Garelli Rekord supermoped because in 1972 there weren't any second hand ones! By the time I turned 17 and was looking to transfer my L-plates to a rip-snorting 250, Royal Enfield's quarter litre, single-cylinder Continental GT was still a desirable learner bike, despite the advent of fire-breathing 250 twins from the Far East. It looked good, had a respectable 21bhp and five gears, (when most British bikes only had four) and had a reputation for lively performance. That reputation was firmly founded on a remarkable feat of speed and endurance shortly before the bike went on sale in 1965.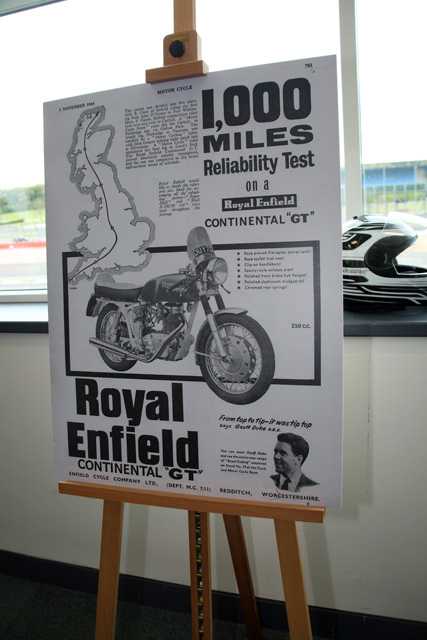 The event was christened 'The Top to Tip' and entailed the riding of a sole and long-suffering Continental 250 GT from John O'Groats to Land's End, with detours to both Oulton Park and Silverstone race circuits along the way. Some of the best known riders and bike journos of the day took part and thanks to superb organisation and some heroic riding they managed to cover the total distance of more than a thousand miles in well under 24 hours.
Last May I was invited to take part in a 50th anniversary re-enactment of the Top to Tip ride using the modern re-creation of the GT, the new 535cc model which was launched at the Ace Café in the autumn of 2013. Prior to this my only experience of Royal Enfields was a brief spin on an Indian-built 350 about a dozen years ago in the suburbs of West London, so I jumped at the chance to have a decent cross-country ride on the sporty-looking new machine which was designed in the UK but is of course built in India.
Top to Tip, mob-handed
The 2014 'Top to Tip' was a multi-bike affair, with five teams of relay riders scheduled to take five bikes along as much of the 1964 route as practically possible, with minimal use of motorways. The 'JOGLE' (John O'Groats to Land's End) trip was divided into six legs, with rider changes at Fort William, Carlisle, Penkridge (Staffs), Silverstone and Shepton Mallet (in Somerset). I was offered the option of doing two legs and given the choice of a long trip back to London from Somerset on a Sunday night, or a longer ride on the bike and a civilised summer evening at the Land's End Hotel, I chose the latter. But as Rabbie Burns so perspicaciously noted, 'the best laid schemes o' mice an' men gang aft agley'.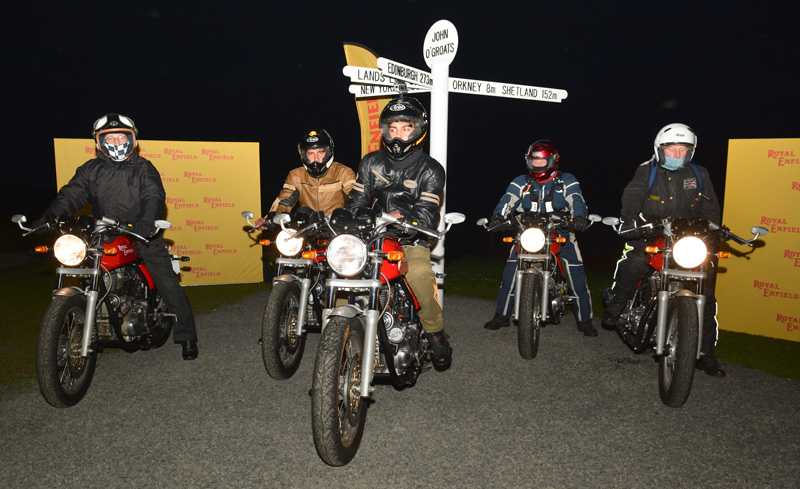 I arrived at Silverstone at midday as planned, in plenty of time for some meeting and greeting and a bite to eat before the scheduled 1.15 departure. The most enjoyable 'meet' was with the legendary John 'Mooneyes' Cooper, one of the best British riders of the sixties and early seventies. I well remember reading about his victory over the usually unbeatable pairing of the current world champion Giacomo Agostini on his 500 MV in the 1971 Race of the year at Mallory Park on a BSA 750 triple. The simple headline was 'Coop beats Ago!'
Back in 1964 John did seven laps of Silverstone on the 'Top to Tip' 250 GT, the fastest of which was at an average speed of 73mph. Fifty years on, and now a sprightly 76, Coop was due to do just two laps on the new 535 GT during the lunchtime break at the race meeting taking place that day. There was not one but two of the original 250s on display alongside new 535s and you can see from the photos how the new machine has been styled to look like the original little 'un.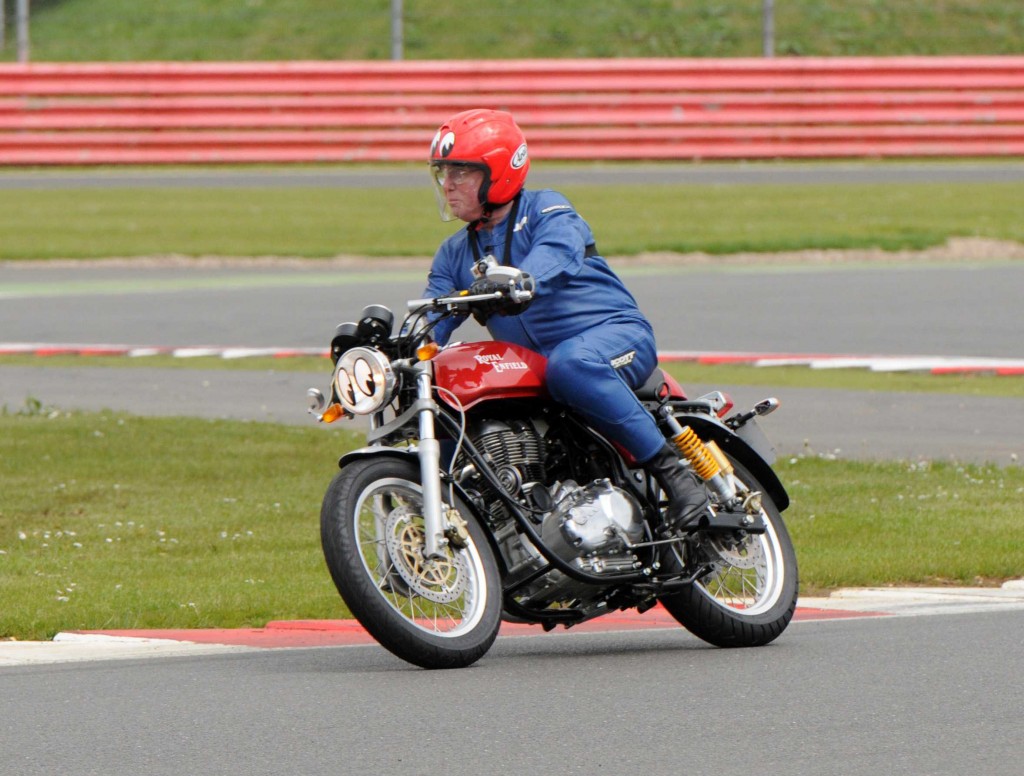 It was also great to meet Roger Boss, now in his 80s, who had masterminded the whole Top to Tip event in 1964. He told me that former world champion Geoff Duke had been all primed and ready to ride the little 250 around Oulton Park, early in the day, before Coop rode it at Silverstone, but when they got to Oulton the track was covered in ice and leaves! It was sensibly decided to just take still photos rather than risk injury to either the former world champion or the one and only machine!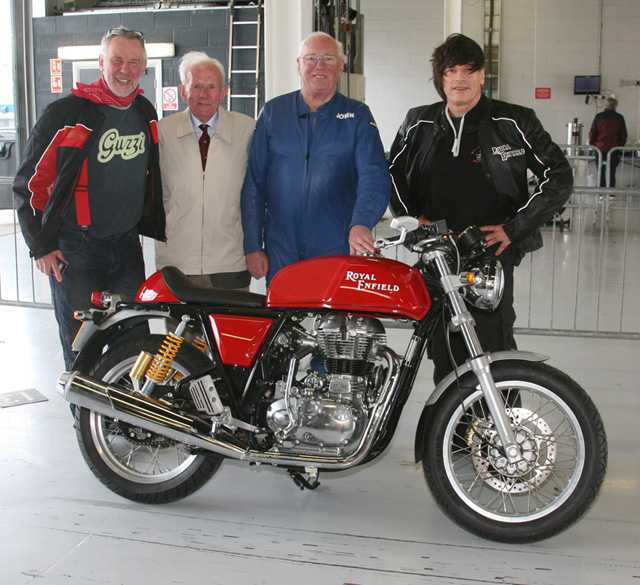 Friend of TRD (and like myself and Mr Gurman), a former Mercury Despatch rider, Neil 'Woffy' Waugh was also recruited to do the Silverstone to Shepton Mallet leg and we were each kitted out with Royal Enfield riding jackets and an open face helmet. So it was a bit strange then to be asked to sign a disclaimer in which we promised to wear nothing but a full face helmet! Ironically, I almost never wear an open face, but since it seemed appropriate for the occasion, I crossed out that line in the 'blood sheet' before I signed it!
Hurry up and wait…
John Cooper did his two laps on the 535 GT, complete with his trademark 'Mooneyes' stickers on both helmet and headlight and posed for photos on the old and new machines. Riders came in having completed the leg from Penkridge and others set off for Shepton Mallet, but when I enquired about 'my' machine I kept being told that it would be ready 'in a little while', so Woffy and I had to abandon our plan to ride together and he set off without me. I eventually discovered that one of the bikes being ridden down from John O'Groats had broken down and had to be rescued by the back-up truck. The decision was taken to give me the 535 that John Cooper had just ridden around Silverstone, but it wasn't equipped with the GPS unit which had been specially fitted to the five 'JOGLE' bikes complete with programmed route map.
When the back-up truck finally turned up with the stricken beast it was pointed out that the 'Mooneyes' bike didn't have either the bracket or the specially added wiring necessary to run the GPS from the crippled bike. (Although the new Enfield comes with new-fangled modernities such as disc brakes, electric start and fuel injection it doesn't have the luxury of a power socket to run electric accessories). The 'Mooneyes' bike also lacked the heated grips which had been specially added to the JOGLE machines, which was a shame. Fortunately I'd wisely brought a tank bag, complete with transparent map-holder on top, so I said "Just give me the GPS and I'll stick it in the top of the tank bag and run it off its battery until it runs out". I also asked for a paper route map which I'd assumed they must have printed out in case of a GPS malfunction, but no, the organisers had put all their faith in modern technology. Big mistake! I just had to scrawl down a few road numbers and place names between Silverstone and Shepton Mallet and hope for the best. By the time I set off it was nearly 4pm, after the time I was originally scheduled to arrive at Shepton, 118 miles away!
Good handling and brakes
The official GPS packed up before I even got out of the circuit, so I stopped at the first petrol station to buy a map book! This would have been handy even for the GPS users because the southern side of the A43 dual carriageway had been shut completely for major roadworks and that hadn't been programmed into their GPS, causing a fair amount of confusion for some. The official diversion would have taken me miles out of my way via Banbury, so the first thing I did was work out a cross-country route to Aynho which got me back on track to follow the B4031 to the A361 and Chipping Norton. I quickly discovered that the GT 535 is blessed with good handling thanks to the Harris-designed chassis and also has excellent brakes and I really enjoyed thrashing along those twisty A and B roads. However both the speedo and rev counter 'clocks' went haywire when it started to rain, their needles bouncing back and forth from zero to maximum and back. By the time the route joined the ancient Fosse Way at Stow-on-the Wold they'd packed up completely! I was very glad that I'd brought along my ancient but indestructible Garmin XL12 GPS which can run all day on a set of four AA batteries. That meant that I at least had a speedometer and a compass!
I stopped to put on my oversuit and of course it immediately stopped raining but I decided to keep it on. That was one of the best decisions of the day, because on the faster going of the old Roman Road I was soon being really battered by the headwind from the South West and wishing I had a flyscreen like the one fitted as standard to the original 250 (but fitted to only one of the old 250s displayed at Silverstone). Riding through Cirencester brought back distant memories of once doing the Corinium Enduro on a Harley-Davidson MT350 army bike, and thoroughly enjoying the experience. The signposting was terrible though and I did a couple of laps of one roundabout before I got back on the Fosse Way, which changes its designation from A429 to A433 on the outskirts of the town. I stopped briefly at Tetbury to take a couple of snaps of the bike in front of the 17th-century market hall which I first used for a photo a couple of years ago when riding the brand new BMW 650GT maxiscoot, which is at the other end of the motorcycling spectrum from the Royal Enfield and has more than twice the power. Yet in 1964, the Royal Enfield 250 GT would have had about twice the power of any standard scooter then available!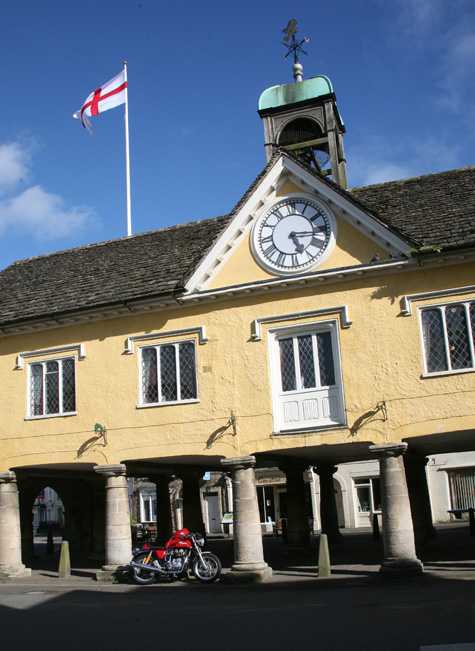 There was a massive tailback of traffic coming out of the Badminton Horse trials for about three miles to the M4 but I trickled past the long line of near-stationary 'jam jars' and horse boxes without losing too much time. Bath can be pretty confusing, so I was glad to be familiar with it but I stopped near Radstock to make sure I was still on the right road for Shepton Mallet. I've since realised that the Royal Enfield JOGLE route actually ran right on or parallel to the Fosse Way Roman Road all the way from Stowe-on-the-Wold to Exeter!
Shepton Mallet Mishtakes and 5 become 6
As I approached a junction outside Shepton Mallet I caught sight of my first fellow Enfield rider since leaving Silverstone, and was surprised to see that he was waiting in a filter to turn right into the town centre because one key instruction I remembered was 'Don't go into Shepton Mallet itself – the handover is at a petrol station eight miles further down the A37'. The light was green for me to go straight on as he waited at red for the right turn and I thought "Shall I stop and make sure he sees me and realises his mistake?" I thought, "Nah, he's bound to see me, and then if I turn round and go back, he'll be coming towards me and think he was right in the first place and we'll just waste a load more time and we're hours behind schedule already." I should have stopped and fetched him. Twenty minutes after I arrived he still hadn't turned up and the organisers had to send out a search party. They found him at Shepton Mallet police station at the end of his tether, poor bloke. He hadn't noticed me chuff past him while he waited at the red light and had no idea that the change over point was not in the town… My punishment was the realisation that on the last few miles to Shepton Mallet my brand new map book had gone AWOL out of my tank bag without me noticing…
After refuelling both the bike and myself I did a quick interview with the official video crew and swapped the Enfield open face helmet for my normal flip-front. I was introduced to Rob Graham who had been waiting for hours to take over from the forlorn rider I'd passed in Shepton. We finally set off from Shepton Mallet long after we were already scheduled to be at Land's End! The camera crew came with us in their 4×4 and we did a couple of overtakes on the A37 and a few more on the A303 dual carriageway, a few seconds of which did actually get used in the neat four minute video of the whole event, (unlike my pearls of wisdom!) including one clip which shows me apparently riding the bike before I got on it at Silverstone!
Ideal for keeping your licence
It was on the A303 that I discovered just how little power the new Royal Enfield GT actually has, despite being billed as 'the lightest, fastest and most powerful Royal Enfield in production'.
Although it felt as if I was doing about 90mph in the howling gale, the GPS told me that the bike was only doing 70-75mph and even in a racing crouch could barely crack a genuine 80mph on the flat. The fastest 'mine' managed, downhill with the wind behind it, was 83mph. I suppose you could consider that a plus point if you're on eleven points and worried about losing your licence……
To be fair, Enfield only claim 29bhp from the fuel-injected 535cc single, but I was still expecting that to be enough to propel man and machine to 85-90mph, based on the fact that my first, carburetted Suzuki Burgman 400 single achieved a GPS-checked 92mph (100mph on the speedo) with a claimed 32bhp which was only 23bhp at the rear wheel when tested on the PDQ dyno. It would be interesting to put the Enfield on the same dyno – I suspect it wouldn't show much more than 20bhp at the rear wheel – which would be less than the factory claimed at the crank for the original 250 fifty years ago! I seriously doubt whether John Cooper, even in his prime, (or Marc Marquez, for that matter!) would have been able to make a 2014 535 GT lap Silverstone any faster than the 73mph average that John Cooper achieved on the much lighter 250 in 1964.
Yet 'my' 535 was a tad faster than Rob's – I had to keep backing off on the A303 in order for him to maintain station. The simple truth is that the Royal Enfield 535 GT has about the same 70-75mph cruising speed as the Honda Foresight 250 scooter that I rode down to the late, great John Deacon's Honda-backed trail riding school in Cornwall in 1998. I well remember an enjoyable two lane section of the A303, just past Northay, from that journey and one of the highlights of this entire Enfield adventure was having that twisty climb to myself once again, having just achieved a timely overtake on the short section of dual carriageway before it starts.
I was quite impressed with the way the Enfield chugged up the long climb on the A38 after Exeter before heading off across the north side of Bodmin Moor on the A30. I was also relieved that the vibration from the big thumper was not nearly as bad as I'd feared and perfectly tolerable, even over hundreds of miles. I made it to the last fuel stop near Launceston as night was falling just after 9pm, about five minutes ahead of Rob and the camera crew, but I'd used ten litres of 'juice' to Rob's nine. It was getting distinctly chilly by now, especially without benefit of the heated grips, so I pulled the unlined overtrousers from my tankbag and put them on over the one-piece oversuit – another good decision! The Royal Enfield didn't feel so slow in the dark, even on the dual carriageway. The headlight was not bad at all but I wouldn't have wanted to go any faster on the two lane sections of the A30 than the 535 was comfortably capable of.
Fun on the twisties
The last ten twisty miles of the A30 from Penzance to Land's End were actually the most enjoyable of the whole last leg. There was virtually no other traffic in either direction and the 535 GT was great fun to ride on it, even in the dark. Unfortunately that section was less enjoyable for Siddhartha Lal, the head honcho of Royal Enfield, since his 535 broke down about five miles from the finish and it was still parked forlornly at the side of the road when we came past several hours later. And he was only riding his GT from a Hotel in Devon to Land's End! I never did find out what caused it to conk out.
After riding 179 miles from Shepton Mallet Rob and I finally made it to the Land's End Hotel just after 11pm, where the other three Top to Tip machines and their riders were waiting for us. My Canon EOS tells me that we actually took the last group photo by the famous signpost at 23.16. To his credit, staunch Royal Enfield enthusiast Tom Bray got on the first bike to arrive at Shepton Mallet and made it to Land's End just before 7pm, enabling 'his' bike to complete the 952 miles in under 21 hours, beating the original 1964 time of 22 hours and 20 minutes, albeit on much better roads with many more daylight hours and a slightly shorter route. It was appropriate that Tom was first to arrive since he'd bid £250 in an auction on behalf of the Riders for Health charity just to ride that leg. The bike itself, with precisely 1,797 miles on the clock, was also donated by Royal Enfield to Riders for Health and auctioned on their ebay site on December 2nd, raising £3,500 for RfH, whose health workers in Africa really do use motorcycles to save lives.
It was great to meet up with Exeter-based friend of TRD Sam Manicom who rode the last leg from Shepton with Sandy Caulfield, one of two female riders who took part, the other being Sarah Bradley (who can also be seen on her own 1939 Harley in Martin Haskell's DGR article elsewhere in this issue). Regular readers will be familiar with Sam's ads in TRD for the four excellent books he's written about his eight year ride around the world on his trusty BMW R80GS, most of which was done with his partner Birgit riding her own BMW 650 (I should declare an interest in admitting that I edited the last two books, but I'm not on commission!). Ms Caulfield gave me an illuminating lecture on the importance of Twitter for us freelancers, although I have still not succumbed to its siren call.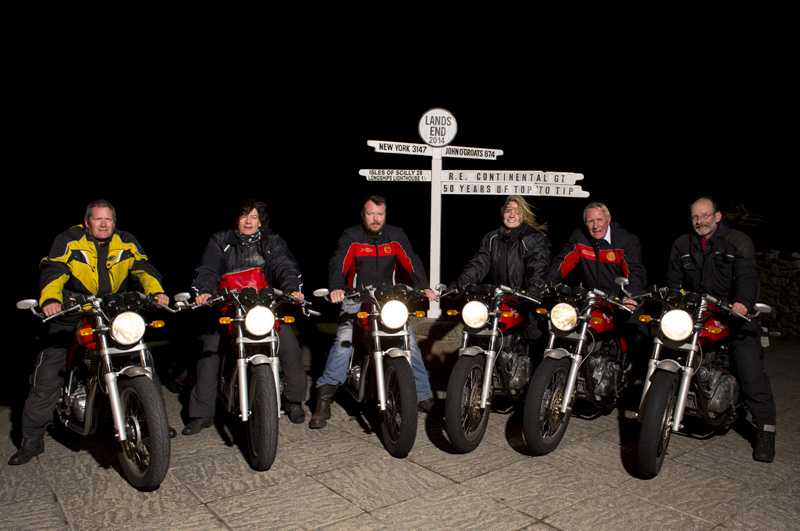 Dan Cartwright of Motorbiketimes.com was the only other rider who got to Land's End before dark and he told me that his clocks had gone haywire too. At least both our steeds kept going, unlike the CEO's! I had been looking forward to meeting Mr Lal but he'd left Land's End by the time we got there. While I was able to relax with a drink and a long hot bath my riding partner Rob had to dash home to Somerset in order to be home in time to go to work at the crack of dawn on Monday morning, poor bloke.
The morning dawned bright and sunny and was much more conducive to taking photos than it had been the night before, apart from the strong wind which ruined my coiffure. Overall it had been a thoroughly enjoyable adventure; it was just a shame about the hold-up at Silverstone which made for such a late arrival in Land's End, at least for me and Rob. As you can imagine it took a considerable amount of organisation and expense to arrange for all those bikes and riders to be in the right place at the right time in five different locations across the country, complete with back up, plus all the display bikes and 1964 memorabilia on show at Silverstone. So thanks to all concerned. But my greatest admiration remains for the guys who rode that original 250 from John O'Groats to Land's End in 22 hours in 1964 – all organised and co-ordinated by Roger Boss without benefit of GPS or mobile phones! The 2014 organisers did manage a bit of magic though, since the official photos show five riders setting off from John O'Groats and six arriving at Land's End, despite two machines breaking down en route!
The Top to Tip run had been timed to coincide with the opening of Royal Enfield's first dedicated store in the UK a few days later, where I was able to find out more about the original event and finally meet the CEO of the company, along with the Brits who designed the GT, but that story will have to wait for the next issue of TRD…
Paul Blezard
To see more quality (captioned!) photos and extra web content from Blez's account of the Top-to-Tip plus more original features, download Issue 187 of The Rider's Digest right here.