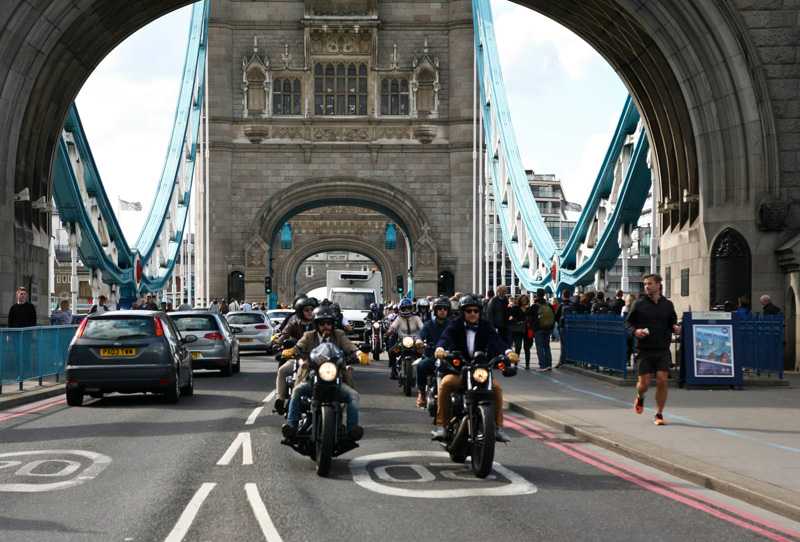 Read Time:
5 Minute, 21 Second
It's late September and while Maggie May's toy boy really should be back at school, hundreds of motorcycle enthusiasts across London and the South East of England were spending their Saturday washing and polishing bikes, ironing razor sharp creases into trousers, and polishing their shoes.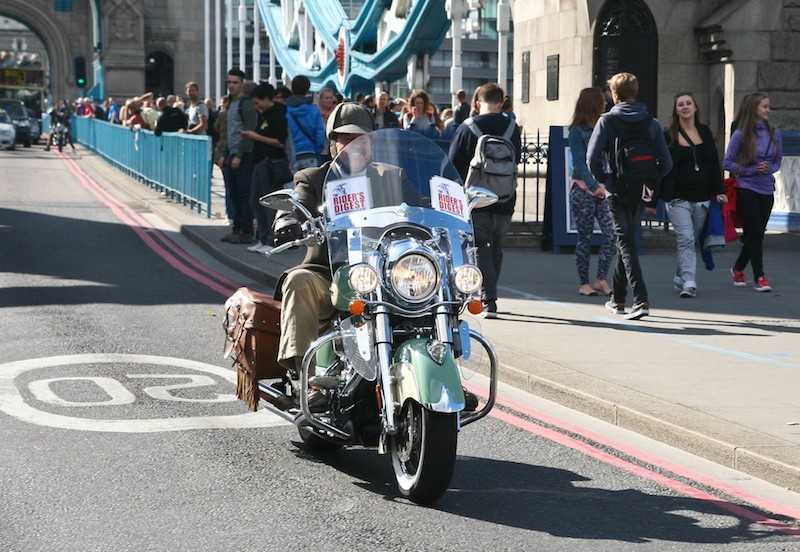 Many of them were also trimming and waxing moustaches, and gently pruning huge beards, for on that weekend that great fancy dress party for bikers, The Distinguished Gentleman's Ride (DGR) took place in cities across the world.
London was just one of them.
Harking back to my account in TRD 187 of last year's event I summarised the history of this event thus:
'The Distinguished Gentleman's Ride was created in 2012, when Australian Mark Hawwa – founder of the 'Sydney Café Racers' Facebook group – was inspired by seeing a photograph of actor Jon Hamm as Mad Men's Don Draper, riding a vintage Matchless in a sharp suit.
Hawwa decided that a similarly themed ride through Perth would go a long way towards fostering a more positive image of men riding motorcycles.
Mark's vision was quick to catch on. Such is the power of social media that more than 2,500 motorcyclists in 64 cities worldwide donned their best whistles, waxed their moustaches and some even smoked pipes and cigars as they took to the city streets on their suitably retro motorcycles.
The success of the event led to the organisers using the surrounding publicity to raise funds for a worthy cause, namely the Prostate Cancer Foundation.
The following year the numbers increased, with over 11,000 smartly attired riders and pillions slowly parading through 145 cities around the world, raising in excess of $277,000 towards prostate cancer research.'
In London, as with previous years, the ride has been spearheaded by Anthony 'Dutch' van Someren, founder of the Bike Shed Motorcycle Club (BSMC), but you don't need me to tell you about that, except that they now seem to have progressed from being a web-based phenomenon.
With successful shows in both London and Paris under their belts the BSMC have now taken premises in the Shoreditch area, but with the project not yet complete at the time of writing, details of what will be going on at the real-life Bike Shed Motorcycle Club are a little unclear, but it's likely to include an old-fashioned barber's shop, a restaurant and bar, and probably the opportunity to buy some seriously hip gear and admire a collection of tidy 'shed built' custom bikes. Hence the name.
What is clear though is that the DGR goes from strength-to-strength, with increased numbers each year meaning that last year's already overcrowded venue – Borough Market – was superseded by the less interesting slab of land just down the road, known as Southwark Street Car Park, handily situated just behind 'The Breakfast Club' (see above).
Numbers of how many bikes and riders turned up on that fine autumn day seem to be largely based on guesstimates; I've heard numbers bandied about in the region of 1,000 to 1,500, and while 846 riders registered on the official website, hundreds more turned up for the ride.
At the time of writing, the capital's official riders had raised more than £93,000 with more to come.
If you want to top that up a bit, yours-truly needs a few more quid to match the amount raised last year, so if you're feeling generous, your life has been affected by cancer, or both, visit my DGR page. and donate a few quid to Prostate Cancer UK.
The route roughly followed in last year's tracks, across Tower Bridge, along the north side of the river as far as Albert Bridge, and then along the south side of the Thames back to Southwark Street.
There were a few flies in the ointment, mainly in the shape of road works and traffic lights, plus a slightly torturous start to the ride in order to get onto Tower Bridge making only left turns, but everyone seemed to be heading in generally the right direction, with frequent clusters of riders heading in the wrong direction from time to time.
While temporary traffic lights undoubtedly broke up the flow of the ride, the bonhomie and kindred spirit was very much in evidence, as were some extremely desirable machines, a few of which we will file under 'head turners', and mostly for the right reasons.
TRD regular Paul Blezard turned up on Royce Creasey's very yellow Cmax feet-first machine, while Andy Tribble was once again stealing the show with his BMW K100-based Peraves Ecomobile, (that's the huge green and white machine with the flip-up jockey wheels that looks like a glider cockpit) which he manfully piloted around the extremely congested route (see below).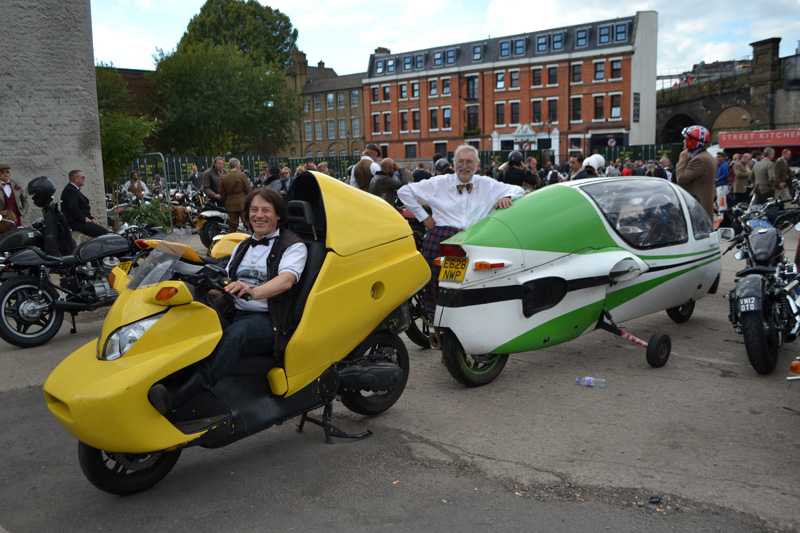 TRD's Managing Editor Dave Gurman was on hand with his young bride Wendy Dewhirst to take hundreds of photos in various locations, some of which you can see here below, and many more of which can be seen at The Rider's Digest's Facebook page. If you're in there, be sure to tag yourself and say hello.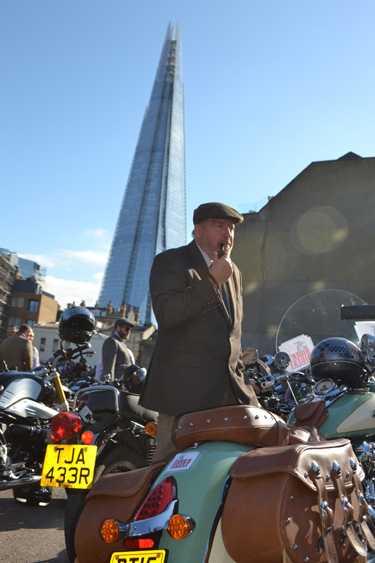 I took part in the ride on a brand new Indian Chief Vintage (above), finished in a fetching combination of 'Willow Green and Ivory Cream' along with tasteful gold coach lines and acres of chrome, topped off with extra chrome and Stage 1 tuning. But enough about me and my Indian, you can read all about it in the forthcoming Issue 191 of The Rider's Digest, which will be out in December.
In the meantime. Enjoy the gallery of highlights below and get your donations for a great cause in before the end of October.
Martin Haskell
[http://www.gentlemansride.com/sponsor/rider/martinhaskell]